Our 4 Favorite Ravens vs. Rams Betting Picks: Spread, Over/Under & Prop Bets for MNF
Credit:
USA Today Sports. Pictured: Brian Allen (55), Cooper Kupp (18), Jared Goff (16)
The Los Angeles Rams host the Baltimore Ravens as 3.5-point underdogs on Monday Night Football.
Our experts reveal how they're betting the matchup, complete with spread and over/under picks.
Ravens at Rams Betting Picks
Odds: Ravens -3.5
Over/Under: 47
Kickoff: 8:15 p.m. ET
TV Channel: ESPN
Odds as of noon ET on Monday.
The Los Angeles Rams host the Baltimore Ravens for a Monday Night Football showdown, but a majority of the public is fading the home underdog.
Should you follow the public's lead, or buy the Rams in primetime? What about the over/under?
Our experts reveal how they're betting tonight's game, complete with spread and total picks as well as Sean Koerner's favorite prop bets.
Personally? I would love nothing more than to show value on the Ravens here and not the Rams.
Even after boosting the Ravens' power rating another 2-2.5 points combined with downgrading the Rams a half point despite covering a week ago (on a late front down cover and due to the Bears mostly beating themselves), I'm still showing value on the Rams getting a key number of +3.5.
Bettors have predictably been all over the Ravens, led by current MVP front-runner Lamar Jackson: More than 70% of the tickets and money have come in on them, as of writing (see live betting percentages here). But I'm one of the few people willing to fade the public here and back the struggling Rams, especially since Brandin Cooks is coming back.
[In New Jersey? Bet now at PointsBet]
I know the Ravens have been absolutely rolling on offense, and it's always a tall order to face this unique offense for the first time. However, an extra day of prep won't hurt the Rams, and as I mentioned in our matchup preview, this will be the best run defense the Ravens have faced all season.
And I know Eric Weddle has said he's not sharing any intel with the Rams, but his familiarity with the Ravens can't hurt. (The same can be said for Marcus Peters, who is now a Raven.)
I think the Ravens' high-flying offense should struggle more than we've become accustomed to seeing this season. And on the other side of the ball, their defense can present a lot of problems for Jared Goff.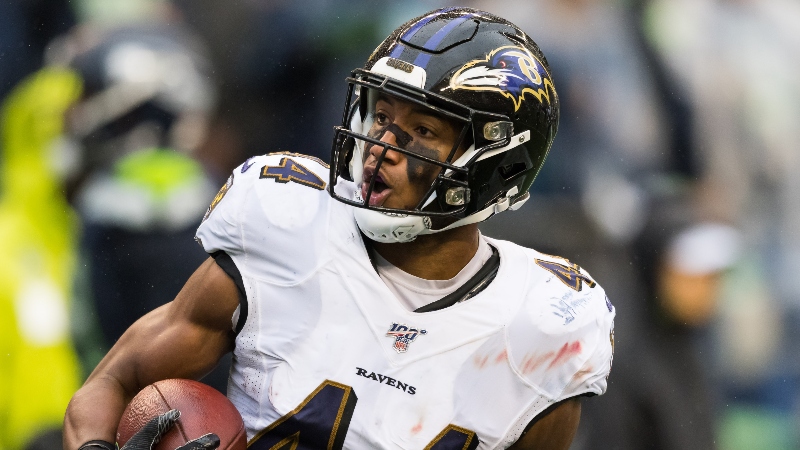 Not only do the Ravens have three elite corners who can match up with Rams receivers, but Baltimore will also bring a ton of pressure. And that's not good against a struggling Los Angeles offensive line that's allowed an NFL-worst 115 hurries — 14 more than the next-highest (Dolphins).
And when Goff is under pressure, he becomes very ineffective as he needs a clean pocket to give him time to complete his mechanical throwing motion. When under pressure, Goff has three touchdowns to three interceptions while completing only 41.9% of his passes, which ranks 30th out of 32 quarterbacks with a minimum of 200 drop backs this season.
I don't see the Rams having consistent success through the air. I think they're aware of this mismatch, and of their offensive line deficiencies, and will continue to lean heavier on their rushing attack. That's probably the best way to move the ball against the Ravens — who are 25th in Football Outsiders' DVOA rush defense — now that Peters and Jimmy Smith have joined Marlon Humphrey to give Baltimore one of the deadliest corner trios in the NFL.
[In New Jersey? Bet now at PointsBet]
Koerner: Nick Boyle Over 15.5 Rec Yds (-130); Mark Andrews Under 4.5 Rec (-125)
When betting on multiple props in a game, I always factor in how they correlate, and this two-pack of picks is highly correlated — if one hits, it'll slightly boost the odds of the other.
Let's start with Boyle.
This line is way too low as I have him projected for 20 yards. And while a 4.5-yard difference likely isn't worth enough to warrant a play in cases like a 99.5-yard prop when I have Julio Jones projected for 95, when it comes to a prop on the lower side, there's more opportunity for a savvy bettor.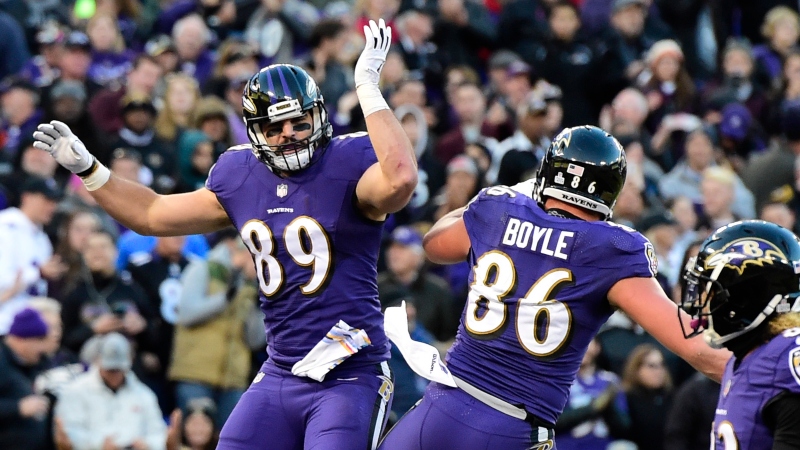 The sharper way to look at Boyle's prop is as an over/under of 1.5 receptions. His yards-per-catch is 11.7, but that is a misleading stat to use in a prop like this — his median yards per catch is 9.0.
Let's just assume that if he gets two or more catches that he'll net 18 or more receiving yards. I have him projected with 2.1 receptions, which comes out to a 62% probability that'll have two or more receptions and presumably hit over 15.5 yards. The -130 line shouldn't scare us as we should be able to clear the 56.5% win rate in the long run to make this a +EV play.
Boyle has seen the most stable playing time of the three tight ends the Ravens employ as he's seen snap percentages of 84, 77 and 76 over that span. Andrews, however, has seen snap percentages of 34, 51 and 35 — a stat that can be misleading for TEs as some are asked to stay in to block more while others are asked to be a receiver.
Andrews is certainly the latter, which is why it's more important to look at TE percentage of routes run per drop back. Here's the breakdown for each Ravens TE over the past three games:
Nick Boyle: 59%
Mark Andrews: 56%
Hayden Hurst: 45%
(Even more reason to like the Boyle bet!)
Andrews is still highly efficient despite his low snap total because he's typically only in to run passing routes and is one of Jackson's favorite targets. However, his prop of 4.5 receptions is exploitable because he's been seeing targets at a level that's probably not sustainable.
Notice that I'm not touching his yardage prop of 50.5 because I'm projecting him for 51, which goes to show we're taking advantage of bad numbers, not necessarily saying that a player is going to play poorly.
I have Andrews projected for 4.1 receptions, which comes out to a 61% chance of hitting the under.
Here are the chances of these props cashing:
2-0: 37.8%
1-1: 47.4%
0-2: 14.8%
How would you rate this article?