Saints-Browns Total Lowest in a Decade: How To Bet Messy Weather in the NFL
if you've been browsing the NFL spreads and totals for Week 16, you might have stopped your scroll near the top around the Saints–Browns game.
As of now, the over/under in the Saints-Browns game in Cleveland this weekend is down to 32 after opening with a total of 38 on the lookahead line and being as low as 31.5 earlier in the week.
If the total closes at 31.5 or lower it would be the lowest over/under since a Bengals-Browns game back in 2008 that closed at 31. That game ended 14-0.
Why is the total so low? Well, not only have the Browns gone under in four straight games and the Saints gone under in three straight, but the foreboding forecast tells the tale.
Here are some recent trends on how to bet messy weather in the NFL.
Updated Saints-Browns Forecast

Temperature: 10°
Wind: 25 MPH
Conditions: Windy & Overcast
In the Bet Labs database, which has games going back 20 years in the NFL, there have only been 16 games with 25+ MPH winds, and only twice has the game closed with a temperature below 20 degrees.
1. Steelers at Browns, 2009
December 10th, 2009. Steelers at Browns. Game closed with a total of 34 with 25 MPH winds at 15 degrees. The Browns won 13-6.
2 . Bengals at Browns, 2008
December 21st, 2008. Bengals at Browns. Game closed with a total of 31 with 27 MPH winds at 14 degrees. The Bengals won 14-0.
How To Bet Messy Weather
In the last 20 years, we've seen 52 total games with 20 MPH winds or greater.
Under is 29-23 (56%), winning six in a row dating back to 2020.

Of the 52 games, 28 had a total below 40 (16-12 to the under).

Of the 52 games, only six had temperatures of 20 degrees or colder. Those games averaged a combined 28.8 PPG.

Of the 52 games, five of the eight coldest were all in Cleveland. Final scores of those five games: 8-0, 23-17, 21-0, 13-6, 14-0.
In the last 20 years, we've seen 61 total games with temperatures below 20 degrees.
Over is 33-26-2 (56%), winning nine of the last 11 games in this spot dating back to 2017.

In games below 20 degrees in Cleveland though, an average of 23.5 PPG has been scored in the four games over the last 20 years.

How the over has performed in cold games (under 20°) depending on wind:
Under 10 MPH: 23-16 to over

10 MPH or greater: 10-10-2
The three lowest over/unders of the last three years are all as of now slated for this week:
Texans/Titans (35.5)
Falcons/Ravens (35)
Saints/Browns (32)
The cold weather is also hitting Bills–Bears this weekend, with temperatures near the 10-degree mark. Both teams have excelled in cold temperatures.
How rare is the Bills-Bears game?
4,042: total games with fewer than 20 MPH winds
52: total games with 20+ MPH winds
1: total games with 20+ MPH winds & temperature of 10 degrees or less
(Last 20 years)
Most Profitable Teams ATS in Sub-20 Degree Weather Last 20 Years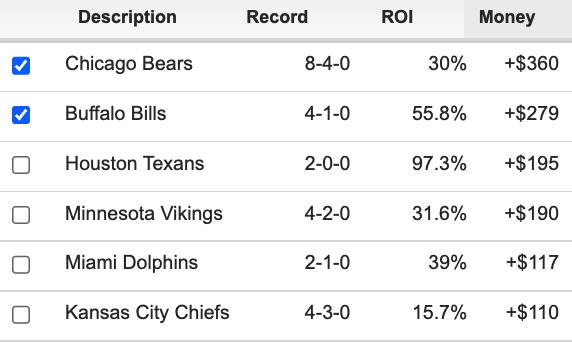 History In The Making
We have to see where this total closes, but right now, the Saints-Browns total is the lowest over/under in over a decade.
Lowest Totals Since 2006
31 – CIN/CLE (2008; 14-0)
31 – DEN/CLE (2006; 17-7)
32 – NO/CLE (2022)
32 – NYG/BUF (2007; 38-21)
32 – GB/CHI (2007; 35-7)
32 – DET/CHI (2006; 34-7)
32.5 – IND/BUF (2009; 30-7)
32.5 – JAC/TB (2007; 24-23)
32.5 – BAL/CLE (2006; 15-14)
How would you rate this article?
This site contains commercial content. We may be compensated for the links provided on this page. The content on this page is for informational purposes only. Action Network makes no representation or warranty as to the accuracy of the information given or the outcome of any game or event.