Koerner's Week 8 Fantasy Football QB Tiers: Is Drew Brees Still a Must-Start?
Credit:
Robert Deutsch-USA TODAY Sports. Pictured: Drew Brees
Sean Koerner -- the No. 1 in-season fantasy football ranker in 2015, 2016 and 2017 -- takes a detailed look at his Week 8 quarterback tiers.
Use the strategies outlined below to build the most optimal starting lineup for your fantasy football team.
Below you'll find my quarterback tiers for Week 8 fantasy football. These are based on standard scoring.
As a reminder, these tiers are not updated after publication. If you want my most up-to-date rankings for PPR, Standard and Half-Point PPR leagues, check out this post.
And, yes, my tiers will be part of our Action Network subscription this season. Be sure to check out everything that comes with a sub here.
---
Koerner's Quarterback Tiers
Quarterbacks
Tier 1
Patrick Mahomes (vs. DEN)
Despite a tough upcoming matchup this week, Mahomes has Tier 1 all to himself. He has thrown for more than 300 yards in six straight games. I am currently projecting him for 291 passing yards, so that streak could end this week.
We finally saw the rushing potential he has with 45 yards on four attempts in Week 7. After seeing only two games in which he put up more than 20 rushing yards, I think we can expect three or four games in the second half of the season in which Mahomes puts up 20-plus rushing yards.
Tier 2
Aaron Rodgers (@ LAR)
Kirk Cousins (vs. NO)
Jared Goff (vs. GB)
Losing a ton of touchdown equity to Todd Gurley and with the Rams sitting on huge leads every week, Jared Goff's weekly ceiling has been a bit lower than we'd like. Having Aaron Rodgers in town this week can help change that, as this game turning into a shootout would boost both of their ceilings.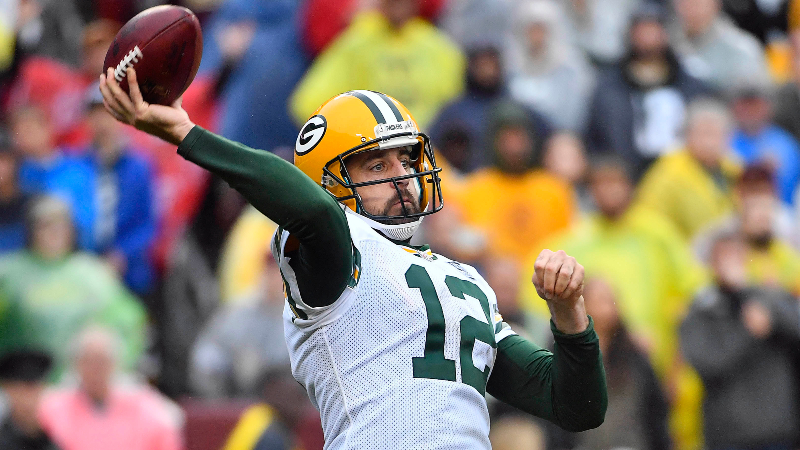 Kirk Cousins is likely going to be part of a shootout himself as he tries to match blows with the Saints offense at home this week.
Tier 3
Ben Roethlisberger (vs. CLE)
Jameis Winston (@ CIN)
Deshaun Watson (vs. MIA)
Andrew Luck (@ OAK)
Tom Brady (@ BUF)
Big Ben is due for some positive touchdown regression, as only 60% of the Steelers' offensive scores have come via the pass. I expect that to be closer to 68% to 70% going forward. He is always a must start at home, and this week is no different.
ESPN should consider giving the Monday Night Football game an M-Rating (mature audiences only) for what the Patriots are going to do to the Bills on national TV.
I would normally say the potential blowout hurts Tom Brady's ceiling, but with Sony Michel unlikely to play, it wouldn't surprise me if the Pats simply use quick passes to James White and Julian Edelman near the line of scrimmage to be an extension of the running game. Brady is a high-floor quarterback this week (bold call, I know).
Tier 4
Mitch Trubisky (vs. NYJ)
Andy Dalton (vs. TB)
For Matt Ryan and Philip Rivers owners in need of a BYE week replacement, Andy Dalton is the best possible fill-in this week. He is in a dream matchup against the Tampa Bay defense that has been a sieve this year and also just lost stud linebacker Kwon Alexander to a season-long injury in Week 7.
Tier 5
Drew Brees (@ MIN)
Brees was my top "sit" of Week 7 and I would hesitate to use him again this week unless you have to. Taysom Hill was on the field for 37% of the snaps in Week 7.
I have been banging the table trying to call attention to how much Hill is going to eat away at Brees' value if the Saints keep expanding his role, especially in the red zone.
One glimmer of hope for Brees owners is that Hill was largely responsible for a fumble near the goal line, when he pitched the ball off Alvin Kamara's face mask, much to the surprise of Kamara.
Sean Payton could start scaling back Hill some in the red zone, as there is really no need to get too cute when you have a first-ballot Hall of Famer still playing at a high level at quarterback.
Tier 6
Cam Newton (vs. BAL)
Matthew Stafford (vs. SEA)
Cam has a brutal matchup this week, but his dual-threat ability makes him borderline matchup-proof. It's worth pointing out that he has thrown at least two touchdown passes in five straight games now (the longest such streak in his career). I had emphasized that heading into 2018 he easily has the best supporting cast around him and it has shown.
Tier 7
Russell Wilson (@ DET)
Carson Wentz (@ JAX)
Both quarterbacks in this tier have been early "busts" of 2018. Each player is trending up, though, and still could be a buy-low candidate. Wilson had the BYE week to recover from what is believed to be a minor hamstring injury.
That's likely what has been limiting Wilson's rushing ability of late, and smart money would be on him getting back to around 20 to 30 rushing yards per game. Wentz has a brutal matchup this week and is a "sit" for me.
Tier 8
Derek Carr (vs. IND)
Alex Smith (@ NYG)
Baker Mayfield (@ PIT)
Joe Flacco (@ CAR)
Case Keenum (@ KC)
C.J. Beathard (@ ARI)
Blake Bortles (vs. PHI)
This tier is a bit of a disaster and I feel bad lumping Baker Mayfield in here, but these are set by my projections, not my heart. Derek Carr just had his top wide receiver in Amari Cooper traded away and lost Marshawn Lynch to IR. He might pop up with a big game here or there, but is going to be hard to trust down the road.
There was some buzz about Case Keenum possibly losing his job to Chad Kelly, but that changed when Kelly was arrested early Tuesday morning. This all but ensures we see Keenum for the entire game against the Chiefs, which means he is in play as an upside QB2 in Superflex and two-quarterback leagues.
Blake Bortles was benched in Week 7, making it impossible to trust him this week. In true Bortles fashion, it would not surprise me one bit if he puts up QB1 numbers, as it's pretty clear he's playing for his job now. It's not a gamble I'm willing to make with the other options available.
Tier 9
Eli Manning (vs. WAS)
Eli erupted for 399 yards on MNF against a decimated Falcons defense. He will try to keep it going this week against the Redskins. I am betting against him.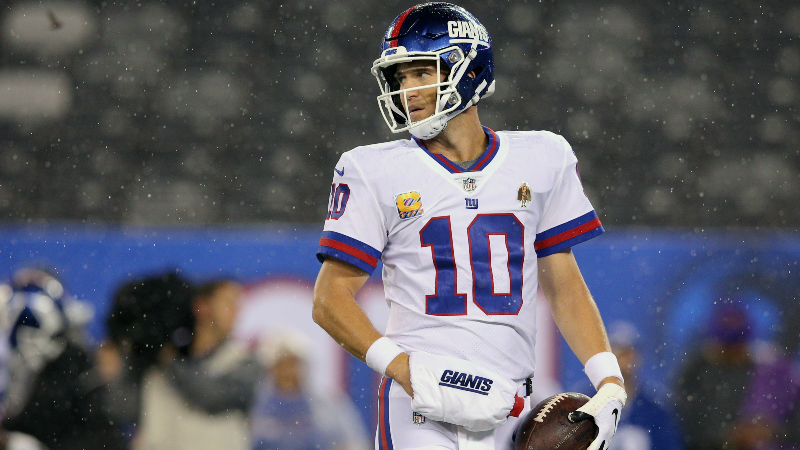 For a quarterback with zero rushing upside whatsoever, it is unacceptable for him to only have two games with multiple touchdown passes this season.
Tier 10
Josh Rosen (vs. SF)
Brock Osweiler (@ HOU)
Deeper two-quarterback-league BYE week desperation plays only.
Tier 11
Sam Darnold (@ CHI)
He's one of two quarterbacks I'm actually projecting for more interceptions than passing touchdowns. The only other quarterback who has this problem is ranked in the Tier below and not worth discussing further.