Koerner's Week 8 Fantasy Football Tiers: How to Value Alvin Kamara in Saints' Jam-Packed Offense
Credit:
USA TODAY Sports. Pictured: Aaron Rodgers, Alvin Kamara, A.J. Green
Sean Koerner -- the No. 1 in-season fantasy football ranker in 2015, 2016 and 2017 -- takes a detailed look at his Week 8 tiers for every position: quarterback, running back, wide receiver, tight end, defense and kicker.
Use the strategies outlined below to build the most optimal starting lineup for your fantasy football team.
Below you'll find my tiers for Week 8 fantasy football. These are based on standard scoring and cover every position.
As a reminder, these tiers are not updated after publication. If you want my most up-to-date rankings for PPR, Standard and Half-Point PPR leagues, check out this post.
And, yes, my tiers will be part of our Action Network subscription this season. Be sure to check out everything that comes with a sub here.
Jump to a position: Quarterback | Running back | Wide receiver | Tight end | Kicker | Defense
Quarterbacks
Tier 1
Patrick Mahomes (vs. DEN)
Despite a tough upcoming matchup this week, Mahomes has Tier 1 all to himself. He has thrown for more than 300 yards in six straight games. I am currently projecting him for 291 passing yards, so that streak could end this week.
We finally saw the rushing potential he has with 45 yards on four attempts in Week 7. After seeing only two games in which he put up more than 20 rushing yards, I think we can expect three or four games in the second half of the season in which Mahomes puts up 20-plus rushing yards.
Tier 2
Aaron Rodgers (@ LAR)
Kirk Cousins (vs. NO)
Jared Goff (vs. GB)
Losing a ton of touchdown equity to Todd Gurley and with the Rams sitting on huge leads every week, Jared Goff's weekly ceiling has been a bit lower than we'd like. Having Aaron Rodgers in town this week can help change that, as this game turning into a shootout would boost both of their ceilings.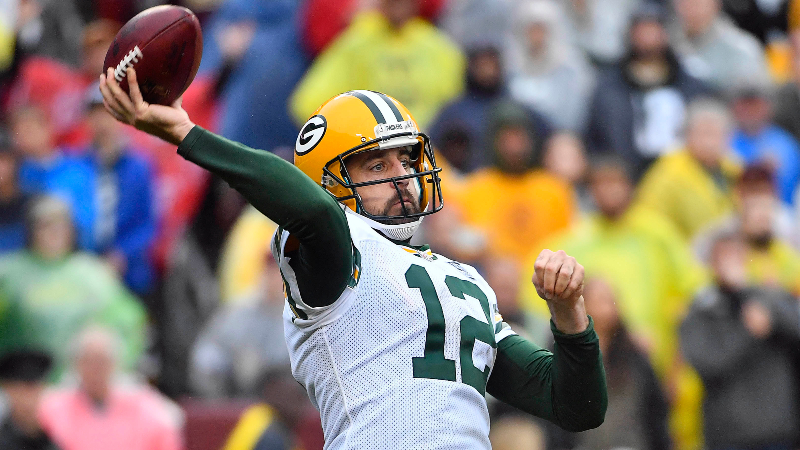 Kirk Cousins is likely going to be part of a shootout himself as he tries to match blows with the Saints offense at home this week.
Tier 3
Ben Roethlisberger (vs. CLE)
Jameis Winston (@ CIN)
Deshaun Watson (vs. MIA)
Andrew Luck (@ OAK)
Tom Brady (@ BUF)
Big Ben is due for some positive touchdown regression, as only 60% of the Steelers' offensive scores have come via the pass. I expect that to be closer to 68% to 70% going forward. He is always a must start at home, and this week is no different.
ESPN should consider giving the Monday Night Football game an M-Rating (mature audiences only) for what the Patriots are going to do to the Bills on national TV.
I would normally say the potential blowout hurts Tom Brady's ceiling, but with Sony Michel unlikely to play, it wouldn't surprise me if the Pats simply use quick passes to James White and Julian Edelman near the line of scrimmage to be an extension of the running game. Brady is a high-floor quarterback this week (bold call, I know).
Tier 4
Mitch Trubisky (vs. NYJ)
Andy Dalton (vs. TB)
For Matt Ryan and Philip Rivers owners in need of a BYE week replacement, Andy Dalton is the best possible fill-in this week. He is in a dream matchup against the Tampa Bay defense that has been a sieve this year and also just lost stud linebacker Kwon Alexander to a season-long injury in Week 7.
Tier 5
Drew Brees (@ MIN)
Brees was my top "sit" of Week 7 and I would hesitate to use him again this week unless you have to. Taysom Hill was on the field for 37% of the snaps in Week 7.
I have been banging the table trying to call attention to how much Hill is going to eat away at Brees' value if the Saints keep expanding his role, especially in the red zone.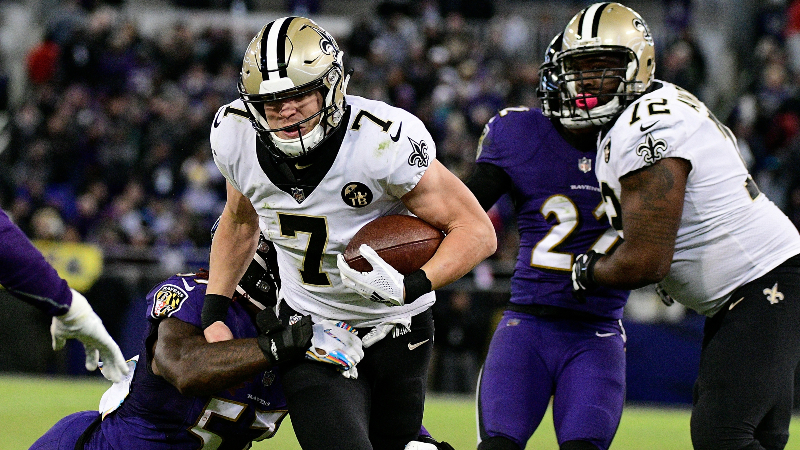 One glimmer of hope for Brees owners is that Hill was largely responsible for a fumble near the goal line, when he pitched the ball off Alvin Kamara's face mask, much to the surprise of Kamara.
Sean Payton could start scaling back Hill some in the red zone, as there is really no need to get too cute when you have a first-ballot Hall of Famer still playing at a high level at quarterback.
Tier 6
Cam Newton (vs. BAL)
Matthew Stafford (vs. SEA)
Cam has a brutal matchup this week, but his dual-threat ability makes him borderline matchup-proof. It's worth pointing out that he has thrown at least two touchdown passes in five straight games now (the longest such streak in his career). I had emphasized that heading into 2018 he easily has the best supporting cast around him and it has shown.
Tier 7
Russell Wilson (@ DET)
Carson Wentz (@ JAX)
Both quarterbacks in this tier have been early "busts" of 2018. Each player is trending up, though, and still could be a buy-low candidate. Wilson had the BYE week to recover from what is believed to be a minor hamstring injury.
That's likely what has been limiting Wilson's rushing ability of late, and smart money would be on him getting back to around 20 to 30 rushing yards per game. Wentz has a brutal matchup this week and is a "sit" for me.
Tier 8
Derek Carr (vs. IND)
Alex Smith (@ NYG)
Baker Mayfield (@ PIT)
Joe Flacco (@ CAR)
Case Keenum (@ KC)
C.J. Beathard (@ ARI)
Blake Bortles (vs. PHI)
This tier is a bit of a disaster and I feel bad lumping Baker Mayfield in here, but these are set by my projections, not my heart. Derek Carr just had his top wide receiver in Amari Cooper traded away and lost Marshawn Lynch to IR. He might pop up with a big game here or there, but is going to be hard to trust down the road.
There was some buzz about Case Keenum possibly losing his job to Chad Kelly, but that changed when Kelly was arrested early Tuesday morning. This all but ensures we see Keenum for the entire game against the Chiefs, which means he is in play as an upside QB2 in Superflex and two-quarterback leagues.
Blake Bortles was benched in Week 7, making it impossible to trust him this week. In true Bortles fashion, it would not surprise me one bit if he puts up QB1 numbers, as it's pretty clear he's playing for his job now. It's not a gamble I'm willing to make with the other options available.
Tier 9
Eli Manning (vs. WAS)
Eli erupted for 399 yards on MNF against a decimated Falcons defense. He will try to keep it going this week against the Redskins. I am betting against him.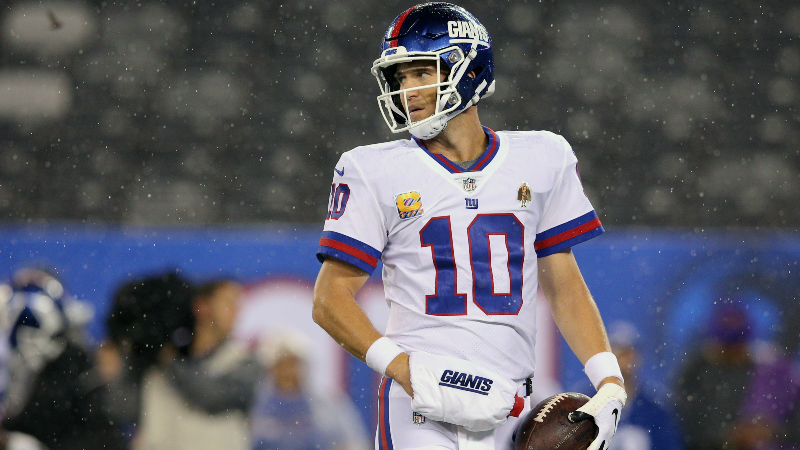 For a quarterback with zero rushing upside whatsoever, it is unacceptable for him to only have two games with multiple touchdown passes this season.
Tier 10
Josh Rosen (vs. SF)
Brock Osweiler (@ HOU)
Deeper two-quarterback-league BYE week desperation plays only.
Tier 11
Sam Darnold (@ CHI)
He's one of two quarterbacks I'm actually projecting for more interceptions than passing touchdowns. The only other quarterback who has this problem is ranked in the Tier below and not worth discussing further.
Tier 12
Derek Anderson (vs. NE)
---
Week 8 Fantasy Football Rankings
PPR: Flex | QB | RB | WR | TE | D/ST | K
Standard: Flex | QB | RB | WR | TE | D/ST | K
Half-Point PPR: Flex | QB | RB | WR | TE | D/ST | K
---
Running Backs
Based on standard scoring; +/- indicates how many Tiers up/down each player would move in a PPR format.
Tier 1
Todd Gurley (vs. GB)
Gurley, who's projected to score four more points than anyone in the next tier, is the single most valuable player in fantasy this year. Like I mentioned in last week's Tiers, Gurley owners should be rooting for the Rams to lose some games. If the Rams have the No. 1 seed wrapped up, it's possible Gurley will be limited in Week 16 (Championship week).
One saving grace: He's going for a record or two, and they could keep playing him until he breaks them.
Tier 2
James Conner (vs. CLE)
Saquon Barkley (vs. WAS)
Kareem Hunt (vs. DEN)
We get another week of James Conner being an elite RB1 with Le'Veon Bell still yet to report to the Steelers. Before the season started, I recommended to avoid drafting a kicker/defense if league rules allow and snag guys such as James Conner and/or Chris Ivory as last-round fliers who could begin the season as their team's workhorse back.
Conner's ROI% has been league-winning to this point, as most teams that have him are likely playoff bound. I'm not going to sell him for peanuts with Bell possibly returning soon. I'm riding this wave as long as I can.
Tier 3
Joe Mixon (vs. TB)
James White (@ BUF) +1
David Johnson (vs. SF)
Sony Michel is set to miss Week 8, which means we will likely see James White get all the touches he can handle this week. While I don't think White can handle much more than 10 carries, the Patriots will likely use him even more with screen- asses to be an extension of the running game. He's an RB1 even in standard formats this week.
The Cardinals fired offensive coordinator Mike McCoy after the Thursday Night Football disaster against the Broncos. New coordinator Byron Leftwich has a vote of confidence from former head coach Bruce Arians in that he knows how to properly use David Johnson.
In what should be a competitive game (see live odds here), this is an eruption spot for DJ.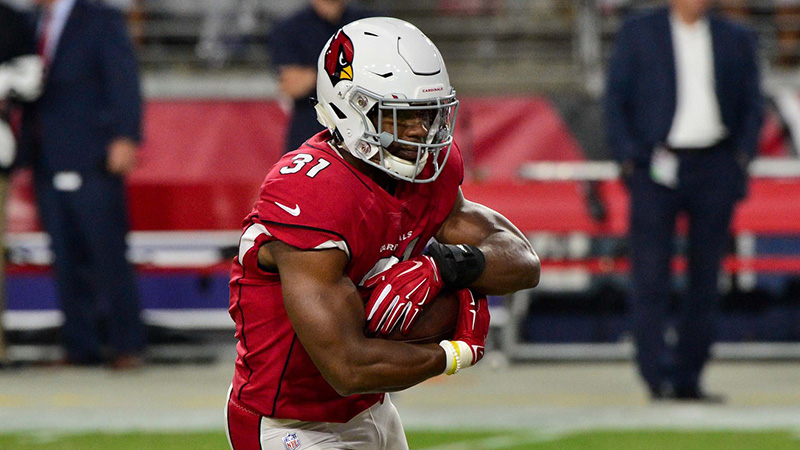 Another thing going in his favor is stud linebacker Reuben Foster suffered a shoulder injury Week 7 and is questionable. Foster missing Week 8 would give Johnson even more of a boost.
Tier 4
Alvin Kamara (@ MIN)
The return of Mark Ingram and rise of Taysom Hill Wildcat plays have taken a serious toll on Kamara's stock. The only thing keeping him this high in my rankings is his sheer talent and ability to score from anywhere on the field.
Tier 5
Nick Chubb (@ PIT) -1
Christian McCaffrey (vs. BAL)
Nick Chubb saw his stock jump last week with the Browns trading away Carlos Hyde to the Jaguars. He started off the Nick Chubb Era with a great 80-yard, 1-TD game.
It's worth mentioning that Chubb takes a massive hit in PPR formats, considering he is rarely used in the passing game, as Duke Johnson has that role on lockdown.
One thing that worries me about this week's matchup: If the Browns get down early, that could limit the number of touches Chubb sees. Either way, if you have him, you are starting him every week.
Tier 6
Latavius Murray (vs. NO)
Marlon Mack (@ OAK)
Mark Ingram (@ MIN)
Kerryon Johnson (vs. SEA)
Isaiah Crowell (@ CHI)
Adrian Peterson (@ NYG)
Lamar Miller (vs. MIA)
Jordan Howard (vs. NYJ)
Tarik Cohen (vs. NYJ) +1
T.J. Yeldon (vs. PHI)
Phillip Lindsay (@ KC)
Marlon Mack has rewarded owners who patiently held on to him as he got healthy. He should keep it rolling this week in a road matchup against Oakland, where the Colts are favored by -3.
The Colts are trying to become more balanced to reduce Luck's number of attempts, and they have been able to do so with Mack's emergence.
The Giants just traded away one of the league's premier run-stuffers in Damon Harrison to the Lions. This is great news for Adrian Peterson owners, as it should open up more holes for him in Week 8 and gives him a slight boost in my model.
Tier 7
Chris Carson (@ DET)
Alex Collins (@ CAR)
The Lions have been gashed on the ground this year allowing a league-high 5.32 yards per carry. However, they did just land aforementioned run-stuffer Damon Harrison. If he is cleared in time to play, that won't be great news for Carson, but I would still view him as a low-end RB2.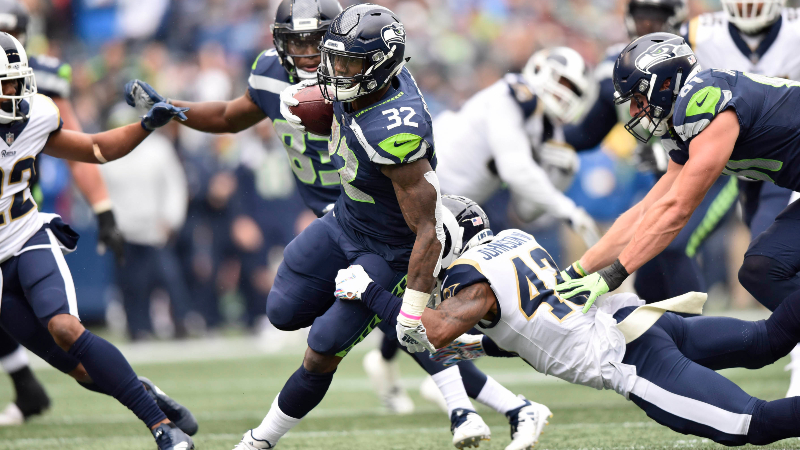 Tier 8
Kenyan Drake (@ HOU)
Doug Martin (vs. IND)
LeSean McCoy (vs. NE)
Corey Clement (@ JAX)
Wendell Smallwood (@ JAX)
Jalen Richard (vs. IND) +1
Raheem Mostert (@ ARI)
The Eagles' running back by committee has been as big of a headache as I predicted. Both running backs have the exact same projection at this point until we find out which one (if either) we can trust.
It's pretty clear that Matt Breida would be wise to rest his injured ankle for a week or two in order to get healthy. With Alfred Morris out of favor with Kyle Shanahan, Raheem Mostert has experienced a breakout that could continue into Week 8. He is a fantastic dice roll for people looking for help at running back this week
If Breida is officially ruled out, he would move closer to the top of this tier.
Tier 9
Peyton Barber (@ CIN)
Chris Thompson (@ NYG)
Royce Freeman (@ KC)
Kenjon Barner (@ BUF)
Duke Johnson (@ PIT)
Aaron Jones (@ LAR)
Frank Gore (@ HOU)
As I mentioned earlier, I think the Browns-Steelers matchup sets up nicely for Duke Johnson this week. It's likely that the Browns need to play in catch-up mode, which significantly raises Duke's ceiling.
Tier 10
Carlos Hyde (vs. PHI)
Chris Ivory (vs. NE)
Trenton Cannon (@ CHI)
Javorius Allen (@ CAR)
Ronald Jones (@ CIN)
Nyheim Hines (@ OAK)
Alfred Morris (@ ARI)
Mike Davis (@ DET)
LeGarrette Blount (vs. SEA)
For all the excitement over the Carlos Hyde trade and how it vaults Nick Chubb into the RB1 discussion, this was a massive blow to Hyde's stock. He will very likely be part of a strict time share with T.J. Yeldon until Leonard Fournette returns in a few weeks.
Wide Receivers
Tier 1
Adam Thielen (vs. NO)
Antonio Brown (vs. CLE)
DeAndre Hopkins (vs. MIA)
A.J. Green (vs. TB)
Tyreek Hill (vs. DEN)
A.J. Green joins the Tier 1 party, as he is in an absolute smash spot against the Buccaneers this week.
Tier 2
Michael Thomas (@ MIN)
Davante Adams (@ LAR)
Odell Beckham (vs. WAS)
Odell erupted for a 8/143/1 game in Week 7. Look for him to keep rolling in Week 8 vs. Washington. I may be looking to sell high on him soon.
I'm a little worried that Odell could come unraveled in Week 15-16 (aka the fantasy playoffs) if the Giants continue to lose.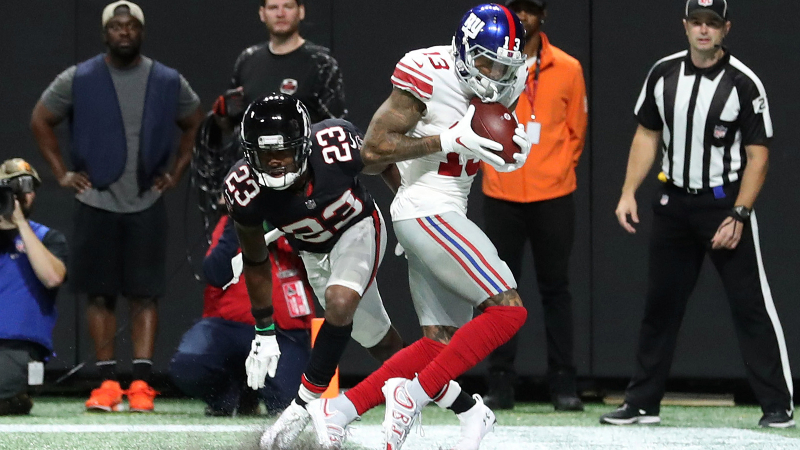 Tier 3
JuJu Smith-Schuster (vs. CLE)
Robert Woods (vs. GB)
Brandin Cooks (vs. GB)
Stefon Diggs (vs. NO)
Mike Evans (@ CIN)
There is still no word on whether or not Cooper Kupp will be healthy enough to return Week 8. For sit/start purposes, this doesn't really matter for Cooks/Woods, but their rank could go up even more if Kupp is ruled out again. Be sure to check my updated rankings on Sunday morning to see where they end up.
Tier 4
Emmanuel Sanders (@ KC)
Tyler Boyd (vs. TB)
Golden Tate (vs. SEA)
Jarvis Landry (@ PIT)
T.Y. Hilton (@ OAK)
Will Fuller (vs. MIA)
Kenny Golladay (vs. SEA)
Will Fuller appears to be getting closer to 100% after a solid 6/68/0 game against a stingy Jaguars defense. The Texans will be without Keke Coutee this week, which means Fuller should see a few extra targets.
Kenny Golladay's box scores have not reflected just how good he has been lately. For the second week in a row he scored a touchdown that was called back due to a suspect penalty.
Tier 5
John Brown (@ CAR)
Julian Edelman (@ BUF) +1
Alshon Jeffery (@ JAX)
Josh Gordon (@ BUF)
Tyler Lockett (@ DET)
Doug Baldwin (@ DET)
Cooper Kupp (vs. GB)
After being low on Josh Gordon for the first six weeks, I finally called for a breakout game in Week 7. He delivered with a four-catch, 100-yard game and was on the field for 95% of the Patriots' offensive snaps.
He is only going to get better as he learns the playbook and builds chemistry with Tom Brady. Gordon could become a borderline WR1 at times in the second half of this season.
Tier 6
Demaryius Thomas (@ KC)
DeSean Jackson (@ CIN)
Devin Funchess (vs. BAL)
Michael Crabtree (@ CAR)
Jordy Nelson (vs. IND)
Marvin Jones (vs. SEA)
Sammy Watkins (vs. DEN)
Allen Robinson (vs. NYJ)
Sterling Shepard (vs. WAS)
Robby Anderson (@ CHI)
Taylor Gabriel (vs. NYJ)
Christian Kirk (vs. SF)
Chris Godwin (@ CIN)
I'm a little hesitant to give Jordy Nelson too much of a boost with Amari Cooper's departure. He is likely going to receive more attention on defense and draw the opposing team's top corner more often.
I think Martavis Bryant and Seth Roberts will be the biggest beneficiaries of the Raiders trading away Cooper.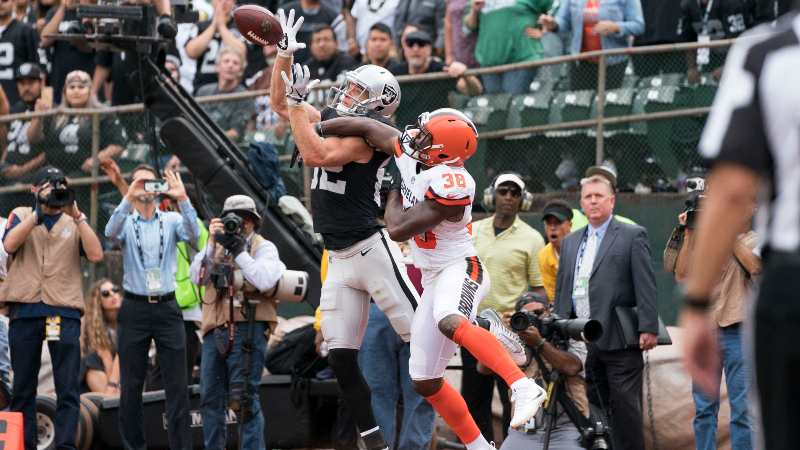 Tier 7
Danny Amendola (@ HOU)
Geronimo Allison (@ LAR)
Larry Fitzgerald (vs. SF)
Nelson Agholor (@ JAX)
Donte Moncrief (vs. PHI)
Keelan Cole (vs. PHI)
Dede Westbrook (vs. PHI)
Marquise Goodwin (@ ARI)
All three Jaguars wide receivers have the same projection from me this week. It's a weekly game of musical chairs as to which one or two return any sort of usable fantasy stats. Further muddying the waters is the rise of rookie D.J. Chark. He could start eating into the snaps of all three to a certain extent.
Additionally, with Blake Bortles finally getting benched, this is an entire situation I'm avoiding until further notice.
Tier 8
Jakeem Grant (@ HOU)
Tre'Quan Smith (@ MIN)
Martavis Bryant (vs. IND)
Jermaine Kearse (@ CHI)
Kelvin Benjamin (vs. NE)
Willie Snead (@ CAR)
Chris Hogan (@ BUF)
Courtland Sutton (@ KC)
There are some potential BYE-week streamers in this Tier. Jakeem Grant is a sneaky play with Kenny Stills and Albert Wilson both out. The Amari Cooper trade gives Martavis Bryant enough of a boost to be a high-upside, dice-roll play this week.
He might have the lowest floor of anyone in this Tier, but if you are using him as a WR3 or Flex in a deeper league, I tend to be a bit riskier with those roster slots since a huge game can lock in a win, while a dud may not necessarily lose your matchup.
Tight Ends
Tier 1
Travis Kelce (vs. DEN)
Fantasy football's new No. 1 TE will have Tier 1 all to himself the rest of the season until further notice.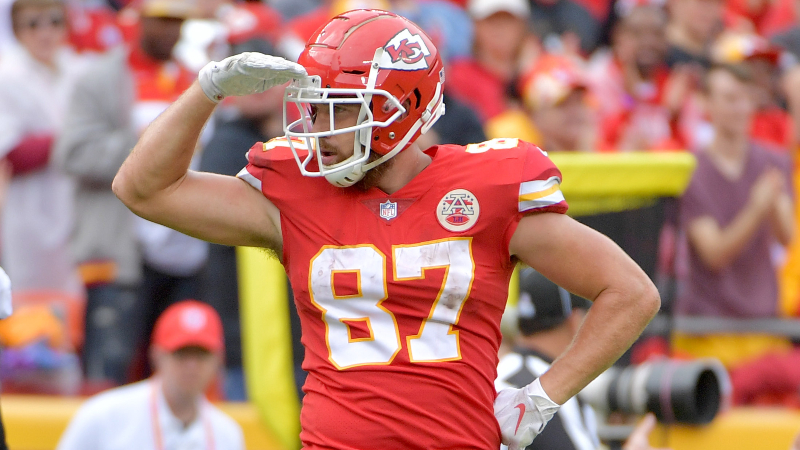 Tier 2
Zach Ertz (@ JAX)
Ertz now has either 100-plus yards and/or a touchdown in four straight games. He has failed to either surpass 70 yards or score a touchdown in only one game this season. His consistency at fantasy's most volatile/thin position makes him extremely valuable.
Tier 3
George Kittle (@ ARI)
Jared Cook (vs. IND)
Cook is coming off two poor games and always carries a low-floor risk to go with his high ceiling. Unfortunately, with the tight end position, you can't try to be perfect and try to guess the games when he'll disappear.
You are simply going to have to take those punches and leave him in every week to catch his good weeks. Cook could benefit from Amari Cooper's departure with a couple extra targets per game, and that might help give him a bit more stability going forward.
Tier 4
Eric Ebron (@ OAK)
Rob Gronkowski (@ BUF)
It's still early in the week, so take my Gronk rank with a grain of salt. (Check back on my rankings before setting your lineup on Sunday.)
With Julian Edelman back, Josh Gordon fully up to speed with the offense and James White playing a massive role in the passing game, it makes sense for the Pats to limit Gronk in what should be a cake-walk matchup against the Bills.
Tier 5
Trey Burton (vs. NYJ)
Jimmy Graham (@ LAR)
David Njoku (@ PIT)
All three tight ends have become every-week TE1s whom we simply need to plug in each week and forget about. David Njoku has really benefited from the Browns making the switch to Baker Mayfield, topping 50 receiving yards in each game Mayfield has started.
Tier 6
Jordan Reed (@ NYG)
O.J. Howard (@ CIN)
Vance McDonald (vs. CLE)
Each of these tight ends has a very prominent backup behind them, which causes their projections to take a hit.
Tier 7
Kyle Rudolph (vs. NO)
Evan Engram (vs. WAS)
C.J. Uzomah (vs. TB)
Greg Olsen (vs. BAL)
This Tier really presents the lowest-floor TE1s. They all typically need to score a touchdown to offer any meaningful value. Expect Engram and Olsen to rise in my ranks as they regain their health and their typical role.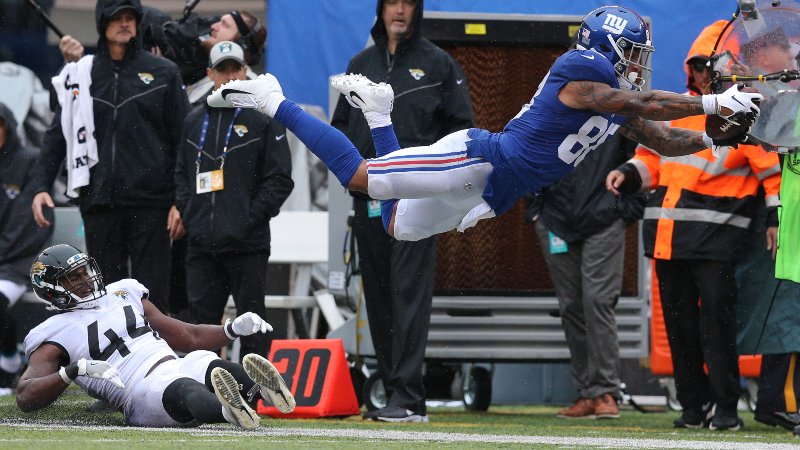 Tier 8
Ben Watson (@ MIN)
Ricky Seals-Jones (vs. SF)
The only TE1 who is on BYE this week is Austin Hooper, so we might not need to go too deep at tight end this week. This is about as deep as I would hope you need to go for a potential spot-start streamer.
Tier 9
Charles Clay (vs. NE)
Christopher Herndon (@ CHI)
Jeff Heuerman (@ KC)
Nick O'Leary (@ HOU)
Cameron Brate (@ CIN)
Dallas Goedert (@ JAX)
Mike Gesicki (@ HOU)
For those needing to pick a tight end from this scrap pile, I wouldn't pull my hair out too much when trying to make a decision. They all likely need to score this week to offer much help.
The one tight end who is on the rise and might be worth a dice roll: Chris Herndon. The Jets were raving about him in the preseason until he suffered a minor injury that slowed him down a bit.
He seems to be gaining steam in this offense now with Quincy Enunwa and Terrelle Pryor out. After scoring a touchdown in back-to-back games he gets to face a Bears defense that has been somewhat susceptible to allowing tight ends to hit pay dirt as of late.
In the past four games, Chicago has allowed touchdowns to Nick O'Leary, Cameron Brate, Ricky Seals-Jones, and Will Dissly. Granted, it's a small sample size I'm not putting too much stock in, but it's just one more reason to take make Herndon a "what the heck" tight end play this week.
Kickers
Tier 1
Greg Zuerlein (vs. GB)
Harrison Butker (vs. DEN)
Tier 2
Stephen Gostkowski (@ BUF)
Randy Bullock (vs. TB)
Tier 3
Dan Bailey (vs. NO)
Chris Boswell (vs. CLE)
Matt Prater (vs. SEA)
Adam Vinatieri (@ OAK)
Tier 4
Wil Lutz (@ MIN)
Ka'imi Fairbairn (vs. MIA)
Justin Tucker (@ CAR)
Cody Parkey (vs. NYJ)
Sebastian Janikowski (@ DET)
Mason Crosby (@ LAR)
Tier 5
Chandler Catanzaro (@ CIN)
Phil Dawson (vs. SF)
Robbie Gould (@ ARI)
Jake Elliott (@ JAX)
Dustin Hopkins (@ NYG)
Daniel Carlson (vs. IND)
Brandon McManus (@ KC)
Graham Gano (vs. BAL)
Tier 6
Aldrick Rosas (vs. WAS)
Josh Lambo (vs. PHI)
Greg Joseph (@ PIT)
Jason Myers (@ CHI)
Jason Sanders (@ HOU)
Tier 7
Steven Hauschka (vs. NE)
Defenses
Tier 1
New England Patriots (@ BUF)
Tier 2
Chicago Bears (vs. NYJ)
Pittsburgh Steelers (vs. CLE)
Houston Texans (vs. MIA)
Arizona Cardinals (vs. SF)
Philadelphia Eagles (@ JAX)
Tier 3
Baltimore Ravens (@ CAR)
Washington Redskins (@ NYG)
San Francisco 49ers (@ ARI)
Kansas City Chiefs (vs. DEN)
Tier 4
Cincinnati Bengals (vs. TB)
Carolina Panthers (vs. BAL)
Jacksonville Jaguars (vs. PHI)
Indianapolis Colts (@ OAK)
Miami Dolphins (@ HOU)
Detroit Lions (vs. SEA)
Los Angeles Rams (vs. GB)
Tier 5
New York Giants (vs. WAS)
Oakland Raiders (vs. IND)
New York Jets (@ CHI)
Seattle Seahawks (@ DET)
New Orleans Saints (@ MIN)
Cleveland Browns (@ PIT)
Minnesota Vikings (vs. NO)
Tampa Bay Buccaneers (@ CIN)
Tier 6
Buffalo Bills (vs. NE)
Denver Broncos (@ KC)
Green Bay Packers (@ LAR)