How Stefon Diggs Trade Impacts His Fantasy Football Value, Josh Allen & Bills WRs
Credit:
Getty Images. Pictured: Stefon Diggs
NFL free agency and trade dominoes continue to fall.
The Vikings traded Stefon Diggs to the Bills in exchange for a bevy of draft picks late Monday, prompting the question: What is Diggs' fantasy football outlook in Buffalo?
Our trio of fantasy football experts — Sean Koerner, Chris Raybon and Matthew Freedman — give their initial reactions on what the deal means for the fantasy value of Diggs as well as the Bills' other wide receivers.
[Tom Brady Free Agency Promo! Bet $5 and Win $100 if TB12 picks any team with the exception of the Jets, Bills or Dolphins]
Stefon Diggs' Fantasy Fit With Bills
Koerner
Diggs became so frustrated with the Vikings' run-first offense that he demanded a trade back in Week 5. They refused to give into his demands and it resulted in a Week 6 eruption to the tune of seven catches for 167 yards and three touchdowns. In fact, he rattled off three straight weeks of 140+ yard games. He was the WR1 in all of fantasy over that three-game stretch.
But then the Vikings ran out of grease for the squeaky wheel and we saw his production plummet as Diggs was only the WR39 from Week 9 on.
If Diggs was frustrated playing for a run-first team with a solid defense in Minnesota, I can't imagine a worse landing spot than Buffalo. There are only so many passing yards and touchdowns to go around in this Josh Allen-led offense.
To make matters worse, Diggs already has some healthy competition for targets as John Brown (115) and Cole Beasley (104) already command a large target share in this offense. Diggs' addition not only suppressed the value of all other pass-catchers on this offense but his own as well.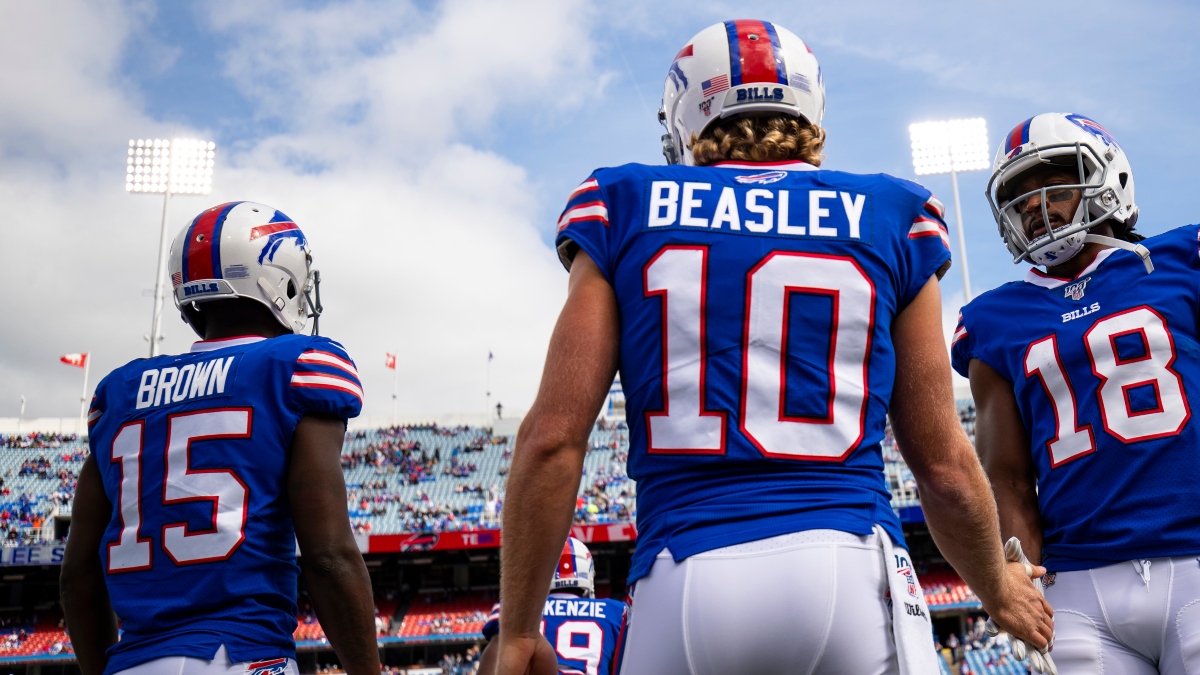 Allen gets a slight boost considering Diggs is a tremendous addition to the passing game. However, Allen's fantasy value is still tied directly to his rushing ability.
For the Vikings, this is an obvious blow for Kirk Cousins. Their WR depth chart is so thin now that it would be malpractice to just re-distribute Diggs' targets that are being left behind to the few remaining WR on the roster. We'll have to wait and see who the Vikings are able to bring in via free agency, trade or the draft to help fill the void.
I don't think Minnesota's situation is clear enough to make even rough projections at this time.
Koerner's Bills WR Projections
Diggs: 63 receptions, 888 rec yards, 5.2 rec touchdowns (WR32)
Brown: 57 rec, 787 yds, 5 rec TD (WR45)
Beasley: 53 rec, 583 yds, 4 rec TD (WR64)
Raybon
This is an intriguing move for the Bills, and for both Diggs and Allen.
Let's start with Diggs.
Despite averaging only 6.2 targets per game last season, Diggs finished as the fantasy WR21 (half PPR, min. six games), which is in line with his average draft position (ADP) of WR19 on MyFantasyLeague.com.
The Bills have a reputation as a run-first squad, and relatively speaking, this is true: Their 32.1 pass attempts per game last season ranked 24th in the NFL. But it's also true that Buffalo let it fly 10% more than the Vikings, whose 29.1 passes per game ranked 29th.
While it's possible that the Bills become a dominant team and end up needing to pass less in 2020, there are more reasons why the number could go up: An increased willingness to pass now that they have a more talented receiving corps, Allen developing more as a pocket passer and scrambling less, and even sheer regression to the mean (the league average was 34.6). In five pro seasons, Diggs has never dipped below a 21% target share, and Brown led the Bills with a 24% mark last season, which equated to 7.7 targets per game.
Then comes the question of whether or not Diggs can match his efficiency from a 2019 season that saw him post a career-best 12.0 yards per target. His career average is 8.7, so the answer is almost certainly not. But there are some promising signs. Take Brown for example: Entering last season, Brown's career average yards per target was 7.5, but he ripped off a 9.2 mark upon teaming up with Allen — this despite a career-high 115 targets.
Diggs' aDOT was 14.8 last season, well above his career average of 10.4 entering the year. But despite operating further downfield, he saw no decrease in efficiency. Per AirYards.com, his ratio of receiving yards to air yards, or RACR, of 0.80 was right in line with his career average of 0.81. This bodes for Diggs as he goes from Kirk Cousins, whose aDOT of 7.6 ranked 24th of 32 quarterbacks with at least 200 attempts, to Josh Allen, who was sixth with a 9.3 aDOT.
And while Allen is viewed as a clear downgrade from Cousins, much of Allen's struggles are on his supporting cast. Check out his numbers throwing to the other four members of the Bills' projected starting five — Brown, Cole Beasley, Dawson Knox, and Devin Singletary — compared to everyone else:
Allen to Brown/Beasley/Knox/Singletary: 62.7% completion, 7.6 YPA, 5.0% TD%
Allen to everyone else: 57.3 completion, 6.5 YPA, 3.4% TD%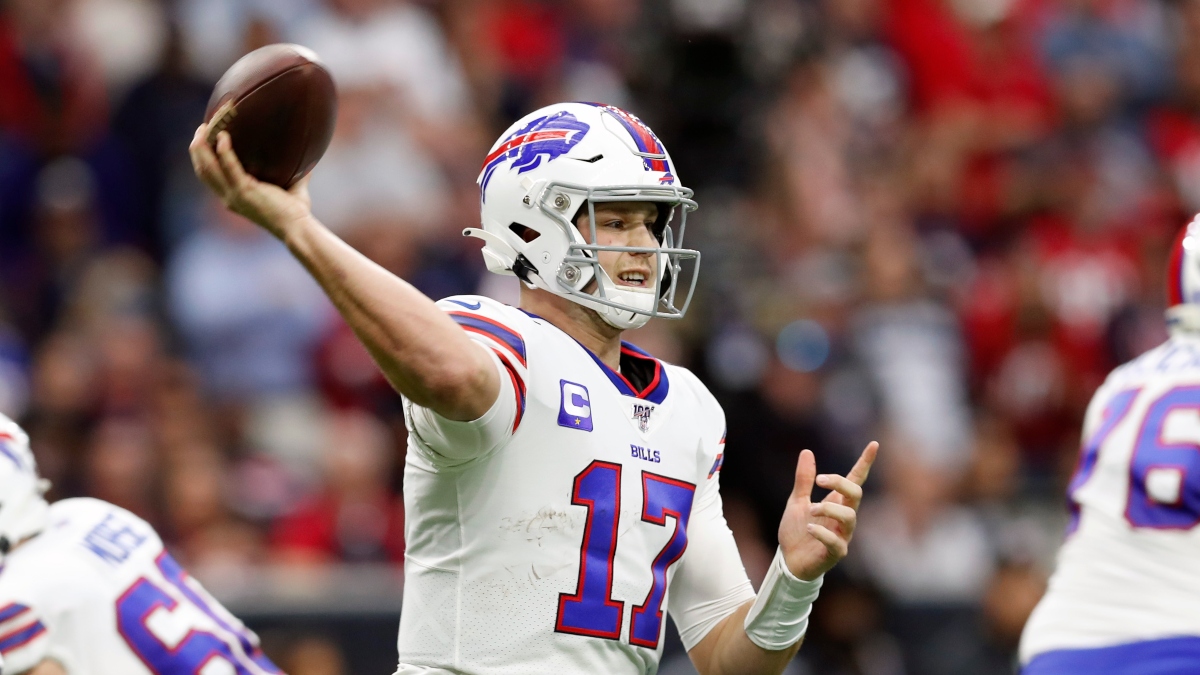 Given the move from Minnesota's indoor stadium to the frigid temps in Orchard Park, much will probably be made of Diggs' indoor-outdoor splits — he averages 72.4 yards per game indoors and 60.7 outdoors —  but I'm not inclined to put much weight on them, given that they could just as well have to do with matchups, or his quarterback or offensive line struggling more outdoors, etc.
Quarterbacks targeting Diggs have enjoyed a 68.4% completion rate, 8.7 yards per attempt and a 5.6% TD rate, so Allen is well-positioned to post the most efficient season of his career. Brown posted a WR24 finish last season, and Diggs is a better, more complete receiver, so there' no reason his WR19 ADP should change at all.
Allen finished as the QB11 last season and is being selected as the QB7 as of writing, which was previously a bit rich, but is now right in line with his true value. I always lean heavily on the late-round QB strategy, and thus won't be overly invested in Allen this year (unless his ADP drops). But he's definitely capable of a top-three finish, so he's not someone I'm going to fade, either.
Especially with Bills games tending to have low over/unders due to their defense and perceived weakness at quarterback, bank on Allen winning somebody a lot of (sh)money in a DFS tournament before 2020 is all said and done.
Freedman
Is Diggs (plus a seventh-round pick) really worth first-, fifth- and sixth-rounders this year and a fourth-rounder next year?
Evidently the Bills think so. And maybe he actually is.
In Diggs, the Bills have acquired an explosive playmaker who can line up across the formation, and they now have an above-average — maybe top-eight? — three-wide set with Diggs and John Brown on the perimeter and Cole Beasley in the slot.
When second-year tight end Dawson Knox and running back Devin Singletary are considered, quarterback Josh Allen looks positioned to have the best season of his career.
But as much as Diggs disliked Vikings quarterback Kirk Cousins, the fact is that Cousins is the far superior passer (per Pro Football Focus):
Cousins (2018-19): 69.7% completion rate, 7.9 adjusted yards per attempt, 82.3 average PFF passing grade
Allen (2018-19): 56.3% completion rate, 6.2 adjusted yards per attempt, 59.7 average PFF passing grade
Over the past two seasons, Diggs has had the best receiving seasons of his career with Cousins throwing him the ball — 102-1,021-9 on 149 targets in 2018; 63-1,130-6 on 94 targets in 2019 — and with Allen as his new quarterback, Diggs might soon discover what the Redskins have learned over the past two seasons: There are worse NFL fates than having Cousins as your quarterback.
I expect significant regression this year for Diggs.
He got only 94 targets last year, but Brown and Beasley respectively saw only 115 and 106 last year as the Nos. 1-2 receivers. It's not as if Brown and Beasley are going to cede all of their targets to Diggs, and last year the Bills had a run-heavy offense that ranked No. 7 in the league with a 45.0% rush rate. (The Vikings were No. 4 at 48.3%.)
Diggs will likely get more targets than he got last year, but I don't expect him to be a league leader in target volume — and the targets he does get from Allen are likely to be worth less than those he saw from Cousins.
In his first four seasons, Diggs averaged 7.9 yards per target. Last year, though, he was No. 2 in the league with an outrageous mark of 12.0. It was clearly an outlier season, as his yardage per route run data indicates (per PFF).
2019: 2.67 yards per route run (second among wide receivers)
2018: 1.72 (t-23rd)
2017: 1.90 (12th)
2016: 1.91 (t-23rd)
2015: 1.81 (t-19th)
Only once in his career has Diggs finished a campaign as a top-10 receiver in yards per route run: Last year.
As cold as Minnesota is, Diggs is likely to be even colder in Buffalo thanks to the ice-cold chill of regression, the stone-cold inaccuracy of his quarterback and the literal bitter-cold of New Era Field.
Like the Bills, 2020 fantasy investors are likely to be disappointed in Diggs if they're hoping for the guy who looked like an elite receiver last season.
As for Brown and Beasley, both are likely to lose enough target share to Diggs to make them eminently less attractive: Brown drops from a WR2 with upside to a volatile WR3, and Beasley drops from occasionally high-floor WR3 to a run-of-the-mill slot-bound WR4.
And as for Adam Thielen, he's the last man standing in Minnesota. The Vikings will likely continue to utilize two tight ends and a run-heavy offense, but Thielen should rebound from last year's injury-impacted campaign and soak up much of the target share that belonged to Diggs.
In 2016-18, Thielen averaged 1,224 yards and six touchdowns per year, and he'll have a reasonable chance to hit those numbers in 2020 as the clear No. 1 receiver in the Vikings offense.
How would you rate this article?