How the DeAndre Hopkins & David Johnson Trade Shifts Projections for Cardinals & Texans Players
Credit:
Getty Images. Pictured: DeAndre Hopkins
We're kicking the new league year off with a bang: The Texans and Cardinals have agreed to a deal that will send wide receiver DeAndre Hopkins to Arizona and running back David Johnson to Houston. But before we dig into the fallout, let me walk you through how I'll be updating my season-long projections as trades and free-agent signings unfold across the NFL.
First, let me clarify that these initial projections are fairly quick and dirty; they're intended to paint only a rough picture of how a signing or trade impacts the players involved. Once the initial frenzy of trades and signings is over, I'll begin to sharpen my projections further (keep in mind that they're meant to evolve as the season nears and more information becomes available).
For now, let's dig into my initial stat projections and fantasy football rankings for all the players impacted by this trade: Hopkins, Johnson, Deshaun Watson, Kyler Murray, Kenyan Drake, Duke Johnson as well as all the Texans and Cardinals pass-catchers.
DeAndre Hopkins
Hopkins is arguably the best wide receiver in the game, but his fantasy football value will take a decent hit as he goes from an offense ran by Deshaun Watson — who Hopkins has formed chemistry with over the past three years — to a new system and quarterback.
The Cardinals run a fast-tempo Air Raid-style offense that often uses four WRs. I have no doubt Hopkins will lead them in target share, but they're more likely to spread the ball around, negatively impacting his overall numbers.
Hopkins' Post-Trade Projections:
94 receptions
1,266  receiving yards
8.3 receiving touchdowns
Fantasy football ranking: WR5
---
Tom Brady Free Agency Promo! Bet $5 and Win $100 if TB12 picks any team with the exception of the Jets, Bills or Dolphins
---
David Johnson
DJ was arguably the biggest fantasy bust of the 2019 season. He was the consensus fifth overall pick and by midseason was nothing more than a change-of-pace back who couldn't be trusted in your starting lineup.
Heading to a new team should bring him back to fantasy relevance as a potential RB2.
Carlos Hyde and Lamar Miller are unlikely to re-sign with Houston as a result of this trade, leaving Duke Johnson as DJ's main competition for touches. I anticipate Duke Johnson to maintain a change-of-pace role, specializing in passing downs. DJ should inherit most of the touches Hyde is leaving behind.
I have DJ projected for 14.5 carries and 2.5 receptions per game. We can iron out these baseline projections over the coming months, but that's where I'm starting.
DJ's Post-Trade Projections: 803 rush yds, 7.2 rush TD, 35 rec, 296 rec yds, 1.7 rec TD (RB24)
Duke Johnson's Post-Trade Projections: 486 rush yds, 2.9 rush TD, 42 rec, 364 rec yds, 1.7 rec TD (RB34)
Kyler Murray
Murray gets a significant boost from this deal.
He's gaining arguably the best WR in football and losing his backup RB. Larry Fitzgerald is returning for his 17th season and will provide a solid veteran presence while Christian Kirk is set up for a Year 3 breakout.
Before the trade, I had Murray pegged for 247.5 passing yards per game with a 4.5% passing touchdown rate (passing touchdowns/pass attempts). With the addition of Hopkins, I've adjusted those to 261 passing yards and a 4.7% TD rate. This bumps up Kyler's season-long projections to 3,993 passing yards and 25.9 passing touchdowns, elevating him from QB6 to QB4 in my season-long fantasy rankings.
Murray's Post-Trade Projections:
3,993 pass yards
25.9 pass TDs
528 rush yds
4.5 rush TDs
Fantasy ranking: QB4
Cardinals WRs
Once I transferred my Hopkins projections from Houston to Arizona, the Cardinals were left with a surplus of 900 yards and seven touchdowns, so I had to shave every player's projections (including Hopkins) down to match my overall team projections.
As a result, Kirk and Fitzgerald's projections fell quite a bit. I also had to cut down projections for Arizona's fringe WRs such as Andy Isabella, Trent Sherfield and Damiere Byrd.
Kirk's Post-Trade Projections: 59 rec, 755 yds, 4.3 rec TD (WR48)
Fitzgerald's Post-Trade Projections: 56 rec, 597 yds, 4.2 rec TD (WR62)
Kenyan Drake
Drake is arguably the biggest winner of this trade.
I was dreading trying to pin this backfield for 2020. It would have been very difficult to project David Johnson as nothing more than a change-of-pace back had he stayed in Arizona. He was dealing with a back injury last season, which is why the Cardinals initially acquired Drake from the Dolphins, but he went on to have an RB4 finish in his Week 9 debut for Arizona and likely won fantasy football championships as the RB1 in Weeks 15 and 16.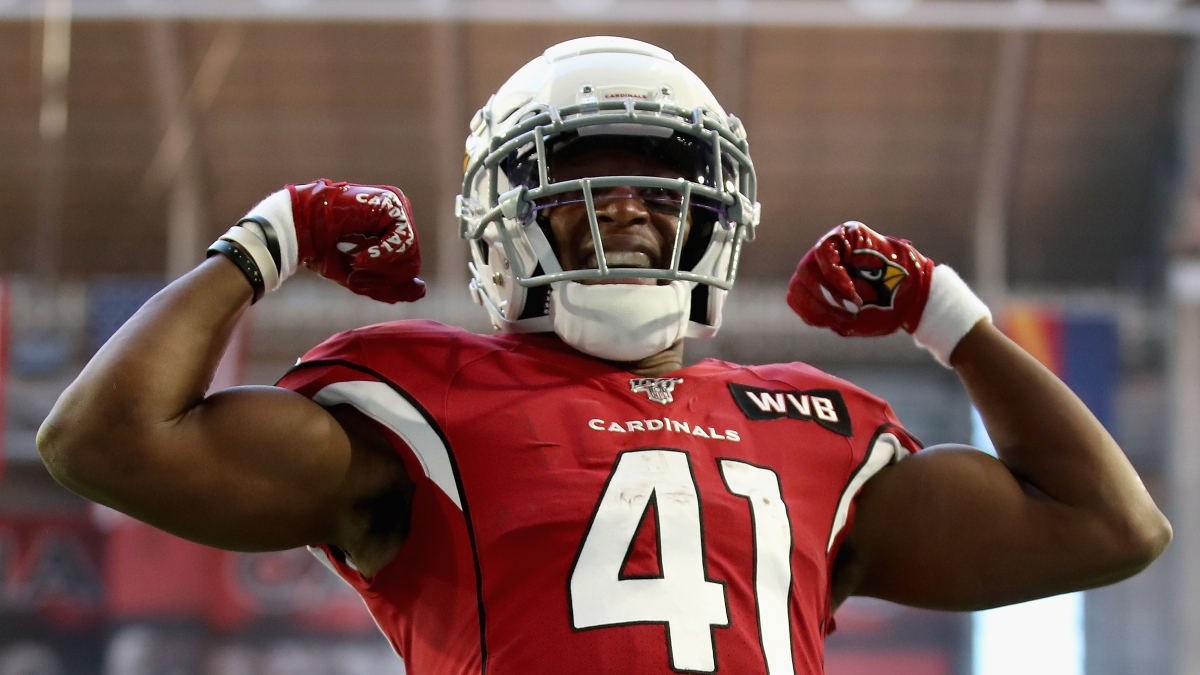 With David Johnson out of the picture, it raises Drake's floor significantly enough to begin treating him as a low-end RB1 entering next season.
Chase Edmonds will be the change-of-pace back who — while he is talented — probably isn't going to overtake Drake as the lead back (as long as both are healthy).
Drake's Post-Trade Projections
1,005 rush yards
7.8 rush TDs
49 rec
389 rec yds
2.4 rec TDs
Fantasy ranking: RB9
Deshaun Watson
Watson takes the biggest hit from this trade — in his three seasons, he's never played a game without his stud WR (Hopkins).
I'm lowering Watson's passing yards per game from 272.5 to 261.5 and his passing TD% from 5.1% to 4.9%. Again, these help shape my team-level projections before scaling every player's targets/yards/TD projections to match.
There are other factors that go into team-level projections, such as my team ratings that help me forecast expected points per game, which will then fuel projections such as TDs.
Hopkins is worth about 1-1.5 points against the spread, which will also factor into each team's updated projections.
Watson's Post-Trade Projections:
4,001 pass yards
25.6 pass TDs
446 rush yds
4.6 rush TDs
Fantasy ranking: QB5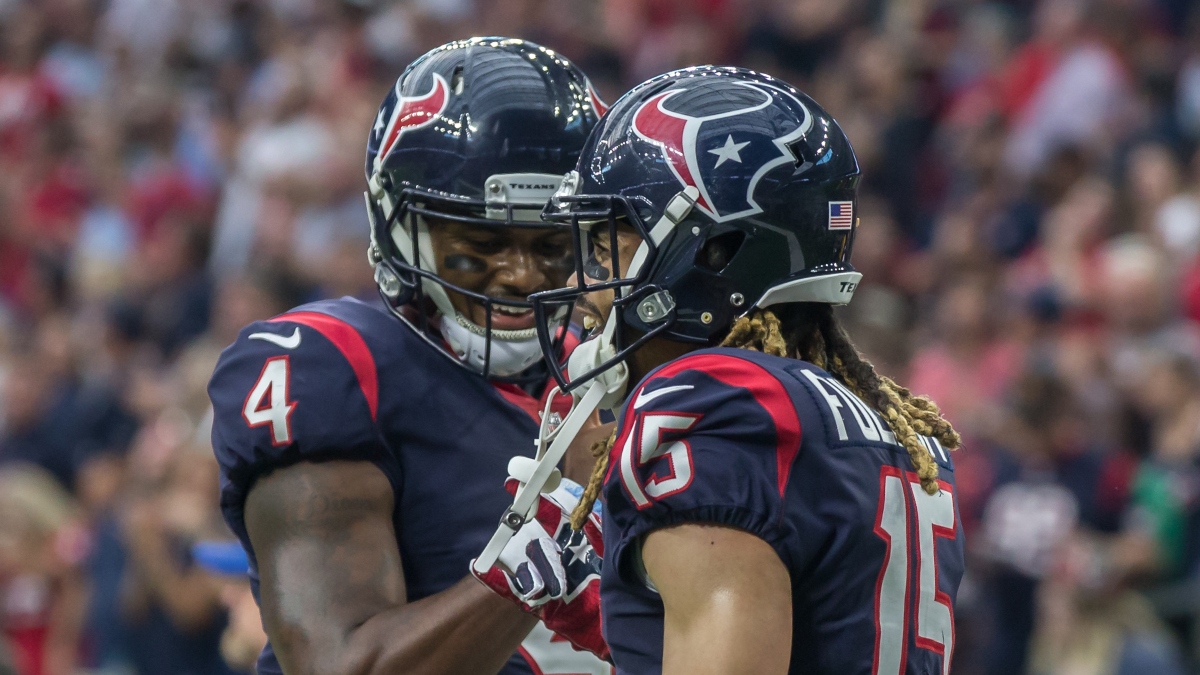 Texans WRs
There are a ton of targets up for grabs for the Texans WRs and TEs. It's likely they bring in another WR, but I'm making my initial projections as if they don't.
Will Fuller's ceiling is enormous, but he's been unable to stay healthy. His games played in his four seasons have been: 14, 10, 7, 11. Therefore it's going to be very tricky trying to forecast the Texans passing game with such a volatile WR1 now.
Kenny Stills and Keke Coutee are also going to see a big boost from Hopkin's departure.
I think we'll also see the Texans incorporate more 2-TE sets, which will boost Darren Fells' and Jordan Akins' outlooks.
Here are the post-trade projections for all of these pass catchers:
Fuller: 55 rec, 822 yds, 6.1 rec TD (WR39)
Stills: 53 rec, 727 yds, 5.6 rec TD (WR50)
Coutee: 47 rec, 505 yds, 2.8 rec TD (WR75)
Fells: 41 rec, 405 yds, 4.5 rec TD (TE25)
Akins: 38 rec, 431 yds, 2.8 rec TD (TE30)
How would you rate this article?