Gamify Your 2022 Super Bowl Party With These Novelty Prop Bets: Coin Toss, Halftime Show, Gatorade Color, More
Credit:
Getty Images. Pictured: Rams WR Cooper Kupp and Bengals K Evan McPherson (left to right)
The Super Bowl is an annual event that unites football diehards and casual fans alike.
The all-day marathon appeals to a broad audience with programming such as the adorable Puppy Bowl, raunchy commercials, spicy halftime shows and, of course, 60 minutes of football.
Below is a list of fun prop and side bets that may interest a wide breadth of fans and keep all of your 2022 Super Bowl partygoers engaged from start to finish. The list is separated into pregame, halftime, in-game and postgame. Make wagers or pools with friends on individual bets, or tally up a few on scorecards and see who wins at the end of the game!
Pregame Super Bowl Novelty Bets
Outcome Of Coin Toss
As the action may suggest, the odds of either outcome are inherently 50-50, though some will ardently claim that "tails never fails." Six of the last eight outcomes in Super Bowls have been tails, but the split is more balanced for the entire Super Bowl era: 26 for heads, 29 for tails.
Which Team Will Win the Coin Toss? 
Another fairly balanced bet, though it's worth mentioning that the Bengals won a whopping 11 consecutive coin tosses at the beginning of the year — the odds of which happening were astronomical. Both teams lost the coin toss in the Conference Championship round.
National Anthem Length
The national anthem at Super Bowl LVI will be performed by Grammy-nominated country music star Mickey Guyton. As of writing, the expected over/under seems to be 92.5 seconds. Seven of the last 15 national anthem performances have gone over, while six of 15 have gone under (two pushes). That said, this year's expected line is very low and only one of the last 15 performances went under 1:32. Jazmine Sullivan and Eric Church — the performers of the national anthem at Super Bowl LV — smashed the over/under of 1:59 and lasted 2:16.
Super Bowl Halftime Show Bets
Artist To Perform First In The Halftime Show 
This year's halftime show features five huge stars from the R&B, rap and hip-hop genres: Mary J. Blige, Kendrick Lamar, Snoop Dogg, Dr. Dre and Eminem. According to one book, Mary J. Blige has the shortest odds at +150 (40% implied odds), followed by Kendrick Lamar at +225 (30.8%), Snoop Dogg at +325 (23.5%), Dr. Dre at +450 (18.2%) and Eminem at +500 (16.7%).
What Will Eminem's First Song Be? 
"Lose Yourself," from the iconic movie, "8 Mile," feels like the obvious choice for Eminem's first song to be performed and is the favorite at +250 (28.6%) at one site. "My Name Is," from Eminem's second album, is +275 (26.7%), followed by "The Real Slim Shady" at +300 (25%), "Without Me" at +325 (23.5%) and "Stan" at +500 (16.7%). "Stan" feels like the only song on this list that isn't a good first song candidate given its pace.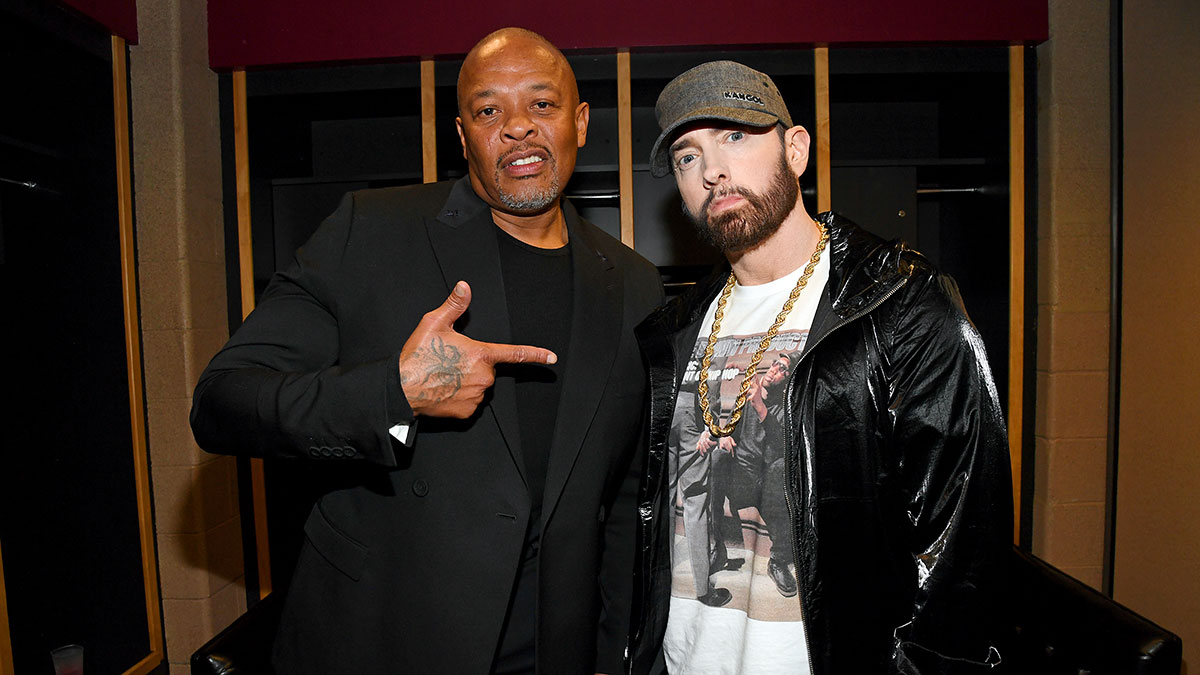 Will Any Part Of Eminem's Performance Be Censored?
Slim Shady isn't exactly known for the cleanest lyrics or respect for authority. At one book, "yes" is the favorite at -175 (63.6%), while "no" is +135 (42.6%).
Will All Five Artists Collaborate Together For A Song? 
As fun as this collaboration sounds, "no" is currently the favorite at one book with -200 odds (66.7%), while "yes" is +150 (40%).
How Many Songs Will Be Played During Halftime?
The line at one book is currently set at 7.5 with the over favored at -170 (63%), while the under is +140 (41.7%). Exactly eight songs were played during the halftime show at last year's Super Bowl, which was headlined by The Weeknd.
In-Game Super Bowl Bets
Opening Kickoff To Be a Touchback
"Yes" is the current favorite on one site at -180 (64.3%), while "no" is listed at +135 (42.6%). The Rams and Bengals had similar kickoff touchback percentages during the regular season at 62.5% and 61.7%, respectively, which ranked 11th-highest and 14th-highest in the NFL.
First Offensive Play Of the Game
A rush to be the first offensive play called in the game is currently favored at -145 (59.2%) at DraftKings. A pass to be the first play called is set at +115 (46.5%)
The Rams called 420 rushing plays and 638 passing plays on 1,058 total plays during the 2021 NFL regular season for a pass-to-rush ratio of about 60-to-40. The Bengals called called 436 rushing plays and 610 passing plays on 1,046 total plays during the regular season for a pass-to-rush ratio of about 58-to-42.
First Score Method
A touchdown is the most likely scenario according to PointsBet at -182 (64.5%), followed by a field goal at +140 (41.7%) and other at a distant +4000 (2.4%). The Rams scored 52 total touchdowns and made 32 field goals during the regular season, while the Bengals scored 54 total touchdowns and made 29 field goals. This means these two teams' combined touchdown-to-field goal ratio was 109  (64.1%) to 61 (35.9%).
Team To Score First
This one is correlated to the team that ends up winning the game, according to Josh Hermsmeyer at FiveThirtyEight. At DraftKings, the Rams are favored to score first at -140 (58.3%), while the Bengals are +110 (47.6%). The Rams are favored to win the overall matchup at -195 (66.1%), while the Bengals are +165 (37.7%).
Team To Make the First Field Goal
Rams kicker Matt Gay was one of the most accurate kickers this year. Gay made 32-of-34 (94.1%) attempts and was a perfect 21-of-21 on attempts that were fewer than 40 yards. Bengals kicker Evan McPherson was fantastic as well, especially considering he was a rookie. McPherson was one of two kickers drafted in 2021 and made 28-of-33 (84.8%) attempts. He was also a perfect 13-of-13 on kicks that were fewer than 50 yards.
Both teams are -110 at PointsBet, with neither team making a field goal listed at +1400 (6.7%).
Team To Record the First Sack
The Rams defense was stout this season led by defensive tackle Aaron Donald and linebackers Von Miller and Leonard Floyd. The unit collectively recorded 50 sacks during the 17 regular-season games — third-most in the NFL behind the Steelers and Vikings. The Bengals defense recorded an above-average number of sacks at 42, which was tied with the Bills for the 11th-most in the league.
The Rams are favored to record the first sack at -160 at PointsBet (61.5%), while the Bengals are +135 (42.6%); neither is listed at +3000 (3.2%).
First Touchdown Scorer
This is a bet sharps and casual fans can both enjoy. Wideout Cooper Kupp currently has the shortest odds to score the first touchdown on DraftKings at +450 (18.2%). Running backs Cam Akers and Joe Mixon are tied for the second-shortest odds at +750 (11.8%), followed by receiver Ja'Marr Chase at +800 (11.1%) and Odell Beckham Jr. at +900 (10%).
Crossing into the more long-shot options of 10-1 odds or longer are receiver Tee Higgins at +1200 (7.7%); tight end Tyler Higbee at +1400 (6.7%); running back Sony Michel, tight ends Kendall Blanton and C.J. Uzomah and running back Darrell Henderson Jr. at +1600 (5.9%); and receivers Tyler Boyd and Tee Higgins at +1800 (5.3%).
Our Director of Predictive Analytics, Sean Koerner, will use his expert projections to break down his bet recommendations for this prop later this week. Our editors will add his story to this post once it's up, so be sure to check back before kickoff.
Jersey Number Of First Touchdown Scorer
The line for this wager is 9.5 at DraftKings, with the over favored at -190 (65.5%) and the under at +145 (40.8%). This makes sense given the majority of running backs, receivers and tight ends wear double-digit jersey numbers.
For reference, the list of Rams' players with jersey numbers below 10 are WR Odell Beckham Jr., DB Jalen Ramsey, P Johnny Hekker, K Matt Gay and QB Matthew Stafford. The list of Bengals' players with jersey numbers below 10 are WR Ja'Marr Chase, K Evan McPherson, QB Brandon Allen and QB Joe Burrow. Beckham and Chase are the only players with single-digit jersey numbers in this game who have better than 10/1 odds to score the first touchdown (Beckham is 9/1 while Chase is 8/1).
Race To 10, 15, 20, 25, 30 Or 35 Points
Each of these figures has individual odds on PointsBet and the Rams have the edge in each. Picking which team will score a set number of points is a fun and much less straightforward way of betting who you think might be the eventual winner of the game — especially if you think your partygoers might leave before the conclusion of the game.
Will a Fan Run Onto the Field During the Game? 
"Yes" is currently favored at +700 odds (12.5%) on one site, while "No" is listed at -1600 (94.1%).
Few will forget the "fan" who stormed the field during Super Bowl 50 in a pink one-piece thong leotard promoting the adult website, "Vitaly Uncensored." The stunt was carried out by Yuri Andrade and the site itself is run by YouTube personality Vitaly Zdorovetskiy, who also ran onto the field during Game 5 of the 2017 World Series and onto the court during the 2014 NBA Finals. Andrade was later charged with trespassing by Hillsborough County and was sentenced to probation and community service. 
Postgame Novelty Bets
Color Of Gatorade Shower
My first instinct was to say blue or orange to match one of their color schemes, but in looking at years past, the Gatorade color has only matched the team color three times since 2001. The color was blue in Super Bowl LI and orange in Super Bowl 50. Orange has the shortest odds at one book +210 (32.3%), followed by lime/green/yellow and clear/water at +350 (22.2%), blue at +400 (20%) and red and purple at +500 (16.7%).
Who Will the Super Bowl MVP Mention First In His Speech?
There are a lot of folks to thank once you've been crowned the Super Bowl MVP.
Teammates are the obvious choice and only option with minus odds on one site at -125 (55.6%). God is next at +225 (30.8%), followed by city at +500 (16.7%), family at +550 (15.4%), coach at +750 (11.8%) and owner at +2000 (4.8%). None of the above is listed at +1600 (5.9%).
How would you rate this article?
This site contains commercial content. We may be compensated for the links provided on this page. The content on this page is for informational purposes only. Action Network makes no representation or warranty as to the accuracy of the information given or the outcome of any game or event.