Stuckey's Favorite NFL Betting Picks & Predictions for Week 13: Should You Trust the Raiders vs. Chiefs?
Credit:
Troy Taormina-USA TODAY Sports. Pictured: Derek Carr
Looking for some last minute NFL betting picks to help fill out your Week 13 card? Our betting expert Stuckey analyzes his four favorite bets on the slate below.
He'll hit on the following games: San Francisco 49ers at Baltimore Ravens (spread: Ravens -5.5), Cleveland Browns at Pittsburgh Steelers (spread: Steelers +1), Philadelphia Eagles at Miami Dolphins (spread: Eagles -9) and Oakland Raiders at Kansas City Chiefs (spread: Chiefs -11)
Lets take a look at his favorite predictions for the Week 13 NFL slate.
Stuckey highlights his five favorite NFL picks for Week 12 below.
Let's run through how he's betting 49ers-Ravens, Browns-Steelers, Eagles-Dolphins and Raiders-Chiefs.
---
49ers-Ravens Under 45
Given the weather and two excellent secondaries, I think this will be an extremely run-heavy game between two of the NFL's best teams.
After what the Ravens offense has done of late, the market is pricing this total, which is why I like the under. With the game script I assume for both teams, I expect the clock to be moving swiftly with two teams that don't play fast.
I bet this at 46.5, but like the under down to 45.
[In New Jersey? Bet now at PointsBet]
Steelers +1 vs. Browns
I circled this classic Mike Tomlin spot right after the Thursday night melee in Cleveland.
He's not the greatest X's and O's coach, but I consider Tomlin to be one of the best motivators in the league. His teams thrive when he can fire up the locker room and take an us-against-the-world mentality. And what better spot to fire up a locker room than at home against a hated division opponent that recently had their best defensive player attack your quarterback with his helmet?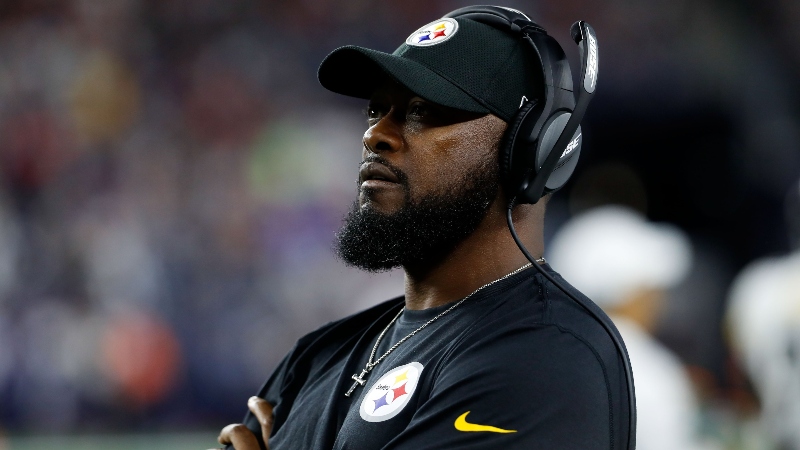 I expect the Steelers to come out with their hair on fire — especially on defense — right from the jump. That could spell disaster for a very undisciplined Browns team playing in a game that should be refereed very tightly given what happened in the last meeting.
Devlin Hodges is expected to get the start under center, which I actually prefer. Some rate Mason Rudolph better, but I have them about equal overall, and Rudolph just had lost all of his confidence and simply refused to throw the ball down the field — two things I'm not currently worried about with the former Samford QB.
The Steelers defensive line, which ranks second in adjusted sack rate, should dominate the line of scrimmage against a poor Browns offensive line and get to Mayfield on the regular. Mayfield is completing only a tad more than 45% of his passes under pressure with five touchdowns and five interceptions.
I think the same can be said on the offensive side of the ball as the Browns will sorely miss Myles Garrett against a rock-solid Steelers offensive line that ranks third in adjusted sack rate.
The Browns have covered for me three weeks in a row, but this is a spot to jump off the wagon. I expect a classic mistake-filled Browns performance against a fired-up Steelers team in front of a raucous crowd.
Wait to see if a 3 pops, but I like the Steelers at any dog number.
[In New Jersey? Bet now at PointsBet]
Eagles 1H -4/-10 at Dolphins
Time to go back to the well with a Dolphins fade.
Just like the past two weeks against the Bills and Browns, I'm fading Miami by taking Philly to cover the first half (anything under 5 is fine) and full game (anything 10 or better).
This Dolphins roster is historically bad and much worse than the team we saw earlier in the season.
Let's start on offense.
You have to give credit to Ryan Fitzpatrick for some of the numbers he's putting up considering the lack of talent he has around him. He's working with a horrific offensive line and a historically-bad running game that's averaging a league-worst 3.1 yards per rush — and that includes time with Mark Walton and Kenyan Drake, who are both no longer with the team.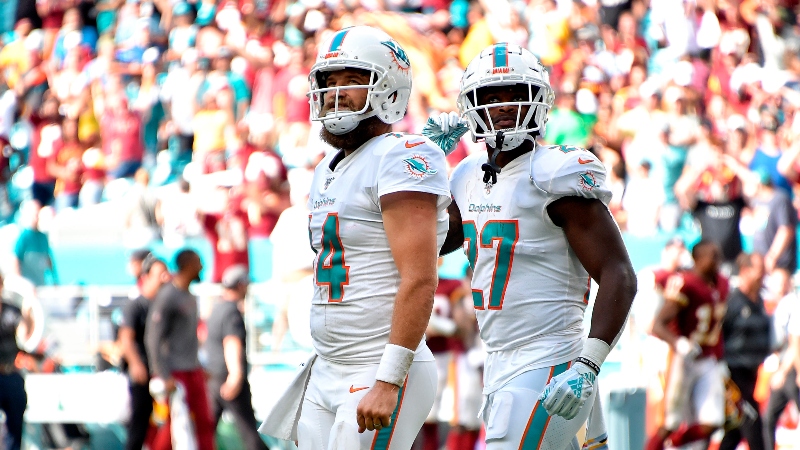 The receiving corps has also been depleted with injuries as it's pretty much now just DeVante Parker on the outside.
I don't expect the Dolphins to do much on offense against an Eagles defense that has some of the best metrics over the best month, holding four straight opponents to fewer than 17 points for the first time in 10 years. The secondary has improved significantly since the return of Jalen Mills, and the defensive line should have its way with that poor offensive line.
Meanwhile, the Eagles offense has been severely limited, primarily due to a lack of deep threat with the absence of DeSean Jackson. However, they've also dealt with a number of impactful injuries on the outside and along the offensive line. But it looks like the offensive line should be at full strength and they'll be getting back a number of weapons on the outside (the latest reports on Zach Ertz, Nelson Agholor and Alshon Jefferey look promising).
Ultimately, this is a very poor Dolphins defense that shouldn't get much push at the line of scrimmage and have lost a ton in the secondary. This is a get-right game for the Eagles who should take out some of their recent frustrations against a reeling Miami team. I'm laying the points.
[In New Jersey? Bet now at PointsBet]
Raiders +11 at Chiefs
I played under 52 and Raiders for a half-unit each as there's some correlation: If the Raiders are able to move the ball on the ground, they can burn the clock and stay in this while keeping the Chiefs offense off of the field.
Plus, the projected heavy winds will have much more of an impact on the Chiefs' deep passing game than it will on the Raiders' run-heavy offense and short playaction passes that Derek Carr fancies. Keep in mind that the Raiders are also a snail, ranking 29th in seconds per play. So when they're on the field sustaining drives, the clock is bleeding.
How would you rate this article?