Raybon's Week 3 Fantasy Football Trade Targets & Sell Highs
Credit:
Derick E. Hingle-USA TODAY Sports. Pictured: New Orleans Saints wide receiver Michael Thomas (13).
Injuries to some of the league's top quarterbacks have changed the dynamics of teams around the NFL after Week 2.
Chris Raybon lists seven players you should either be trading for or offloading in your league.
The great fantasy football player Warren Buffett once said, "Be fearful when others are greedy and greedy when others are fearful."
Actually, he said that about investing and probably has never played fantasy in his life, but whatever; it's applicable here and I needed an intro.
Here are five buy-lows and two sell-highs ahead of Week 3.
Buy Lows
RB David Johnson, Cardinals
DJ finished with an unbecoming 7-14-1 rushing line with zero catches in Week 2, but that was against a stingy Ravens defense that ranks first in Pro Football Focus' run defense grades.
Johnson also missed time in that game with a wrist injury. His 88% snap rate from Week 1 and his overall 89.9% share of backfield touches through two weeks are more in line with his true usage expectation.
RB James Conner, Steelers
Conner has stumbled out of the gate with a 21-54-1 rushing line, but it came against two run defenses that PFF grades in the top seven overall in the Patriots (fifth) and Seahawks (seventh).
Over the next four weeks, Conner gets a more manageable slate with only one tough matchup as he goes against the 49ers (16th), Bengals (29th), Ravens (first), and Chargers (26th).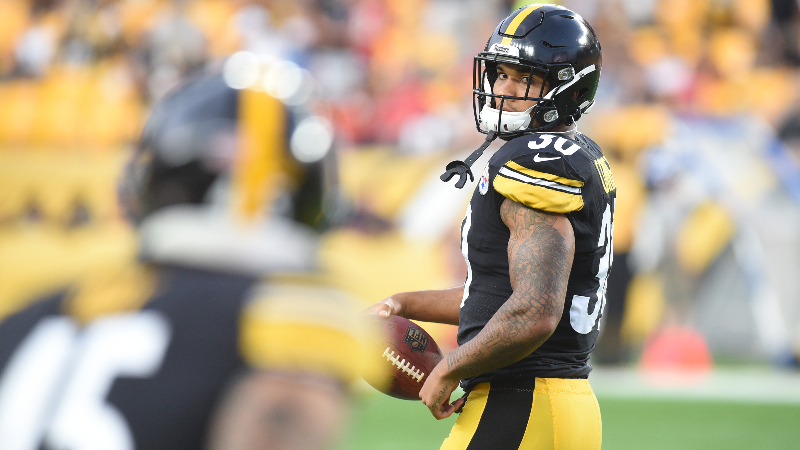 The Steelers also played a league-high 15% of their snaps with an empty backfield, per Sharp Football Stats, contributing to the fourth-lowest amount of running back caries per game through two weeks (13.5) — numbers that are almost certain to revert to the norm with Ben Roethlisberger no longer at the helm.
WR Brandin Cooks, Rams
Cooks has a modest 5-113-1 line on a disappointing 10 targets through two weeks while Cooper Kupp and Robert Woods have combined for 22-269-0 on a whopping 34 targets.
As Kupp proves he's still the same (or more of a?) threat as before and Jared Goff gets more comfortable behind a reworked offensive line, the pendulum will swing back in Cooks' direction.
In the eight games Kupp was active last season, Cooks posed a 5.5-89.9-0.25 line — and that includes a game in which Cooks goose-egged against Seattle that Cooks departed after 42% of the snaps due to injury. Remove that game, and Cooks' stat line with Kupp last season jumps to 6.3-102.7-0.29.
Also working in Cooks' favor is all but one of the Rams opponents over the next six weeks rank 19th or worse in PFF's coverage grades: Browns (21st), Bucs (20th), Seahawks (25th), 49ers (third), Falcons (19th), Bengals (30th).
WR Jarvis Landry, Browns
Landry has underwhelmed with just seven catches for 99 scoreless yards on 14 targets though two weeks, but he'll be needed in upcoming potentially high-scoring affairs with the Rams, Ravens, 49ers, and Seahawks.
Slot receivers have lit up the Ravens (Larry Fitzgerald 5-104-0, Christian Kirk 6-114-0), 49ers (Chris Godwin 3-53-1, Tyler Boyd 10-122-0), and Seahawks (Boyd 8-60, JuJu Smith-Schuster 5-84-0) over the past two weeks.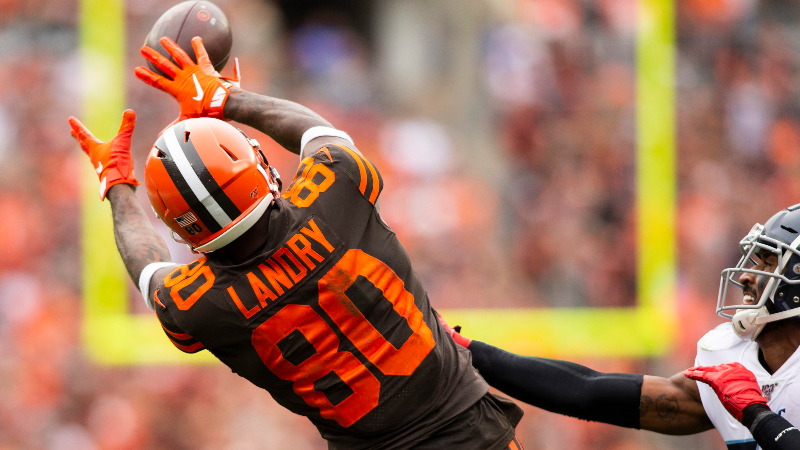 Meanwhile Rams slot corner Nickell Robey-Coleman has been the weakest link in the Rams secondary, ranking 60th among corners in PFF's coverage grades compared to 22nd for Marcus Peters and 33rd for Aqib Talib.
TE O.J. Howard, Bucs
After splitting Week 1 routes (25) with Cameron Brate (22), Howard promisingly ran 20 to Brate's nine in Week 2 per PFF. Of course that's no solace for owners who started him, as he scored as many fantasy points as you or I did last week.
He may not have as much upside as Evan Engram going forward, but especially with a matchup with the sieve-like Giants defense coming up in Week 3, Howard's value may never be lower. There's nothing like an early-season goose egg to cause owners to sell a player with top-six upside for pennies on the dollar.
Sell High
WR Tyrell Williams, Raiders
Williams has performed admirably in place of Antonio Brown, posting 6-105-1 against Denver in Week 1 and 5-46-1 vs. Kansas City in Week 2.
Derek Carr's ugly 198-yard, 2-INT performance at home against an exploitable Chiefs defense should set off the alarm bells, though. And it only gets tougher from here with matchups against the Vikings, Colts, and Bears leading into a Week 7 bye.
I say fade the tough matchups and early bye by selling high on your late-round gem while you still can.
WR Michael Thomas, Saints
It goes overlooked, but Thomas is a low aDOT guy as far as No. 1 wideouts go (8.3 last season, 9.0 so far this season, per AirYards.com). Thomas has averaged 11.2 yards per reception since the start of 2018, sustaining himself on Drew Brees' surgical precision with an unheard of 83.8% catch rate over that span.
Brees, of course, leads the league with a record-setting 74.3% completion rate over that span. Teddy Bridgewater's career completion rate, meanwhile, is 10 points lower, at 64.3%.
Luckily Thomas snagged 10 catches last week despite averaging a putrid 8.9 yards per catch, masking the true degree of the downgrade from Brees to Bridgewater.
Through no fault of his own, I'm betting Bridgewater makes "Can't Guard Mike" look a little more guardable. Matchups vs. the stingy Jags and Bears pass defenses also loom within the window Brees will be on the shelf.
How would you rate this article?