NFL Week 6 WR/CB Matchups: Can James Bradberry Contain Mike Evans?
Credit:
Bob Donnan-USA TODAY Sports. Pictured: Tampa Bay Buccaneers wide receiver Mike Evans (13), Carolina Panthers cornerback James Bradberry (24).
It's been an inconsistent year for Buccaneers WR Mike Evans, and this week he faces a tough matchup in Panthers CB James Bradberry.
Matthew Freedman previews that matchup, and breaks down other WR/CB matchups worth keeping an eye on in Week 6.
Wide receiver-cornerback showdowns might be the most important individual matchups in football.
In this piece, I leverage snap data from Pro Football Focus to project NFL Week 6 WR/CB matchups.
For more, see the FantasyLabs Matchups page, where we provide basic and advanced data — including fantasy and red-zone performance — for each offensive skill-position player based on his matchup.
Also consult our Week 6 injury report for status updates on receivers and corners. I will update this piece for Sunday morning based on the week's practice reports.
Let's start with this week's featured matchup then run through all the potential shadow matchups and sort through my matrix featuring every matchup.
WR/CB Matchup of the Week: Mike Evans vs. James Bradberry
For the second week in a row, Evans is the receiver in our featured matchup.
While everyone seemingly went off last week, Evans horrifically struggled with a zero-catch performance on three targets. Evans dominated cornerback Marshon Lattimore in their two matchups last season, but last week, Lattimore clearly got the better of him.
And now Evans has to face cornerback James Bradberry, who has had success against him in their recent matchups.
Week 2 (2019): 82.8% of routes, 3-61-0 receiving on three targets
Week 13 (2019): 75.0% of routes, 4-48-0 receiving on six targets
Week 9 (2019): 86.4% of routes, 1-16-0 receiving on seven targets
Bradberry has good size (6-foot-1, 212 pounds) and athleticism (4.5-second 40-yard dash) and is physical enough to press Evans at the line of scrimmage and disrupt him in his routes.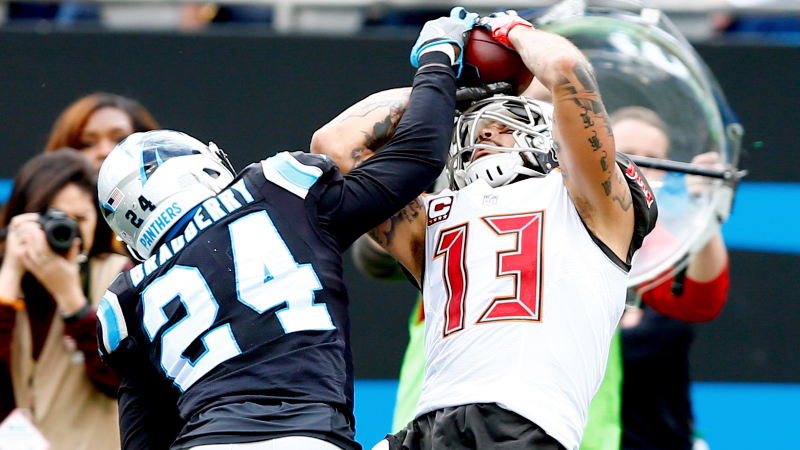 Bradberry isn't a household name: He's not in the Jalen Ramsey/Stephon Gilmore echelon. But he's having career-best breakout campaign. He's held opposing receivers to a paltry 48% catch rate, and he's leading a Panthers pass defense second only to the Patriots with 4.8 net yards per attempt allowed.
Evans has an NFL-high 603 air yards, and it's likely the Bucs will continue to target him downfield. All it takes is one deep target and a blown coverage for Evans to beat Bradberry for the entire day.
But Evans has been intensely volatile this year, while Bradberry has been about as consistent as a shadow corner can be.
Fellow cornerback Donte Jackson (groin) has missed the past two games and is uncertain to play this week. If Jackson is out, it will be all the more important for Bradberry to lock down Evans, because fill-in corner Javien Elliott should have his hands full against slot superstar Chris Godwin.
Bradberry's recent form and past performances against Evans suggest that he is up to the challenge. As good as Evans is, Bradberry might be playing better right now.
UPDATE: Jackson (groin) practiced in full on Wednesday and is projected IN
Edge: Bradberry
NFL Week 6 Potential Shadow Matchups
Here are the other shadow matchups I'm projecting, listed by time of kickoff.
Giants WRs Sterling Shepard, Golden Tate & Cody Latimer vs. Patriots CBs Stephon Gilmore, Jonathan Jones & Jason McCourty: The Patriots have used shadow coverage every week this year, and Gilmore figures to match up against Shepard, who played mostly on the outside last week with the return of Tate (suspension). As the top outside receiver, Shepard will likely draw Gilmore, with the other corners matching up accordingly. The Pats have NFL-best marks with zero receiving touchdowns allowed and 11 interceptions. Edge: Significantly Pats CBs UPDATE: Shepard (concussion) is OUT, Gilmore now shadows Latimer
Eagles WR Alshon Jeffery vs. Vikings CB Xavier Rhodes: The Vikings haven's used Rhodes in shadow coverage since Week 2, but for their former NFC North nemesis, I think they'll revert to their former ways. Although Alshon took it to the Vikings in the 2017-18 playoffs (5-85-2 receiving), Rhodes got the best of him in 2018 (2-39-0, five targets) and in their two 2016 matchups (4-62-0, 10 targets). Edge: Rhodes
Jaguars WR D.J. Chark Jr. vs. Saints CB Marshon Lattimore: Chark has broken out in his second season with a 27-485-5 receiving line through five games. Lattimore seems to be rounding into form with recent strong performances against Amari Cooper and Mike Evans, but he has still allowed an NFL-high 405 yards receiving. Edge: Slightly Chark
Bengals WR Tyler Boyd vs. Ravens CB Marlon Humphrey: Boyd is the clear No. 1 receiver for the Bengals with A.J. Green (ankle) and John Ross (clavicle, injured reserve) on the sideline. For the first time in his career, Humphrey played significant snaps in the slot (44.1%) in Week 5, shadowing JuJu Smith-Schuster all over the field. If he did it for JuJu, he could easily do it for the slot-based Boyd. Humphrey has held opposing receivers to a 50% catch rate for his career. Edge: Humphrey
Titans WR Corey Davis vs. Broncos CB Chris Harris Jr.: Despite the emergence of A.J. Brown, I imagine that Davis is still viewed as the No. 1 receiver for the Titans. Harris has been used in shadow coverage for the past month, and he and Davis tend to line up on the same side anyway, so this matchup is likely to happen. Davis has gone over 50 yards in just one game, while Harris is one of the league's best corners. Edge: Harris
Steelers WR JuJu Smith-Schuster vs. Chargers CBs Desmond King II & Casey Hayward Jr.: JuJu has run 64.8% of his routes this year from the slot, where he will face King's lockdown All-Pro coverage. And when JuJu moves outside, I expect that he will be tailed by Hayward. In this double-shadow situation, JuJu will be hard to trust, especially with third-string quarterback Devlin Hodges expected to start. Edge: King & Hayward
Lions WR Kenny Golladay vs. Packers CB Jaire Alexander: The Packers have used their 2018 first-rounder in shadow coverage against sizable receivers over the past three weeks, and Golladay fits the bill. Alexander is talented, but he's responsible for the bulk of Amari Cooper's 11-226-1 onslaught last week, and Golladay is coming off a bye after a 5-67-2 performance in Week 3. Edge: Golladay
NFL Week 6 WR/CB Matchups
I'm taking a cautious approach to injured players I expect to be questionable (or out), such as wide receiver Sammy Watkins and cornerbacks Denzel Ward and Greedy Williams.
If by the weekend it seems likely that they will play, I will include them in the matrix when I make updates.
Pos = left, right or slot WR or CB
% = percentage of player's snaps at position
Projected shadow matchups are CAPITALIZED
Thursday Night Football Injury Updates
New York Giants
RWR Sterling Shepard OUT
RWR Darius Slayton IN
Takeaway: Upgrade for SWR Golden Tate, massive downgrade  for LWR Cody Latimer, who now draws shadow coverage from Patriots CB Stephon Gilmore
Sunday Injury Updates
Arizona Cardinals
LWR Damiere Byrd IN
LWR Trent Sherfield OUT
Takeaway: Meh
Atlanta Falcons
LCB Desmond Trufant OUT
LCB Jordan Miller IN
Takeaway: Upgrade for Cardinals RWR KeeSean Johnson
Carolina Panthers
LCB Donte Jackson IN
LCB Ross Cockrell MOVES to SCB
SCB Javien Elliott OUT
Takeaway: Slight downgrade for Buccaneers SWR Chris Godwin, downgrade for Buccaneers RWR Bobo Wilson
Dallas Cowboys
SWR Randall Cobb OUT
SWR Devin Smith IN
Takeaway: Slight upgrade for WRs Amari Cooper and Michael Gallup
Green Bay Packers
RWR Davante Adams OUT
RWR Jake Kumerow IN
Takeaway: Upgrade for WRs Marquez Valdes-Scantling and Geronimo Allison, slight upgrade for TE Jimmy Graham, slight downgrade for QB Aaron Rodgers
Los Angeles Rams
LWR Brandin Cooks IN
LWR Josh Reynolds OUT
LCB Aqib Talib OUT
LCB Troy Hill IN
Takeaway: Slight downgrade for WRs Cooper Kupp and Robert Woods, big upgrade for WR Marquise Goodwin
Minnesota Vikings
SCB Mackensie Alexander IN
SCB Mike Hughes OUT
Takeaway: Slight downgrade for Eagles SWR Nelson Agholor
New Orleans Saints
SWR Tre'Quan Smith OUT
SWR Austin Carr IN
Takeaway: Slight upgrade for WRs Michael Thomas and Ted Ginn Jr. and TE Jared Cook
Pittsburgh Steelers
RCB  Steven Nelson OUT
RCB Cameron Sutton IN
Takeaway: Big upgrade for Chargers WRs Mike Williams
Thanks to Scott Barrett for providing me with some of PFF's historical data.
How would you rate this article?