Grading Week 7 NFL WR/CB Matchups: Will Tyler Lockett Exploit Marlon Humphrey?
Credit:
USA Today Sports. Pictured: Tyler Lockett, Marlon Humphrey
With the Ravens traveling to Seattle this week, Marlon Humphrey will be faced with the task of guarding Tyler Lockett.
Matthew Freedman on who will come out on top of that matchup, and others to look out for in Week 7.
Wide receiver-cornerback showdowns might be the most important individual matchups in football.
In this piece, I leverage snap data from Pro Football Focus to project NFL Week 7 WR/CB matchups.
For more, see the FantasyLabs Matchups page, where we provide basic and advanced data — including fantasy and red-zone performance — for each offensive skill-position player based on his matchup.
Also consult our Week 7 injury report for status updates on receivers and corners. I will update this piece for Sunday morning based on the week's practice reports.
Let's start with this week's featured matchup then run through all the potential shadow matchups and sort through my matrix featuring every matchup.
---
Skip To: Shadow Matchups | WR/CB Matrix
---
WR/CB Matchup of the Week
Tyler Lockett vs. Marlon Humphrey
I am very excited about this potential matchup.
Lockett is one of the league's most dynamic and efficient receivers. Since last season, he's had an 82.1% catch rate and 11.1% touchdown rate to go along with his 13.2 yards per target in 23 games (including playoffs).
For the 5-1 Seahawks, Lockett is locked in as the No. 1 receiver with a team-high 41 targets, 35 receptions and 454 yards receiving.
Last year, he gifted Russell Wilson a league-best and totally perfect 158.3 quarterback rating on his targets. This year, that number is a merely elite 139.0, good for No. 4 among all wide receivers.
Lockett has an elite 70% catch rate on his 10 targets of 20-plus yards, and he leads all receivers with his 89.3% catch rate in the slot (per PFF).
Given that he has run 69.7% of his routes from the slot this year, Lockett has benefited from some soft matchups, but that certainly won't be the case against the Ravens.
Over the past two weeks, for the first time in his career, the Ravens have had No. 1 cornerback Marlon Humphrey shadow receivers into the slot, first JuJu Smith-Schuster in Week 5 then Tyler Boyd in Week 6. Although he allowed 3-49-1 receiving on three targets in his first slot-heavy game, last week Humphrey shut Boyd down, allowing just one reception for one yard on five targets.
Across his three-year career, Humphrey has held opposing receivers to a 49.2% catch rate.
The Ravens are very beat up in the secondary. Cornerback Jimmy Smith (knee) hasn't played since Week 1. Slot corner Tavon Young (neck, injured reserve) is out. Starting safety Tony Jefferson (knee, injured reserve) suffered a season-ending injury in Week 5.
But if Humphrey can do to Lockett what he collectively did to Smith-Schuster and Boyd over the past couple of weeks, the Ravens should be able to hang with the Seahawks.
Wide Receiver Expectation: Medium downgrade

---
Potential Week 7 Shadow Matchups
Here are the other shadow matchups I'm projecting, listed by time of kickoff.
Thursday Night Football
Chiefs WR Tyreek Hill vs. Broncos CB Chris Harris Jr.: TyFreak returned in Week 6 with a 5-80-2 receiving performance on 10 targets and 28 snaps. This week his snap volume should increase, and he'll line up across the formation as he usually does. Harris has shadowed since Week 2, and last week the Broncos had him tail into the slot, where he was an All-Pro defender before moving to the outside. In Week 4 last year, Tyreek had a 4-40-0 line on four targets in Harris' coverage, but in Week 8, Harris was targeted just once all game. WR Expectation: Small downgrade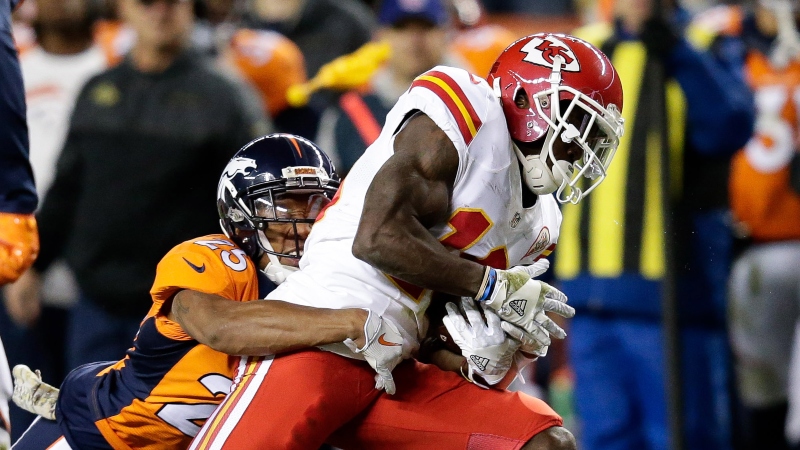 Sunday 1 pm ET Games
Bills WR John Brown vs. Dolphins CB Xavien Howard: Coming off the bye, Brown should be rested and ready. He leads the team in every major receiving category and has 106.2 air yards per game. Howard (knee) missed Week 6 for the tanking Dolphins, but he practiced each day last week on a limited basis, and I tentatively expect him to play. Commonly regarded as a shutdown corner, Howard has allowed a 77.8% catch rate this season. WR Expectation: No change UPDATE (Oct. 19): Howard is questionable
Lions WR Kenny Golladay vs. Vikings CB Xavier Rhodes: The Vikings haven's used Rhodes in shadow coverage since Week 2, but for the Golladay, they might revert to their former ways. Last year, Rhodes didn't shadow in Week 9, but he did for 50% of Golladay's routes in Week 16, when he got a massive 15 targets but had just a 6-58-0 receiving line. WR Expectation: No change
Vikings WR Stefon Diggs vs. Lions CB Darius Slay: Diggs enters his potential matchup with Slay fresh off a slate-breaking 7-167-3 receiving performance, but last week marked the first time all season he had at least eight targets. Diggs missed their Week 9 matchup last year, but in Week 16, Slay tailed Diggs on 72.4% of his routes and held him to zero receptions on four targets. Slay (hamstring) is uncertain but tentatively expected to play. WR Expectation: Medium downgrade
Raiders WR Tyrell Williams vs. Packers CB Jaire Alexander: Williams (foot) missed Week 5, but he had the bye last week to recover and might be ready to suit up on Sunday. Williams hasn't blown up in his first year with the Raiders, but he has scored each week and averaged a respectable 54 yards per game. The Packers have used their 2018 first-rounder to shadow larger No. 1 receivers this year, and Williams fits the bill. Even with his embarrassing Week 5 performance against Amari Cooper (8-201-1 receiving on eight targets), Alexander is a talented up-and-comer with emerging shutdown skills. WR Expectation: Small downgrade UPDATE (Oct. 19): Williams is OUT
Sunday 4 pm ET Games
Titans WR Corey Davis vs. Chargers CB Casey Hayward Jr.: Davis is a shell of a No. 1 receiver with just 4.5 targets per game, but he leads all Titans receivers with 311 snaps and is the ostensible top option in the passing game. His circumstances might change with the likely switch to quarterback Ryan Tannehill, but the Titans offense should still underwhelm. Last year, Hayward held Davis to a 1-5-0 line on four targets in their Week 7. Since joining the Chargers in 2016, Hayward has held opposing receiving to a 52.9% catch rate. WR Expectation: Large downgrade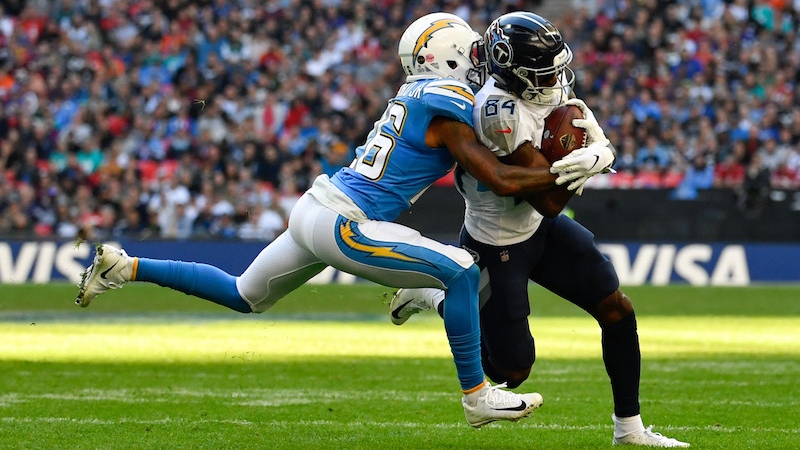 Bears WR Allen Robinson II vs. Saints CB Marshon Lattimore: A-Rob balled out with a 7-97-2 receiving line with backup quarterback Chase Daniel in Week 5, and starter Mitchell Trubisky (shoulder) might return after the Week 6 bye. Lattimore struggled to open the year, so much so that he still has NFL-high marks with 47 targets and 449 yards allowed. But over the past three weeks, the 2017 Defensive Rookie of the Year has returned to form with shutdown performances against Amari Cooper, Mike Evans and D.J. Chark Jr. WR Expectation: Medium downgrade
Monday Night Football
Jets WRs Robby Anderson, Jamison Crowder & Demaryius Thomas vs. Patriots CBs Stephon Gilmore, Jonathan Jones & Jason McCourty: The Jets passing game came alive last week with the return of quarterback Sam Darnold (mononucleosis). Anderson now has seven touchdowns in 14 games with Darnold, and Crowder has 26 targets and 197 yards in two games with him this year. But the Pats are the league's most shadow-heavy team, and they have NFL-best marks with one receiving touchdown allowed and 14 interceptions. WR Expectation: Large downgrade for Anderson, small downgrade for Crowder, medium downgrade for Thomas

---
NFL Week 7 WR/CB Matchups
I'm taking a cautious approach to injured players I expect to be questionable (or out), such as wide receiver Sammy Watkins and cornerback Jalen Ramsey.
If by the weekend it seems likely that they will play, I will include them in my updates.
Pos = left, right or slot WR or CB
Projected shadow matchups are CAPITALIZED
WR Exp = Wide Receiver Expectation: I rank from 3 to -3 how much I think we should adjust expectations for wide receivers based on matchups. 3: Large upgrade. 2: Medium upgrade. 1: Small upgrade. 0: No change. -1: Small downgrade. -2: Medium downgrade. -3: Large downgrade. 
All WR/CB Updates for Week 7
Cardinals at Giants, 1 pm ET
Arizona Cardinals
SWR Christian Kirk projected OUT
SWR Pharoh Cooper IN
Takeaway: Upgrade for SWR Larry Fitzgerald
Rams at Falcons, 1 pm ET
Los Angeles Rams
LCB Marcus Peters OUT/TRADED
RCB Troy Hill MOVES to LCB
LCB Jalen Ramsey IN/ACQUIRED
Takeaway: Significant downgrade for Falcons LWR Julio Jones, significant upgrade for Falcons RWR Calvin Ridley
Jaguars at Bengals, 1 pm ET
Cincinnati Bengals
RCB William Jackson OUT
SCB Tony McRae MOVES to RCB
SCB Darqueze Dennard IN
Takeaway: Significant upgrade for Jaguars LWR Chris Conley
Raiders at Packers, 1 pm ET
Oakland Raiders
LWR Tyrell Williams OUT
LWR Keelan Doss IN
Takeaway: It's complicated. See below.
Green Bay Packers
LCB Jaire Alexander MOVES to RCB
RCB Kevin King MOVES to LCB
Takeaway: With Williams out, Alexander will no longer shadow. Alexander and King will switch back to their usual sides of the field. As a result, significant downgrade for Raiders RWR Trevor Davis.
Texans at Colts, 1 pm ET
Houston Texans
SCB Bradley Roby OUT
SCB Ceion Crossen IN
Takeaway: Slight upgrade for Colts SWR Chester Rogers
Indianapolis Colts
SCB Kenny Moore II OUT
SCB Quincy Wilson IN
Takeaway: Upgrade for Texans SWR Keke Coutee
49ers at Redskins, 1 pm ET
San Francisco 49ers
LWR Deebo Samuel OUT
LWR Kendrick Bourne IN
Takeaway: Slight upgrade for SWR Dante Pettis, RWR Marquise Goodwin and TE George Kittle
Chargers at Titans, 4:05 pm ET
Los Angeles Chargers
RWR Travis Benjamin OUT
RWR Geremy Davis IN
Takeaway: Nada
Saints at Bears, 4:25 pm ET
New Orleans Saints
SCB P.J. Williams OUT/SUSPENDED
SCB Ken Crawley IN
Takeaway: Maybe a slight upgrade for Bears SWR Anthony Miller
Ravens at Seahawks, 4:25 pm ET
Baltimore Ravens
RCB Marcus Peters IN/ACQUIRED
RCB Maurice Canady OUT
Takeaway: Downgrade for Seahawks LWR D.K. Metcalf
Eagles at Cowboys, 8:20 pm ET
Dallas Cowboys
RWR Amari Cooper IN
RWR Cedrick Wilson OUT
SWR Randall Cobb IN
SWR Tavon Austin OUT
Takeaway: It's complicated. See below.
Philadelphia Eagles
LCB Jalen Mills IN
LCB Sidney Jones OUT
RCB Ronald Darby IN
RCB Rasul Douglas OUT
Takeaway: Significant downgrade for Cowboys LWR Michael Gallup, downgrade for Cowboys RWR Amari Cooper, slight downgrade for Cowboys SWR Randall Cobb
Monday Night Football
New England Patriots
LWR Josh Gordon OUT
LWR Phillip Dorsett IN
Takeaway: Slight upgrade for RWR Julian Edelman
Thanks to Scott Barrett for providing me with some of PFF's historical data.
How would you rate this article?