MLB Betting Odds & Projections: Expert Breakdown for All of Wednesday's 16 Games (June 1)
Credit:
John McCoy/Getty Images. Pictured: Ke'Bryan Hayes and Michael Chavis
Wednesday's MLB slate is in full swing, but there's still plenty of action this evening.
MLB betting expert Sean Zerillo has laid out how he's betting every matching on today's 16-game slate.
Continue reading for his full breakdown of every matchup, as well as a betting recommendation.
Wednesday features a 16-game MLB slate, including a doubleheader between the Marlins and Rockies.
You can find my projections for every MLB game in the Action Network App (on both the PRO Projections tab and the game pages) and our Projections Hub (which you can bookmark).
You can also shop for the best lines on our odds page.
Instead of diving deeper into just a handful of games, I'll provide my betting notes for all 16 games.
Using my projections, where can we find actionable value on Wednesday?
---
Evan Lee vs. Carlos Carrasco (full projections here)
I readily admit to knowing nothing about Lee — a former 15th-round pick getting the call from Double-A for his debut.
The southpaw has posted high strikeout and walk totals in the minors, and the only publicly available projection (via Steamer) has him pegged for a 4.94 FIP in 2022 — but over one inning of work.
In short, nobody saw this call-up coming, and I had a difficult time setting Lee's ERA projection below five from the outset.
Carrasco is walking fewer batters than ever before (3.7% walk rate; sixth among 129 qualified pitchers) and performing up to career norms (3.48 xFIP, 3.51 SIERA) after a dismal 2021 campaign.
Technically, my model recommends betting the Nationals here at +208 or better.
Still, this is an excellent spot to watch and gather information on Lee, and I'll likely pass unless this line floats closer to +250.
Brad Keller vs. Konnor Pilkington (full projections here)
I like the unders in this game between two above-average defensive clubs.
The Guardians rank third by Defensive Runs Saved (+24) or "DRS" and sixth per Outs Above Average (+8) or "OAA," while the Royals rank 21st (-1) and fifth (+9), respectively.
I tend to trust DRS instead of OAA because the former captures catcher defense (Guardians +5, Royals -3) while the latter does not. Additionally, I used to work for the company that makes DRS, and I know every step of that process.
There's a significant gap between the two measurements in the Royals' keystone defense.
DRS has the Royals at -7 at second base, tied with the Giants for the second-worst mark among the 30 clubs. And Nicky Lopez (-8) is responsible for all of that negativity. Conversely, OAA has the Royals at -1 at second base — ranking 18th overall — and shows Lopez as an average defender.
In past seasons, Lopez has been an above-average defender at second base (+12 DRS from 2019-21), and he's +2 at shortstop this year alone (+3 last season).
Moreover, my model rates Lopez as one of the better defenders on the Royals' roster, and if you move him from -8 to neutral in DRS this season, Kansas City climbs from 21st to 16th in the rankings.
In terms of a moneyline side, I would need something closer to +136 to bet the Royals at a two percent edge.
I projected the totals closer to 4.35 and 8.25 for the first five innings (F5) and full game, respectively, and would bet the unders down to 4.5 (+100) and 9 (-117).
If you see an F5 Under 5, I'd prefer that up to -130.
Yu Darvish vs. Dakota Hudson (full projections here)
Despite maintaining his velocity and showing a relatively stable pitch mix, Darvish has seen his swinging strike rate and strikeout rate plummet to career lows.
Opposing batters are chasing Darvish's pitches just as often as they typically do (30.4%, vs. 30.7% career) but making contact far more frequently on those pitches outside the strike zone: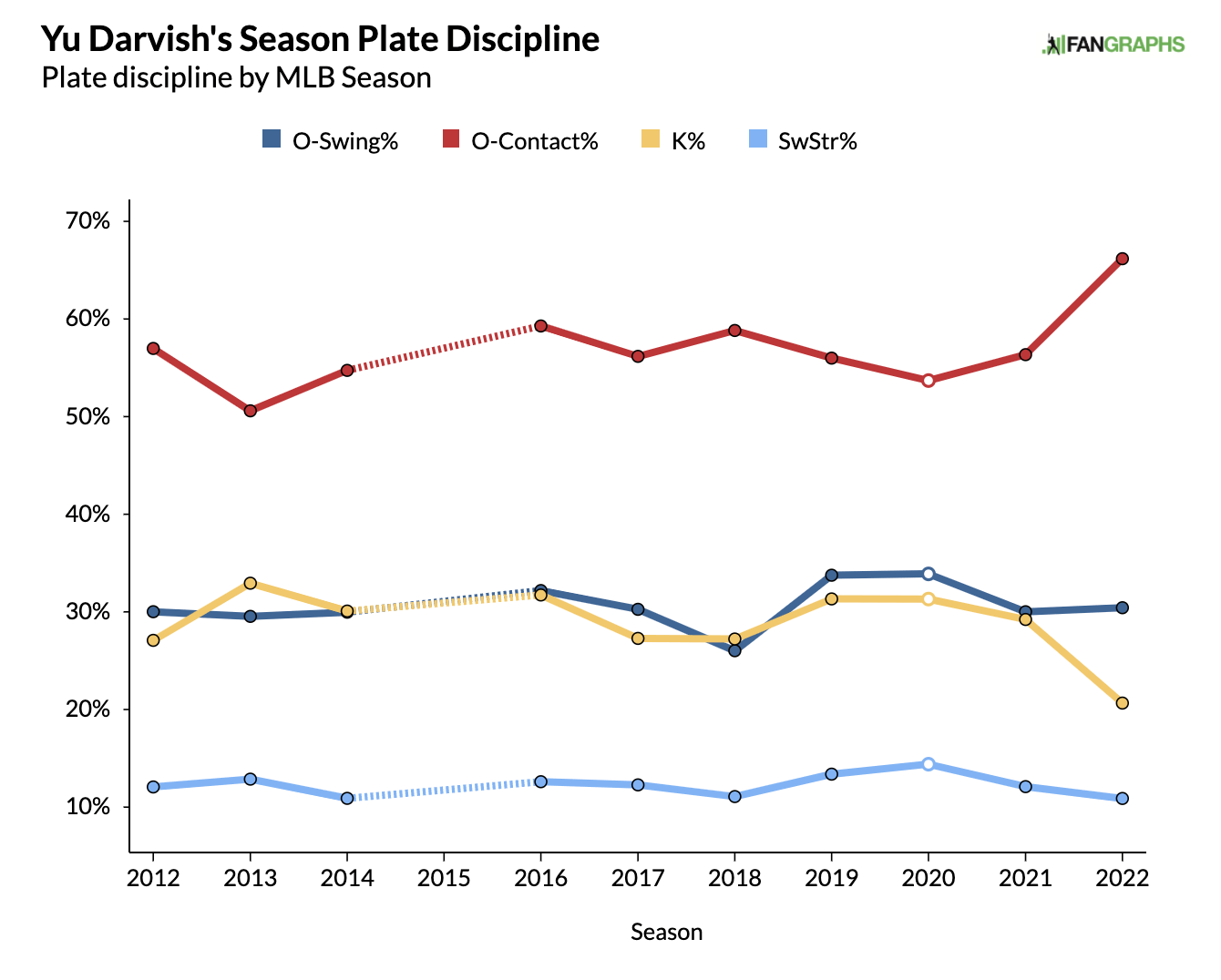 Davish's xFIP and SIERA (4.04 and 3.98, respectively) stand at their highest marks since 2018, but he's been able to limit the damage by halving his HR/FB rate (6.3%) relative to his career mark (13.4%).
If Darvish starts to permit home runs closer to his career average, he could be in for a rough remainder to the season — unless he can rediscover his penchant for generating whiffs.
Dakota Hudson has overperformed (3.22 ERA, 4.84 xFIP, 5.16 SIERA) and seems primed for regression.
The Cardinals are the No. 1 defensive team in my model (rank 13th by DRS and OAA), while the Padres also rate as a stellar defensive club, with more encouraging season-long metrics (fifth in DRS, second in OAA).
I don't show value on either side of the moneyline, though Hudson is precisely the type of pitcher I would look to fade (135th of 137 qualified pitchers in K-BB%).
I projected this total at 7.8 and would bet an Under 8 at +102 or better.
Edward Cabera vs. Antonio Senzatela (full projections here)
I expect the Marlins to use some combination of Edward Cabrera and Trevor Rogers as starting pitchers for Wednesday's doubleheader in Denver.
With Cabera starting  Game 1, you can bet Miami's F5 moneyline to -112 and their full game line to -105. 
Additionally, I would look to bet an over 10.5 up to -112 (projected 11.1).
Senzatela owns both the lowest strikeout rate (8%) and the lowest called strike plus whiff rate, or CSW% (19.5%) among 224 pitches (min. 20 IP) in 2022. And he remains eternally fade-worthy.
If Miami selects a different starter for Game 1, I'll be sure to update this section with new price targets.
Trevor Rogers vs. German Marquez (full projections here)
I set Edward Cabrera and the Marlins as road favorites against Marquez on Tuesday and would bet their F5 and game moneylines again with Trevor Rogers, down -110 F5 and -102 for the full game. 
This season, Marquez has traded some four-seam fastballs and cutters for additional sinkers and sliders. And while he's inducing more chases, his swinging-strike rate has dropped to its lowest level since 2017; his CSW% is a career-worst 24.6% (28.5% career average).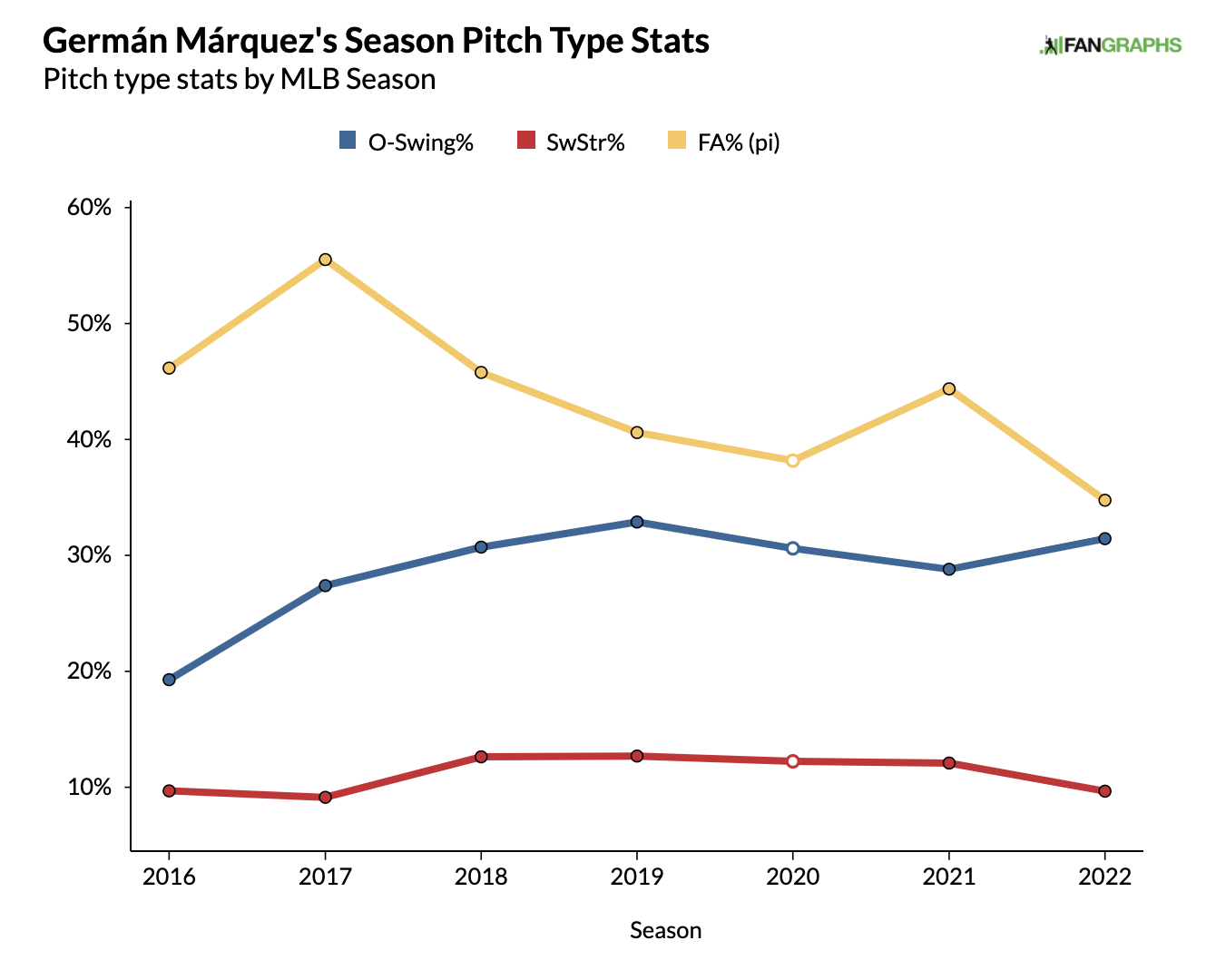 Perhaps Marquez reintroduces his four-seam fastball to a more significant degree following his early struggles; however, he should largely regress toward his indicators (6.30 ERA, 3.85 xFIP, 4.04 SIERA) based upon improved BABIP luck (.348 vs. .310 career) and success stranding runners (58% LOB% vs. 70% career).
If Miami selects a different starter than Rogers for Game 2, I'll be sure to update this section with new price targets.
Justin Verlander vs. Cole Irvin (full projections here)
In contrast to Marquez, Verlander has had all of the BABIP luck (.213 vs. .279 career) and strand rate success (95.4%, vs. 75.4% career) in 2022, and I expect his 2.02 ERA to drift towards his expected indicators (3.45 xFIP, 3.28 SIERA) as the season progresses.
Verlander's swinging strike rate (10.6%) stands at its lowest since joining the Astros, and he wasn't around last season when MLB cracked down on sticky substances. It's relatively unsurprising to see his spin rates and whiff rate tumble back toward pre-Houston levels: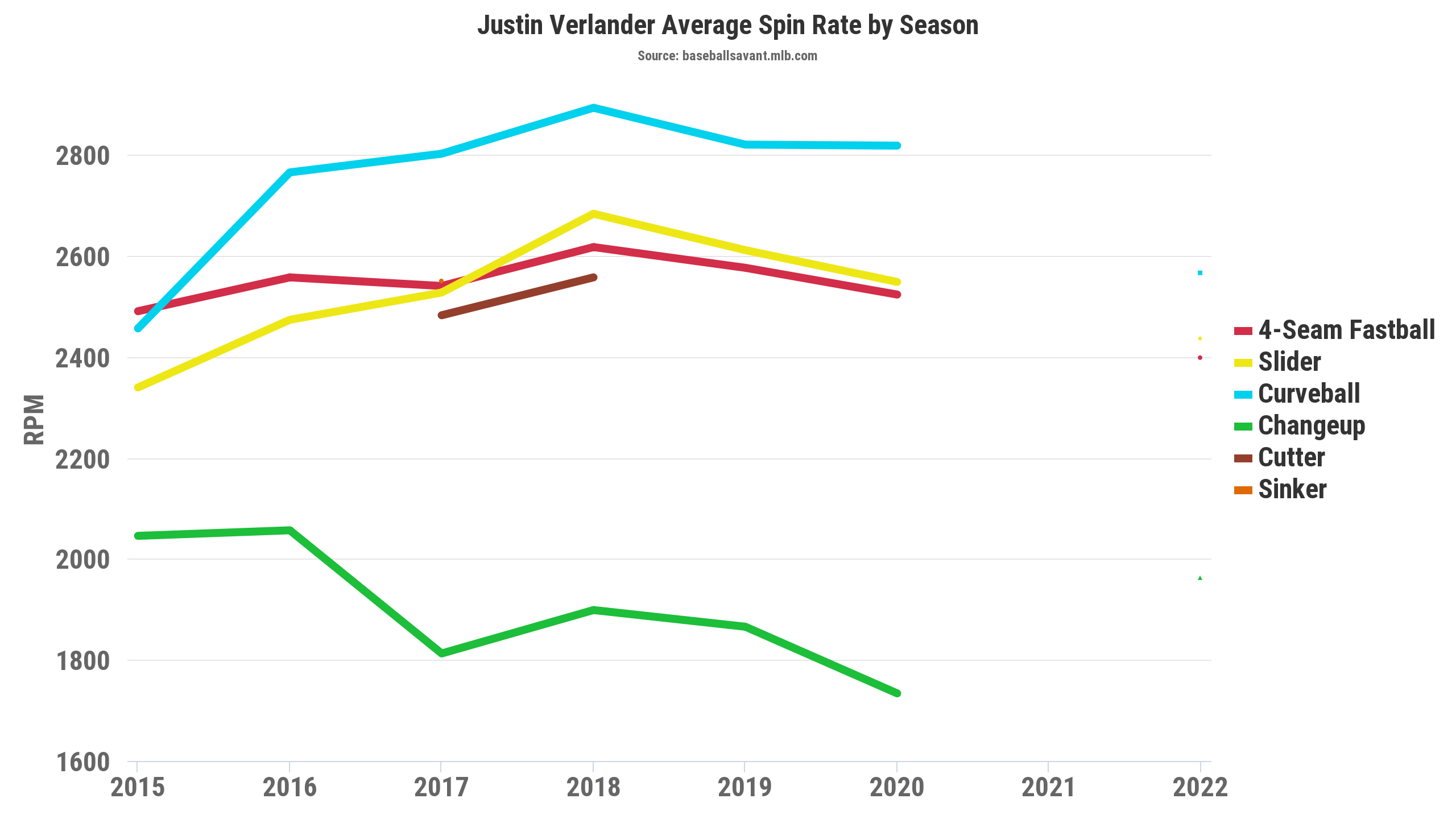 Bearing that in mind, I still project Verlander as a significantly better pitcher than Cole Irvin (4.15 xFIP, 4.35 SIERA) — a lefty with reverse splits.
And after factoring in the Astros' far superior lineup, I projected Houston north of -200 in the first five innings on Wednesday. You can bet their F5 line to -208.
Furthermore, I projected the totals closer to 4 and 7.5 for this contest, and I would bet an F5 Over 3.5 to -118 or a full game Over 7 up to -113.
Kyle Wright vs. Madison Bumgarner (full projections here)
I have previously discussed Wright's transformation this year, but to reiterate my points: 1) his velocity is up to a career-high (95.1 mph); 2) he changed his plan of attack (mostly high fastballs and low breaking balls), and 3) he modified his pitch mix: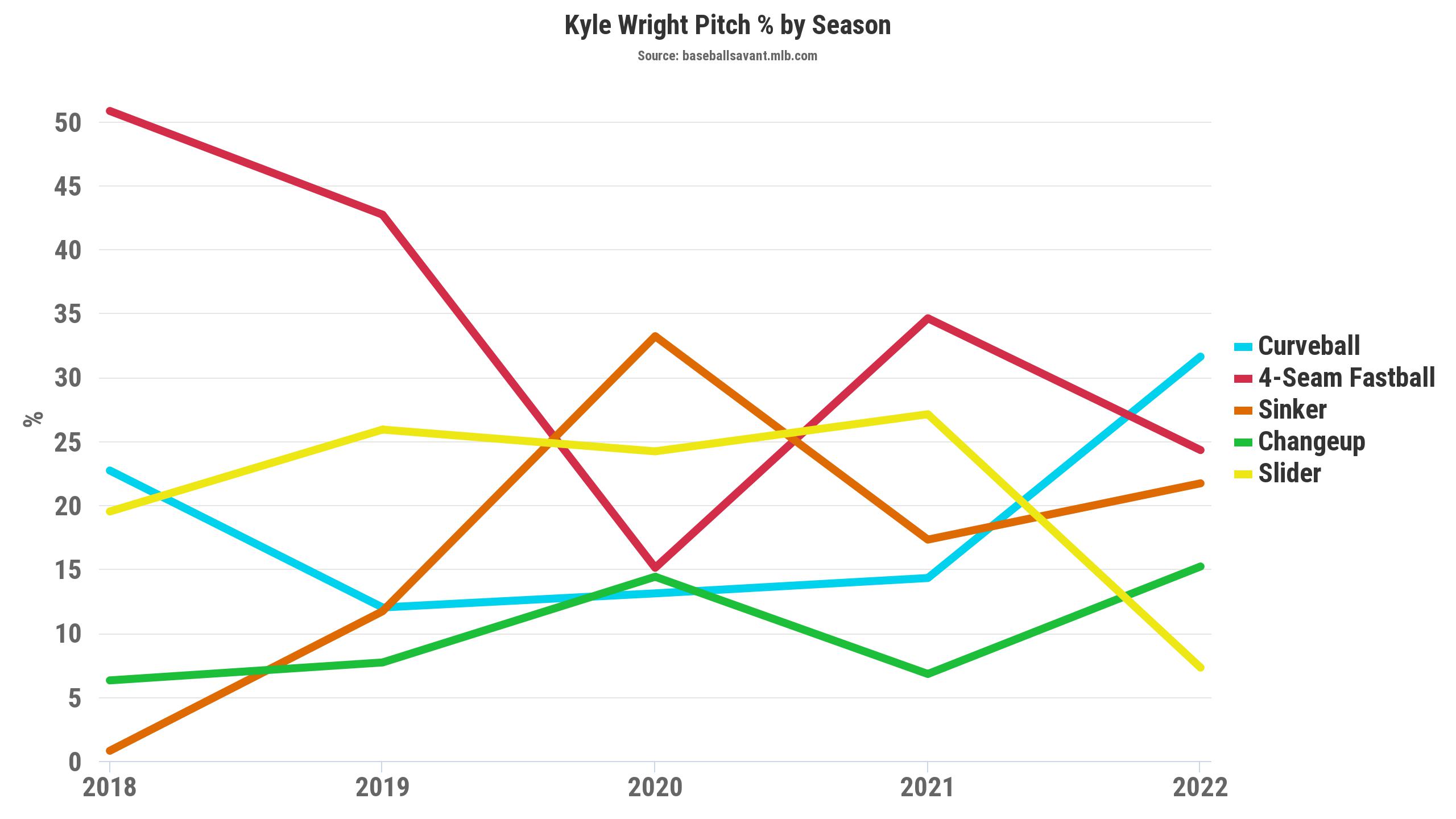 Wright throws his curveball more often than any other pitch (31.4%), and he's mostly put away his slider.
Batters are chasing against Wright more often than they had previously and making more contact with those pitches. Still, it's relatively weak contact, and they're mostly smashing balls into the dirt (career-high 52% groundball rate). More importantly, they're unprepared when he pumps his fastball in the zone, and they're making less contact on strikes than ever before.
I view Wright as an ace or a high-end No. 2, while Madison Bumgarner (4.90 xFIP, 4.88 SIERA) is firmly in No. 5 starter or replacement-level territory — where he's been since arriving in Arizona.
Thus far in 2022, Bumgarner has posted the worst K-BB% of his career (ranking 113th out of 129 qualified pitchers). Yet, he's still under contract through the 2024 season.
If Arizona had any intention of competing for a Wild Card spot this season (25-26, 3.5 GB), they would cut Bumgarner and seek a better alternative.
You can lay Atlanta's F5 moneyline up to -162.
Carlos Rodon vs. Aaron Nola (full projections here)
This is the best pitching matchup on the board, and I hate to leave you without a betting angle between Rodon (3.25 xFIP, 3.23 SIERA) and Nola (2.68 xFIP, 2.54 SIERA).
Still, I essentially make this matchup a coin flip and set the total around 8.25.
Originally this was a pass, but now that the total has dropped to 7.5, you can bet the Over up to -110.
Robbie Ray vs. Kyle Bradish (full projections here)
After beginning the 2022 season at significantly reduced velocity, Robbie Ray has seen his fastball return to 94 mph in his recent outings. I've reverted his projections towards the levels from his Cy Young campaign.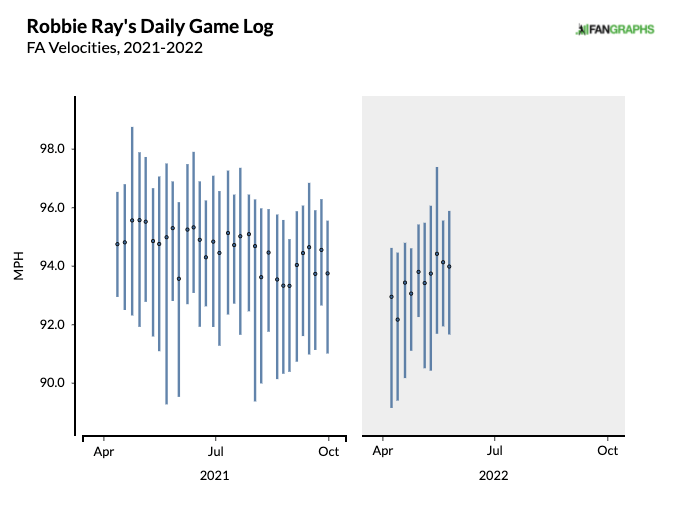 Despite a 5.32 ERA, Ray has been dominant in his past four starters (2.53 xFIP), carrying a 37:8 strikeout to walk ratio in 23 2/3 innings. He's allowed five home runs on an unsustainable 21.7% HR/FB rate (career 15.5%), and I would expect to see better results if he can maintain his velocity level for the rest of this season.
Ray used to mix in a curveball close to 15-20% of the time and even dabbled with a changeup. Still, since joining the Blue Jays last season, he's mostly gone all four-seam fastball and slider (combined 91%), and he's taken that usage to new extremes this year (combined 98.1%) by throwing his slider 41.8% of the time (career 24.9%, +10.6% over 2021).
On a per-pitch basis, the Orioles rank dead-last against fastballs, but they are ninth against sliders. And while the new wall at Camden yards has killed their right-handed splits, I still project them as a slightly better offense against lefties as opposed to righties.
Kyle Bradish has impressed too, and his 7.31 ERA is highly misleading (3.86 xFIP, 3.71 SIERA). His fastball (average 94.7 mph) explodes out of his hand, and the movement on his breaking balls is sharp — but he too has been plagued by an unsustainable home run rate (2.22 HR/9, 23.3% HR/FB) in addition to poor BABIP luck (.360) and a low strand rate (60.8%).
Bradish has significant room for positive regression in every stat I associate with luck for pitchers — and visually, he has an extremely live arm.
I would bet the Orioles to +122 F5 and +126 for the full game on Wednesday. This play is more about backing Bradish to regress than about fading Ray.
Reid Detmers vs. Nestor Cortes Jr. (full projections here)
I have been high on, and have consistently bet on "Nasty Nestor" since the 2021 season. Over that time, he may be the most underrated starter in baseball, and he's taken his game to a new level in 2022 (2.17 xERA, 3.01 xFIP, 2.90 SIERA).
Cortes ranks eighth among 110 qualified pitchers (min. 40 IP) in K-BB% (24.3%), right behind his teammate Gerrit Cole and just ahead of Lucas Giolito and Dylan Cease.
And while he won't carry a sub 2.00 ERA forever, thanks to a .234 BABIP and 86% strand rate, this is the profile of an ace starting pitcher, and Cortes is a big part of the Yankees' surprising dominance early this season.
Aside from his no-hitter, Reid Detmers (4.21 xERA, 4.58 xFIP, 4.55 SIERA) has been relatively mediocre, if not subpar, this season. His strikeout rate (17.1% in 2022, 17.8% career) is pretty abysmal, and he's a flyball pitcher who allows a high number of home runs (1.55 HR/9; 1.76 career).
That won't play well in Yankee Stadium and against this Yankees offense. I would bet the Bombers up to -167 for the first five innings, at a two percent edge compared to my projection (-183).
Moreover, I show slight value to the over (projected 8.5). Still, there are cooler temperatures and potentially rainy conditions in New York — compared to 90-degree temperatures in recent days — so I would need to dig into the logistics of the weather further before adding that play to my card.
Michael Kopech vs. Hyun-jin Ryu (full projections here)
Hyun-jin Ryu sits high atop my fade list at the moment. The southpaw has a long history of arm injuries, and both his strikeout rate and expected stats have fallen dramatically in the past two seasons.
Ryu is pitching like a back-end starter (4.97 xERA, 4.34 xFIP, 4.62 SIERA). He can't generate chases or whiffs (career-low 7.4%) anymore, and opposing offenses are starting to wear him down and knock him out: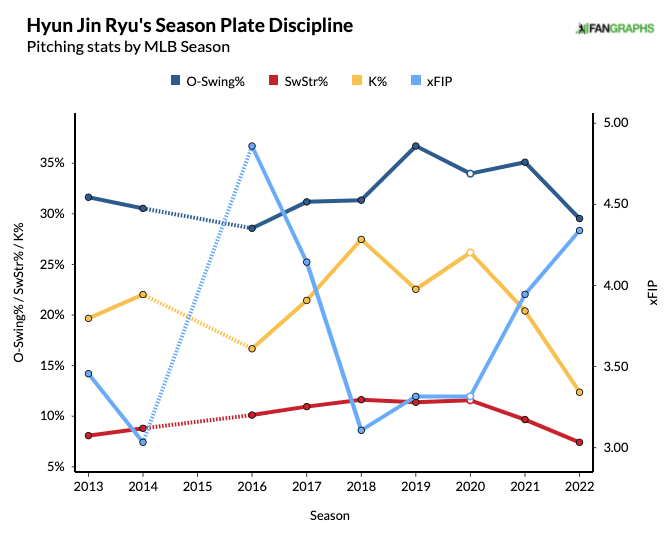 Michael Kopech has proven a bit enigmatic in his return to the rotation (2.70 xERA, 4.60 xFIP, 4.44 SIERA). Still, he appears fully stretched out now and has recorded a trio of quality starts, providing a surprising amount of longevity to the White Sox staff.
Kopech carries an extreme flyball rate (54.9%) — the second-highest market among 138 qualified pitchers — and he may suffer from a home run issue at that level.
Still, he carries elite velocity and stuff for a starting pitcher, and I project him as a significantly better arm than Ryu right now.
I make the White Sox a coinflip in either half and would bet their moneylines down to +107 F5 and +115 for the full game.
Furthermore, I would bet the F5 over to 4.5 (-105) and the full game over to 8.5 (+100), compared to projections closer to 4.75 and 8.75.
Hunter Greene vs. Garrett Whitlock (full projections here)
Greene has been all over the map this season, but by and large, he's struggled to maintain an elite level (4.78 xERA, 4.35 xFIP, 4.00 SIERA) thanks to reduced velocity in recent outings.
On average, Greene's fastball sat at 100 mph in his first two outings but has fallen to 98 mph over his past seven starts. And while that's still otherworldly, two ticks are worth about a full run decrease in an ERA projection.
Moreover, he's an extreme flyball pitcher (52.5%) who has given up many round-trippers (3.05 HR/9, 23.4% HR/FB rate). Those numbers should improve moving forward, but his BABIP (.262) and strand rate (81%) have room to fall.
He has an extensive range of outcomes as a pitcher (FIP projections range from 4.29 to 5.04), but my model falls on the middle to lower end of that scale.
Meanwhile, Garrett Whitlock has been one of the more underrated pitchers in baseball over the past two seasons (3.22 xFIP in both years) while moving from the bullpen and the rotation.
In a limited seven-start sample, Whitlock has a 3.36 xFIP, with a 33:9 strikeout to walk ratio in 29 innings, and I like all three of his pitches (fastball/slider/changeup), but particularly his ability to locate his fastball:
I would bet Whitlock's F5 line up to -201 and play the over 9 in this matchup at any plus money number.
Bailey Ober vs. Tarik Skubal (full projections here)
I have already discussed Skubal at length this year and consider him a significant player for the Cy Young award as a longshot (+4000).
His expected metrics (2.68 xERA, 2.74 xFIP, 2.91 SIERA) justify a 2.44 ERA. Skubal used to be a flyball pitcher with a home run issue (44 HR allowed through first 38 career appearances), but he changed his pitch mix midway through 2021, exchanging four-seam fastballs for sinkers: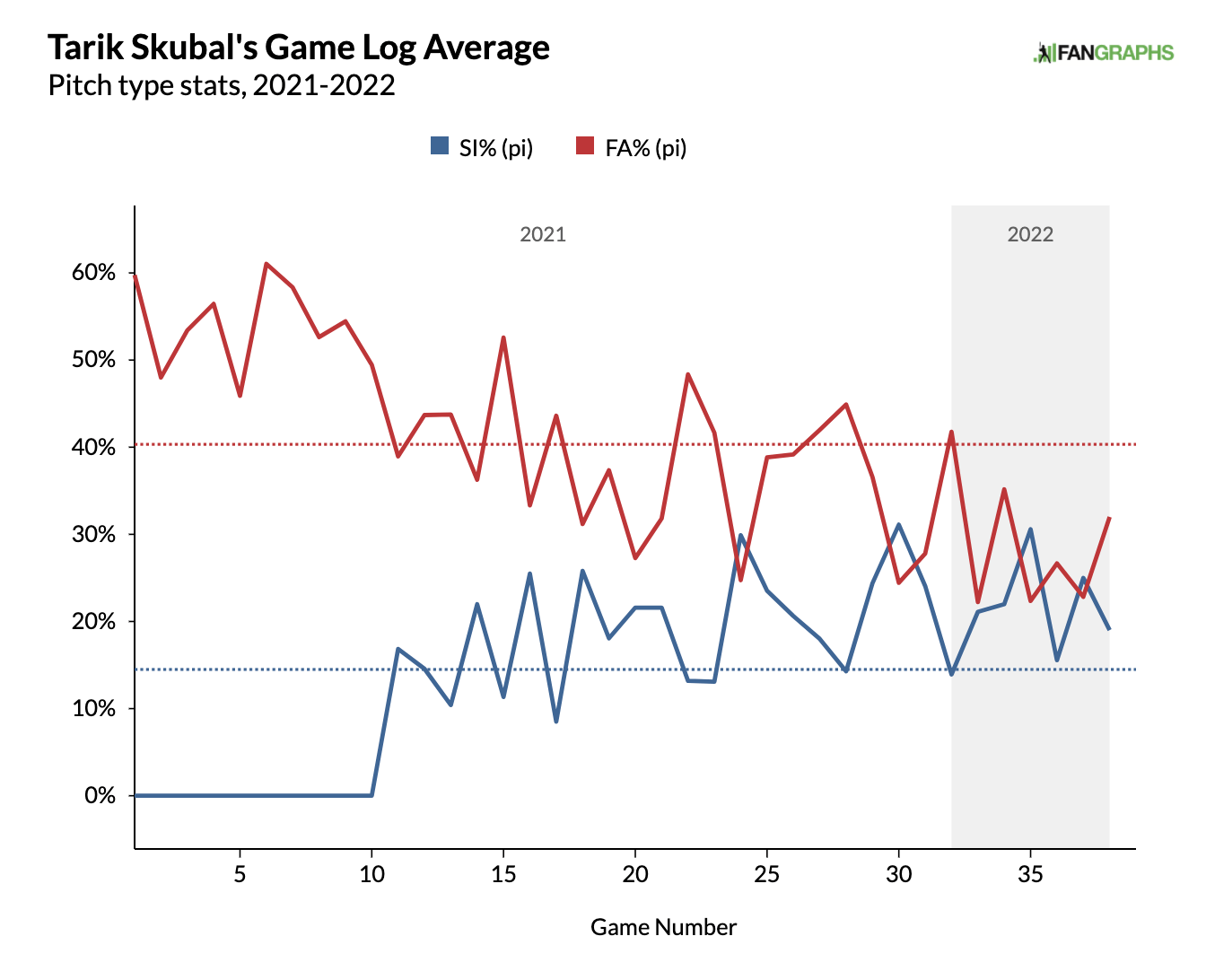 From 2020 through the early part of the 2021 season, Skubal threw his four-seam fastball 60% of the time. That rate is down to 28.2% this season.
In turn, he's steadily increased his sinker usage to 20.3% and doubled his slider usage from 15.7% to 29.8%. Both the slider and sinker have a groundball rate right around 50%, and Skubal's groundball rate has increased from 27.7% in 2020 to 38.5% last year, to 48.2% this season).
And while I'm personally fond of Bailey Ober, his 2022 metrics (5.10 xERA, 4.29 xFIP, 4.23 SIERA) align with his 2021 results and don't hold a candle to what Skubal is doing.
While Detroit's offense is miserable (78 wRC++, 30th) and the Twins can mash (112 wRC+, 6th), I still project Detroit as a slight favorite.
You can bet the Tigers' F5 moneyline to -103 and their full game moneyline to +104.
Jeffrey Springs vs. Jon Gray (full projections here)
If you want a deeper dive on Jeffrey Springs, note that Justin Choi of FanGraphs did an excellent piece on him yesterday.
In short, Springs throws his changeup a ton (39.3%). Only Alex Cobb (40.8%) throws a changeup more frequently.
And Springs has had a ton of success this year (2.68 xERA, 3.28 xFIP, 3.08 SIERA), translating his bullpen metrics to the starting rotation (3.30 xERA, 2.95 xFIP, 2.66 SIERA as a reliever in 2021). 
He shows significant reverse splits and functionally is a right-handed pitcher. And while the Texas offense has been much better of late, they hit lefties (113 wRC+, 8th) much better than righties (86 wRC+, 23rd) — so their offensive split is misleading for this matchup in particular.
I'm buying into the Springs hype, and I would lay Tampa's moneyline in either half up to -115.
Jason Alexander vs. Kyle Hendricks (full projections here)
Like Evan Lee, Alexander is a relatively unheralded prospect making his debut on Wednesday. Unlike Lee, he's pitched in Triple-A and has far lower strikeout and walk numbers; Alexander appears to be more of a command pitcher than a stuff guy.
The only publicly available projection (via Steamer) has him pegged for a 4.48 FIP in 2022 — but over one inning of work. I have difficulty setting Alexander's ERA projection below 4.5 from the outset, especially considering his modest strikeout rate in the high minors.
Despite my disdain for Kyle Hendricks (4.84 xFIP, 4.82 SIERA), I would have to consider the Cubs here at +114 or better for the full game and +115 F5.
Alternatively, you can bet the F5 Over to 4.5 (+100) and/or Over 8 (up to -112).
Jose Quintana vs. Mitch White (full projections here)
You already know where I'm going with this.
We cashed big on the Pirates the past two nights at roughly 3-1 in both contests. The market has been outright disrespectful to the Buccos.
And I don't see a significant difference between Mitch White — whose FIP projections range from 4.15 to 4.37 — and Jose Quintana (range from 4.01 to 4.23).
Moreover, both starters have performed similarly this season (4.10 xFIP, 3.85 SIERA for White; 4.01 and 4.24 for Quintana).
There's no doubting that the deadened baseballs have helped Quintana (4.5% HR/FB rate, 0.39 HR/9). Still, aside from 2021 (1.71 HR/9, 21.4% HR/FB) rate, he's always suppressed dingers (career 0.94 HR/9, 10.6% HR/FB rate).
And he's succeeded at similar strikeout levels before (20% in 2022; roughly where he sat from 2014-2016 and 2018-2019). Additionally, his chase rate stands at a career-high (33.7%); he's just generating fewer called strikes than in the past, since his zone rate has sat around 33-37% for the past three seasons (career 43.6%).
Quintana knows that his stuff isn't as good as it used to be, so he tries to nibble, and this year he's had success while bumping his changeup usage (26.8%) to a career-high (+12.3% over 2021).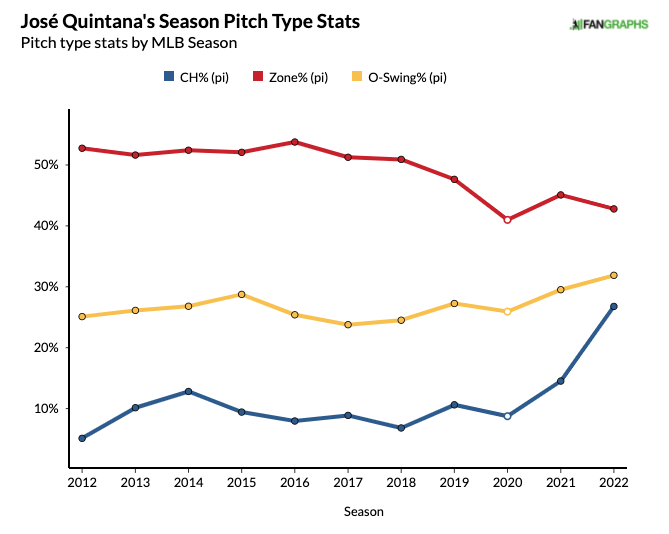 I played the Pirates in both halves, and I like their moneyline in either half down to +190.
That said, the Dodgers chase pitches less often than any other team (27.3%) and I would expect them to rack up walks against Quintana, or to smash him once he does have to come inside the zone.
Lastly, now that the total has climbed to 9, you can bet the Under to -109.
Sean Zerillo's Bets (June 1)
Atlanta Braves F5 (-142) at FanDuel (bet to -162)
Angels/Yankees Over 8 (-110) at MGM (bet to -115)
Astros/Athletics F5 Over 3.5 (+106) at FanDuel (bet to -118)
Astros/Athletics Over 7 (-108) at FanDuel (bet to -113)
Baltimore Orioles F5 (+132) at FanDuel (bet to +122)
Baltimore Orioles (+137) at WynnBET (bet to +126)
Boston Red Sox F5 (-180) at DraftKings (bet to -201)
Brewers/Cubs F5 Over 4 (-129) at DraftKings (bet to 4.5 (+100))
Brewers/Cubs Over 8 (-104) at FanDuel (bet to -112)
Chicago White Sox F5 (+110) at DraftKings (bet to +107)
Chicago White Sox (+116) at FanDuel (bet to +115)
Detroit Tigers F5 (+100) at DraftKings (bet to -103)
Detroit Tigers (+111) at WynnBET (bet to +104)
Giants/Phillies Over 7.5 (-110) at Fanduel (bet to -110)
Guardians/Royals F5 Under 5 (-125) at DraftKings (bet to 4.5 (+100))
Guardians/Royals Under 9 (-110) at WynnBET (bet to -117)
Houston Astros F5 (-180) at DraftKings (bet to -208)
Marlins/Rockies Game 1 Over 10 (-106) at Rivers (bet to -112)
Miami Marlins Game 1 F5 (-105) at MGM (bet to -112)
Miami Marlins Game 1 (+100) at MGM (bet to -105)
Miami Marlins Game2 F5 (+105) at MGM (bet to -110)
Miami Marlins Game 2 (+100) at MGM (bet to -102)
New York Yankees F5 (-155) at DraftKings (bet to -167)
Padres/Cardinals Under 8 (+105) at Caesars (bet to +102)
Pirates/Dodgers Under 9 (-105) at MGM (bet to -109)
Pittsburgh Pirates F5 (+190) at FanDuel (bet to +190)
Pittsburgh Pirates (+220) at WynnBET (bet to +190)
Reds/Red Sox Over 9 (+100) at DraftKings (bet to +100)
Tampa Bay Rays (-115) at WynnBET (bet to -115)
White Sox/Blue Jays F5 Over 4.5 (+108) at FanDuel (bet to -105)
White Sox/Blue Jays Over 8 (-114) at FanDuel (bet to 8.5 (+100))
How would you rate this article?
This site contains commercial content. We may be compensated for the links provided on this page. The content on this page is for informational purposes only. Action Network makes no representation or warranty as to the accuracy of the information given or the outcome of any game or event.