Opening Day Betting Guide | MLB Expert Picks, Projections
Credit:
Photo Illustration by Matt Roembke. Pictured: Aaron Judge and Oneil Cruz
The 2023 MLB season begins today, and our expert is all over it.
Sean Zerillo has bets out across the slate, from moneylines to totals and more.
Continue reading for Zerillo's breakdown of his entire betting card for Thursday in Major League Baseball.
Welcome to Opening Pitch, my new column that you'll find daily throughout the 2023 MLB season.
My goal for Opening Pitch is to highlight my top daily projection edges for MLB moneylines and totals, share my favorite bets and provide some betting notes and analysis, mainly as I react to opening and overnight lines while using my baseball betting model.
I will look to release a new version of Opening Pitch daily between midnight and 3 a.m. ET; after I enter my overnight bets in the Action Network App and update the MLB projections. Hopefully, you will use it as your morning betting guide to get ahead of the baseball markets.
You can find my projections for every MLB game in the Action App (on both the PRO Projections tab and the game pages) and our Projections Hub (which you can bookmark).
You can also shop for the best lines on our odds page.
Let's jump into the Opening Day Matchups.
Expert Picks for Thursday, March 30th
Atlanta Braves vs. Washington Nationals
I don't see value on either side of the moneyline or the total, but I project slight value on the Braves' F5 (first five innings) team total. I modeled that number at 2.7 and would bet Over 2.5 at any plus-money price.
Current Braves hitters own a .954 OPS against Patrick Corbin in more than 200 plate appearances, and Corbin deserved every bit of his 6.31 ERA last season (6.41 xERA or expected ERA).
Other ERA estimators like xFIP (4.21) and SIERA (4.33) say he was unlucky — alongside a .365 BABIP — but Corbin just gave up a ton of hard contact, ranking 139th out of 140 qualified pitchers (min. 100 innings) in hard-hit rate allowed (39.9%).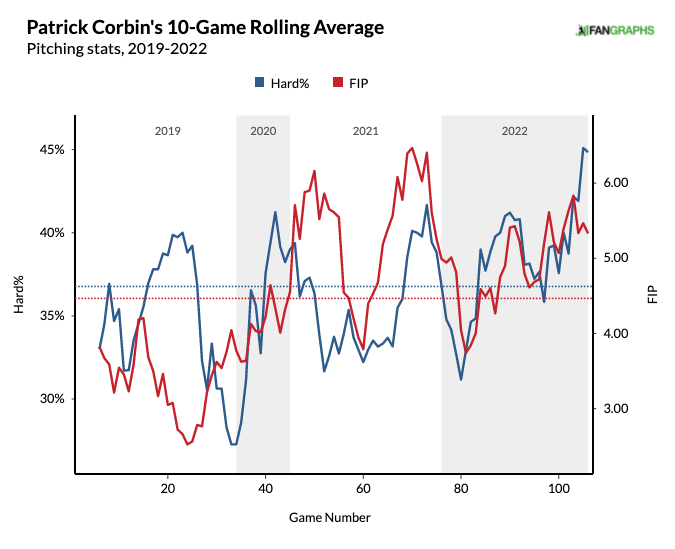 Only Yusei Kikuchi, who bested Corbin in K-BB% (14.5% to 11%), allowed hard-hit balls more frequently last season.
San Francisco Giants vs. New York Yankees
I projected the Yankees as -192 favorites (65.8% implied), and I would bet their moneyline up to -180 (64.3% implied) at a 1.5% edge compared to my number, about as low as I will entertain an edge for a straight moneyline wager.
The Yankees have the superior starter (3.05 to 3.41 Model Weighted ERA in favor of Gerrit Cole), the superior bullpen (by roughly a half run in projected ERA), and rate as a vastly superior team both on defense and the base paths, where they rate as a top three team in my model. The Giants are firmly below average in those areas.
Baltimore Orioles vs. Boston Red Sox
No projected value. Pass.
Milwaukee Brewers vs. Chicago Cubs
I projected this total closer to 7, and the line is sitting at 7.5, juiced to -115 and most books, but at -110 at one (BetRivers). Technically, my edge for an Under bet would trigger at -109, but if the market moves to a consensus 7.5 (-110), I would consider betting a small Under.
Corbin Burnes rates as the No. 2 starter in my model (2.67 Weighted ERA) behind Jacob deGrom. And the Cubs should be one of the most improved defensive teams this season, with defensive upgrades at catcher, second base, shortstop and center field.
Detroit Tigers vs. Tampa Bay Rays
I projected this total at 6.54, so I would lean toward the Under. Still, my price target doesn't come into range until Under 7 (-107); and the best line (-115 at FanDuel) is still out of range.
I doubt anything actionable pops up here, but it's worth watching.
Philadelphia Phillies vs. Texas Rangers
Aaron Nola is my favorite NL Cy Young bet for the 2023 season, and my projections for Nola (2.85 Weighted ERA) are far better than other pitchers — who I have already mentioned in this article — that you may consider to be on Nola's level.
Still, no starting pitcher is in the same stratosphere as Jacob DeGrom (2.16 Weighted ERA), who has sub-2 ERA indicators per Stuff+.
A healthy deGrom is on a different level than the rest of the league, and even though he may not be fully stretched out at this point (assuming 3-4 IP in this start), I projected the Rangers' F5 moneyline at -166, and would bet them up to -155.
I project these offenses as relatively even, but I give the Rangers a speed and defense advantage.
New York Mets vs. Miami Marlins
I projected the Marlins right around even money in both halves of Thursday's matchup. As a result, I would look to bet the Fish at +107 on the F5 moneyline and +112 on the full game line.
That said, the Mets have won 40 of their past 53 openers (75.5%), and Max Scherzer appears to be peaking for the start of the regular season. At the same time, Sandy Alcantara was a bit spotty both in the WBC and toward the end of last season (although his spring results were acceptable).
Alcantara carried a 1.76 ERA in the first half of the 2022 season, but normalized at 3.09 in the second half, and he stands to lose double play opportunities and see more grounders (53.4% groundball rate) squeak through for hits without the shift.
Pittsburgh Pirates vs. Cincinnati Reds
I'm very high on Hunter Greene (3.31 Weighted ERA) and Mitch Keller (4.07 Weighted ERA) for 2023, and I expect both starters to surpass expectations.
Greene is a sleeper Cy Young and strikeout leader bet, while Keller — who owns a career 5.00 ERA but posted a 3.22 ERA and 3.8 xFIP over his final 22 starts last season — continues to evolve.
This spring, Keller posted a ridiculous line (20 K, 1 BB in 15 innings pitched) after adding a sweeper to his arsenal.
I projected the F5 total in this matchup at 3.94, and I would bet F5 Under 4.5 to -127.
Moreover, the Pirates are the superior defensive and baserunning team; and I would bet Pittsburgh's moneyline at +120 or better.
Minnesota Twins vs. Kansas City Royals
I projected the Twins as -149 favorites; and would look to bet Minnesota at -137 or better, at a two-percent edge compared to my number. With the best available line at -141, I'll wait for the right price to come into range.
Toronto Blue Jays vs. St. Louis Cardinals
Alek Manoah (2.24 ERA, 3.3 xERA) and Miles Mikolas (3.29 ERA, 3.89 xERA) are prime fade candidates for 2023 after overachieving last season.
Manoah, in particular, doesn't project nearly as well as his reputation would suggest. He fits in more with the No. 2 type starters (Luis Castillo, Zac Gallen, Framber Valdez) than the proper ace tier (Aaron Nola, Max Scherzer, Sandy Alcantara).
Both teams are excellent defensively; Toronto might have the best outfield trio in baseball, while the Cardinals' infield is as elite a defensive quartet as you will find.
Still, both lineups are extremely deep on offense, too; and I like the F5 Over 3.5 at -125 or better in this matchup (projected 3.93).
Chicago White Sox vs. Houston Astros
Even though I am extremely low on the White Sox this season, they have an ideal matchup on Opening Day, getting the better end of both-handedness splits with the superior starting pitcher.
Although Chicago lost Jose Abreu to Houston in the offseason, it has ranked as a top-five offense against lefties (per wRC+) for the past three seasons. The White Sox continue to project better against lefties than righties, and current hitters own a .797 OPS against Framber Valdez.
While current Astros hitters have hit Dylan Cease even harder (1.145 OPS in 58 plate appearances), they also project much better against lefties and righties, aligning with their rankings from recent seasons.
Bet the White Sox F5 moneyline down to +110 and look to add their full game moneyline starting at +140.
Lastly, look to bet an F5 Over 3.5 at -112.
Colorado Rockies vs. San Diego Padres
There's a slight edge on the Padres' F5 moneyline (projected -202, listed -190); however, I would need -185 or better to place a straight bet.
Even in a career-worst 2022 season (4.95 ER, 4.49 xERA, 1.4 WAR in 31 starts), German Marquez remained much more effective on the road (3.34 ERA; 3.76 career) than at Coors Field (6.70 ERA; 5.08 career).
And even though Blake Snell was masterful in the second half of last season (2.19 ERA) after struggling in the first half (5.22 ERA), it isn't easy to know where he's at in his form cycle after a long offseason.
Both starters are enigmatic, and I'm happy to pass on this matchup.
Los Angeles Angels vs. Oakland Athletics
No projected value as of writing. However, the Shohei Ohtani steam typically comes in eventually, and since I projected Oakland at +188 (34.7% implied), I would wait for +206 (32.7% implied) or better on the home underdog before pushing back.
Arizona Diamondbacks vs. Los Angeles Dodgers
The Diamondbacks are my favorite underdog bet for Thursday, at +150 or better (projected +138).
I view Zac Gallen and Julio Urias as equally effective pitchers (roughly a 3.3 Model Weighted ERA for both), and although Urias was extremely shaky during both the WBC and spring training (20 2/3 IP, 20 H, 12 R, 5 HR, 4 BB, 16 K), so was Gallen (16.1 IP, 21 H, 16 R, 10 BB, 10 K).
Ultimately, I expect improvement from Arizona's bullpen this season after ranking 30th in xFIP (4.52), The Dodgers bullpen (3.52 xFIP) was an entire run better. With everyone rested for Thursday's matchup, I only rate Arizona's bullpen a half run behind the Dodgers (3.33 vs. 3.86).
Moreover, the Dodgers ranked as a top-two defensive club last season, while the Diamondbacks ranked sixth. Still, I view Arizona as the superior defensive and baserunning team for 2023, even though both are solidly above average.
I expect to bet on the Diamondbacks a lot this season. Slither along with me.
Cleveland Guardians vs. Seattle Mariners
Fittingly, we'll close out our initial Opening Pitch with my favorite bet for Opening Day: Under 6.5 in the Seattle nightcap. I projected the total at 6.1 and would bet Under 6.5 to -106.
Luis Castillo and Shane Bieber are No. 2 type pitchers in my model, with ERA projections south of 3.5, and both teams feature elite bullpens after finishing second (Cleveland) and ninth (Seattle) in reliever xFIP last season. All of the critical pitchers are fresh and rested for Opening Day.
Additionally, both teams are above-average defensively (3rd and 9th in Defensive Runs Saved in 2022); Cleveland should remain elite this year since it didn't rely on the shift to steal outs last season.
The model also would wait to bet the Guardians on the moneyline at +104 or better. 
Zerillo's Bets for March 30th
For additional bet notifications, follow me in the Action Network App. 
Arizona Diamondbacks (+154, 0.5u) at FanDuel
Atlanta Braves, F5 Team Total Over 2.5 (+110, 0.25u) at DraftKings
Chicago White Sox F5 (+130, 0.5u) at Caesars
Cleveland Guardians /Seattle Mariners, Under 6.5 (+105, 0.5u) at Caesars
New York Yankees (-172, 0.5u) at FanDuel
Parlay (+130, 0.25u) at Fanduel: Atlanta Braves F5 (-235) & New York Yankees F5 (-165)
Pittsburgh Pirates (+120, 05u) at DraftKings
Pittsburgh Pirates/Cincinnati Reds, F5 Under 4.5 (-118, 0.5u) at BetRivers
Texas Rangers F5 (-140, 0.5u) at Caesars
Toronto Blue Jays / St. Louis Cardinals, F5 Over 3.5 (-118, 0.25u) at BetRivers
How would you rate this article?
This site contains commercial content. We may be compensated for the links provided on this page. The content on this page is for informational purposes only. Action Network makes no representation or warranty as to the accuracy of the information given or the outcome of any game or event.