MLB Predictions Today | Odds, Picks, Expert Projections for Saturday, April 22
Credit:
Getty Images. Pictured: Pablo Lopez, Jonah Heim and Garrett Whitlock
Welcome to Opening Pitch, my column that you'll find daily throughout the 2023 MLB season.
My goal for Opening Pitch is to highlight my top daily projection edges for MLB moneylines and totals, share my favorite bets and provide some betting notes and analysis, mainly as I react to opening and overnight lines while using my baseball betting model.
I will look to release a new version of Opening Pitch daily between midnight and 3 a.m. ET; after I enter my overnight bets in the Action Network App and update the MLB projections. Hopefully, you will use it as your morning betting guide to get ahead of the baseball markets.
You can find my projections for every MLB game in the Action App (on both the PRO Projections tab and the game pages) and our Projections Hub (which you can bookmark).
You can also shop for the best lines on our odds page.
Expert Picks for Saturday, April 22
Washington Nationals vs. Minnesota Twins
Chad Kuhl vs. Pablo Lopez
First Pitch: 2:10 p.m. ET
Pablo Lopez is in full breakout mode, and the Twins took notice, locking up the 27-year-old righty to a four-year, $73.5M deal after his last start.
His fastball is up nearly two ticks this season (95.2 mph) relative to both his career and 2022 average (93.6 mph), and Lopez has dialed back his oft-used changeup (35.3% in 2022 to 19.8% in 2023) thanks to the addition of — you guessed it — a sweeper.
The tweak could be enough to push Lopez from number two starter to true ace, and the early returns (2.45 xERA or expected ERA, 2.86 xFIP) — with ERA indicators nearly a run below last season — are extremely promising.
I have upgraded Lopez's projections and see an edge on Minnesota's F5 (first five innings) moneyline (projected -323).
You can back Lopez straight up to -285 or include the Twins' F5 line as a parlay piece up to -305 (projected -323). My full-game projection aligns with the betting market, but I am surprised that the Twins' best F5 line (currently -250) is shorter than their best full-game price (-275). I would have expected the opposite.
Los Angeles Dodgers vs. Chicago Cubs
Dustin May vs. Hayden Wesneski
First Pitch: 2:20 p.m. ET
Despite windy conditions at Wrigley Field (11 mph to right field) on Saturday, colder temperatures (44 degrees at first pitch) should negate any potential benefit for hitters. Ultimately, I didn't adjust my total, but considered adjusting the number downward, if anything.
I projected the total at 8.4; you can bet Under 9 to -112.
You can also play the Dodgers to -125 F5 or -120 full game; I would flat risk a half unit on either bet.
Colorado Rockies vs. Philadelphia Phillies
Kyle Freeland vs. Cristopher Sanchez
First Pitch: 3:05 p.m. ET
Freeland has pitched well in four starts this year (3.89 xERA) while mixing in more sinkers and sliders than ever in his career. He's always pitched to contact (career 17.7% strikeout rate), and Freeland has leaned into that even more this season. While other underlying metrics (5.54 xFIP, 5.44 SIERA) see the lack of strikeouts — and a .265 BABIP (.306 career) — as unsustainable, thus far, Freeland has generated weak contact consistently.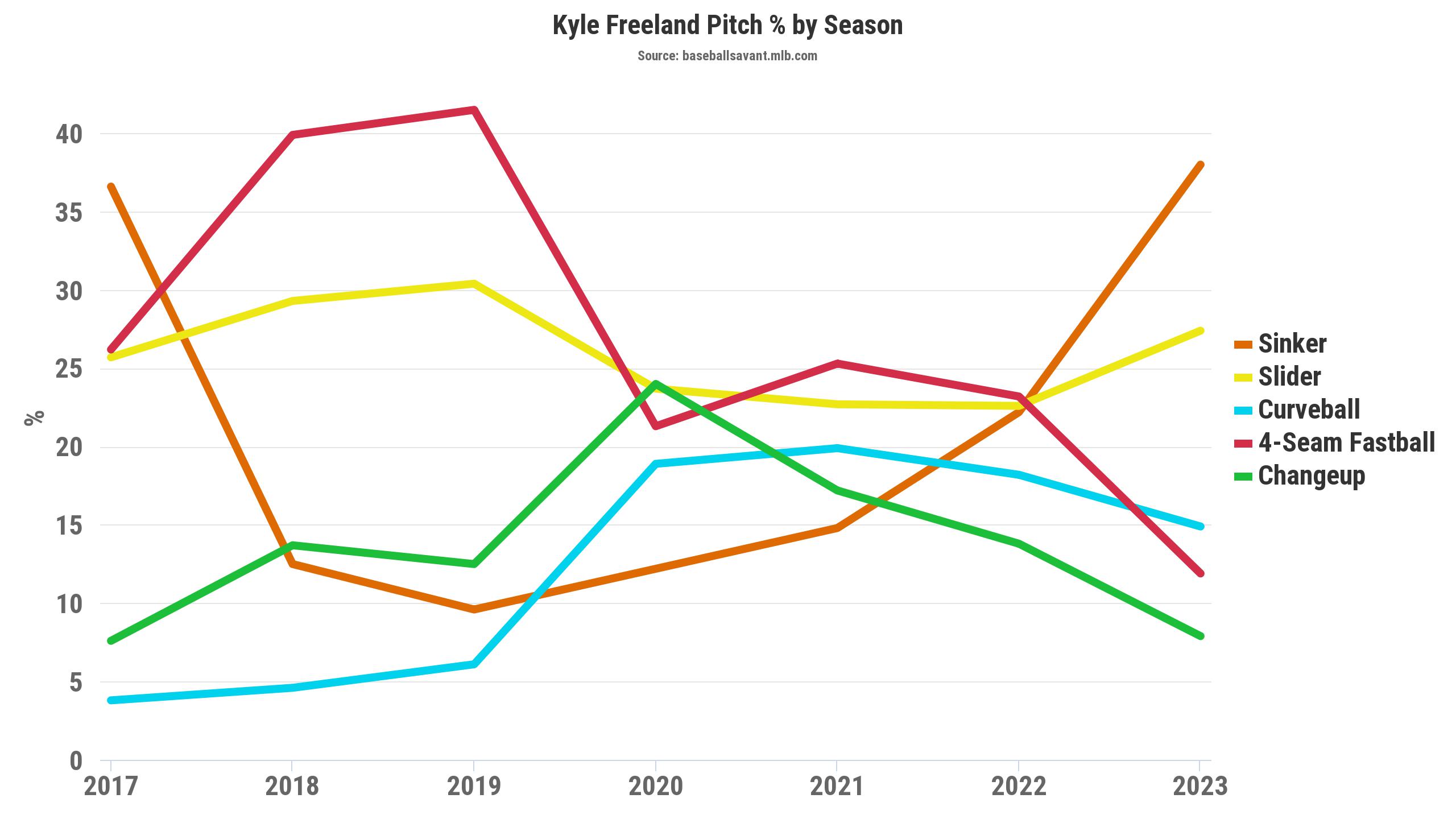 Freeland can split the difference between his expected marks (5.11 xERA in 2022, 4.18 in 2021) and settle in with a full-season ERA of around 4.5 to 4.75.
Without making any positive adjustment for Freeland, I show value on the Rockies for Saturday. You can bet their moneyline down to +163.
Additionally, I set the total around 10.2 with some encouraging hitting weather at the Bank: 77 degrees at first pitch, with winds blowing out to left-center at 17 mph. Bet Over 9.5 to -115 in what could be a slugfest in those conditions.
Chicago White Sox vs. Tampa Bay Rays
Dylan Cease vs. Shane McClanahan
First Pitch: 4:05 p.m. ET
Cease and McClanahan were neck and neck for Cy Young contention last summer before Justin Verlander eventually put the field away. I'm surprised to see the White Sox as such significant underdogs with the splits advantage on both sides of the matchup.
Both teams project better against lefties than righties on offense, although Chicago's projected splits are slightly more pronounced.
Since the start of the 2022 season, the White Sox rank fifth and the Rays sixth in wRC+ against lefties (117 and 116, respectively). Against righties, the teams fall to 22nd (93 wRC+) and 11th (105), respectively.
And that's essentially how I see these teams for the remainder of the 2023 season; Tampa Bay should have a top-five offense against lefties but will rank closer to the league average against righties, while the White Sox should rake against lefties but may finish below-average against righties for the second-consecutive season.
McClanahan does carry reverse splits — meaning he is more effective against righties (career .267 wOBA) than lefties (.294) — however, his expected metrics (2.77 xFIP vs. lefties, 2.95 vs. righties) say the opposite is true. I view McClanahn as a neutral splits pitcher. Still, he has returned to his mid-2022 form through four starts this season (2.69 xERA).
I view McClanahan as the better pitcher than Cease but by less than half a run on an end-of-season ERA. And while I give the Rays a significant bullpen advantage, too, the split differential is enough for the model to back the White Sox in both halves to +130 on the F5 moneyline and +145 for the full game.
New York Mets vs. San Francisco Giants
David Peterson vs. Logan Webb
First Pitch: 4:05 p.m. ET
We'll try to bet the Over in San Francisco for the third consecutive day. I projected the totals at 4.9 and 9.1 and would bet the F5 Over 4.5 to -115 and the full game Over 8.5 to -111.
Logan Webb has pitched as well as last season (3.6 xERA in both years), but his ERA has ballooned by more than two runs (from 2.9 to 4.94) thanks to shoddy defense (.350 BABIP; .311 career) and poor luck with runners on base (61% strand rate; 70% career). The Giants are a clear bottom-five defensive team (-11 Defensive Runs Saved or DRS, 27th) and figure to remain that way without the shift. They project as the worst defensive team in my model. The Giants were the worst team defensively last season, too (-53 DRS).
Offensively, the Giants have several weapons to frustrate southpaw pitchers, including a quartet of former Mets (Wilmer Flores, Michael Conforto, J.D. Davis and Darin Ruf) in the middle of their lineup. I expect Peterson to ultimately split the difference between his 2022 results (3.94 xERA) and his early 2023 start (5.00 xERA), but my model-weighted number is closer to last season's results.
Even using relatively optimistic forecasts for both starting pitchers, I like the Overs in this matchup, especially with 8-10 mph winds blowing out to left-center.
Additionally, bet the Mets' moneyline down to +105; and their F5 line to +107. 
Oakland Athletics vs. Texas Rangers
Shintaro Fujinami vs. Andrew Heaney
First Pitch: 7:05 p.m. ET
Fujinami has contributed to the A's historically poor starting pitching thus far (11.37 ERA, 6.86 xERA), permitting 16 runs in 12 2/3 innings (9 BB, 10 K) to begin his major league career. Heaney rebounded from a poor start against the Orioles with five-inning gems against the Royals and Astros (combined 10 IP, 4 H, 1 R, 5 BB, 14 K).
Heaney's velocity is down from where he ended the 2023 season, but he posted incredible results (3.39 xERA) in 72 innings for the Dodgers and he retains his overhauled pitch mix (with a sweeper), which helped that breakout. Even at reduced velocity, Heaney should be an effective mid-rotation starter with both elite upside and significant downside in any outing.
A side by side of Andrew Heaney's 2021 Curve and 2022 Sweeper.

The Sweeper – which picked up 14 whiffs yesterday – has a different release point than the old curveball, gets 10" less drop, less "sweep" (oddly enough) and comes in 3mph faster. pic.twitter.com/vyIXe33iXk

— Alex Fast (@AlexFast8) April 18, 2022
I project a substantial difference in the effectiveness of these starting pitchers, and I modeled the Rangers' F5 moneyline at -240. You can place a straight bet to -215 or include their F5 moneyline as a parlay to -230.
Detroit Tigers vs. Baltimore Orioles
Joey Wentz vs. Kyle Gibson
First Pitch: 7:10 p.m. ET
This pitching matchup between clear back-end starters isn't the game where I would go out of my way to bet an Under. However, rainy weather and temperatures in the 50s (with an 11-mph cross breeze) should help to suppress offense on Saturday.
After making wind and weather adjustments, I projected the total at 7.97, bet an Under 8.5 to -110.
Boston Red Sox vs. Milwaukee Brewers
Garrett Whitlock vs. Wade Miley
First Pitch: 7:10 p.m. ET
I have established that I view Garrett Whitlock (career 3.27 xFIP) as equivalent to a potential No. 2 starter. While Wade Miley is off to a tremendous start to his campaign (3.23 xERA) after an underrated 2022 season (3.89 xERA), I view Whitlock as the significantly better pitcher.
Miley's pitch mix and velocity are essentially the same as in prior years. There is no reason to believe that he is breaking out at this stage of his career. Whitlock has an upside beyond what I can measure on paper, while Miley only has a downside as a 36-year-old pitcher.
I projected the Red Sox as -110 F5 favorites and slight underdogs for the full game. Split a bet between Boston's moneylines to +100 (F5) and +110 (full game).
Houston Astros vs. Atlanta Braves
Framber Valdez vs. Kyle Wright
First Pitch: 7:20 p.m. ET
Through two starts coming off shoulder inflammation, we have seen a diminished version of Kyle Wright, whose fastball is down more than two ticks relative to last season (94.7 mph). Coupling the shoulder inflammation with the velocity drop is a big red flag, but perhaps Wright is rounding his way back into form. The Braves do not need to push any of their players, and I doubt that they would let Wright pitch if they were at all concerned.
Even still, Wright has blowup potential, and these are two potent offenses — in a hitter's park at Truist Field — in neutral to favorable offensive conditions.
I projected the totals at 4.8 and 8.85; bet the F5 Over 4.5 to -109 and play the Over 8.5 to -103.
Zerillo's Bets for Saturday, April 22
For additional bet notifications, follow me in the Action Network App. 
Atlanta Braves / Houston Astros, F5 Over 4.5 (-105, 0.5u) at FanDuel (bet to -109)
Atlanta Braves / Houston Astros, Over 8.5 (+100, 0.5u) at Caesars (bet to -103)
Arizona Diamondbacks (+140, 0.5u) at WynnBet (bet to +136)
Baltimore Orioles / Detroit Tigers, Under 8.5 (+100, 0.5u) at DraftKings (Bet to -110)
Boston Red Sox F5 (+100, 0.5u) at FanDuel (bet to +100)
Boston Red Sox (+115, 0.5u) at WynnBet (bet to +110)
Chicago Cubs / Los Angeles Dodgers, Under 9 (-110, 0.5u) at FanDuel (bet to -112)
Chicago White Sox F5 (+145, 0.5u) at FanDuel (bet to +130)
Chicago White Sox (+165, 0.5u) at WynnBet (bet to +145)
Cleveland Guardians / Miami Marlins Game 2, Over 7 (-115, 0.5u) at BetMGM (bet to -120 or 7.5, -102)
Colorado Rockies (+165, 0.5u) at WynnBet (bet to +163)
Los Angeles Dodgers F5 (-125, Risk 0.5u) at WynnBet (Flat Risk to -125)
Los Angeles Dodgers (-120, Risk 0.5u) at WynnBet (Flat Risk to -120)
New York Mets / San Francisco Giants, F5 Over 4.5 (+100, 0.5u) at BetRivers (bet to -115)
New York Mets / San Francisco Giants, Over 8.5 (-105, 0.5u) at FanDuel (bet to -111)
New York Mets F5 (+118, 0.5u) at WynnBet (bet to +107)
New York Mets (+120, 0.5u) at WynnBet (bet to +105)
Parlay (+106, 1u) at Fanduel: Minnesota Twins F5 (-250) & Texas Rangers F5 (-215), bet to -285 and -215, or parlay to -305 and -230
How would you rate this article?
This site contains commercial content. We may be compensated for the links provided on this page. The content on this page is for informational purposes only. Action Network makes no representation or warranty as to the accuracy of the information given or the outcome of any game or event.