MLB Picks Thursday | Odds, Predictions Today, May 2
Credit:
Getty Images. Pictured: Graham Ashcraft, Riley Greene and Matt Strahm.
Tuesday's MLB slate includes 15 games all scheduled to take place under the lights tonight.
Our lead MLB analyst breaks down the entire slate, giving out his favorite bets for each game.
Continue reading for Sean Zerillo's full betting card for the MLB slate on Tuesday, May 2nd.
Welcome to Opening Pitch, my column that you'll find daily throughout the 2023 MLB season.
My goal for Opening Pitch is to highlight my top daily projection edges for MLB moneylines and totals, share my favorite bets and provide some betting notes and analysis, mainly as I react to opening and overnight lines while using my baseball betting model.
I will look to release a new version of Opening Pitch daily between midnight and 3 a.m. ET; after I enter my overnight bets in the Action Network App and update the MLB projections. Hopefully, you will use it as your morning betting guide to get ahead of the baseball markets.
You can find my projections for every MLB game in the Action App (on both the PRO Projections tab and the game pages) and our Projections Hub (which you can bookmark).
You can also shop for the best lines on our odds page.
Expert Picks for Tuesday, May 2
Detroit Tigers vs. New York Mets
Joey Lucchesi vs. Michael Lorenzen
First Pitch: 6:40 p.m. ET
While Joey Lucchesi has helped provide some much-needed stability (2.19 ERA in two starts) to the Mets' injury riddled rotation, the southpaw is due for serious negative regression (5.58 xERA or expected ERA; projected FIP range 3.79 to 4.06).
And as we have discussed several times already this season, the Tigers project as a much better team against left-handed pitching (94 wRC+, 20th) than righties (73 wRC+, 29th), a trend which has carried over from last season (73 wRC+ vs. righties, 100 wRC+ vs. lefties in 2022).
While I view Lucchesi as a superior pitcher to Michael Lorenzen (3.91 xERA in 2022; 5.05 in 2023; projected FIP range 4.07 to 4.61), and give the Mets an advantage both offensively and in the bullpen, too, the Tigers' offense might actually produce runs against a left-handed starter, and pull the upset at home.
Although Lucchesi relies on changing pace — which would typically lead to reverse splits — he has performed better against lefties (3.22 xFIP) than righties (4.20) throughout his career, and Detroit will feed him at least eight right-handed bats.
I projected the Tigers as slight underdogs in either half (+103 for the First Five Innings or F5 and +110 for the full game). Bet the Tigers' F5 moneyline to +112, and play their full game line to +117.
Atlanta Braves vs. Miami Marlins
Bryce Elder vs. Sandy Alcantara
First Pitch: 6:40 p.m. ET
In a five-start sample, Sandy Alcantara has pitched to a 4.89 xERA (4.09 xFIP) this season — two full runs worst than his mark last year (2.92) during his NL Cy Young campaign.
Alcantara's strikeout minus walk rate, or K-BB%, is at its lowest mark (13.6%) since 2019 (finished 8.4%); his groundball rate (43.8%) is down nearly 10 percent relative to last season (53.4%). And he hasn't generated a single popup after carrying a sizable 11.7% popup rate last season. The free outs that Alcantara used to generate with strikeouts, or weak contact in the air or on the ground, are quickly diminishing, making his skillset all too average.
Still, his velocity remains intact, and Alcantara is actually missing bats more often (14.3% swinging strike rate) than ever before without generating the strikeouts. Although he looks off — and ERA estimators say something is off — the deep data dive doesn't provide additional detail or proof of decline. I'm really not sure what to make of Alcantara's early season hiccup. Still, I will maintain that he is closer to a No. 2 starter than an ace right now, especially after showing signs of skills slippage last September.
Alcantara is undoubtedly a better pitcher than Bryce Elder (5.02 xERA; projected FIP range 3.95 to 4.14), but I am not high on either arm, and I like the Overs in this matchup.
I projected Tuesday's totals at 4.48 (F5) and 8.41 (full game) at LoanDepot Park; bet the Over in either or both halves up to 4 (-120) and 8 (-116).
Cleveland Guardians vs. New York Yankees
Tanner Bibee vs. Gerrit Cole
First Pitch: 7:05 p.m. ET
Bibee had a relatively dominant debut at home against the Rockies (5 2/3 IP, 6 H, 1 R, 0 BB, 8 K) — who struggle away from Coors — and will make his first start at Yankee Stadium without Aaron Judge or Giancarlo Stanton in the opposing lineup.
Without their middle-0f-the-order firepower, the current Yankees' lineup is relatively impotent and forced to play a similar contacted-oriented offense that Cleveland is more accustomed to.
Gerrit Cole has had a ton of success against the Guardians in the past few seasons (five starts, 32 1/3 IP, 2.80 ERA, 0.99 WHIP, 7 BB, 36 K) because he can overpower their hitters without serious threat of the longball hurting him. Since his breakout season in 208 with the Astros, Cole has consistently allowed more than 1.2 home runs per nine innings, but Cleveland cannot take advantage of that tendency like Cole's other opponents.
While their offense might be lacking, the Yankees should remain an elite defensive team with their current position players. Unfortunately, the Guardians play defense and run the bases even better than the Yankees, and they can match them arm-for-arm in the bullpen. Recently, I have backed the Yankees and Cole — with their significant power advantage — against Cleveland. However, the model thinks the Guardians currently have the better position player group and are the value side for Tuesday.
I set Tuesday's Guardians' projection at +141 (41.4% implied). You can bet their moneyline down to +154 (39.4% implied), at a two percent edge compared to my number.
Minnesota Twins vs. Chicago White Sox
Joe Ryan vs. Michael Kopech
First Pitch: 7:10 p.m. ET
I'm all-in on the Joe Ryan breakout and happy to see an edge on the Twins here, as Ryan forces the White Sox into their lesser split against righties (85 wRC+, 26th). The White Sox rank below-average against lefties so far this season too (96 wRC+, 18th), but their splits were far more dramatic last season (93 wRC+ vs. righties, 23rd; 119 wRC+ vs. lefties, 4th), and I project them about 30% better against southpaws than righties as present.
Ryan scrapped his curveball and changeup from his first two big-league seasons and added a splitter (26.8% usage rate overall; 36% vs. lefties) to his arsenal, which has perfectly complimented his fastball/sweeper combination (combined 82% usage rate vs. righties).
Overall, Ryan has the most valuable splitter in baseball this season. On a per-pitch basis, the offering ranks ninth (among the 43 pitchers who have thrown a splitter this season).
Tonight's Twins starter Joe Ryan: 19 IP, 3 BB, 26 K, 0.63 WHIP

BA xBA Whiff%
.200 .158 31 Fastball
.000 .148 35 Split (see video)
.000 .154 31 Sweeper pic.twitter.com/dKWNMzlzAD

— Red Sox Stats (@redsoxstats) April 19, 2023
Michael Kopech has been dreadful through five starts, overachieving compared to his 9.78 xERA (8 home runs allowed in 25 2/3 IP).
Kopech has seen a velocity uptick relative to last season. Still, he also seems bothered by the pitch clock, alternating between struggling with his command or grooving pitches to get crushed by the opposition.
Aside from his HR/FB rate (25% vs. 12.9% career), Kopech hasn't been unlucky (.303 BABIP, 74.7% strand rate); he's just pitched terribly.
Perhaps he can flip that narrative on Tuesday going against one of 2023's hottest arms, but I do show value here on the Twins on the road favorite, and you can bet the Twins' F5 moneyline up to -170.
Rather than a gem from an out-of-form Kopech, the likelier scenario is that Ryan finally has a hiccup and returns to Earth for a night. I projected the total at 9.22; bet the Over up to 8.5 (-118) or 9 (+100).
Los Angeles Angels vs. St. Louis Cardinals
Patrick Sandoval vs. Steven Matz
First Pitch: 7:45 p.m. ET
Although they have struggled to find wins, the Cardinals are off to another hot start offensively against lefties (125 wRC+, 6th) after ranking as the best offense against southpaw pitching last season (131 wRC+) and third in 2021 (114 wRC+).
Nobody crushes lefties like Paul Goldschmidt (217 wRC+ vs. lefties since the start of the 2021 season), but Tommy Edman (129), Nolan Arenado (148), Willson Contreras (139), Dylan Carlson (144), Tyler O'Neill (139) and even lefty Lars Nootbaar (143) all smash southpaws. Jordan Walker (119 in his brief sample) will create an embarrassment of riches when he eventually returns.
The Angels have also hit lefties well this season (126 wRC+, 5th), which is a significant improvement over last year (85 wRC+, 26th), but adding some lefty-killers like Hunter Renfroe (137 wRC+ vs. lefties since 2021), Brandon Drury (151) and Gio Urshela (117) to a lineup that included Mike Trout (168) and Taylor Ward (114) extends their right-handed production. As a hitter, Shohei Ohtani is roughly 20 percent above average against lefties too, and the Angels project to maintain a 120 wRC+ vs. lefties over the remainder of the season.
We have two offenses that project to crush left-handed pitching against two southpaw starters, and I set the totals at 5.04 (F5) and 9.22 (full game). Play an F5 Over 4.5 to -125 and a full game Over 9 (+100).
Cincinnati Reds vs. San Diego Padres
Graham Ashcraft vs. Michael Wacha
First Pitch: 9:40 p.m. ET
Cincinnati has an apparent starting pitching edge with Graham Ashcraft (3.98 xERA in 135 MLB innings) facing Michael Wacha (6.47 xERA; 4.56 in 2021).
Looking at @enosarris wonderful Stuff+ rankings and someone stands out to me. Graham Ashcraft.

Overall: 109 (19th overall)
Slider: 123 (22nd best)
Cutter: 113 (7th best)
Sinker: 84 (meh.)

Smaller sample but being tied with Darvish and better than Gallen in Stuff+ ain't bad. pic.twitter.com/0lIMTn9fTp

— Michael Simione (@SPStreamer) March 13, 2023
Ashcraft carries a high groundball rate (54.8% career) and is built to withstand the treacherous conditions at Great American Ball Park, but he is often harmed by the Reds' defense, which has ranked as a clear bottom-five unit for the past three seasons.
Conversely, Wacha has a far better defense behind him (18th in Defensive Runs Saved in 2022; 12th in 2023), a much better bullpen (by about a half run per game) to relieve him, and a superior offense to support him.
Given their starting pitching advantage, I projected the Reds as +123 F5 underdogs and +134 full-game underdogs; you can bet their moneylines in both halves to +134 and +145, respectively.
Additionally, with temperatures in the high 50s at first pitch, and a 9-mph breeze blowing in from left field, I see value on the Under in this matchup at 8.5 (-106) or better (projected 8.1).
Philadelphia Phillies vs. Los Angeles Dodgers
Matt Strham vs. Julio Urias
First Pitch: 10:10 p.m. ET
Matt Strahm accidentally becoming a dominant rotation piece is as big of a surprise to the Phillies' season as Bryce Harper returning in early May, in record time after elbow surgery.
Strahm (2.91 xERA in 23.1 IP) has started in the past, but never with his current pitch mix. If he can consistently pitch into the sixth inning and neutralize both lefties (2.50 xFIP) and righties (3.29 xFIP), after showing neutral splits over his entire career, Strahm will hold onto his rotation spot.
Among all 161 starting pitchers this season (min. 10 IP), Strahm ranks eighth in K-BB% (27.9%) and 22nd in CSW% (30.7%); he has been elite. A low BABIP (.213) and a high strand rate (81.4%) suggest his 2.31 ERA is unsustainable. Still, Strahm has justified something closer to an ERA of around 3.00 (2.91 xERA, 3.16 xFIP), which would rank him with the high-end No. 2 starters.
One area of concern? Stahm's velocity continues to dip with every start; he sat around 94 mph out of the bullpen last season and 95 in his first appearance this year, but Strahm's velocity has dipped by almost a half tick per start since moving to the rotation: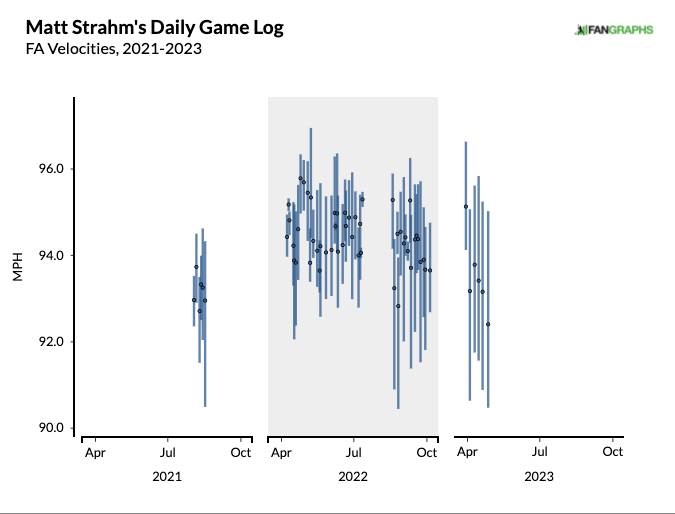 Julio Urias has been roughed-up in back-to-back outings against the Cubs and Pirates (combined 9 IP, 14 H, 11 ER, 4 HR, 4 BB, 9 K).  Like Sandy Alcantara, I cannot find anything concerning under the hood for a pitcher who ranked among the xERA leaders last season (2.81). Still, the red flags — which include two shaky starts in the WBC (combined 9 IP, 8 H, 7 ER, 1 BB, 10 K) against lesser offenses from Colombia and Puerto Rico — are mounting against Urias.
I would bet the Phillies' on the moneyline in both halves, to +135 (F5) and +140 (full game), and lean into Strahm's current.
Zerillo's Bets for Tuesday, May 2
For additional bet notifications, follow me in the Action Network App. 
Atlanta Braves (+126, 0.5u) at Fanduel (bet to +125)
Atlanta Braves / Miami Marlins, F5 Over 4 (-110, 0.5u) at DraftKings (bet to -120)
Atlanta Braves / Miami Marlins, Over 7.5 (-110, 0.5u) at DraftKings (bet to 8, -106)
Cincinnati Reds F5 (+140, 0.5u) at FanDuel (bet to +134)
Cincinnati Reds (+158, 0.5u) at Caesars (bet to +145)
Cincinnati Reds / San Diego Padres, Under 8.5 (+100, 0.5u) at DraftKings (bet to -106)
Cleveland Guardians (+160, 0.5u) at DraftKings (bet to +154)
Colorado Rockies (+150, 0.5u) at WynnBet (bet to +150)
Detroit Tigers F5 (+120, 0.5u) at FanDuel (bet to +112)
Detroit Tigers (+120, 0.5u) at DraftKings (bet to +117)
Los Angeles Angels / St. Louis Cardinals, Over 8.5 (-110, 0.5u) at FanDuel (bet to -118 or 9, +100)
Minnesota Twins / Chicago White Sox, Over 8.5 (-110, 0.5u) at FanDuel (bet to -116)
Minnesota Twins F5 (-170, 0.5u) at FanDuel (bet to -170)
Minnesota Twins (-140, Risk 1u) at DraftKings (bet to -152)
Philadelphia Phillies F5 (+146, 0.5u) at FanDuel (Bet to +135)
Philadelphia Phillies (+154, 0.5u) at FanDuel (Bet to +140)
Washington Nationals (+125, 0.5u) at WynnBet (bet to +125)
How would you rate this article?
This site contains commercial content. We may be compensated for the links provided on this page. The content on this page is for informational purposes only. Action Network makes no representation or warranty as to the accuracy of the information given or the outcome of any game or event.