MLB Picks Today | Odds, Expert Projections for Tuesday, June 6
Credit:
Getty Images. Pictured: Corey Seager, Alex Verdugo, Seiya Suzuki
Welcome to Opening Pitch, my column that you'll find daily throughout the 2023 MLB season.
My goal for Opening Pitch is to highlight my top daily projection edges for MLB moneylines and totals, share my favorite bets and provide some betting notes and analysis, mainly as I react to opening and overnight lines while using my baseball betting model.
I will look to release a new version of Opening Pitch daily between midnight and 3 a.m. ET; after I enter my overnight bets in the Action Network App and update the MLB projections. Hopefully, you will use it as your morning betting guide to get ahead of the baseball markets.
You can find my projections for every MLB game in the Action App (on both the PRO Projections tab and the game pages) and our Projections Hub (which you can bookmark).
You can also shop for the best lines on our odds page.
Expert Picks for Tuesday, June 6
Minnesota Twins vs. Tampa Bay Rays
Louie Varland vs. Zach Eflin
First Pitch: 6:40 p.m. ET
Louie Varland (99 Stuff+, 107 Location+) and Zach Eflin (94 StufF+, 107 Location+) carry similar pitch modeling data and have posted comparable underlying indicators (21% K-BB% and 3.18 xFIP for Eflin compared to 18.5% and 3.66 for Varland) this season.
However, Varland has posted a 3.64 ERA through 12 career starts — compared to a 3.84 xFIP.  Varland's expected ERA or xERA stands at 4.46. He's stranded over 90% of baserunners this season (86% career), or roughly 18% higher than the league average. He's allowed nine home runs in seven starts, but most have been solo shots.
Conversely, Eflin's 2.99 xERA is lower than his actual mark (3.30). Pitching models and projection systems don't see a substantial difference between these two pitchers. However, Eflin carries far superior batted ball data, permitting weaker contact to opposing hitters.
On Tuesday, I projected the Rays around -183 for the first five innings (F5). You can back Eflin on the F5 moneyline up to -168 or include the Rays' F5 moneyline in a parlay up to -175.
Houston Astros vs. Toronto Blue Jays
Hunter Brown vs. Kevin Gausman
First Pitch: 7:07 p.m. ET
Kevin Gausman (112 Stuff+, 105 Location+) and Hunter Brown (105 Stuff+, 102 Location+) have above-average stuff and command and rank among the more trustworthy starting pitchers in a wonky year.
Still, the slight advantage for Gausman in those areas makes the difference between his 3.3 xERA the past two seasons and Brown's still excellent though slightly less dominant 3.67 xERA this season. The veteran also holds a 7% advantage over Brown in K-BB% (27.3%), the second-best mark among qualified starters (with Spencer Strider first at a staggering 31.3%).
In my model, the Blue Jays' position players have superior offensive splits and a distinct defensive advantage. They rank first in Defensive Runs Saved, while the Astros are 19th. Give Toronto a starting pitching edge and home-field advantage, too, and I think the Blue Jays are undervalued for Tuesday.
Whether Jose Altuve plays or not determines the size of our edge on this game. Without Altuve in the lineup, bet the Blue Jays to -153 (F5) and -134 (full game); Houston's one advantage is in the bullpen.
With Altuve in the lineup, shorten the price targets to -135 and -121.
Boston Red Sox vs. Cleveland Guardians
James Paxton vs. Shane Bieber
First Pitch: 7:10 p.m. ET
Shane Bieber remains atop my fade list — with a 10.2% K-BB% that is half of last year's mark (20.4%) and a third of his Cy Young season (34%), in addition to a career-worst 4.90 xERA.
Bieber has vastly outperformed that Statcast indicator throughout his career, pitching more closely with his xFIP (career 3.23 ERA, 3.13 xFIP). Still, even Bieber's xFIP — due to decreased strikeouts and increased walks — has risen to 4.33. His previous high xFIP was 3.30 in his 2018 rookie season.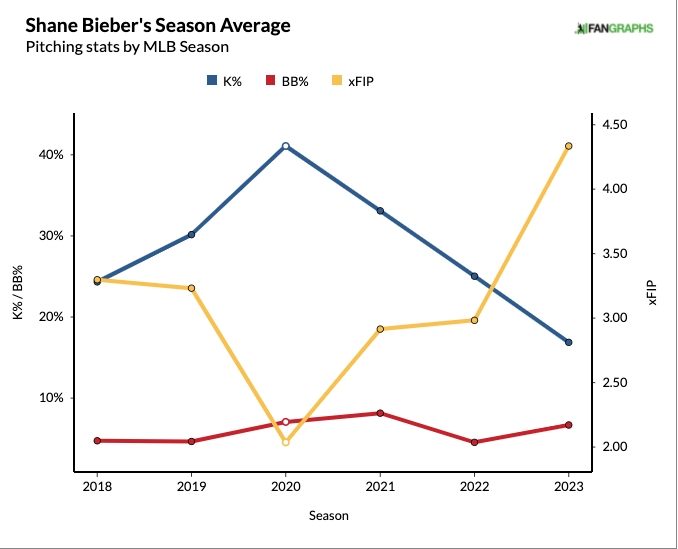 The Red Sox present a tough matchup, ranking as a top-eight offensive against right-handed pitching, with a bottom-five strikeout rate. They will put everything in play against Bieber and grind up his pitch count.
James Paxton has looked mostly effective through four starts with the Red Sox (19 IP, 17 H, 9 R, 7 BB, 27 K), and his velocity (96.1 mph) has returned to pre-injury levels. Pitching models don't love what's coming out of his hand (97 Stuff+), but he's commanding it well, and I don't need Paxton to project any better than comparable to Bieber to see an edge on this matchup.
Bet the Red Sox to +105 F5 and +114 full game, and play Over 7.5 up to -116, even with the wind blowing in (projected 8.18).
New York Mets vs. Atlanta Braves
Carlos Carrasco vs. Zach Elder
First Pitch: 7:20 p.m. ET
Truist Park should see decent hitting weather on Tuesday night: 83 degrees at first pitch, with 7 mph winds blowing out to left field.
The betting model isn't high on either Carlos Carrasco (5.45 xERA) or Bryce Elder (4.17 xERA). The latter has been extremely lucky this season, carrying a 1.92 ERA compared to a 3.64 xFIP and a 3.85 SIERA. Elder has stranded nearly 88% of all baserunners and benefited greatly from defense and sequencing luck. Elder has decent command (100 Location+) but a subpar arsenal (77 Stuff+), and he's overdue for a blowup.
Carrasco (90 Stuff+, 97 Location+) has looked better in his past three starts, and both his velocity and Stuff+ (100 in his last start) are trending in the right direction, but both spotty command (career-high 9.5% walk rate) and a home run tendency (1.33 HR/9 since joining the Mets) will plague him.
I projected the total at 10.48; bet Over 9.5 to -120, or Over 10 to -102.
St. Louis Cardinals vs. Texas Rangers
Matthew Liberatore vs. Dane Dunning
First Pitch: 8:05 p.m. ET
The Rangers have smashed both left-handed (132 wRC+, 3rd) and right-handed (120 wRC+, 2nd) pitching this season, but forecast better against southpaws. So too, do the Cardinals, who technically rank higher against righties (106 wRC+, 6th) but project and perform better against lefties (115 wrC+, 8th), giving Texas the offensive splits advantage on both sides of this matchup.
Surprisingly, Texas has the far superior defensive team (+20 Defensive Runs Saved, 3rd; vs. -12, 25th for St. Louis) too.
While his strikeout rate has jumped by 7% in Triple-A year over year, pitching models haven't seen enough of an improvement from Matthew Liberatore's data at the MLB level (90 Stuff+, 86 Location+) relative to his rookie year (84 Stuff+, 97 Location+). The southpaw has posted a 5.72 ERA, 5.64 xERA, and 4.98 xFIP in 12 MLB appearances (45 2/3 IP). And he's yet to record an out in the sixth inning.
Dane Dunning (79 Stuff+, 99 Location+) is a certifiable back-end starter (4.49 xERA last season, 4.08 this season) with a low ceiling but a serviceable floor. Dunning has proven effective in the rotation over the past month while displaying a different pitch mix compared to last season, relying on his cutter more and his sinker less, potentially explaining the reduction in xERA, despite a four-year decrease in K-BB%.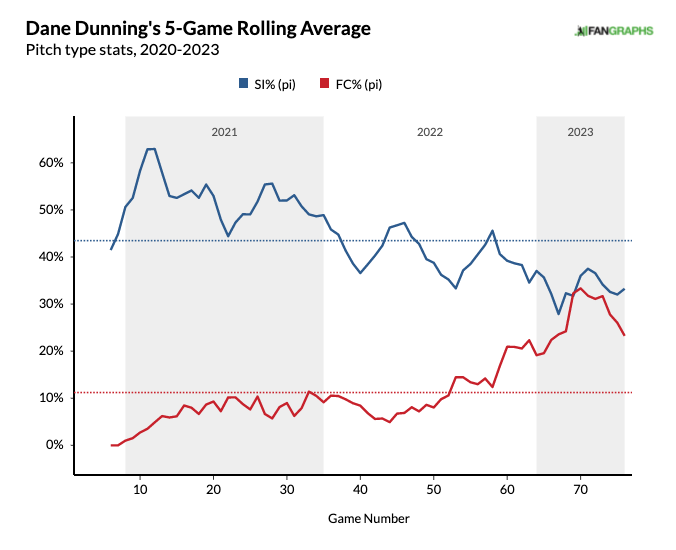 Dunning has been extremely lucky this season (2.06 ERA, 2.65 BABIP, 77.4%, strand rate, 0% HR/FB rate), but he's also made some encouraging tweaks, and this seems like a smash spot for the Rangers' offense.
Bet Texas to -156 in the first half (F5) and -140 for the full game
Chicago Cubs vs. Los Angeles Angels
Hayden Wesneski vs. Tyler Anderson
First Pitch: 9:38 p.m. ET
Tyler Anderson (5.00 xERA, 3.3% K-BB%) looks like another bad contract for the Angels (3 years, $39 million) after achieving career-best results with the Dodgers (2.57 ERA, 3.10 xERA, 14.7% K-BB%) last season.
His velocity has dipped slightly, but Anderson's command has mostly fallen apart, with him posting the highest walk rate (10.5%) and the lowest called-strike plus whiff rate (25.9%) of his career. Pitching models put Anderson at 92 Stuff+ and 99 Location+ on the season, compared to marks of 93 and 105 last year with the Dodgers.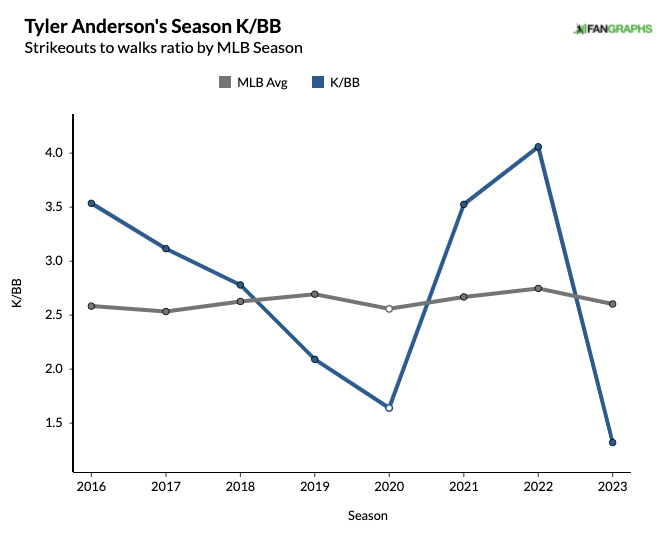 Hayden Wesneski remains a highly intriguing arm (98 Stuff+, 104 Location+) despite some shaky results (5.67 xERA). He was dominant in 33 innings last season (102 Stuff+, 107 Location+), posting a 2.18 xERA with 33 strikeouts against seven walks in his first 33 MLB innings.
His slider remains a plus offering, but the rest of the arsenal hasn't come together yet this season. However, the arm talent is still there, and Wesneski possesses more upside than Anderson, both on a start-to-start and season-long basis.
The Angels have a top-seven offense against both right-handed and left-handed pitching. Still, the Cubs rank in the top four against lefties, and I give their position player group the advantage both offensively and defensively.
Bet the Cubs down to +114, and play Over 9 to -128 or Over 9.5 to -108, with two solid offenses and two starting pitchers capable of imploding.
Zerillo's Bets for Tuesday, June 6
For additional bet notifications, follow me in the Action Network App. 
ArizonaDiamondbacks / WashingtonNationals, Under 10 (-115, 0.5u) at DraftKings (Bet to 9.5, -110)
Boston Red Sox F5 (+105, 0.5u) at DraftKings (bet to +105)
Boston Red Sox (+116, 0.5u) at DraftKings (bet to +114)
Chicago Cubs (+118, 0.5u) at Caesars (Bet to +112)
Chicago Cubs / Los Angeles Angels, Over 9 (-120, 0.5u) at Caesars (bet to -128 or 9.5, -108)
Cincinnati Reds (+205, 0.5u) at DraftKings bet to +166)
Detroit Tigers +185 (0.5u) at Caesars (bet to +173)
Detroit Tigers / Philadelphia Phillies, Under 9.5 (-120, 0.5u) at Caesars (Bet to -123 or 9, -105)
Kansas City Royals / Miami Marlins, Over 7.5 (-105, 0.5u) at WynnBet (bet to -112)
Luis Arraez, Over 1.5 Hits (+155, 0.25u) at FanDuel (bet to +150)
Parlay (+133, 0.5u): Pittsburgh Pirates F5 (-225) & Tampa Bay Rays F5 (-162) at FanDuel (parlay to -223 and -175)
San Francisco Giants / ColoradoRockies, Under 12 (+100, 0.5u) at FanDuel (bet to -118 or 11.5, +100)
Seattle Mariners (+120, 0.5u) at WynnBet (bet to +116)
Seattle Mariners / San Diego Padres, Under 8 (-105, 0.5u) at DraftKings (bet to -112)
Texas Rangers F5 (-140, 0.5u) at DraftKings (bet to -156)
Texas Rangers (-135, 0.5u) at DraftKings (bet to -140)
Toronto Blue Jays F5 (-139, Risk 1u) at DraftKings (bet to -153; reduce risk above -140)
Toronto Blue Jays (-125, 0.5u) at DraftKings (bet to -134
How would you rate this article?
This site contains commercial content. We may be compensated for the links provided on this page. The content on this page is for informational purposes only. Action Network makes no representation or warranty as to the accuracy of the information given or the outcome of any game or event.