MLB Odds, Predictions and Expert Picks for Friday, April 14
Credit:
Getty Images. Pictured: Kodai Senga, Brady Singer and Adley Rutschman.
It's Friday in MLB, which means there is a loaded 15-game slate.
Baseball expert Sean Zerillo has picks on a number of marquee games that include Rays vs. Blue Jays, Rangers vs. Astros and Orioles vs. White Sox.
Continue reading for Zerillo's MLB game previews and picks.
Welcome to Opening Pitch, my column that you'll find daily throughout the 2023 MLB season.
My goal for Opening Pitch is to highlight my top daily projection edges for MLB moneylines and totals, share my favorite bets and provide some betting notes and analysis, mainly as I react to opening and overnight lines while using my baseball betting model.
I will look to release a new version of Opening Pitch daily between midnight and 3 a.m. ET; after I enter my overnight bets in the Action Network App and update the MLB projections. Hopefully, you will use it as your betting guide to get picks in ahead of the baseball markets.
You can find my projections for every MLB game in the Action App (on both the PRO Projections tab and the game pages) and our Projections Hub (which you can bookmark).
You can also shop for the best lines on our odds page.
Expert Picks for Friday, April 14
Cincinnati Reds vs. Philadelphia Phillies
Taijuan Walker vs. Connor Overton
First Pitch: 6:40 p.m. ET
I often show value on bad teams in this type of spot — plus money at home after a win in the same series while seeing a significant drop-off in starting pitcher quality.
The drop-off from the Reds' top three starters — Hunter Greene, Nick Lodolo and Graham Aschcraft — to their back-end arms, including Connor Overton and Luis Cessa, is about as dramatic as it gets in terms of quality loss.
Overton's projections (ERA range of 4.61 to 5.46), limited MLB indicators (4.71 xFIP and 4.87 SIERA) and arsenal (mixes five pitches behind a 91 mph fastball) suggest that he will never be anything more than a replacement-level arm. He is there to eat innings on a rebuilding team at a major league minimum salary.
That said, I still show value in backing Overton and betting the Reds as underdogs to +127.
Similar to our Pirates bets on Thursday, this is not an underdog bet that I am excited about playing since I see few advantages for the Reds besides home-field advantage. Instead, it is a pure price play that the math dictates will win out in the long run, even at a two or three-percent advantage.
San Francisco Giants vs. Detroit Tigers
Sean Manaea vs. Joey Wentz
First Pitch: 6:40 p.m. ET
Sean Manaea emerged from an offseason at Driveline Baseball, throwing harder than ever before. For his career, Manaea has averaged 91.5 mph on his sinker. Through two starts this season, that average is up to 94.5 mph, 2.3 mph above his career peak for a season.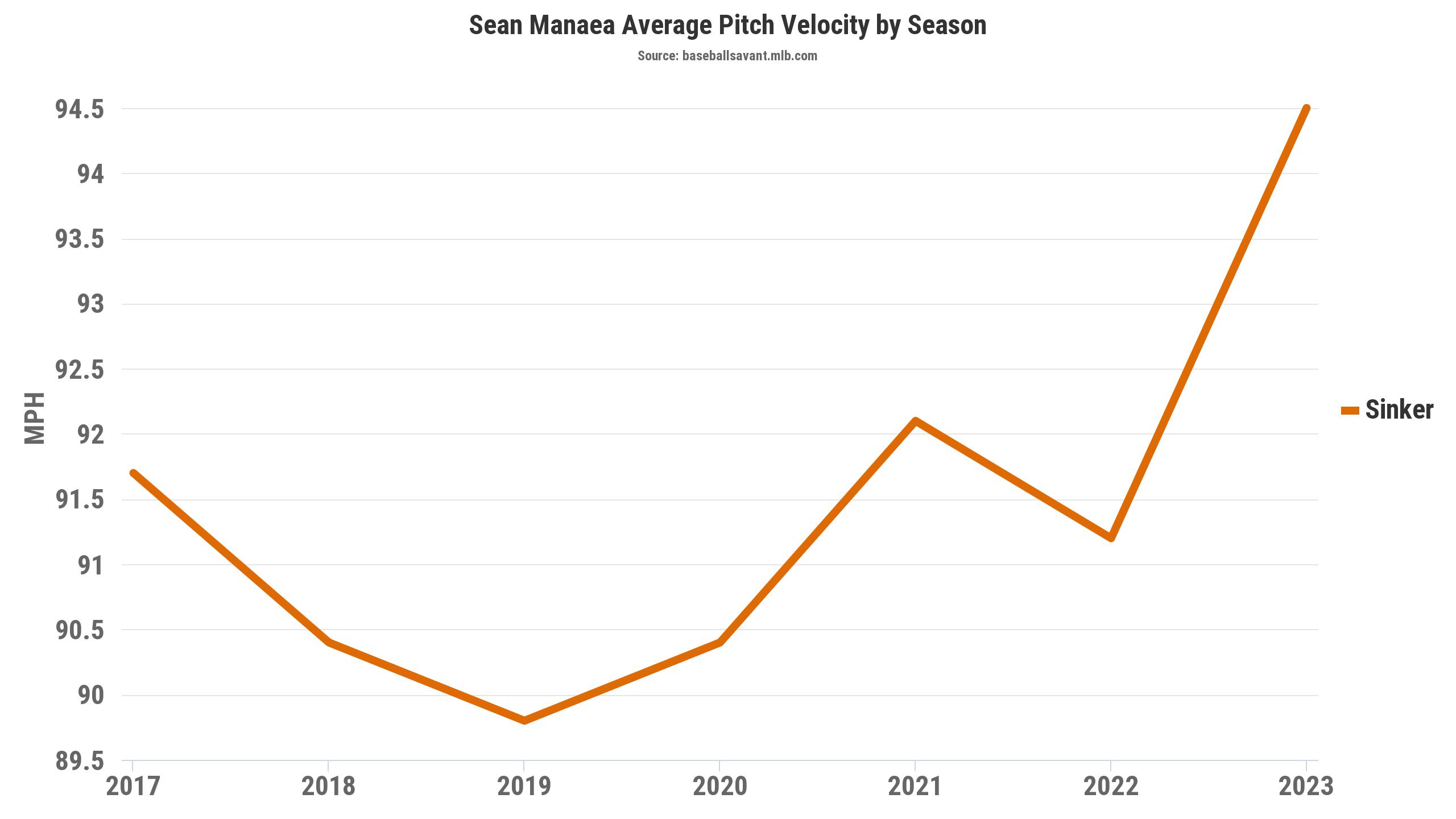 Still, the model continues to like the Tigers against left-handed starters. Detroit was a league-average offense against lefties in 2022 — and projects even better against southpaw pitching this season — but was historically awful against righties (and doesn't forecast to improve much this year).
I view Manaea as a significantly better pitcher than Joey Wentz, but I do give the Tigers some advantages concerning defense and baserunning, on top of their offensive splits.
Bet Detroit to +112, and hope they rough Manaea up so we can get a good price on him next time out.
You can also bet them to +115 for the first five innings.
I expect good things from the lefty over the remainder of the season and expect to bet on Manaea more often than not. I think Friday's matchup is a sneaky spot to fade the Baby Giraffe.
Cleveland Guardians vs. Washington Nationals
Cal Quantrill vs. Trevor Williams
First Pitch: 7:05 p.m. ET
Nationals Park can aid hitters drastically on certain nights and I forsee beneficial hitting conditions on Friday evening (74 degrees at first pitch, wind blowing out to left center) — especially for mid April — with two suspect starters on the mound.
I projected the F5 (first five innings) total at 4.98, and would bet F5 Over 4.5 to -120.
However, I align with the full game total (projected 8.96, listed 9). The Nationals have some underrated arms in their bullpen, and Cleveland's bullpen is capable of locking down the second half of any game. Stick to the first half Over.
Tampa Bay Rays vs. Toronto Blue Jays
Drew Rasmussen vs. Jose Berrios
First Pitch: 7:07 p.m. ET
Unless the moneyline blows out further, we won't have to bet against the Rays on Friday, who are looking to start the season 14-0 (and 13-1 on the run line). I projected the Blue Jays as +114 underdogs, and would need +125 or higher in order to bet Toronto.
I don't know how their organization has any confidence in Jose Berrios at this point. Including his start against Venezuela in the WBC, Berrios has the following line in his past three competitive outings: (10 2/3 IP, 20 H, 19 R, 5 BB, 13 K), after posting a 5.23 ERA and a 5.11 xERA or expected ERA, during his first full season in Toronto.
The Rays can't continue to hit 2.4 homers per game, or bat .358 with runners in scoring position (.354 with two outs) forever. Still, Berrios seems like one of the juicier matchups they have had, and the Rogers Centre — with the new dimensions in right center field — is an even friendlier offensive environment than they have been playing in.
I projected the F5 total for this matchup at 5.3, and would bet the F5 Over to 4.5 (-150), 5 (-110), or 5.5 (+125). I also set the full game total at 9.4, and would bet Over 9 to -105.
Similar to the Guardians (or as we'll get to, the Mariners), the Rays are a team better suited to betting F5 Overs, as opposed to full game Overs, given their bullpen quality, and the model projections bear that out.
Baltimore Orioles vs. Chicago White Sox
Tyler Wells vs. Mike Clevinger
First Pitch: 7:10 p.m. ET

Tyler Wells was a model favorite in 2022, and the Orioles are my favorite bet on the board for Friday with Wells on the bump in Chicago.
Baltimore often limited Wells' pitch count last season after moving him from the bullpen (3.6 xERA in 57 innings in 2021) to the rotation (3.8 xERA in 103 2/3 innings in 2022). When he is on the mound, Wells is an incredibly effective pitcher whose best attributes are located in Statcast metrics as opposed to other ERA estimations (career 4.21 FIP, 4.42 xFIP, 4.07 SIERA).
My Model Weighted ERA for Wells is sub four — closer to a number three starter — while I remain low on Mike Clevinger.
The velocity has started to come back a bit for Clevinger in his second year after returning from injury. Clevinger sat around 95 mph during his peak, but fell to 93.5 mph after surgery. Through two starts this year, he's at 94.4 mph.
Still, Clevinger was abysmal last season (4.65 xERA), and was trending poorly in 2020 (4.77 xERA, 4.18 xFIP) while pitching through injury. And he's still struggling with command despite the velocity uptick.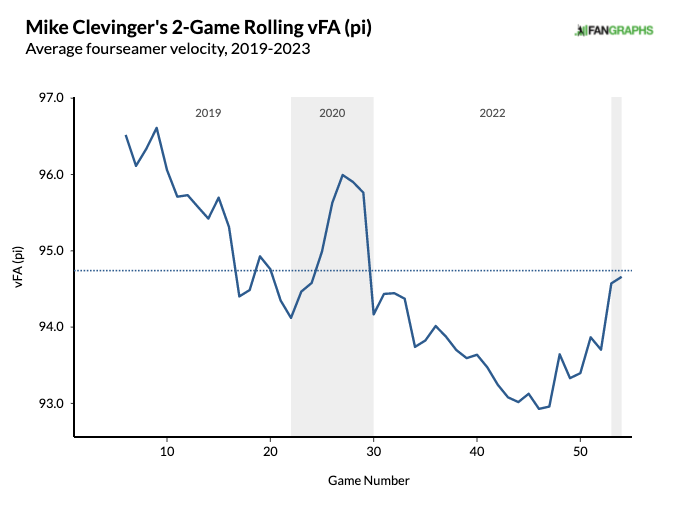 One mph of velocity for a pitcher is typically equivalent to a one third to one half of a run on of a decrease on their ERA projection.
As a result, you can move Clevinger down from a 4.65 ERA projection to anywhere between a 4.15 and 4.35 ERA projection at his current command level. I still view Wells as the superior starter, and he also forces Chicago into its lesser offensive split — the White Sox are far better against lefties than righties.
I see a larger F5 edge on the Orioles (to -128) than their full game price target (to -116), but you should have aciton on them in both halves behind Wells.
Atlanta Braves vs. Kansas City Royals
Charlie Morton vs. Brady Singer
First Pitch: 8:10 p.m. ET
I'm not sure if I have bet against the Braves — my projected preseason World Series favorite — to this point in the season, but we will take a small shot on Friday with one of the more underrated starters in the game: Brady Singer.
The projection difference between Morton and Singer is negligible at best. If anything, I would give a slight nod to Singer. Kansas City is rather abysmal defensively — aside from Nicky Lopez — and Atlanta has advantages everywhere else, too: baserunning, bullpen, offense, etc.
Still, I projected the Royals as +116 underdogs at home with Singer on the mound. You can bet the Royals at +125 or better.
Texas Rangers vs. Houston Astros
Martin Perez vs. Luis Garcia
First Pitch: 8:10 p.m. ET
Aside from the Cardinals, the Astros have been the most dominant team against southpaw pitching in recent seasons. And although Jose Altuve (147 wRC+) was a crucial part of their success against lefties, Houston still projects as a dominant offense force (128 wrC+) against lefties in my model without its All-Star second baseman.
Martin Perez faced the Astros five times in 2022 with mixed results. Current Astros hitters own a .758 OPS against him in 137 plate appearances. Perez had a breakout 2022 campaign (3.59 xERA), but I expect slight regression toward career averages for a 32-year-old pitcher with a lengthy history.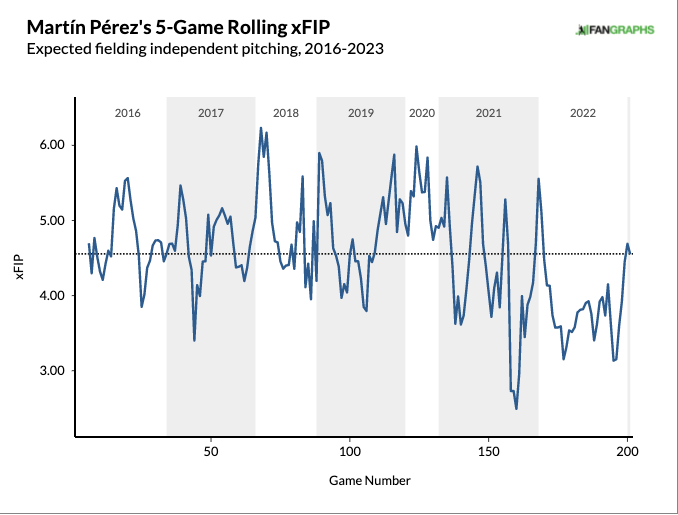 Houston's Luis Garcia (3.57 xERA in 2022) should be able to maintain his new level or improve. For what it's worth, Rangers hitters own a .435 OPS against Garcia in 45 plate appearances.
I project Garcia about two-tenths of a run (on an ERA) better than Perez for 2023 — though I suspect the gap could potentially be wider. Even at that differential, I see actionable value in the Astros F5 line to -154 (projected -166).
Oakland Athletics vs. New York Mets
Kodai Senga vs. James Kaprielian
First Pitch: 9:40 p.m. ET
My colleague, Tanner McGrath, is high on Kodai Senga as a Rookie of the Year candidate. And although pitchers rarely win top rookie honors (just four in the past 11 years), Senga was impressive in his first two major league starts, both against the Marlins (11 1/3 IP, 6 H, 2 R, 6 BB, 14 K):
Kodai Senga has 11 whiffs (5 strikeouts) through two innings.

— Michael Mayer (@mikemayer22) April 8, 2023
The A's project as another relatively easy matchup compared to what Senga will face over the remainder of the season. And I view him as a significantly superior pitcher compared to James Kaprielian.
Roughly speaking, Senga projects as a borderline No. 2 or No. 3 starter, while Kaprielian is a replacement-level arm; at the back-end of the No. 5 starters and, essentially, a No. 6 or No. 7 depth option for more serious teams.
I expect Senga to win the first five innings (unless the teams push) two thirds of the time and projected that line at -199. You can bet the Mets on the F5 moneyline to -183.
Colorado Rockies vs. Seattle Mariners
Austin Gomber vs. Marco Gonzales
First Pitch: 10:10 p.m. ET
I don't need a model to tell me that I like the chances for early runs in a matchup between one of my favorite fades, Marco Gonzales (career 4.66 xFIP), and a lefty who likely missed his breakout window, Austin Gomber (4.31).
Still, I projected the F5 total at 4.8; and would bet an F5 Over 4.5 up to -115.
I set the full game total at 8.4 since I expect the Mariners' bullpen to limit offense behind Gonzales. And I would look to bet an Under 9 (to -114) pregame if the total moves up (and shoot for a middle), or look to jump in live as the starters exit.
And you can bet the Rockies as road underdogs to +153.
Zerillo's Bets for Friday, April 14
For additional bet notifications, follow me in the Action Network App. 
Baltimore Orioles F5 (-115, 1u) at FanDuel (bet to -128, reduce risk at -121)
Baltimore Orioles (-105, 0.5u) at WynnBet (bet to -116)
Boston Red Sox F5 (+110, 0.5u) at WynnBet (bet to -105)
Boston Red Sox (+105, 0.5u) at WynnBet (bet to -109)
Cleveland Guardians / Washington Nationals, F5 Over 4.5 (-120, 0.5u) at FanDuel (bet to -120)
Cincinnati Reds (+135, 0.5u) at WynnBet (bet to +127)
Colorado Rockies (+160, 0.5u) at WynnBet (bet to +153)
Detroit Tigers F5 (+135, 0.5u) at WynnBet (bet to +115)
Detroit Tigers (+115, 0.5u) at DraftKings (bet to +112)
Kansas City Royals (+125, 0.5u) at WynnBet (bet to +125)
Houston Astros F5 (-136, 0.5u) at BetRivers (Bet to -154)
Milwaukee Brewers F5 (+140, 0.5u) at DraftKings (bet to +130)
Milwaukee Brewers (+145, 0.5u) at WynnBet (bet to +130)
Minnesota Twins (+155, 0.5u) at WynnBet (bet to +154)
Tampa Bay Rays / Toronto Blue Jays, F5 Over 5.5 (+136, 0.5u) at FanDuel (bet to +125 or to 5, -110 or to 4.5, -150)
How would you rate this article?
This site contains commercial content. We may be compensated for the links provided on this page. The content on this page is for informational purposes only. Action Network makes no representation or warranty as to the accuracy of the information given or the outcome of any game or event.