Shaedon Sharpe NBA Draft Odds & Outlook: How to Bet This Year's Man of Mystery
Credit:
Dylan Buell/Getty Images. Pictured: Shaedon Sharp #21 of the Kentucky Wildcats.
Shaedon Sharpe NBA Draft Profile
| | |
| --- | --- |
| Position | Wing |
| School | Kentucky |
| Height | 6'6″ |
| Age | 19.1 |
| Class | FR |
| Draft Over/Under | 7.5 |
The 2022 NBA Draft is barely a week away, so let's continue to dig into this year's top prospects and look for betting value.
Today, we're taking a peek at this year's international man of mystery, Shaedon Sharpe. The Canadian prospect just turned 19 at the end of May, and he could be the highest upside wing in a draft sorely lacking high-end options.
Sharpe is an elite athlete with huge potential, but he remains a mystery since he hasn't played any organized ball in almost a full year. Let's dig into Shaedon Sharpe, and remember to take a look at out our draft profiles for other likely top-10 prospects:
2022's Great International Man of Mystery
Sharpe was a relative unknown a couple years ago before exploding onto the scene last July at the Nike EYBL and Peach Jam Tournaments, vaulting to No. 1 on early 2023 boards. Sharpe then reclassified up a year and enrolled at the University of Kentucky but never played for the Wildcats (NCAA!), so we haven't seen him play organized ball in a full year.
Sharpe stands 6-foot-6 with a near-7-foot wingspan, an elite athlete with an outrageous vertical. Sharpe has a highlight reel of incredible dunks and silky shots. He projects as an electric wing scorer if everything comes together.
The question, of course, is whether everything will ever come together — and just how much already has over this past year.
Key Strengths
Tantalizing Athleticism and Size Profile

Almost everything about Shaedon Sharpe is unknown or speculative, including a rumored 49-inch vertical. Sharpe didn't jump at the Combine, but that would have broken the record held by some guy named Michael Jordan. Anything even close is incredible pop, especially when he loads up off two feet.
Sharpe has a huge frame. He's two inches taller and three inches longer than Anthony Edwards or Jalen Green, closer in size to someone like Hamidou Diallo. That length and athleticism give him tremendous defensive potential.
Combining that big, strong frame with a quick first step gives Sharpe great potential as an NBA scorer. He's shown a good ability to finish through contact, and he's a good off ball cutter and an explosive dunker with huge hands. Sharpe is probably more of a 98th percentile athlete than 99.9 (like Ant), but the size and athletic package are tantalizing.
Unknown, Untapped Upside

This isn't the most exciting draft. The three bigs at the top are highly regarded, but the draft lacks high-end wings and guards. That's what's pushing Jaden Ivey's athletic explosion into the top-5, and it's what makes Sharpe so intriguing. His athletic profile stands out in a class sorely lacking.
The unknown is scary, but it's also what makes Sharpe so interesting when the lottery knowns feel more like B-plus prospects. Remember, Sharpe just turned 19 so he's one of the youngest prospects in the class. Youth equals upside.
On the one hand, we haven't seen Sharpe play organized ball in almost a year. On the other hand, we already know how far Sharpe came from 2020 to 2021, leaping from off the radar to No. 1 in his class. If he can do that in one year, what might he have done for an encore over the past 11 months?
All it takes is one team to fall in love with the youth, athletic profile, and upside at the league's most coveted position.
Notable Weaknesses
Unknown Offensive Package
Of course, the unknowns go both directions.
We know Sharpe can score — he led those July tournaments in scoring last summer — but the rest of the offensive package remains a real question mark. He's had flashes as a playmaker and passer but has a long ways to go. The shot looks good with NBA range but is untested against top competition, and the shot selection is … questionable.
Sharpe has a good dribble with a tight crossover and step-back mechanics. That handle too remains untested against high-level defenders. These sort of questions are inevitable when you've only played high school ball.
Is Sharpe more than just a highlight reel athlete with explosion and a wet jumper? He could be a long-term project who spends serious time in the G-League before we ever find out.
Questionable Intangibles

But wait! There's more … questions, that is.
Does Sharpe elevate his teammates? How does he play within a team context? Can he share the ball? Does he have value off the ball? Is Sharpe coachable? Is he a leader? How do the intangibles stack up? Will he even try on defense?
There are questions about Sharpe's motor and effort. He received mixed reviews at Kentucky practices, though he played well within himself in a team setting with Team Canada. Maybe Sharpe answers these questions positively with a year at Kentucky — or maybe he doesn't and slides down draft boards.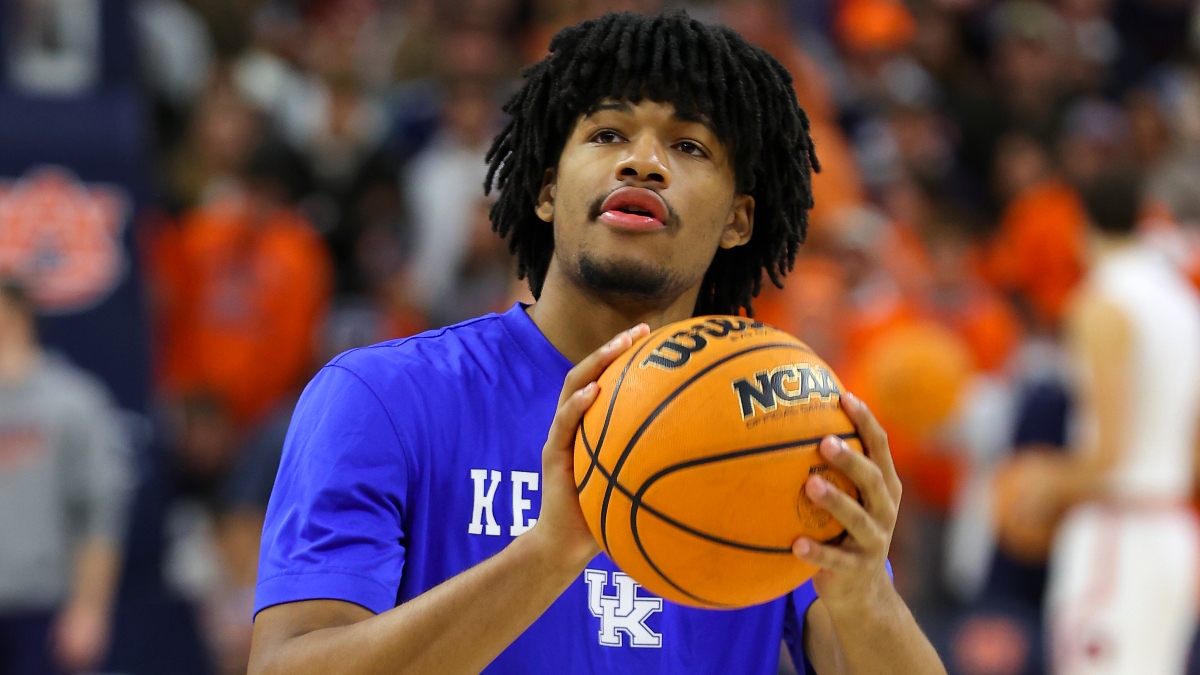 That's the danger of the unknown. Every year, there are high-rated high school prospects who disappoint in college. Jaden Hardy entered this year as a highly-rated wing scorer and likely top-5 pick but is now a fringe first-round pick after a disappointing year at G-League Ignite.
What if Sharpe had been in Hardy's shoes? Would he have slipped too, or would he have impressed and locked in his draft position like Jalen Green one year prior? It's impossible to know.
Overall Draft Outlook and NBA Projection

In interviews, Sharpe compares himself to Bradley Beal and Devin Booker. And why not comp yourself to two of the league's finest shooting guards? I've seen Anthony Edwards and Zach LaVine too. I'm seeing a bit more DeMar DeRozan — more rounded, relying on strength and polish to get the scoring done.
Remember, Sharpe might not be that 99.9 percentile athlete, but his strength and frame could make him more small forward than shooting guard in time. That size versatility is a bonus. It should be noted, though, that this player type generally takes a long time to develop — if it ever does.
Maybe Sharpe isn't Beal or Booker, Ant or Zach, nor DeRozan. Maybe he's J.R. Smith. Or maybe he's Gerald Green or Xavier Henry or one of a hundred other athletic wings whose game never filled in around the athleticism and frame.
How to Bet Shaedon Sharpe's Draft Position

In the end, it's important to remember that it only takes one team to fall in love with Sharpe's unique package of athleticism, size, and upside.
That's why I'm playing the under 7.5 on Shaedon Sharpe at -115.
Look, the teams picking near the top of the draft are there for a reason — they lack star talent. The NBA has always been a star-driven league, and the 2022 draft is dangerously devoid of superstar upside after the top-3.
Players like Keegan Murray, Dyson Daniels, and Johnny Davis project as safer, high-floor types. But at the top of the draft, teams are typically pushing for upside swings. They're swinging for home runs, not singles.
Sharpe is one of the few true home run swings in the 2022 draft. For a team looking to start over like the Pacers at No. 6, Sharpe is a chance at coming away with the best player in the draft. Ditto the Pistons at No. 5, who tanked all year for the top pick only to fall four spots.
The Kings at No. 4 and Blazers at No. 7 don't seem like strong fits, since both appear to be in win-now mode. But that could lead either or both to trade their picks for veteran help, and a team trading away veterans is probably looking to go young with an upside play like Sharpe.
In my lottery night mock draft, I projected Sharpe to the Pacers at No. 6. His upside gives him as good a chance as anyone in the draft to be taken at No. 4, 5, 6, or 7. He's +155 to go top-5 at PointsBet, and he's +600 to go fourth or +225 to go fifth at DraftKings.
Want to get crazy? Oklahoma City picks at No. 2, and Sam Presti always does things a little different. What if Presti's preferred big man is gone and he wants to take a swing on athletic upside? Sharpe would slot well next to Josh Giddey and Shai Gilgeous-Alexander. He's 60-to-1 to go second overall at DraftKings.
With Sharpe's tantalizing upside and potential, it feels like anything is possible.
There's always a player or two who gets significant buzz the week leading up to the draft and shoots up big boards and mock drafts. Sharpe has the potential to be that guy this year. I'll take his under-7.5 and bet on potential.
How would you rate this article?
This site contains commercial content. We may be compensated for the links provided on this page. The content on this page is for informational purposes only. Action Network makes no representation or warranty as to the accuracy of the information given or the outcome of any game or event.