Friday College Football Best Bets: Our Staff's Picks for Tonight's 3 Games (Nov. 4)
Credit:
Christopher Mast/Icon Sportswire via Getty Images. Pictured: Husky Stadium, home of the University of Washington Huskies football team.
Friday night lights are always special, and this week's Friday college football slate is no exception.
It all starts with a doubleheader at 7 p.m. ET.
The first matchup features two bottom-10 teams in the country, as the UMass Minutemen travel across the New England area to take on the UConn Huskies. Our Collin Wilson has the Huskies at No. 122 in his updated power ratings, while the Minutemen fall dead last at No. 131.
Then, the Duke Blue Devils hit the road to Chestnut Hill to face the Boston College Eagles in what many expect to be a low-scoring grind of a game.
To wrap things up, the Oregon State Beavers and Washington Huskies take the field in a Friday night edition of Pac-12 After Dark.
Read on for a betting preview for all three games below, and be sure to come back tomorrow for Action Network's full Saturday college football betting coverage.
---
Friday College Football Best Bets
The team logos in the table below represent each of the matchups that our college football staff is targeting from today's slate of games. Click the team logos for one of the matchups below to navigate to a specific bet discussed in this article.
Game

Time (ET)

Pick

7 p.m.

Under 40.5

7 p.m.

Under 47

10:30 p.m.

Oregon State +4.5

Specific bet recommendations come from the sportsbook offering preferred odds as of writing. Always shop for the best price using our NCAAF Odds page, which automatically surfaces the best lines for every game.
---
UMass vs UConn
By Keg
Saturday's slate presents some big-time games as Tennessee looks to take down Georgia between the hedges and further establish itself as the best team in the country. Alabama heads to Death Valley to square off with the Tigers under the lights and Texas will try to hold off the red-hot Kansas State Wildcats.
But before we get to all those games, we kick the weekend off right — with a battle of two independent programs that rank among the bottom 10 in the nation.
This is a game only alums and true gamblers could love. The UMass Minutemen, who rank dead last in Collin Wilson's Power Ratings, will make the 51-mile trek to Hartford to square off with the UConn Huskies.
"The U Game" rivalry dates back to 1897, with the Minutemen leading the all-time series 37-34-2. This year's meeting will mark the fourth consecutive showdown since the 1990s.
Since the two rekindled the series in 2018, neither team has won back-to-back years. UMass won last year's meeting 27-13 and is slated as a 15.5-point underdog Friday.
---
The Minutemen have yet to win a game against an FBS opponent this season as their only win came against FCS Stony Brook in Week 3.
On the offensive side of the ball, the Minutemen are the worst in all of college football in scoring and passing yards, averaging 12.1 points and 78.8 yards per game.
Their offense relies entirely on the run and they rank fourth in the country in rush rate. They do have some talented rushers and have had five players put up over 100 yards on the ground, but the team averages less than four yards per carry.
When they find themselves in the red zone, they run into even more problems. No team in FBS is worse than Massachusetts at Finishing Drives.
On the defensive side of the ball, the Minutemen show signs of being a real college football team. They rank among the top 75 in Defensive Rush Success, Pass Success, Finishing Drives and Havoc.
The Huskies offense hasn't been as bad as UMass, but this defense could give them some issues on Friday night.
---
The Huskies come into this matchup looking to make it 2-0 against the state of Massachusetts after they shocked the world last week and beat Boston College, 13-3, as 7.5-point underdogs.
Their upset win moved UConn to 4-5 on the season and, more importantly, 7-2 ATS. Friday night's matchup will be the third time the Huskies are favored this season and they both won and covered in each of the first two.
UConn's win over Boston College was primarily due to the five forced turnovers. Those won't be as readily available against a Minutemen team that runs the ball more than 70% of the time and ranks 49th in turnover margin.
The Huskies offense is very similar to UMass, leaning almost entirely on the rush as they rank 127th in the nation in pass success. Connecticut (6th) doesn't rank far behind UMass in rush rate but has gotten more out of every rush and is averaging 4.4 yards per carry.
UConn averages 17.6 points and 178 rush yards per contest.
The Huskies defense may rank outside the top 100 in rush and pass success, but you don't need to be much better than that to have an advantage over the Minutemen.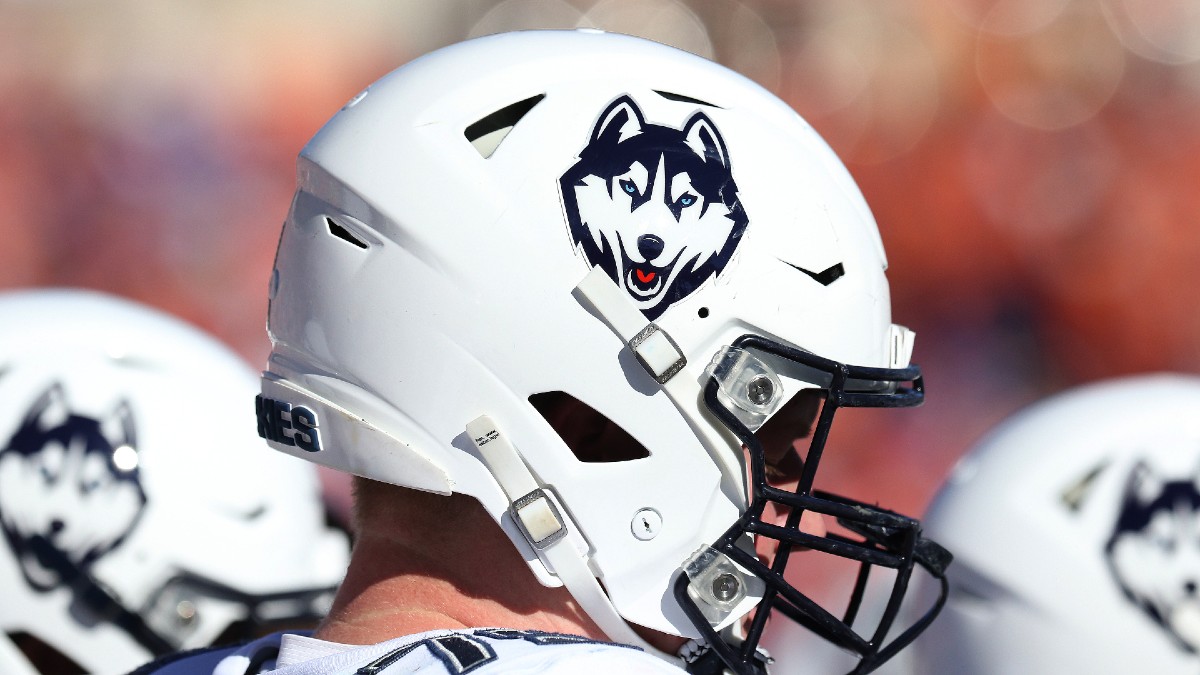 ---
UMass vs UConn Betting Pick
UConn is the better team, and while our Action Network projections make the Huskies a 16-point favorite over UMass, I can't lay a double-digit number in this game.
Both teams rank inside the top 10 in rush rate and are also outside the top 100 in seconds per play.
Neither team has been productive on offense when it comes to finishing drives, and when you look at their Defensive Finishing Drives numbers, you could make a case it's the best quality for both teams.
I wouldn't be surprised to see this game have less than 15 total points. Therefore, I will be making the only bet that could make this game even less enjoyable to watch: the under.
I'm confident in this game staying under 40 points.
Pick: Under 40.5 or Better
---
---
Duke vs Boston College
Friday Night Lights features an ACC battle between two programs that are trending in opposite directions.
Boston College is plummeting after an extremely disappointing 2-6 start. The program is coming fresh off a 3-13 defeat to Connecticut. That matchup highlighted the offensive woes for the Eagles, who boast the second-worst offense in the ACC with 17 points per game. 
To make matters worse, Eagles quarterback Phil Jurkovec went out in the second half with a lower-body injury after this hit.
Tough, tough fall for QB Phil Jurkovec on another designed run play. Went airborne and fell on his head/back.

Emmett Morehead is coming in. pic.twitter.com/jV7CCvijy2

— Andy Backstrom (@andybackstrom) October 29, 2022
Duke, meanwhile, has exceeded its expectations this season. The Blue Devils are one win away from becoming bowl-eligible behind an offense that sits among the powerhouses in the ACC.
Duke will be laying double digits on the road to a conference favorite for the first time this season. Will that be too much, or can Boston College rise from the dead one more time?
---
The success of the Duke program can be attributed to its offense thriving this season. The Blue Devils rank fourth in the ACC in scoring with 34 points per game while averaging 420 yards per game against FBS competition.
It all starts with the ground game. Duke owns a rush rate of 57% while averaging 5.3 yards per carry, which is 18th in the nation. The Blue Devils have a running back committee with four backs having more than 40 touches this season. Each is averaging more than five yards per carry, and they have combined to punch in 21 touchdowns.
Quarterback Leonard Riley has been a solid game manager for the Blue Devils. After starting only one game last season, Riley has thrown 10 touchdowns to four interceptions this season. He's averaging 6.3 yards per pass attempt and 210 yards per game.
The Duke defense owns an advantage over the Boston College offense in every advanced metric.
The Blue Devils have been stout at stopping the run, allowing just 3.6 yards per carry. With a backup quarterback likely at the helm for Boston College, I anticipate the team trying to establish the run — something the Eagles haven't been successful with this season.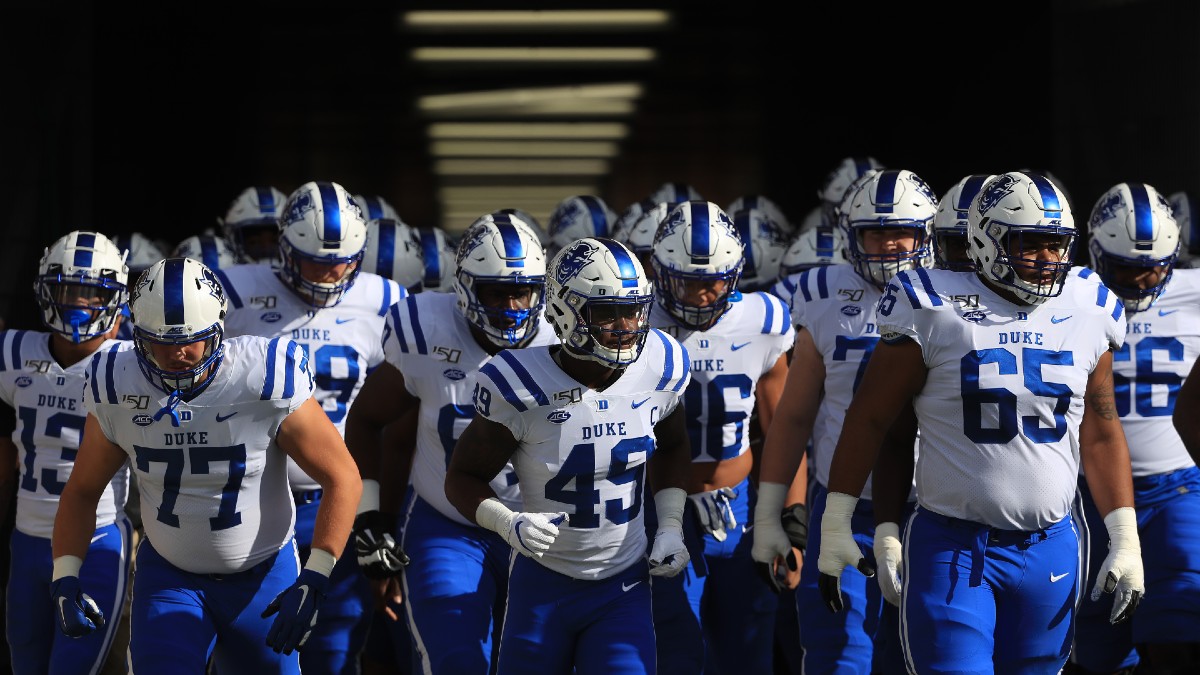 ---
Boston College has officially hit rock bottom after its loss to Connecticut.
It was the worst offensive display from the Eagles this season, which is saying a lot. The group lost two fumbles, threw three interceptions, and allowed five sacks and nine tackles for loss. The Eagles converted just 3-of-13 on third down and averaged only 2.5 yards per carry in the matchup.
That box score sums up the Boston College offense this season.
It all started with the offensive line that replaced all five starters in the offseason. In addition, the group has suffered some injuries that have led this group to be one of the worst in Power Five. The Boston College offensive line ranks 131st in Line Yards this season.
That led to a nonexistent rushing attack that ranks 128th in the nation with only 2.3 yards per carry against FBS competition.
That's led teams to focus on slowing down Jurkovec, and it's shown. The graduate student has completed 59% of his passes while averaging 6.9 yards per pass attempt. He's thrown 11 touchdowns to eight interceptions and hasn't quite lived up to the expectations he had coming back for his fifth year.  
---
Duke vs Boston College Betting Pick
It's hard to imagine Jurkovec returning from his injury this week. He hasn't practiced this week, and Boston College doesn't have much to play for at this point. 
The keys will likely be handed to redshirt freshman Emmett Morehead. He has had limited playing time this season and completed 9-of-18 of his passes for 104 yards and an interception last week.
With that said, I don't trust the Blue Devils laying double digits on the road to a conference opponent. Boston College will hang around for as long as its defense can contain Duke.
Boston College enters this matchup 81st in seconds per play while Duke sits at 105th. This will be a slow-paced battle with both teams looking to establish the run.
We know from Boston College's history that it likely won't find success on the ground. And the Eagles' front seven has been solid this season, holding opponents to 3.9 yards per carry.  
I'm playing the under of 47 in a game that won't be a grind to find success offensively.
Pick: Under 47 ⋅ Play to 46
---
---
Oregon State vs Washington
By Keg
The Beavers come out of the bye week refreshed and looking to extend their three-game win streak. To do so, they'll face what has consistently been one of the toughest challenges year in and year out.
Oregon State heads to Husky Stadium to take on Washington, a team that matches its 6-2 record on the season and 3-2 mark in conference play. The Huskies are also looking to extend a two-game win streak of their own.
I expect this game to be a hard-fought battle, but that hasn't always been the case. The Huskies lead the all-time series between the two, 67-35-4. However, the Beavers pulled out a close win last season in Corvallis, which ended a nine-game losing streak in this series.
Oregon State has not come away from Seattle with a win since 2008 and the Beavers last won two in a row against the Huskies in 2008-09. Does this Oregon State team have what it takes to rewrite the history books?
---
The Beavers may rank sixth in the Pac-12 when it comes to scoring offense, but it's not their fault the entire conference is stacked offensively.
Oregon State's 32.6 points per game put the Beavers as one of the top 50 teams nationally. The same goes for their 425 yards per game, which ranks 43rd among FBS teams.
Oregon State leads the conference in yards per pass and yards per attempt. The Beavers are a balanced offense that also ranks third in the Pac-12 with 191.9 rush yards per game.
However, there has been one glaring issue the Beavers can't seem to shake: Turnovers. Oregon State posts a turnover margin of .12 and has given up the ball 13 times this year.
The good news is they've been balanced their losses with 14 takeaways on the year, and the Huskies are in a similar situation with a turnover margin of +0.25 per game. Turnovers could very well decide this game between these two offensive-focused teams.
On the defensive side of the ball, the Beavers will have their hands full against the top passing offense in the conference. Oregon State has been solid and ranks 35th in Defensive Pass Success. It's been even better in Defensive Finishing Drives, coming in at 26th.
But will that be enough to stop the Huskies, who lead the nation in Havoc Allowed and are second in Offensive Pass Success?
---
The Washington offense is one of the best in the country. Led by Michael Penix Jr., a name I hope you know by now. Penix, a former Indiana standout, leads the nation in passing yards and has thrown just four interceptions this season.
He'll face a Beavers defense that limits teams to 22.8 points and a 67th-best 230.6 passing yards per game. There's also a less-than-favorable forecast with a 50% chance of rain and 13+ mph winds throughout the game in Seattle.
Despite that, I think the nation's leading passer will find a way to make do.
Defensively, the Huskies are a liability. They have limited teams to just 27.6 points per game, but there's something to be said about the competition they've faced. Cal, the second-worst scoring offense in the Pac-12, scored 20 points on the Huskies.
The Huskies also allowed Arizona State and Arizona to each rack up more than 35 points against them as Washington lost 45-38 to the Sun Devils.
Washington ranks 97th in Defensive Pass Success and is even worse when it matters most, coming in at 119th in Defensive Finishing Drives.
---
Oregon State vs Washington Betting Pick
The Huskies have failed to cover the spread in four straight games, which only adds to my lack of confidence in Washington. Their offensive success is undeniable, and Penix is one of the best in the game when he's on the field.
However, I expect the Beavers' main goal to be to keep him off of it. Oregon State ranks 120th in seconds per play and 24th in rush rate. Their rush game has been solid and if they run into issues there, they have an even more significant advantage in the passing attack.
Washington has been winning games but has had to do so by scoring enough to offset the number of points its defense gives up. I'm confident it'll find a different level of success against their toughest test in the Pac-12 so far.
I advise taking the points with Oregon State at +3 or better, but I'll also be placing a wager on the Beavers to pick up the win outright in Seattle for the first time since the Sounders became an MLS team.
Pick: Oregon State +4.5 ⋅ Play to +3
How would you rate this article?
This site contains commercial content. We may be compensated for the links provided on this page. The content on this page is for informational purposes only. Action Network makes no representation or warranty as to the accuracy of the information given or the outcome of any game or event.