College Football Odds, Picks: 3 Betting Previews for Thursday's Bowls
Credit:
Steph Chambers/Getty Images. Pictured: Washington offensive lineman Roger Rosengarten.
Thursday's college football slate brings with it three bowl games: Syracuse vs. Minnesota in the Pinstripe Bowl, Florida State vs. Oklahoma in the Cheez-It Bowl and Washington vs. Texas in the Alamo Bowl.
Our college football writers broke down all three games with a betting preview and shared a pick for each.
Check out all three betting guides for Thursday's college football bowl games below.
This stellar week of college football continues Thursday with three more bowl games on the docket.
Like every other day this week, the action starts in the afternoon when Minnesota and Syracuse meet in Yankee Stadium for the Pinstripe Bowl.
Two high-profile college football brands follow that up when Florida State takes on Oklahoma in the Cheez-It Bowl. The Sooners have struggled in their first year under head coach Brent Venables but will look to end the season on a high note against a surging Florida State team led by Mike Norvell.
The nightcap for the day is likely the most intriguing matchup for many fans and bettors. Quinn Ewers and the Texas Longhorns face Michael Penix Jr. in the Alamo Bowl in what promises to be one of the most fun non-New Year's Six bowl games.
Our college football writers — Collin Wilson, BJ Cunningham and Anthony Dabbundo — broke down all three Thursday bowl games below and shared a betting pick for each matchup. Read on for all three picks, and be sure to check back tomorrow for our Friday college football betting coverage.
---
Thursday College Football Bowl Bets
The team logos in the table below represent each of the bets our college football experts are making for Thursday's slate of bowl games. Click the team logos for one of the matchups below to navigate to a specific bet discussed in this article.
Game

Time

Pick

2 p.m. ET

Over 41.5

5:30 p.m. ET

Over 65.5

9 p.m. ET

Washington +3.5

Specific bet recommendations come from the sportsbook offering preferred odds as of writing. Always shop for the best price using our NCAAF Odds page, which automatically surfaces the best lines for every game.
---
Syracuse vs. Minnesota
Syracuse and Minnesota last played in the 2013 Texas Bowl, and they've only played one another five times in program history. The Orange and the Golden Gophers will meet in the Bronx on Thursday to play in the Pinstripe Bowl at Yankee Stadium.
Syracuse began its season 6-0 and found itself ranked inside the top 15 nationally, but a more difficult schedule in the second half of the season saw the Orange come tumbling back down to earth.
The Orange finished with a victory to get to 7-5 and easily surpassed their preseason win total of 4.5. But now they're dealing with key losses due to opt-outs on both sides of the ball.
Minnesota will have star running back Mo Ibrahim in the lineup for this game, and that presents a major matchup problem for Syracuse's run defense. The Gophers had a solid but middling 8-4 season in the Big Ten and squandered chances to win a weak Big Ten West division.
Both of these teams play at a slow pace — hence the low total at 41.5 — but the low-stakes nature of the bowl game environment should lead to more risk-taking, more fast pace and more trick plays.
---
Minnesota enters this game with a clear matchup advantage against the Orange.
The Gophers run the ball at one of the highest rates in the country and feature a big offensive line that is extremely efficient at moving the ball on the ground. The offense ranks top-20 nationally in both Rushing Success Rate and Offensive Line Yards.
Minnesota will face an Orange defense that's undersized up front, is down some key players and hasn't been able to stop the run all season. The Orange sit 112th in Rushing Success Rate Allowed and 117th in Line Yards on defense.
The line is built more for speed and pass rush than it is to stop the run. Teams that have been able to run the ball successfully — like Notre Dame — have easily moved the ball up and down the field against this defense.
The Orange's defense has excelled in the red zone this year and held a bunch of teams to three points, but the Gopher running attack success should be more efficient in the red area on Thursday.
---
Syracuse lost offensive coordinator Robert Anae and defensive coordinator Tony White to other programs, and neither will coach in this game. The Orange are also dealing with opt-outs from multiple key players on both sides of the ball.
Star running back Sean Tucker was as important to the Syracuse offense as any player was to any offense in the country. However, he declared for the NFL Draft, as did tackle Matthew Bergeron.
The Orange's offense ran through Tucker and the running ability of quarterback Garrett Shrader, but it's very difficult to run the ball on this Minnesota defense.
The Gophers rank 10th nationally in Rushing Success Rate Allowed and 17th in Defensive Line Yards. The Orange don't have a running back with any real Division I experience behind Tucker.
I'd expect to see a much more pass-heavy approach in this game because of that. Shrader hinted in the press that the Orange are going to try a more pass-heavy plan, and that means he's more likely to turn the ball over. His decision-making in the pocket has been inconsistent this season. He's made plenty of big plays through the air, but the turnover bug has bit him at times.
The Gophers get almost no pressure on opposing quarterbacks, however, and Shrader has averaged 9.4 yards per attempt when kept clean this season. His top two receiving options are available here, and he should be able to find success against the Gophers' secondary.
Given that new offensive coordinator Jason Beck came with Anae from Virginia, I don't expect the Orange to have many problems due to the coaching change.
---
Minnesota vs Syracuse Betting Pick
Syracuse had the 47th-highest rush rate in the country during the regular season, and it's almost certainly going to pass the ball much more in this game. Passing generally leads to more points, and that's especially true if the Orange also play faster than they did during the regular season.
Given Tucker's absence, Cuse will need more wrinkles to find offensive success. That means more passing, more tempo and more possessions.
As much as the Gophers play really slow on offense, the chains will be continuously moving as Minnesota plays ahead of the chains after successful first-down runs.
For example. Notre Dame scored 41 points on this Syracuse defense by primarily running the ball and dominating the line of scrimmage.
The weather also looks improved in New York for this game as the extreme cold from Christmas week dissipates. Temperatures in the mid-40s with low winds and sunny skies should help both good kickers continue to put points on the board.
Shrader will have time in the pocket, and the Orange won't be able to stop Minnesota's run game. As a result, this total is too low. I'd play the over at 42 or better.
---
---
Florida State vs. Oklahoma
Two college football blue bloods meet in Orlando for the Cheez-It Bowl on Thursday, as Oklahoma battles Florida State.
Things didn't go according to plan in Brent Venables' first year in Norman. The Sooners finished 6-6 after being listed as the favorite to win the Big 12.
Oklahoma has had a lot of opt-opts for this game, but the good news is that quarterback Dillon Gabriel will be playing in the game, which will give the Sooners a chance to keep up with Florida State's high-flying offense.
Mike Norvell is starting to build Florida State back into what it was, as the Seminoles had a resurgent season. They went 9-3 and ended the regular season ranked 13th in the AP Poll.
If they win this game, it will be their first 10-win season since 2016, when Jimbo Fisher took them to the Orange Bowl.
---
Sooners Offense
In games that Gabriel started and finished, the Sooners went 6-4 with all four losses coming by one score or less.
Gabriel had a solid first season in Norman, putting up a PFF passing grade of 80.6 while averaging 8.4 yards per attempt with 24 touchdowns compared to just six interceptions.
However, the strength of Florida State's defense comes in the secondary, which means Oklahoma is going to have to get things done on the ground.
Unfortunately for the Sooners, they will be without star running back Eric Gray, who has declared for the NFL Draft.
Freshman Jovantae Barnes has shown himself to be a capable backup and possesses big-play ability with 11 runs of at least 10 yards on less than 90 carries this season.
He also has a really good offensive line blocking in front of him, as Oklahoma ranks eighth in Offensive Line Yards and owns the 14th-best run-blocking grade, per PFF.
Sooners Defense
Oklahoma's defense has been a disaster this season. The Sooners allowed 5.4 yards per carry and ranked 82nd in Success Rate Allowed and 84th in EPA/Play Allowed.
They've been quite bad against the run, allowing 4.4 yards per carry. The Sooners are also 91st in Rushing Success Rate Allowed, 87th in rushing explosiveness allowed and 101st in EPA/Rush Allowed.
Plus one, defensive lineman Jalen Redmond has opted out after recording four sacks this season.
I don't know how the Sooners are going to stop one of the best rushing attacks in the country.
The Sooners' secondary has been just as bad as their run defense. Oklahoma ranks 78th in Passing Success Rate Allowed, 72nd in EPA/Pass Allowed and 84th in terms of a PFF coverage grade.
It's going to be a long night for Brent Venables' defense.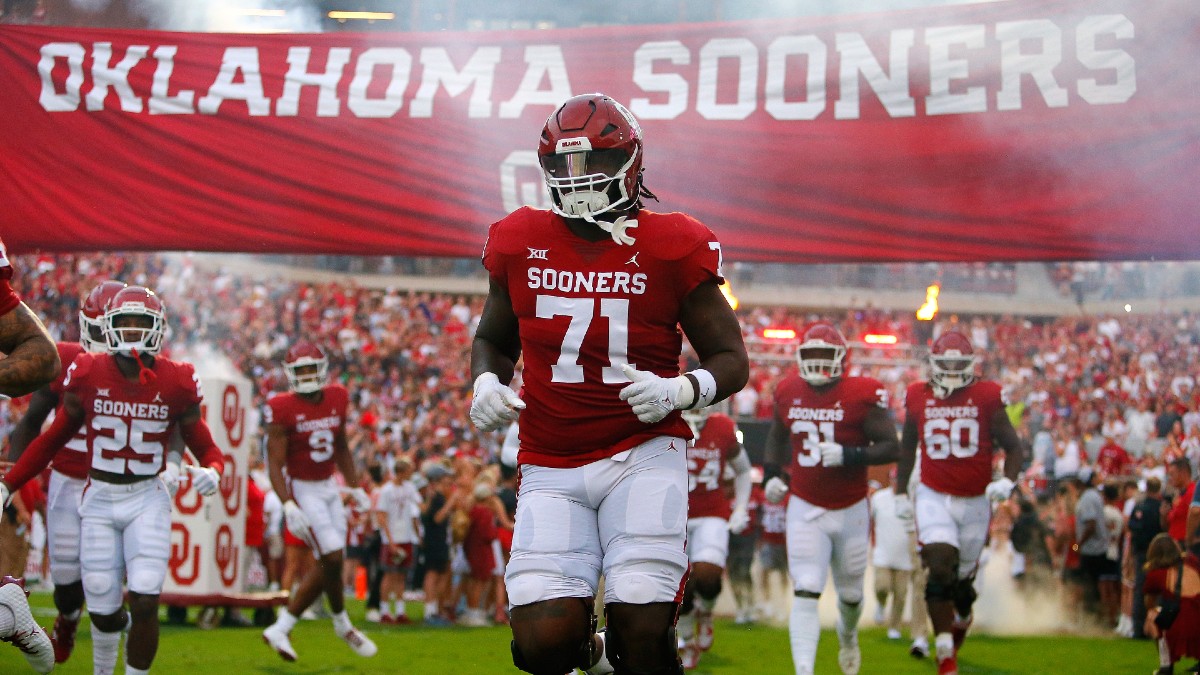 ---
Seminoles Offense
Florida State has an electric offense that averaged 6.6 yards per play and ranked 15th in Success Rate and 14th in EPA/Play.
Led by Jordan Travis at quarterback, the Seminoles offense has been outstanding this season. Travis is averaging 8.9 yards per attempt to go along with an 86.4 PFF passing grade and 22 big-time throws compared to seven turnover-worthy plays.
Florida State also runs the ball incredibly well, averaging 5.3 yards per carry. The Seminoles rank ninth in Rushing Success Rate, 10th in rushing explosiveness and second in EPA/Rush.
The main reason for their success has been lead back Trey Benson. Benson averaged a gaudy 6.8 yards per carry this season, owns a 92.8 PFF rushing grade and leads the country by averaging 4.76 yards per carry after contact.
Florida State should be able to run the ball at will against Oklahoma's below-average front seven.
Seminoles Defense
Florida State has been pretty average on the defensive side of the ball, as it ranks 57th in Success Rate Allowed and 41st in EPA/Play Allowed.
The strength of this Florida State defense is without a doubt its secondary. The Seminoles allowed only 5.9 yards per attempt, which ranks ninth in the country. Florida State also comes in at 40th in Passing Success Rate Allowed and 16th in EPA/Pass Allowed.
It should be able to slow down Gabriel through the air.
However, Florida State has struggled to stop the run this season, as it sits 79th in Rushing Success Rate Allowed, 85th in Defensive Line Yards and 83rd in EPA/Rush Allowed.
So, Oklahoma may have a chance to establish the run with Barnes at the helm.
Finally, the Seminoles rank 91st in Finishing Drives Allowed, so the Oklahoma offense will without a doubt be able to keep up with Florida State's offense by putting up touchdowns instead of field goals.
---
Oklahoma vs Florida State Betting Pick
The pace of this game is likely going to be fast, as Oklahoma plays at the second-fastest pace in the country, while Florida State sits around the national average.
The Florida State offense should be able to move the ball at will, while Oklahoma should find some success on the ground — even if Gabriel has a difficult time throwing the ball.
Even if the Sooners didn't succeed on offense, they'd be going three-and-out at a rapid pace, which would give the Seminoles even more opportunities on offense.
Plus, both of these defenses are outside the top 90 in Finishing Drives Allowed, so I like the value on over 65.5 points.
---
---
Texas vs. Washington
Although Washington and Texas have not met on the field in over 20 years, there's plenty of familiarity between the two programs.
Steve Sarkisian is in his second year as the head coach of Texas, previously serving as the Washington head coach from 2009-13. When Sarkisian needed a defensive coordinator in Austin, he hired Huskies coach Pete Kwiatkowski, who had served the same role at Washington since 2014.
New head coach Kalen DeBoer has been an astounding success at Washington in his first season. The Huskies, just a year removed from a lifeless offense, are now a 10-win program with commitments from their biggest contributors to return for the 2023 season.
The Huskies are primed to contend for the Pac-12 title next year but will be looking for their first bowl win over a Power Five team since 2010.
---
DeBoer used to serve as the offensive coordinator at Indiana, which paid off in the transfer portal when Indiana quarterback Michael Penix Jr. elected to land at Washington.
The fifth-year senior posted his best season in 2022, recording 29 touchdowns through the air and trimming a turnover play rate to a lean 1.3%. Giving Penix more time in the pocket made all the difference, as his pressure-to-sack ratio dropped from 12.1% at Indiana to 3.6% this season.
The Huskies are the top team in the nation in terms of Passing Downs Success Rate. Washington thrived against zone coverage and will play this game with its biggest weapons thanks to minimal opt-out and transfer portal activity.
The Huskies offense has been an efficient machine with a top-10 Success Rate and the nation's top mark in Havoc Allowed.
On the other side of the ball, co-coordinators William Inge and Chuck Morrell have improved the defense since last season. However, the Huskies are still susceptible to giving up the big play through the air.
Despite a rank outside the top 100 in Havoc, Washington did secure a top-25 pass rush grade, per PFF. The Huskies average three sacks per game, looking to bring pressure with just the down linemen and minimal blitz.
---
The Longhorns' identity may have a wrinkle heading into the Alamo Bowl. The defense found plenty of success this season stopping the opposing rush and generating a pass rush.
However, linebacker DeMarvion Overshown — a leader in pressures and tackles — has opted out of the Alamo Bowl to prepare for the NFL Draft.
Texas struggled to defend the pass most of the season, turning in a mid-FBS grade in coverage and falling to 85th in allowing the explosive pass. Edge rushers Ovie Oghoufo and Barryn Sorrell will be crucial in rattling Washington's efficient pass attack.
Sarkisian has a laundry list of missing players on offense for this bowl game. Running backs Bijan Robinson and Roschon Johnson have declared for the NFL Draft, while backup quarterback Hudson Card has committed to Purdue through the transfer portal.
The production in this bowl game will come down to the arm of quarterback Quinn Ewers. The redshirt freshman finished the season with twice as many touchdown passes as interceptions, but accuracy and decision-making have often ended Texas offensive drives early.
Ewers will look to connect with his two most frequent targets in Xavier Worthy and Jordan Whittington. Any opponent that can generate a pass rush has knocked down the efficiency of Ewers, who sees a 20% drop in adjusted completion percentage in passing attempts with pressure.
More importantly, Ewers' average depth of target was sustained at 11 yards per throw throughout the season. The former Ohio State quarterback averaged just 5.4 yards in average depth of target through the final two games, an indication of injury or a limited playbook.
---
Washington vs Texas Betting Pick
Defensive coordinators licked their chops when combing through game film of how to defend against Ewers. TCU and Baylor had the most success getting Ewers off target, generating pressure on at least 25% of passing attempts.
A crowded pocket also resulted in missed targets, as 22 combined pressures from Oklahoma State and TCU resulted in seven wide receiver drops.
Washington ended the season 21st in PFF pass rush grade thanks to edge rushers Jeremiah Martin and Bralen Trice recording over 50 quarterback hurries on the season.
The strength of Texas' defense is its pass rush, but Washington's offensive line has kept defenders away from Penix all season. Only 20% of Washington snaps saw pressure this season. Penix threw six touchdowns to two interceptions in those situations with a big-time throw rate double that of his turnover-worthy play rate.
Of Penix's 102 passing attempts in a crowded pocket, only four ended with a sack. The loss of Overshown may result in further issues for the Longhorns defense.
Kwiatkowski has run zone coverage on 75% of passing downs this season, a bad formula with Penix under center for Washington. Wide receiver Rome Odunze is the sixth-highest graded target in college football against zone coverage, averaging nearly three yards per route run.
There will be no hiccups with a full-strength Washington offense that ended the season with the best third-down conversion rate in the nation.
How would you rate this article?
This site contains commercial content. We may be compensated for the links provided on this page. The content on this page is for informational purposes only. Action Network makes no representation or warranty as to the accuracy of the information given or the outcome of any game or event.