Friday College Football Odds, Picks: 5 Betting Previews for Tonight's Games, Including Washington vs. UCLA
Credit:
Will Navarro/Icon Sportswire via Getty Images. Pictured: UCLA tight end Michael Ezeike.
Friday's college football slate is loaded, featuring five games.
Our staff is betting all five of them, from Washington vs. UCLA to New Mexico vs. UNLV.
Check out our betting previews for all five Friday night college football games below.
There's something special about Friday Night Lights, and this Week 5 edition is no exception.
Friday night's slate features five games from 7 p.m. ET all the way through 11 p.m. From an over/under play in Tulane vs. Houston to two underdog picks in Washington vs. UCLA and New Mexico vs. UNLV, we have you covered.
Check out all five of our bets for Friday night's college football slate below — and be sure to check back tomorrow for even more college football betting coverage.
Let's start the weekend on a high note.
---
Our Bets for Friday's College Football Games
The team logos in the table below represent each of the matchups that our college football staff is targeting from today's slate of games. Click the team logos for one of the matchups below to navigate to a specific bet discussed in this article.
---
Tulane vs. Houston
By Keg
After quite an underwhelming start to the season, the Houston Cougars will look to get conference play started on the right foot when they host the Tulane Green Wave.
But that may be easier said than done against a Green Wave team that has started the season 3-1.
Tulane pulled off a massive upset at Kansas State just two weeks ago. Unfortunately, it followed that up by losing outright to Southern Miss at home last week as a 14-point favorite.
Tulane has not won at Houston since 2014, when it beat the Cougars 31-24. Can it end the drought against a struggling Houston squad? Or will we see the Cougars we expected in the preseason now that conference play has arrived?
The Cougars lead the all-time series 19-7 and more importantly, they are 11-3 when hosting the Green Wave.
---
Tulane looked about as good as it could against Kansas State and nearly as bad as it could against Southern Miss.
Against the Golden Eagles, Tulane had a missed and blocked field goal, as well as a blocked punt. They also gave up four sacks, and quarterback Michael Pratt threw a pick-six.
Now, there are other elements at play here. I don't think Tulane just turned into a pumpkin in six days time. It was a bad spot coming off of a massive win with another big game that the Green Wave knew they could win on deck.
Not to mention Southern Miss had two big "run-up-the-score" losses to Tulane last year — one in Hattiesburg and one in the Armed Forces Bowl.
The cherry, on top, of course, was the game being SMU head coach and former Tulane offensive coordinator Will Hall's first trip back to New Orleans.
Some of Tulane's statical rankings may be influenced by the fact that it has played teams such as Alcorn State and UMass. However, I still think it can take advantage of Houston's defense.
---
Houston's most significant advantages against Tulane will be Finishing Drives and Passing Downs. The Cougars rank 34th in Offensive Finishing Drives and scored points in 100% of their trips to the red zone through three games.
The Cougars also rank 48th in Pass Down EPA (expected points added), while the Green Wave are 85th in Pass Down EPA Allowed.
Defensively, Houston will need to make considerable improvements in just four days if it wants to stop the Tulane pass attack. The Cougars rank 65th in Pass Play Explosiveness Allowed and Defensive Explosiveness overall — two areas in which Tulane is among the top three.
---
Tulane vs. Houston Betting Pick
In my opinion, Tulane's ranking as one of the top-10 defenses in the country is due in large part to some of the teams its faced. And I think the Cougars' offense will have considerable success scoring against it.
Pairing that up with the Houston defense — which ranks among the bottom-25 worst in the country, allowing 449 yards and 48.7 points per game — I feel confident taking the over in this one.
Tulane found itself in a bad spot last week, coming off of a huge upset win and a big game ahead of it in Houston. Now both teams are looking to get things on track with a win, so expect both to lean on their offenses in this one.
I was able to get the over at 54, but I would feel comfortable taking the over at any number 56 or better.
Pick: Over 54.5 (Play to 56)
---
---
UTSA vs. Middle Tennessee
After its biggest win in program history (upsetting the Miami Hurricanes), Middle Tennessee looks to carry momentum into its Conference USA opener.
The Blue Raiders entered against Miami (FL) as 25.5-point underdogs and came out with a 45-31 victory thanks to explosive plays in the passing game. Quarterback Chase Cunningham threw for 408 yards, including touchdown passes of 98, 69 and 71 yards.
The program looks to extend its three-game win streak as it opens Conference USA play against the reigning champions UTSA.
The Roadrunners finished 2-2 in non-conference play, with their two losses coming to Houston and Texas. Their matchup against Houston went to triple overtime before the game was decided by two-point conversions.
Can Middle Tennessee continue its upset streak, or will the reigning Conference USA champions douse the flames under the Friday night lights?
---
UTSA went to overtime in its first two games of the season, which were split against Houston and Army.
The Roadrunners' tired legs caught up to them in the second half against Texas, as they lost 41-20.
Last week, the program bounced back with a 52-24 victory over Texas Southern.
The one constant between all four matchups is that the defense has looked suspect. UTSA has allowed all three FBS offenses to exceed 37 points on offense, and even Texas Southern put up 24 points.
The defense is allowing six yards per play and more than 440 yards of total offense this season.
Now they matchup against a Blue Raiders offense that is capable of scoring on any play through its deep-ball threats.
Meanwhile, it's been business as usual for a Roadrunners offense that is averaging 37 points per game. The unit ranks 15th in the nation in Success Rate and top-40 in Explosiveness and Points Per Opportunity.
That success has mainly been driven by the arm of quarterback Frank Harris. The redshirt senior quarterback has been slinging it this season, averaging 39 pass attempts per game and 8.5 yards on such attempts.
He's amounted 10 touchdowns to go along with two interceptions, and has proven to be a dual-threat, averaging 5.5 yards per carry.
The Roadrunners have been seriously hit by the injury bug. Entering this matchup with question marks surrounding the offensive line is a major cause for concern.
---
Middle Tennessee entered this season with a cumulative power rating that sat near the bottom in the nation. The program lost its opening matchup in embarrassing fashion to James Madison by a score of 44-7.
But the Blue Raiders have bounced back in a big way with three victories in a row. Two of those wins came as double-digit underdogs, as they upset Colorado State (+13.5) 34-19 and Miami (+25.5) 45-31.
Those victories can be attributed to the offense catching fire through the passing game.
Cunningham threw for only 110 yards on his 32 pass attempts (3.4 YPA) in that Week 1 loss. But over the three-game winning streak, the redshirt senior has thrown for an average of 297 yards and 10.1 yards per pass attempt.
The Blue Raiders' defense has been strong since its Week 1 blunder to James Madison.
The defensive front has stopped the run, allowing just 2.5 yards per carry and ranking 18th in Line Yards. It ranks among the top-5 in the nation after accumulating 35 tackles for loss through the first four games.
But the secondary is the main question mark, and will be attacked all night by Harris. The Blue Raiders are allowing 250 yards and 7.0 yards per passing attempt. Of the 13 touchdowns the defense has allowed, 11 have come through the air.
---
UTSA vs. Middle Tennessee Betting Pick
I believe this matchup being on a short week is going to hurt Middle Tennessee and play into UTSA's favor.
The Blue Raiders are coming off the biggest upset in the program's history and surely celebrated that victory throughout the week.
Now with a short week, it will leave them in a tough position to rebound quickly for this matchup against a tough conference foe.
If you look at the top-five biggest upsets of the season, the following week that team has gone 0-5 against the spread, failing to cover by an average of two touchdowns.
Meanwhile, UTSA is coming off of a glorified bye week against an FCS opponent.
Harris has led the UTSA offense into one of the more reliable groups in the country through the first four games. The Roadrunners put up 35 on Houston, 41 on Army, 52 on Texas Southern and 17 in the first half on Texas. They rank among the top-25 in Passing Success Rate and Havoc created.
The Roadrunners will limit the explosive plays and will overwhelm the Blue Raiders offensively.
Pick: UTSA -4.5 (Play to -6)
---
---
San Diego State vs. Boise State
The Mountain West has been nothing short of a disaster to begin the 2022 season and two of its top underperformers will meet in Boise on Friday night.
Following a loss to UTEP last week, Boise State quarterback Hank Bachmeier entered the transfer portal. The Broncos also fired offensive coordinator Tim Plough and are looking for a fresh start with a new OC and quarterback.
San Diego State did manage to beat Toledo, but it was an uninspiring performance offensively from the Aztecs. They broke a couple of big runs and scored in the final minutes to beat Toledo at home, 17-14, but it proved to be another lackluster passing performance from transfer quarterback Braxton Burmeister.
Given how much the league is struggling as a whole, the conference remains wide open. Neither team is out of the picture despite terrible nonconference showings.
Boise State has a lot more uncertainty with the changes on offense, but it's hard to imagine things getting worse than they were last week. This presents a good buy-low spot on the Broncos.
---
The Aztecs have one of the highest rush rates in the entire country, and it's just about the only way they've moved the ball offensively this season.
San Diego State may have beaten Toledo, but Burmeister finished the game 13-of-25 for 65 passing yards. That brings his season-long total to 230 yards on 65 attempts (3.6 per attempt) with two touchdowns and two interceptions.
San Diego State ranks 131st in Passing Success Rate. Yes, dead last. If it gets stuck behind the chains, the Aztecs have almost no chance of converting in obvious passing-down situations without flukes.
They do have a decent rushing attack, but it's very hard to run the ball on Boise State's defense. While SDSU ranks 49th in Rushing Success Rate, the Boise defense that ranks top-30 in both Rushing Success Rate Allowed and Defensive Line Yards.
Look back at Boise's game against Oregon State — outside of one long run that the run-heavy Beavers broke, Boise did an excellent job bottling up OSU's top two rushers to just 79 yards on 21 combined carries.
Burmeister also registered his worst passing grade of the season against Toledo last start. He has one big-time throw and three turnover-worthy plays to this point in the year.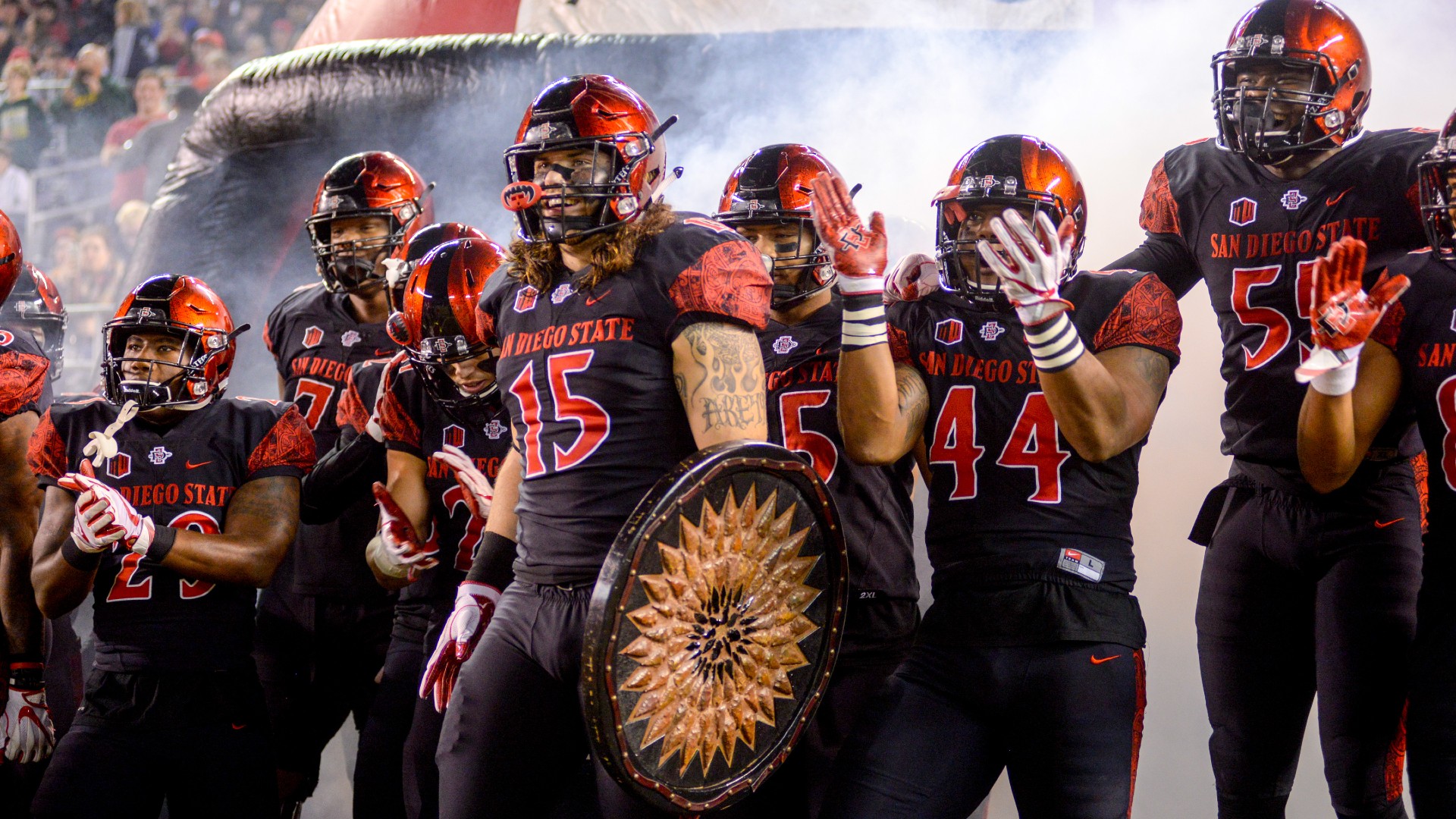 ---
Boise brought in former Tampa Bay Buccaneers head coach and former Boise State head coach Dirk Koetter to try to improve the Broncos offense. Koetter was helping as an offensive analyst to this point in the season, but the word out of Boise is that he's now running the entire offense his way.
He's chosen to simplify the quarterback's job at the line of scrimmage and make the reads and checks at the line easier. 6-foot-6 quarterback Taylen Green will make his first career start for the Broncos after he came on in relief against Oregon State in Week 1.
Green finished that game 19-of-27 for 155 yards and one interception. The offensive line and receiving room are pretty underwhelming at Boise right now, but Green could potentially use his legs to extend plays and create some offense in a game that doesn't expect to have much of it.
The Broncos probably won't find much success running the ball in this game against the SDSU front, even though this is not the same elite Aztec defensive line from years prior.
---
San Diego State vs. Boise State Betting Pick
It's nearly impossible to be worse than the Broncos offense was against UTEP last week. The decision to fire Plough, combined with Bachmeier's transfer, may end up being addition through subtraction.
Koetter has experience running offenses at the NFL and collegiate levels. Even if the talent isn't up to par, you'd expect an inspired, all-in Boise effort for this Friday night home conference opener.
Boise's defense shouldn't have any issues at all stopping SDSU's rushing attack and completely shutting down any Aztec offense.
The real question is whether or not the Broncos can really get out to a margin. A week ago, I'd have probably said no.
But a new week, a new quarterback and a new coordinator have me willing to buy low on this offense. Given that San Diego State ranks so poorly in tackling grades, per PFF, it wouldn't take much for the Broncos to break a big play or two and get separation in this game.
Pick: Boise State -6 or Better
---
---
Washington vs. UCLA
A battle of undefeated Pac-12 foes takes place under the lights at the Rose Bowl to close out Friday's college football slate.
Washington pulled off an upset of then-No. 11 Michigan State and followed that up with a 18-point win over Stanford at home.
This is the first year under new head coach Kalen DeBoer after he came over to the Huskies from Fresno State. This will be his first big road test as Washington's head coach.
Chip Kelly has UCLA at 4-0 after an easy schedule to start the season, but that doesn't mean there wasn't a bit of drama along the way. UCLA needed a game-winning field goal to beat South Alabama at home two weeks ago.
This is the Bruins' first test of the season, so we will see if this  team is a dark horse to win the Pac-12.
---
Offense Led By Penix
Michael Penix Jr. has been on fire since he transferred to Washington. His season at Indiana in 2021 was cut short by injury, and he never realized his full potential after a breakout 2020 season.
Through four games this year, he has a 90.2 PFF passing grade, is averaging 9.2 yards per attempt and has 10 Big Time Throws compared to just one Turnover Worthy Play.
Washington also brought back three of its top four pass catchers from last season, so this is one of the best passing attacks in the Pac-12.
Washington hasn't been very effective running the ball, though. The Huskies are only 58th in Rushing Success Rate, 60th in EPA/Rush and are only averaging 4.0 yards per carry.
The offensive line has been getting a good push up front, ranking 44th in Offensive Line Yards and 19th in terms of a run blocking grade, per PFF. The Huskies just don't have much talent in the running back room.
Turnover Regression Coming For Defense
Washington's defense has some major problems right now that Penix and some timely turnovers have masked.
The Huskies are 78th in EPA/Play Allowed, 121st in Explosiveness Allowed and 70th in Finishing Drives Allowed.
Stanford averaged 6.0 yards a play against them last Saturday, but turned the ball over three times. In fact, Washington has already forced six turnovers in its three games against FBS opponents, so some turnover regression is coming.
One of the main reasons why Washington is struggling defensively is because it only returned five starters and lost two First Team All-Pac 12 cornerbacks from 2021.
Washington has allowed 8.3 yards per attempt (104th in FBS), is 81st in EPA/Pass and is 118th in Passing Explosiveness Allowed. UCLA is a top-10 team in terms of Passing Success Rate.
---
Offense Clicking Behind Run Game
Another year in Kelly's system has done wonders for Dorian Thompson-Robinson and Zach Charbonnet.
UCLA is averaging 5.7 yards per attempt. It's also 20th in EPA/Rush, 15th in Rushing Success Rate and eighth in Offensive Line Yards.
Charbonnet finished 2021 with a 91.9 PFF rushing grade, averaged 5.1 yards per carry and had 30 runs over 10+ yards.
This season, it's been more of the same, as he's put up a 89.8 PFF rushing grade and is averaging 7.0 yards per carry.
Thompson-Robinson has been pretty good throwing the ball through four games. UCLA is 10th in Passing Success Rate, 16th in EPA/Pass and Thompson-Robinson is averaging 8.2 yards per attempt.
It helps when he has an offensive line that has done a fantastic job at protecting him, ranking 11th in terms of a pass blocking grade, per PFF, and eighth in Havoc Allowed.
Can Defense Slow Down Penix?
UCLA has played an easy schedule to this point in the season, but is only allowing 4.0 yards per play (ninth in FBS), and ranks 13th in EPA/Play Allowed and ninth in Success Rate Allowed.
This is also a defense that brought back just two starters from last year, but Kelly went into the transfer portal and grabbed a bunch of impact transfers to help fill the void, which seems to have worked out in his favor.
The biggest question mark for UCLA as it pertains to this game is can its secondary — that hasn't played a decent quarterback — slow down Penix?
The Bruins are 28th in EPA/Pass Allowed and have a top-35 coverage grade, per PFF.
---
Washington vs. UCLA Betting Pick
Washington has been playing in the comfort of its own stadium for the first four games of the season.
Penix has looked amazing, but going to the Rose Bowl to face a good defense and an electric rushing attack is not what the doctor ordered for DeBoer.
I have UCLA projected as a -0.8 favorite at home, so I think there is a little value on the Bruins at +2.5 or better.
Pick: UCLA +2.5 or Better
---
---
New Mexico vs. UNLV
There is no better way to gear up for the Saturday slate than a Friday night Mountain West matchup between UNLV and New Mexico.
This matchup has been nothing short of entertaining, with the road team winning the last five matchups both outright and against the spread.
Four of those five road wins were outright upsets.
UNLV comes into this matchup a perfect 4-0 ATS this season, while New Mexico is looking to bounce back from a 38-0 loss to LSU.
With a win on Friday night, New Mexico and third-year head coach Danny Gonzales can already cash their season win total over (2.5).
---
Coming into the 2022 season, the focus for New Mexico was an improvement on offense.
Offensively, New Mexico can't be much worse than its 2021 season, as it failed to score more than 17 points in 10 of its 12 games.
This year, there hasn't been a drastic improvement on the offensive side of the ball. Through four weeks, the Lobos have posted an overall Offensive Success Rate of just 33%, with 3.4 points per scoring opportunity.
Quarterback Miles Kendrick, who transferred from Kansas in the offseason, has continued the average quarterback play for the Lobos.
Kendrick has thrown for just 430 yards on a 57% completion percentage through four games.
Although New Mexico has its problems on the offensive side, the team's play style and pace have been enough to keep it in every game this season, including covering the spread until late in the third quarter against a much more talented LSU team.
New Mexico ranks dead last in the country in plays per minute and plays per second. The Lobos average only 1.81 plays per minute for an average of 225 a contest.
By limiting offensive possessions, New Mexico has been able to post a positive 2-1-1 record ATS this season despite its underwhelming offense.
In addition to this slow play style, defensive coordinator Rocky Long has built a defensive unit that prides itself on forcing opponents into slow and methodical scoring drives.
So far in 2022, New Mexico has been able to limit teams' success through the air. The Lobos' defensive backs have a 10% Havoc rate — to go along with a 20% Passing Downs Success Rate — that helps to limit the big-play ability of their opponents.
In addition, New Mexico has a Defensive Success Rate of 39% against the pass, which is good for top-40 nationally.
Forcing UNLV into a run-first attack will limit the Rebels' overall offensive possessions.
Against UTEP in Week 3, the Lobos were able to force an astounding seven turnovers. Although this volume of turnovers is impossible to repeat, it speaks volumes about the way Long wants this defensive unit to play.
Another factor that will limit UNLV's possessions on Friday night includes with where it starts on offense.
Through four games, New Mexico has been able to start opposing offenses on their own 27.1-yard line, on average.
This ability to pin teams deep is yet another reason New Mexico has been able to limit offensive possessions for its opponents.
On Friday night, the Lobos will look to stay within the number, as they have done all season long given their slow and methodical play style on both sides of the ball.
---
After a disappointing 2-10 season in 2021, UNLV is off to an impressive 3-1 start under third-year head coach Marcus Arroyo.
Much of UNLV's success has come on the ground via junior running back Aidan Robbins, who has posted an impressive 5.3 yards per catch and seven touchdowns.
Another bright spot for the Rebels offensively has been quarterback Doug Brumfield, who has posted a season-long rating of 162.5 to go with a completion percentage of 69.8%.
Additionally, Brumfield has been relatively mistake-free, posting an 8:1 TD:INT ratio.
UNLV has rushed the ball a total of 157 times, as opposed to only 126 total passing attempts. The Rebels rank third in the nation in EPA per Rush, which explains their tendency to favor the ground game.
This dependency on the rush will again show itself Friday night against a New Mexico team that has more success when defending the pass. UNLV ranks second in the country in total Line Yards while New Mexico ranks 116thin Defensive Line Yards.
I expect UNLV to keep the ball on the ground early and often on Friday night given New Mexico's strength against the pass. This dependence on the ground game will further limit the possessions for each team.
Defensively, UNLV has been far from perfect. This is an experienced group with nine of its top 11 tacklers back, but the Rebels' opponents have been able to find success against this unit.
UNLV has allowed its opponents to produce an overall Explosiveness of 1.39, which balloons up to 2.04 on passing downs.
On top of that, the Rebels have allowed 3.3 Line Yards per rush due to their 15% Stuff Rate against the run.
In a game in which possessions will be so valuable, allowing this type of explosiveness will hinder UNLV's ability to cover the spread.
---
New Mexico vs. UNLV Betting Pick
Overall, I believe that this number is simply too inflated given the way that both teams want to play on Friday night.
New Mexico will look to dominate the time of possession to keep the UNLV offense off the field.
Defensively, the Lobos will also work to force UNLV into long methodical scoring drives that rely heavily on the rushing attack.
At the time of writing, UNLV is a 14.5-point favorite. Although UNLV has a clear advantage offensively, I believe New Mexico will be able to do enough on both sides of the ball to turn this game into a slow-paced slugfest and ultimately stay within the number.
Pick: New Mexico +14.5 (Play to +14 at -120)
How would you rate this article?
This site contains commercial content. We may be compensated for the links provided on this page. The content on this page is for informational purposes only. Action Network makes no representation or warranty as to the accuracy of the information given or the outcome of any game or event.