NCAAF Odds, Expert Predictions: Collin Wilson's Week 0 Picks for Jax State vs. UTEP, Louisiana Tech vs. FIU
Credit:
Fred Kfoury III/Icon Sportswire via Getty Images. Pictured: A Louisiana Tech football helmet.
We've been yearning for more college football since Georgia dominated TCU in the 2023 College Football Playoff National Championship. Now, we're here.
Week 0's slate serves as an appetizer for the main course of Week 1. Two of the seven FBS matchups feature ranked teams, but there's betting value to be found across the board, from Dublin, Ireland, to Ruston, Louisiana.
I'm betting both of those games — Navy vs. Notre Dame and FIU vs. Louisiana Tech — plus Jacksonville State's first-ever FBS game against a Conference USA foe in UTEP.
Check out all three of my betting breakdowns and picks for Week 0 below. Here's to the day we've been waiting for.
---
Collin Wilson's Week 0 NCAAF Betting Card
The team logos in the table below represent each of the matchups that Collin Wilson is targeting from Week 0's slate of games. Click on the team logos for any of the matchups below to navigate to a specific bet discussed in this article.
Game
Time

(ET)

Pick
2:30 p.m.
5:30 p.m.
9 p.m.

Specific betting recommendations come from the sportsbook offering preferred odds as of writing. Always shop for the best price using our NCAAF Odds page, which automatically surfaces the best lines for every game.
---
Dublin, Ireland, will be the scene for the opening kickoff of the 2023 college football season.
Navy will chart across the Atlantic Ocean with a fresh coaching staff after promoting defensive coordinator Brian Newberry to head coach.
The triple option had become stagnant in recent years, as rule changes have ended chop blocks outside of the tackle box. New offensive coordinator Grant Chesnut comes in from Kennesaw State, bringing a fresh look to a triple attack that includes a passing game.
The changes stretch beyond the Midshipmen, as Notre Dame was in search of an offensive coordinator at the start of the year. Journeyman Gerad Parker was promoted from tight ends coach to offensive coordinator, and he's now tasked with generating explosive plays with the biggest quarterback transfer of the offseason.
All of these variables will descend upon Aviva Stadium for the Aer Lingus College Football Series to kick off the season.
---
Newberry took over for the departed Ken Niumatalolo after serving as defensive coordinator for the previous four seasons.
PJ Volker steps in as defensive coordinator, but there shouldn't be many changes to a defense that finished top-25 in Havoc a season ago. Navy returns more than 77% on both sides of the ball, including the key personnel that produced top-10 ranks in Stuff rate and Line Yards.
The biggest change for the Midshipmen comes on the offensive side, where Newberry reached back into a previous coaching stop to pull his offensive coordinator.
The Navy offense will evolve into the Kennesaw State offense — a more spread-out option attack that involves the passing game. The Owls often lined up in three-wide sets with consistent throws to the outside, short passing to slot tight ends and plenty of dumps in the flats to running backs.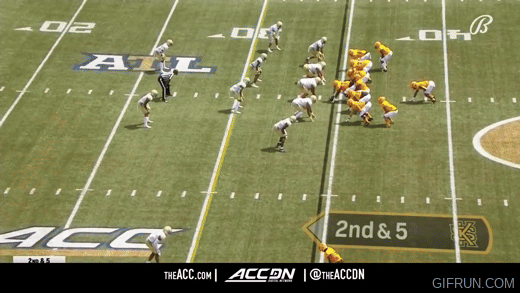 The Navy depth chart indicates Blake Horvath will share starting duties with Tai Lavatai. Despite never attempting a pass at the college level, Horvath was praised for his "throwing fundamentals and decision-making" throughout training camp.
Both he and Lavatai are expected to run the new offense along with former starter Xavier Arline. Expect Navy to continue posting a healthy amount of first downs, translating to plenty of clock burning with the new rules in place.
---
Notre Dame head coach Marcus Freeman was in search of a new offensive coordinator after the departure of Tommy Rees to Alabama.
Although Rees left, the Irish got the best quarterback in the portal in Sam Hartman, leaving 110 touchdowns back at Wake Forest after five seasons.
The Demon Deacons offense was tailor-made for Hartman, implementing the slow mesh RPO to confuse opposing defenses.
The Irish return their best running back in Audric Estime, who averaged 3.7 yards after contact last season. The offensive line should have no issues creating holes, led by first-team All-American tackle Joe Alt.
The issue for the Notre Dame offense will come in the number of proven targets. Slot Jayden Thomas returns the most experience with 38 targets a season ago, but Hartman has had plenty of chemistry with a number of freshman wide receivers in training camp.
Expect the Notre Dame defense to continue to play fundamentally sound ball after finishing sixth in tackle grading a season ago.
If there's an area for worry, it's Defensive Finishing Drives. The Irish finished the 2021 season ranked fifth, allowing just 2.76 points per opponent drive past the 40-yard line. That number spiked in 2022, ranking outside the top 70 at 3.89 points per trip.
The defense loses 65% of pressures recorded last season but returns its top four tacklers. Don't expect a drop-off in the defense, but stopping opponents in scoring opportunities is certainly an area of focus for the Irish defense early this season.
---
With news of potential weather entering Dublin on game day, the total lowered through the key number of 49. A bit of rain is expected in the morning, clearing for mostly cloudy skies at kickoff. While the wind will blow at 10 miles per hour, both teams are ground-based offenses, so the only challenge will fall to the special teams.
Neither of these teams has any tempo in their script, as both average at least 28.9 seconds per play. Navy was successful in stopping the Notre Dame rushing attack last November, allowing 1.9 yards per rush for a total of 66 yards.
With an expected sloth-like tempo integrated with new offensive philosophies on each side of the ball, a case can be made for the under. But the better bet may come on a side, as the total crashing gives more value to a large point spread on the underdog.
With the new college football clock rules, service academy games may dip to just eight possessions or less this season. The number has floated at 20.5 for much of the last month, giving Notre Dame the tough path of covering a three-score spread with limited possessions. The Action Network projection resides at Navy +13, giving the market spread plenty of value.
---
---
The focus of college football throughout the calendar year resides in conference realignment. As the Power Five conferences feast on the depleted Pac-12, two other teams will rise from the FCS to take a position in the new-look Conference USA.
Jacksonville State not only plays its first game as a member of the FBS, but a conference showdown against UTEP looms in Week 0.
After a 9-2 season in the Ohio Valley last year, head coach Rich Rodriguez will make his return to the FBS stage after previous stops at West Virginia, Michigan and Arizona.
After reaching a bowl for the first time in seven years, head coach Dana Dimel failed to get UTEP to the postseason last year with a 5-7 record. One of those victories included a road trip to Charlotte after the Miners had failed in 27 previous attempts in program history to win in the Eastern Time Zone.
Thankfully for UTEP, Burgess-Snow Field sits in the Central Time Zone to set the scene for two experienced quarterbacks in the season opener.
---
There are numerous bright spots for UTEP from a transfer portal and returning production standpoint. Twenty-three new scholarship players have graced this roster, filling position needs on both offense and defense.
Fifth-year quarterback Gavin Hardison had his best season in 2022 from a big-time throw to turnover-worthy play perspective. Hardison generated one of the highest grades in deep ball throws, generating a 20:3 ratio in big-time throws to turnover-worthy plays.
Wide receiver Tyrin Smith received 122 targets a season ago, posting an explosive 2.6 yards per route run while almost exclusively lining up in the slot. Because his credits wouldn't transfer to Texas A&M, the third-year player gives UTEP the most dangerous option in the conference.
The UTEP offense had no issues in getting down the field, ranking top-25 in Line Yards, pass blocking and pass explosives. The biggest issue for the slow-paced Miners was Offensive Finishing Drives, ranking bottom-10 in FBS a season ago.
Scotty Ohara has been on a staff with Dimel for 17 years, now taking a promotion to offensive coordinator. He's tasked with fixing UTEP's issues in the red zone.
The defense also saw shuffling on the coaching staff, as Josh Brown re-enters Dimel's staff as a secondary coach. The Miners finished a lowly 121st in coverage grading and 125th in tackling. Too many teams broke off explosives on the Miners, who finished 129th in allowing big plays through the air.
The nickel scheme produced a high ranking in Havoc, but the numbers may not be sustainable. UTEP generated one of the worst numbers in passes defensed but ended up top-20 in fumbles recovered.
Expect edge Praise Amaewhule to lead a defensive front that will create pressure, but it's up to the secondary to limit the amount of explosives against each opponent this season.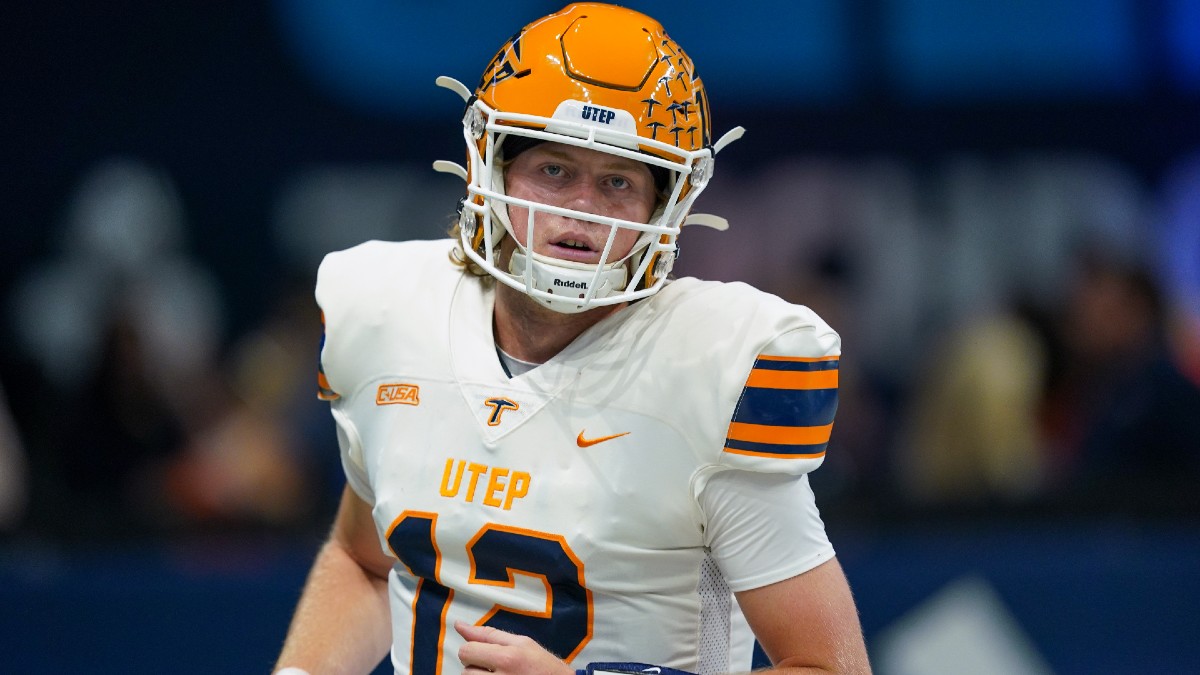 ---
Rodriguez may have one of the fastest offenses in the nation after averaging 23.1 seconds per game last season. The Gamecocks finished near dead last in FCS in time of possession.
The uptempo nature is led by seventh-year quarterback Zion Webb. The super senior produced 11 explosive runs last season, accumulating 583 yards on the ground from designed plays.
The one-two RPO punch was complemented by Anwar Lewis, but his absence from camp and the Week 0 depth chart is concerning for the offense.
Malik Jackson's transfer from ULM will help replace Lewis and his astounding 4.3 yards after contact.
Expect the Gamecocks to bust explosive plays, as wide receivers Sterling Galban and PJ Wells return after both averaged at least 2.4 yards per route run.
Rodriguez has always known how to call the offense, as evidenced by his 40 red-zone scores in 45 attempts last season.
The defense will look to fill large experience holes at the linebacker and cornerback positions. Cornerback Yul Gowdy saw his college clock expire, leaving Jeremiah Harris as the best returning coverage defender.
The secondary will have new faces at cornerback, safety and linebacker. The weakness for the Gamecocks defense will come against the deep ball after falling outside the top 50 in passing yards allowed in 2022 FCS play.
---
There may be no bigger contrast in Week 0 when it comes to tempo. Dimel comes from the Kansas State coaching tree of Bill Snyder, adopting a slower-paced offense at 28.8 seconds per play last season, while Rodriguez's crew likes to play with pace.
UTEP consistently found itself behind the chains last season, racking up one of the highest numbers of attempts at third-and-10 or longer. However, that has helped Hardison develop his best feature as a quarterback: downfield passing.
Considering the Jacksonville State secondary has fresh faces littered throughout the back seven, expect Hardison to connect with Smith in the slot to create plenty of chunk plays. UTEP fell from a rank of 83rd in Offensive Finishing Drives in 2021 to 121st last season, so any improvement will bump the Miners' total points.
Rodriguez loves to play fast, averaging 23.1 seconds per play in his first season with Jacksonville State in 2022. While UTEP wants to create explosives through the air, the Gamecocks' ground attack will give plenty of Conference USA teams trouble.
The Miners' defensive front seven is loaded with junior college transfers after falling to 55th in Stuff Rate a season ago. The biggest issue with the UTEP defense is early downs, as it fell to 117th in allowing standard downs explosives.
Jacksonville State finished FCS play as a top-10 scoring offense. UTEP may not be equipped for the RPO game of Webb, Jackson and running back Ron Wiggins.
The Gamecocks averaged 36.2 points per game last season, which could be an issue for a UTEP defense that continues to fall in most defensive metrics.
On the other side, Jacksonville State may have no answer for UTEP's Hardison-to-Smith connection. Nickelback Kolbi Fuqua and Maine transfer safety Austin Ambush will get the start in the secondary for Jacksonville State, drawing the inevitable task of stopping the Miners on third-and-long.
The Action Network projects a total of 55, squarely on the biggest key number in college football totals.
The market took a shift down on the total when Jacksonville State's Lewis wasn't listed on the depth chart release early in the week.
The expertise of both offenses — Jacksonville State's ground game and UTEP's air attack — can exploit the weaknesses of each opposing defenses. With a median day in Finishing Drives, this game should go over the total.
---
---
Two head coaches enter their second season with an opening conference tilt in the new-look Conference USA.
Mike MacIntyre resurrected Florida International after a combined 1-16 record the previous two seasons, getting the Panthers to four wins. Sonny Cumbie, meanwhile, replicated his predecessor's results with three wins at Louisiana Tech, covering six games against the spread.
Expectations remain low at FIU, which enters the season with a market total of three wins. For the Bulldogs, oddsmakers predict six wins and a bowl to end a three-year drought.
If either team expects to make noise in Conference USA, Week 0 is a must-win for these second-year coaches. College football consumers would be lucky to get similar results as last October, as FIU defeated Louisiana Tech in a high-scoring double-overtime affair.
---
The advanced numbers for Florida International were abysmal in 2022, only receiving a top-30 grade nationally in pass rush, per PFF. Junior quarterback Grayson James was named the starter, bringing 10 starts of experience from 2022.
James is considered a dual-threat at the position, returning more than 300 yards rushing with 111 coming from 18 scrambles. Although the junior had an even touchdown-to-interception ratio, there were plenty more turnover-worthy plays than big-time throws in 11 games of action.
Offensive coordinator David Yost prefers a fast-tempo RPO scheme, leveraging the strength of the team in the running back unit.
Lexington Joseph was set to return for a fifth season until a spring injury, paving the way for a number of transfers to lead the way. Shomari Lawrence transfers in from South Dakota, sure to make an impact with a career average of 3.5 yards after contact.
With the top two pass-catchers on the team moving on, receiver Kris Michell is expected to receive the lion's share of targets this season.
There were not many bright spots on the defense a season ago, as it ranked near dead last in third downs and Stuff Rate. The Panthers were consistently behind the chains and not behind the line of scrimmage, ranking bottom-20 in Success Rate and Havoc.
The linebackers have a chance to be one of the better groups in Conference USA, led by Donovan Manuel returning 7.5 tackles for loss and three pass breakups.
---
With nearly two-dozen transfers making their way to Ruston, quarterback Hank Bachmeier has the chance to make the biggest impact. The Boise State transfer has 41 career touchdowns to just 19 interceptions, though he suffered an injury last season and lost his starting job to Taylen Green.
Bachmeier has no shortage of arm strength, completing 18 big-time throws on passes over 20 yards during the 2021 season. That's good news for one of the best receiver units in the conference between slot Smoke Harris and the explosive Cyrus Allen.
Second-year defensive coordinator Scott Power must help the defense improve. The Bulldogs ranked near dead last nationally in tackle grading, Line Yards and defending the explosive rush.
Power fielded top-10 defenses at Stephen F. Austin but has yet to translate that success to the FBS level. Only two of Tech's top 10 tacklers return from a season ago, a possible positive point considering the results.
The strength of the defense comes in a secondary led by cornerback Willie Roberts and safety Cecil Singleton Jr. The Bulldogs finished mid-FBS in coverage and Passing Success rankings and return 69% of passes defensed from a season ago.
---
There are two questions about the point spread heading into the Ruston showdown for Week 0:
Is the point spread too high?
Can Florida International be trusted?
The answer to those is a resounding "yes" and "no," respectively.
Action Network's power ratings make the game -4.5 in favor of the home team, a contrast from -8 at SP+ and double-digits with Sagarin.
The Panthers have covered only six games as a road underdog since 2018 with two of them being outright wins over Charlotte and New Mexico State last season.
There's a path to success for FIU, especially if Louisiana Tech's run defense hasn't improved. The Bulldogs allowed multiple 200-yard rushing games last season, including more than 1,200 yards combined to Missouri, North Texas and UAB.
The strength of the FIU offense comes from quarterback rushing attempts and a four-man stable of running backs behind an experienced interior on the offensive line. There's a path to scoring and generating a backdoor cover at the market number of 11 or better.
Louisiana Tech will not require a heavy pregame speech from Cumbie as a pep talk after the Bulldogs lost to FIU in double overtime last season.
Although there are plenty of issues to fix in terms of pass blocking and the defensive front seven stopping the run, backing FIU early in games has not been profitable. The Panthers finished second-to-last nationally in first-half point differential last season, averaging a net of -13.42 points.
Considering the poor opening season from Cumbie, the most impressive aspect may be the positive point differential in the first quarter of games in 2022.
With motivation on the minds of players and staff, look for Bachmeier to push a talented group of wide receivers downfield against a secondary that loses its biggest contributors in pass breakups.
How would you rate this article?
This site contains commercial content. We may be compensated for the links provided on this page. The content on this page is for informational purposes only. Action Network makes no representation or warranty as to the accuracy of the information given or the outcome of any game or event.