Week 6 College Football Odds & Picks: Our Expert's Betting Card, Including Kansas vs. TCU & Stanford vs. Oregon State
Credit:
David Madison/Getty Images. Pictured: Stanford head coach David Shaw.
Week 6 of the college football season is finally upon us, and Collin Wilson is pulling out all of the stops.
Wilson is betting five games on Saturday, including Kansas vs. TCU, Arkansas State vs. James Madison, LSU vs. Tennessee and Stanford vs. Oregon State.
Check out how he's betting all five of these games in Week 6 below.
Week 6 was supposed to feature plenty of headlining matchups across the slate, but because Texas A&M vs. Alabama and Texas vs. Oklahoma have lost some of their luster, there are fewer season-shaping games on the docket.
So, instead of diving into those matchups, I'm looking at five other intriguing matchups. After all, TCU vs. Kansas represents potentially the best game on the slate and was College GameDay's selection for a trip to Lawrence, while Oregon State vs. Stanford could shed some light on the second-tier Pac-12 teams.
Meanwhile, Tennessee vs. LSU represents a top-25 SEC showdown, while the Western Kentucky vs. UTSA game marks a rematch of last season's Conference USA Championship. Finally, we have a Sun Belt matchup between James Madison and Arkansas State that could be closer than many think.
Read on for my analysis on all five Saturday games, and be sure to check out the rest of Action Network's Week 6 college football betting coverage.
---
Collin Wilson's Week 6 College Football Best Bets
The team logos in the table below represent each of the matchups that our college football staff is targeting from today's slate of games. Click the team logos for one of the matchups below to navigate to a specific bet discussed in this article.
---
TCU vs. Kansas
Both Kansas and TCU deserve a standing ovation for a number of reasons. Both teams enter Week 6 undefeated straight up and against the spread, but more importantly, they have captivated all the attention away from the Red River Rivalry.
As Texas and Oklahoma are set to leave the Big 12 for the SEC, the Horned Frogs and Jayhawks look to further a path to not only a conference title, but a legitimate slot in future playoff rankings.
Each of these teams have blown through opponents on the offensive side of the ball thanks to potent ground attacks.
Kansas blasted opponents for 200 yards on the ground until last week's gut check against Iowa State.
TCU has had even more success on the ground, posting more than 360 rushing yards on Oklahoma to top a previous mark of 275 against Colorado.
Two college basketball programs that are set to do damage in March Madness will collide with College GameDay as the backdrop, signifying the Big 12 will remain a power conference through the upcoming transition.
---
The Sonny Dykes transition from Dallas to Fort Worth has been the biggest success story from an offensive perspective.
The injury to Chandler Morris against Colorado circled the Horned Frogs back to fourth-year quarterback Max Duggan. The turnover-prone Council Bluffs native has been elite in ball protection, with just a single fumble and no interceptions through 94 passing attempts.
Duggan leads the most explosive ground attack in the nation, assisted by running backs Kendre Miller and Emari Demercado.
A near 700-yard outburst against Oklahoma signified not only the power of the TCU offense, but the gap that lies between the Sooners and the top teams in the Big 12.
TCU has scored on 29 of 49 drives this season, with only two of those scoring drives ending in field goal.
The success of the offense has overshadowed an improving defense.
Coordinator Joe Gillespie inherited a TCU defense that was near dead last in almost every advanced statistical category last season.
The scheme change from Gary Patterson's 4-2-5 to Gillespie's 3-3-5 has paid dividends, as TCU is top-25 in Defensive Passing Success Rate with a coverage grade inside the top 50, per PFF.
While the overall Havoc numbers are mid-FBS, linebacker Dee Winters has been a one-man chaos crew. Winters has logged 10 pressures and four sacks, along with 11 stops (defined as a tackle that constitutes a failure for the offense).
---
The Kansas offense has been a fantastic study for any student of the game wanting to learn.
Lance Leipold has unleashed quarterback Jalon Daniels in 11 and 12 personnel through the shotgun or the pistol. The main component of the Kansas offense is zone read turned play action with a precursor of heavy motion.
There have been tremendous highlights of Daniels dissecting opponents, with almost every reel including motion and RPO.
Coordinator Andy Kotelnicki has a deep bag of tricks that includes plenty of misdirection to confuse defenses keyed on Daniels.
Daniels has attempted 42 play-action passes out of 107 attempts, but there has been no drop in his Big Time Throw rate or his average depth of target, no matter the scheme.
The passing game is just a small part of the Jayhawks' offense, as it's dominated by a rush rate of 63%.
The ability for an opponent to master zone read and protect contain from the defensive end position is crucial, as Kansas has run 40% of all rushing attempts directly off tackle, generating half of all its first downs gained this season.
Credit is certainly deserved on the defensive side of the ball, as the unit ranks second in tackle grading. Coordinator D.J. Eliot's 3-4 hybrid scheme has been top-50 against explosive plays, but Success Rate continues to be an issue.
The Jayhawks have allowed 110 first downs this season, ranking outside the top 75 in Success Rate with a Havoc number that is outside the top 100.
The transfer of Lonnie Phelps has been critical to the Jayhawks. He leads the team in pressures — with just one missed tackle — while splitting snaps from the left- and right-edge position.
---
TCU vs. Kansas Betting Pick
Plenty of steam hit the TCU -5 opener up to a touchdown, which was a foregone conclusion after the Horned Frogs blew out Oklahoma and Kansas struggled with Iowa State.
The Jayhawks purposefully played less aggressive against the Cyclones' 3-3-5 defense. Leipold had a pregame approach that leaned more towards punting and field position, especially after the offense struggled to get in rhythm.
Daniels threw the ball just 14 times, completing only half of his passes. The 3-3-5 stack kept Daniels from a touchdown pass for the first time this season, even with a low 37% Success Rate in passes against zone coverage.
One of the hidden reasons for Kansas' struggles is its lack of reaction to motion from a 3-3-5 defense. The Jayhawks have been dependent on motion to force the defense to tip its hand in coverage and blitz.
Daniels will face the 3-3-5 scheme once again when TCU comes to town. The Jayhawks had a Passing Downs Success Rate of just 8% against Iowa State, making the Horned Frogs play in Standard Downs crucial to the handicap.
TCU has been excellent in stopping explosiveness in on-schedule down and distances, but it ranks dead last in defending the explosive play during passing downs.
Expect the Kansas offense to have frustrations in terms of sustaining drives, but the big play in long down and distances will get points on the board for the Jayhawks.
There is no evidence in the Kansas defensive numbers to suggest that TCU will be stopped on offense. The Horned Frogs are 10th in Havoc Allowed and will crush a Jayhawks defensive trench that ranks 117th in Stuff Rate.
Kansas' defensive scheme has been successful in stopping ground explosiveness, but that number tails off against the pass, as TCU is eighth in passing expected points.
Cornerback Jacobee Bryant has been targeted a team-high 30 times this season, producing just two pass breakups and a putrid 19% missed tackle rate. The Horned Frogs should have continued success in executing explosive plays, possibly more through the air than on the ground against Kansas.
The Action Network projection gives TCU value in the market — projected as 10-point favorites with a total of 63.5. The Horned Frogs are certainly a buy under a touchdown, but with inflation to the spread, the better value may be on the total.
Kansas will continue to struggle reading the 3-3-5 defense, relying on explosive plays during passing downs for points.
The jury is still out on the TCU defense, but there is no reason to hop off of a money-making Horned Frogs offense until a legitimate run-stopping defense is the opposition.
Pick: TCU Team Total Over 37.5
---
---
Tennessee vs. LSU
As expectations for undefeated Tennessee grow, the gauntlet of SEC scheduling awaits in the month of October.
With a last-minute scramble victory over Florida in Week 4, the Volunteers spent the bye week looking to recover from injury. Head coach Josh Heupel continues his uptempo brand in the SEC, scoring a minimum of 34 points with at least 325 yards passing in each game.
The fourth-fastest offense in the nation has been assisted by a revamped defense that has terrorized opposing rushing attacks.
LSU came into the season with new coaches, new schemes and one of the largest pulls from the transfer portal. The youth of the offensive line played a critical role in a Week 1 loss to Florida State. But the Tigers have won four straight, cashing tickets until last week's road game at Auburn.
A lack of experience has been a speed bump in head coach Brian Kelly's first month, but with more than 300 snaps of experience on both sides the ball, LSU continues to improve on its quest to exceed preseason expectations and make a bowl game.
---
The loss of Cedric Tillman at wide receiver left quarterback Hendon Hooker with unproven weapons at the wideout position.
Both Bru McCoy and Ramel Keyton lined up outside for a combined 10 targets against Florida, with McCoy posting the bulk of his yards on a missed coverage assignment from the Gators defense.
Tillman has yet to be ruled out after having surgery on an injured ankle during the bye week. Heupel indicated the senior will see the field in Baton Rouge if he's back to full speed. The receiver has been crucial to the explosiveness for the Volunteers' passing game, averaging three yards per route run.
As the Tennessee passing attack looks to get healthy, Hooker leads a run-first offense with running backs Jaylen Wright and Jabari Small. Both backs have scored eight rushing touchdowns and created 24 missed tackles.
Tennessee has been one of the more efficient offenses, evidenced by a rank of ninth in Finishing Drives. The Volunteers have made opposing defenses pay in scoring opportunities, averaging 5.3 points on 31 drives extending beyond the opponent's 40.
While the offense has been dependable for the Vols, the defensive coverage was leaky in the victory over Florida.
Anthony Richardson is one of the most explosive dual-threat quarterbacks in the nation, forcing Tennessee coordinator Tim Banks to key in on the Florida signal-caller. Richardson was held in check with just 62 rushing yards, but the quarterback recorded 453 yards through the air in a second-half passing blitz.
The Volunteers will face another dual-threat quarterback against LSU, as a similar heavy-zone coverage scheme may assist in limiting explosive runs. Tennessee has fallen outside of the top 75 defensively in Passing Success Rate and Havoc, marking the probable point of attack for LSU.
---
There are plenty of injuries piling up on a roster that was built through the transfer portal.
Jayden Daniels exited the game against Auburn after a third-quarter scoring drive that would be enough to win a second SEC game. Kelly indicated that Daniels could've returned to action in Jordan-Hare if needed, but the defense played its role to keep Auburn from scoring in the second half.
Daniels' exit from the game sent the LSU offense into a number of unsuccessful drives. A half-dozen sterile passing attempts from backup Garrett Nussmeier, along with a fumble by John Emery Jr., were a few of the lowlights in the offensive drives to end the game.
The good news for LSU is Garrett Dellinger's return to practice this week, as the left guard missed the Auburn game with an injury.
Daniels has been asked publicly by Kelly to do more in the passing game against Tennessee. The quarterback has attempted just 10 passes beyond 20 yards this season, making a living off of underneath passes to tight end Mason Taylor and receiver Malik Nabers out of the slot.
For LSU to become an explosive pass offense, a number of factors must come together, starting with fewer drops from elite wide receiver Kayshon Boutte. The future NFL wideout has four drops on 21 targets, often receiving double teams from opposing defenses.
The Tigers rank 120th in pass explosiveness — an area that needs to improve as the offensive line continues to stabilize against opposing pass rushes.
The defense has had a smoother transition than the offense, already ranking top-30 in Line Yards, pass rush and Passing Success Rate. LSU has been excellent in putting opposing offenses in passing downs, ranking ninth in Defensive Standard Downs Success Rate.
The defensive line has been one of the best in the country, as BJ Ojulari has twice as many sacks as any other player on the LSU roster.
---
Tennessee vs. LSU Betting Pick
Both head coaches have different keys to the game, as the winner of this SEC clash will come down to the team that positively executes on those points.
Heupel wants the Tennessee offense to remain in standard downs, noting that the run game staying on schedule is critical. LSU has had moderate success in defending the run, ranking 32nd in Stuff Rate and 22nd in Line Yards.
The Tigers limited Auburn's rushing attack, as Tank Bigsby averaged 3.9 yards on 12 carries. More importantly the LSU defense generated four fumbles between Bigsby and quarterback Robby Ashford.
If Tennessee gets behind schedule, Hooker must be able to beat an LSU coverage unit that loves to play a press-man scheme. Receiver Jalin Hyatt has nine targets against man coverage this season, double that of any other offensive player. The LSU secondary ranks 31st in coverage grading, light years ahead of Tennessee's defensive coverage grade of 120th.
Kelly also has a list of critical factors against Tennessee, starting with a more aggressive approach in quarterback play from Daniels.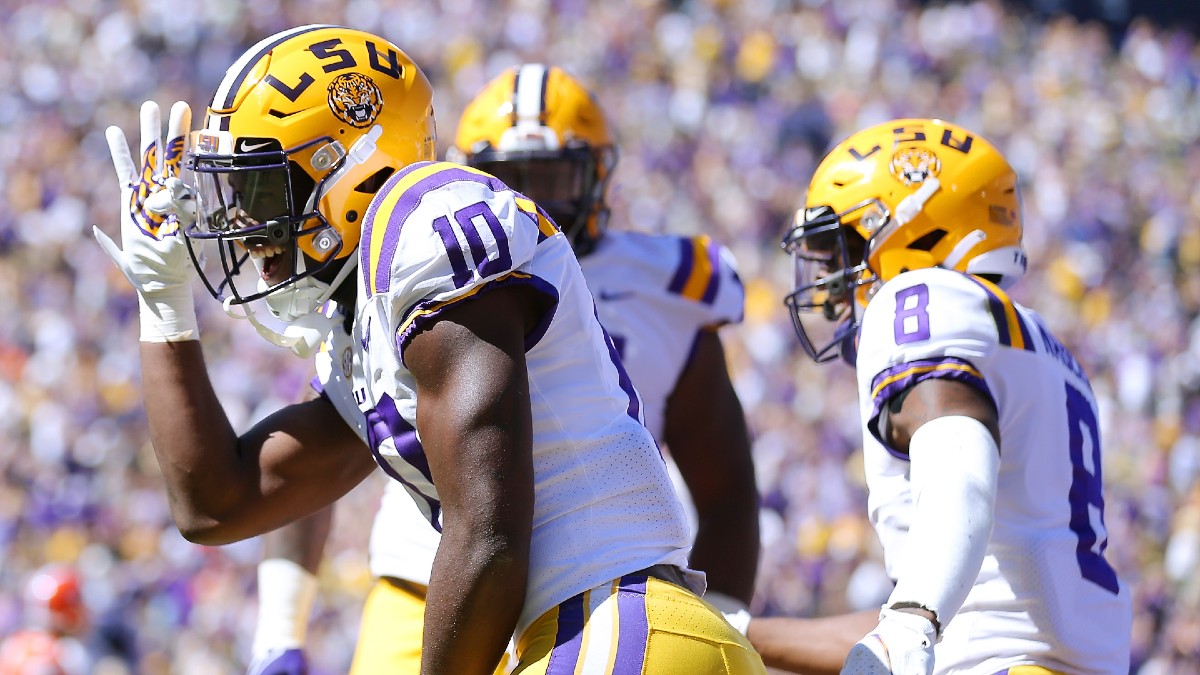 Taylor will eat up any underneath routes against the Volunteers' zone coverage, but the Volunteers have a track record that suggests Boutte will be open for explosive plays. Florida exposed Tennessee's secondary, similar to previous LSU comebacks this season. Daniels has just a single turnover-worthy play this season with predominantly mid-range passing.
Action Network projects this game as a pick'em with a total of 75. There's a route for this game to have plenty of points, especially with Daniels expected to take aim at Tennessee's secondary.
While the Volunteers executed in limiting Florida's Richardson in zone-read rushing attempts, Daniels should have similar success downfield in the RPO game.
Tennessee also continues to struggle with penalties, falling outside the top 100 in penalties per game.
Although both defenses have been excellent at limiting scoring opportunities on sustained drives, there are issues in containing explosive plays. Look for an aggressive LSU passing game to attack a Tennessee coverage unit that has struggled all season, while the Volunteers look to explosive plays in passing downs.
Pick: LSU +3 or Better
---
---
Western Kentucky vs. UTSA
The Alamodome will set the scene for a rematch of last season's Conference USA Championship game.
The high-scoring extravaganza saw more than 1,100 total yards thanks to Western Kentucky quarterback Bailey Zappe throwing for 577 yards and UTSA running back Sincere McCormick going for 204 yards on the ground.
Both Zappe and McCormick have moved on, but both offenses remain potent heading into this clash.
Western Kentucky and UTSA are both 3-2 straight up and against the spread, and the Roadrunners have gone over the total in all five of their games.
Despite three turnovers vs. Middle Tennessee last week, UTSA posted nearly 600 yards in a victory.
Meanwhile, Western Kentucky comes off of a loss to Troy, as it allowed the Trojans to score 34 points on seven trips beyond the 40-yard line.
Each team will be searching for a win to keep pace with North Texas in a division-less Conference USA.
---
Head coach Tyson Helton stated that the loss to Troy "went about how I thought it would go."
Although the Hilltoppers are still an elite passing offense — similar to last season — there are cracks in the armor worn by Big Red. The loss of Zappe — along with offensive coordinator Zach Kittley — has forced a drop off in several areas.
Western Kentucky is converting just 37% of its third downs, a contrast from 47% last season.
In 77 red-zone trips, the 2021 Hilltoppers offense scored in all but seven tries. This season, Western Kentucky has failed to score in the red zone on six of 26 attempts, with a drop in touchdown rate.
The numbers for transfer quarterback Austin Reed look great on the surface (only four interceptions with 17 touchdowns), but a closer look exposes 11 Big Time Throws against 10 Turnover Worthy Plays.
A dip in Finishing Drives has put the focus on more production from the defense.
Helton is fielding similar numbers in stopping opposing offenses, a long shot from the menacing Group of Five units from just a few years ago.
The strength of this defense comes with a coverage rank within the top 50.
While Western Kentucky has fallen off in generating Havoc and tackling fundamentals, Kahlef Hailassie has been ambiguous at the corner position. Hailassie has been targeted 38 times so far this season, forcing five incompletions but also giving up 262 yards.
The corner is second among all players in FBS when it comes to pass-play stops, a tackle that constitutes a failure for the offense, per PFF.
---
Head coach Jeff Traylor was tasked with replacing one of the most productive running backs in the nation in McCormick.
Arkansas transfer Trelon Smith and fifth-year senior Brenden Brady have yet to fill that role. The Roadrunners are outside the top 50 in Rushing Success Rate and have dipped to a Line Yards rank of 66th.
The running back tandem has produced just 21 missed tackles, with neither averaging more than 2.5 yards after contact.
Thankfully, quarterback Frank Harris supplies more productivity on the ground than almost any quarterback in the nation.
Opposing defenses that are unable to diagnose UTSA's zone read RPO have been diced up in the air.
The Roadrunners are top-20 in Passing Success Rate, Passing Downs Explosiveness and Finishing Drives. The focus of the offense has moved to a pass-heavy attack without explosiveness on the ground.
The defense has maintained a top-30 Success Rate mark from a season ago, but UTSA continues to be shelled by explosive plays. The Roadrunners are outside the top 100 in opponent 20-yard plays from scrimmage, with the biggest portion of those issues coming on Standard Downs.
Most defenses that struggle with tackling are prone to explosive plays, but with a mid-FBS ranking in tackle grading, these issues fall upon missed assignments from the secondary.
---
Western Kentucky vs. UTSA Betting Pick
When the Roadrunners are rolling on offense, the passing attack can get points up in a hurry.
UTSA has scored more points in the second quarter than any other quarter in all FBS games so far, as each attempt to establish the ground game has been relegated to Harris keeping the ball on zone reads for designed rushing attempts or deep passes.
Western Kentucky is a top-50 defense in terms of Line Yards, which means Harris will take it to the skies often.
Unlike Western Kentucky, the Roadrunners are one of the best third down teams in the nation at 55%.
If there's a player the Western Kentucky offense will target, it's linebacker Trevor Harmanson for UTSA. The fourth-year defender has seen increased targets from opposing quarterbacks, as eight Middle Tennessee passing attempts were directly at the linebacker.
Harmanson has one of the worst coverage grades in FBS for a starter, which is great news for slot receivers Malachi Corley and Michael Mathison. While neither of WKU's slot receivers are explosive, wideout Daewood Davis owns a 2.5 yards per route run mark.
The Action Network projects this game at UTSA -6.5 with a total of 71 — both numbers are directly inline with the market. The ability to stop explosive plays and limit third downs will dictate both the side and the total.
Western Kentucky has struggled on third downs, but faces a UTSA defense that is near dead last in opponent conversion rates and owns a coverage grade outside the top 100.
Look for Western Kentucky to do enough defensively to get the cover.
As for the total, Western Kentucky has also been a slow starter. The Hilltoppers have scored more than a touchdown in the first quarter just once this season (vs. a horrific Florida International defense).
Although there is no value in the total, a pregame under joined with a second quarter over is the best investment strategy.
Pick: Western Kentucky +6.5 · Under 71.5
---
---
James Madison vs. Arkansas State
James Madison and Arkansas State have over-exceeded expectations this season, with both teams currently unbeaten against the spread.
In Week 6, they will go head-to-head in Jonesboro.
Head coach Curt Cignetti has enjoyed the transition of the Dukes from the FCS to FBS, compiling a 37-5 record since taking over in 2019. No opponent has put up 300 total yards of offense this season, including an Appalachian State team that was scoreless through three quarters.
James Madison is not eligible to play in a bowl this season, but the quest to put the entire Sun Belt Conference on notice continues.
Arkansas State is in the second year of the Butch Jones era, winning just four of 17 since the hire. The Red Wolves have covered all five games this season, winning twice as a favorite and losing three as an underdog.
Long gone is the up-tempo, pass-heavy offense from the Blake Anderson days. The Red Wolves have replaced that attack with a run-first, slower-paced offense.
Covering all five games this season is directly linked to an improved defense.
For the Red Wolves to keep up in the West division, a heavy defensive presence is needed against a steaming James Madison roster.
---
It can take a number of years for a team to hit a stride after transitioning from FCS to FBS. Coastal Carolina needed three seasons to become bowl eligible, while Liberty fast tracked to the Cure Bowl in its second season.
James Madison is making the move to FBS at warp speed after an undefeated straight up and cover record through September.
The promotion of Bryant Haines to defensive coordinator has paid dividends for the Dukes. The former linebacker coach has two of the best linebackers in the Sun Belt, as Jailin Walker and Taurus Jones have combined for 41 tackles through four games.
James Madison ranks as the top defense overall in Rushing Success Rate, defensive Havoc, Line Yards and Stuff Rate.
No defense gets opposing offenses out of Standard Downs quicker than James Madison — a top overall rank in Standard Downs Success Rate.
The defense has overshadowed a run-heavy offense led by quarterback Todd Centeio.
Centeio is the leading rusher for James Madison, racking up 215 yards on designed runs, with nine exceeding 15 yards.
The sixth-year senior is having his best season as a passer after stints at Temple and Colorado State. An 11% Big Time Throw rate is more than double his career average.
Centeio has been fantastic in a crowded pocket, dropping just 7% in adjusted completion percentage on 42 drop backs versus a clean pocket.
---
Rob Harley had the pedigree when taking over defensive coordinator duties for the Red Wolves.
A longtime assistant to Pat Narduzzi at Michigan State and Pitt, Harley moved Arkansas State from a 3-4 to a 4-3 scheme last season in an effort to take away the run game and get pressure on opposing Sun Belt quarterbacks.
The defense has responded, ranking fifth nationally in tackles for loss with three individual players ranking top-90 in FBS.
The Red Wolves recorded six tackles for loss against the Ohio State offensive line, more than any other Buckeyes opponent.
James Blackman continues to start at quarterback in his second season on the Jonesboro campus after transferring from Florida State.
The sixth-year senior is having his best season to date, failing to record a Turnover Worthy Play and fumbling just once. In comparison, Blackman has 26 career fumbles and 46 Turnover Worthy Plays from the quarterback position.
The Red Wolves rank 27th in Passing Success Rate, but the run game has been dreadful.
The offensive line ranks 130th in Stuff Rate, failing to create any room on rushing attempts.
Arkansas State has the 17th-highest rate of passing downs, as it depends on wide receiver Champ Flemings and tight end Seydou Traore to move the chains.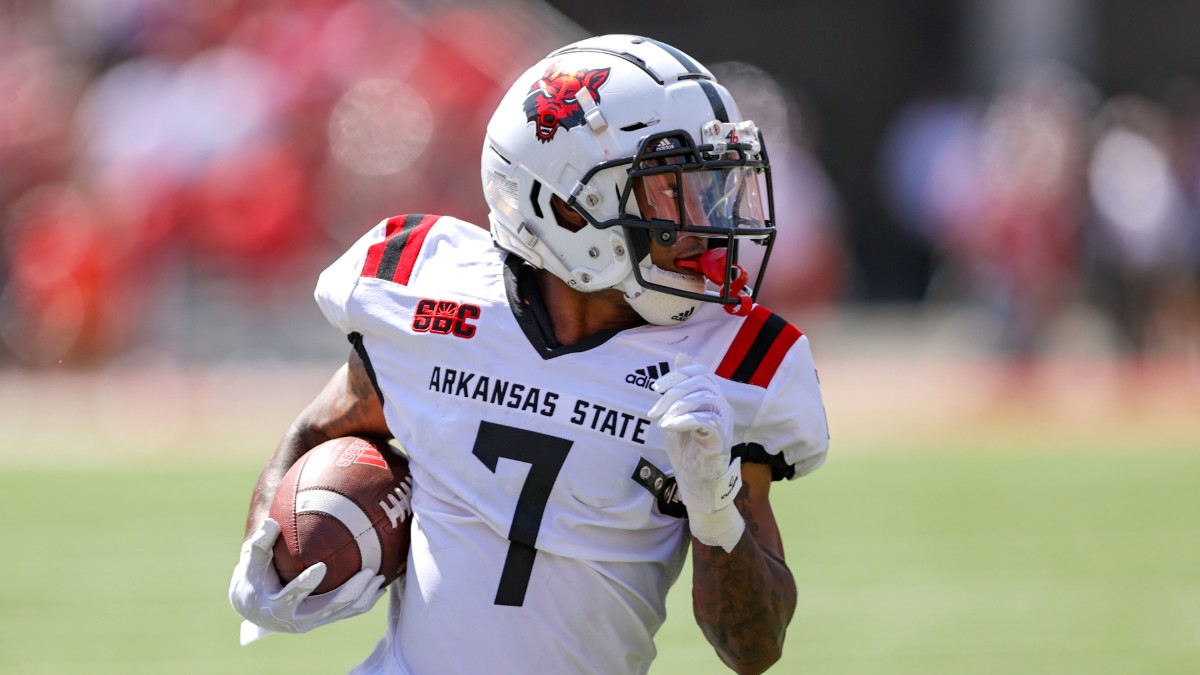 ---
James Madison vs. Arkansas State Betting Pick
Defense will reign supreme when the Dukes and Red Wolves pair up in Week 6.
Arkansas State will have success against James Madison on rushing attempts, as it ranks top-20 in Line Yards. The Red Wolves have been behind the offensive line of every opponent, including Ohio State.
James Madison struggles in pass blocking with a rank of 110th, indicating Arkansas State will continue creating Havoc.
The Action Network projects James Madison as a touchdown favorite with a total of 55.5. While the total is inline with the market, there could be inflation with the Dukes, who have been a favorite of sharp investors week over week.
Arkansas State will be in passing downs often against the James Madison defense, but a poor coverage and pass rush grade from the Dukes may be an advantage for Blackman and his receivers.
Arkansas State also has a hidden advantage away from offense and defense, ranking as the best team in SP+ Special Teams.
Look to buy an Arkansas State defense that made an Ohio State offensive line work. The unit will contain Centeio from generating more explosive plays on the ground.
Pick: Arkansas State +10.5 or Better
---
---
Oregon State vs. Stanford
There aren't many winless teams against the spread so far this season, but Stanford is among the four that have failed to cash for investors.
There are plenty of factors to consider when assessing why the Cardinal have beaten only Colgate while failing to be accurately projected by oddsmakers.
Stanford is dead last in Turnover Margin, being one of only four teams to not gain a fumble this season. Trench play has been a consistent issue in the post-Andrew Luck quarterback years, a shocking factor considering the recent recruiting history in the top half of the Pac-12.
Oregon State is another disappointing team in the conference after two consecutive losses to USC and Utah. The Beavers combined for a net -8 in Turnover Margin against the Trojans and Utes. Only two teams have thrown more interceptions than Oregon State.
Despite the ugliness through September, both teams can still make a bowl with improved ball security.
After a treacherous path in the turnover department, a victory on The Farm will go a long way for either team in reaching the postseason.
---
Quarterback Chance Nolan exited the Utah game with a neck injury, leaving backup Ben Gulbranson to assume duties under center.
Nolan had two interceptions in just seven passing attempts before Gulbranson finished the game with another two interceptions in 21 passing attempts.
The starting quarterback decision against Stanford will come closer to game time, but the lack of separation of the targets has played a critical role in the turnovers.
Nolan has seen an increase in Drop Rate of 9.7% to 15.4% despite an uptick in his Big Time Throw percentage.
The third-year quarterback entered the USC game with just two Turnover Worthy Plays against Boise State, Fresno State and Montana State, but Utah and USC's defenses forced five Turnover Worthy Plays, as both teams got pressure with minimal blitz.
The good news for head coach Jonathan Smith is that this is still a run-first team that is 13th in Standard Downs Explosiveness.
Coordinator Trent Bray got the defense to show up for USC, recording 11 quarterback hurries and six tackles for loss against Caleb Williams and a stable of talented running backs.
While the Havoc numbers stayed within the top-50 nationally, that same defense did not show up against Utah.
Quarterback Cameron Rising did not have a single pressure, as the Beavers posted only four tackles for loss.
Cornerback Alex Austin was specifically singled out, as he was targeted six times by Rising while allowing 73 yards and a score to the Utah offense.
---
The mistakes from Stanford have been inexplicable considering quarterback Tanner McKee is piecing together a fantastic season. The third-year quarterback has posted just two Turnover Worthy Plays in 121 passing attempts while connecting on eight touchdowns so far this season.
While McKee is throwing the ball with success, the offensive line has failed to protect him with a Sack-to-Pressure Ratio booming from 27% to 40% since last season.
Stanford is 129th in Havoc Allowed, a stat that measures tackles for loss allowed along with interceptions and fumbles. The Cardinal have 11 fumbles and have allowed 33 tackles for loss — both outside the top 100.
The bad news is offensive drives are ending abruptly, but the good news is the result of the drives without turnovers. Stanford is fourth in offensive Finishing Drives, averaging 5.4 points on 18 drives across the opponent 40-yard line.
Because turnovers have played a large role in Stanford games, the offense has the worst starting field position in college football.
The Cardinal defense has not fared much better, ranking 118th in starting field position. Although the tackling has been decent, Stanford is dead last defensively in Line Yards, as opponents are moving the ball freely on rushing attempts.
Stanford has the worst defense in the nation in terms of stopping the run at or behind the line of scrimmage, a key variable in what assisted Oregon, USC and Washington to score at least 40 points.
---
Oregon State vs. Stanford Betting Pick
Two items that are near impossible to handicap are injuries and turnovers. Advanced analytics around Havoc do a great job of showing characteristics that lead to turnovers, but fumbles rarely turn out to be a coin flip in recovery.
These teams have a combined 23 turnovers lost, which is an indication that interceptions and loose balls are coming to Stanford Stadium.
The question is whether each team chooses to lean heavily into what makes the offense successful.
Oregon State has thrown eight interceptions, but is a ground-first team with a number of running backs that light up opposing defenses.
The Beavers have a potent ground attack with the tandem of Deshaun Fenwick and Damien Martinez, but the emergence of Jamious Griffin in the last two games against Utah and USC is noticeable.
Oregon State has a single fumble lost this season in 173 rushing attempts, diminishing the decision facing head coach Smith in choosing Nolan or Gulbranson to start at quarterback.
Conversely, Stanford has had the most success through the air. Four interceptions are in the books, with only two of those being mistakes belonging to McKee.
Stanford has allowed its starting quarterback to be sacked 16 times this season, an issue that will not be a present against an Oregon State defense that is 116th in Pass Rush.
Stanford has eight fumbles lost, a variable that has no correlation to the execution of McKee in the pocket.
The Action Network projects the Pac-12 scrum at Oregon State -5.5, showing that value lies on Stanford at a touchdown or better.
The Cardinal also have a clear advantage in SP+ Special Teams.
No offense has suffered more from a Havoc Allowed perspective than Stanford, as any kind of improvement gets a home team ticket to the window.
Pick: Stanford +7 or Better
How would you rate this article?
This site contains commercial content. We may be compensated for the links provided on this page. The content on this page is for informational purposes only. Action Network makes no representation or warranty as to the accuracy of the information given or the outcome of any game or event.