College Football Odds, Win Totals: Our Top 10 Picks to Target, Including Notre Dame & TCU
Credit:
Dustin Bradford/Getty Images and G Fiume/Getty Images. Pictured (left to right): TCU quarterback Chandler Morris and Coastal Carolina quarterback Grayson McCall.
College football is officially back with seven games on Saturday in Week 0. But before we take a look at particular matchups, our staff is targeting 10 win total bets for this season, including picks for Notre Dame and TCU.
We already looked at preseason futures, so if you're looking to expand your preseason betting card, this is the perfect place for you.
---
---
By CJ Vogel
My favorite win total bet of the college football season includes last season's national runner-ups. TCU lost a lot of production, but Sonny Dykes and his staff were plenty busy in the transfer portal over the offseason.
The Horned Frogs will start QB Chandler Morris, who actually won the 2022 starting job over Max Duggan before an injury presented Duggan his opportunity.
From a pure personnel standpoint, the Horned Frogs have — by Big 12 standards — an elite group of offensive weapons, led by Savion Williams, former Alabama wide receiver JoJo Earle and Oklahoma State transfer John Paul Richardson.
On the flip side, the Horned Frogs have an All-Conference honoree at all three levels of their defense.
Additionally, their linebacking duo is one of the best in the conference, with Jamoi Hodge and Johnny Hodges set to return.
Preseason All-Big 12 defensive lineman Damonic Williams anchors the unit up front. TCU is also the only team in the conference with a pair of cornerbacks — Josh Newton and Tre'Vius Hodges-Tomlinson — who received preseason All-Conference recognition. The cupboard is still stocked in Fort Worth.
As for the schedule, TCU doesn't have the friendliest Big 12 slate, but it does get its two biggest rivals — Baylor and Texas — at home. A preseason slate of Nicholls State, Colorado and SMU should provide three quick victories towards the total.
West Virginia, Houston and Iowa State — three bottom dwellers in the league this season — mark the first three conference games. Eight wins should be TCU's minimum this fall. I love this line, despite the juice.
Pick: TCU Over 7.5 Wins (-140) · Play to 8 Wins at Any Price
---
By Mike McNamara
I think Notre Dame will be a playoff contender, so I feel very good about taking Over 8.5 wins.
The Irish made one of the biggest splashes in the transfer portal market when they brought in heralded Wake Forest QB Sam Hartman.
The sixth-year senior will immediately catapult an offense that struggled to throw the ball down the field a year ago.
Hartman's presence — coupled with an elite offensive line and a powerful running back in Audric Estime — should make this one of the most efficient offenses in the country.
On the other side of the ball, it's hard not to feel good about a Marcus Freeman defense. Cam Hart and Benjamin Morrison are two high-level talents in the secondary and will allow defensive coordinator Al Golden to bring pressure and rely on some man coverage on the back end.
When you take a look at the Irish's schedule, you see a lot of games that should be comfortable victories, coupled with three heavyweight matchups.
Notre Dame will likely be 20+ point favorites in five games (Navy, Tennessee State, Central Michigan, Wake Forest and Stanford). I feel comfortable declaring five wins right there.
Road games at Duke, Louisville and NC State — as well as a home tilt against an always pesky Pitt team under Pat Narduzzi — aren't automatic wins, but the Irish will have superior talent in each of those matchups. I don't envision them going worse than 3-1 against those four.
That leaves us with the three teams inside the preseason top 10: Ohio State, USC and Clemson.
Both Ohio State and USC will have to travel to South Bend for night games, where the Irish have been really good in recent memory.
I give Notre Dame a shot in all three of those matchups, and I feel very comfortable saying it'll win at least one.
A loaded roster — along with a manageable schedule — has me backing Freeman and the Irish to hit this over.
In fact, I wouldn't be surprised if Notre Dame wins double-digit games this season.
Pick: Notre Dame Over 8.5 Wins (-135)
---
By Patrick Strollo
The Brent Pry era got off to a rocky start last year, as the Hokies finished a disappointing 3-8 in the coach's first season. A lack of playmakers and uninspiring offensive play calling doomed Virginia Tech down the stretch.
On the bright side, the defense carried the team in 2022 and kept the Hokies close in games they couldn't finish down the stretch. In what can be considered a glimmer of hope, Virginia Tech lost four games by a combined 11 points last year.
Similar to last season, the defense will be the strength of the team. This plays into Pry's pedigree as a defensive-minded coach. The Hokies return seven defensive starters and should be able to leverage that veteran experience.
They have solid depth on the defensive line and at linebacker, but will have to generate more havoc to take the pressure off the offense.
Last season, the Hokies finished last in the ACC in interceptions, as they picked off just four passes. However, improvement should be on the horizon.
On offense, quarterback Grant Wells will be getting the starting job again after holding off Baylor transfer Kyron Drones in fall camp.
Last year, Wells averaged 197.4 passing yards per game in 11 starts and threw for nine touchdowns and nine interceptions. He added 212 rushing yards and six rushing touchdowns, but that was a step back from his time as Marshall's starting quarterback.
The Hokies have added talent at wide receiver — namely Old Dominion transfer Ali Jennings — and will look to rely more on the running game to mitigate Wells' turnover issues.
At this point, the Hokies will likely be favored against Old Dominion, Marshall, Wake Forest, Syracuse and Virginia. Matchups against Purdue, Florida State, Pittsburgh and Louisville can preemptively be chalked up as losses, but Rutgers, Boston College and, to a lesser extent, NC State present additional winnable opportunities.
Things don't look great in Blacksburg at this point, but the Hokies should expect to see improvement on both sides of the ball in Pry's second year at the helm. Look for the defense to continue to improve and for the offense to find more rhythm.
The Hokies are getting a haircut from last year's win total of 6.5, but now that Pry has had a full season with the program, I expect Virginia Tech to win six (possibly seven) games this season as it continues to make recognizable strides on both sides of the ball.
I recommend playing this win total at five games or better.
Pick: Virginia Tech Over 5 Wins (+100) · Play to -150 or Better
---
By Thomas Schlarp
This definitely isn't an endorsement of Oklahoma State's roster or journeyman transfer quarterback Alan Bowman. Instead it's backing the consistency that is Mike Gundy and an incredibly fortuitous schedule.
Starting with Gundy, he simply rarely has losing seasons. The Cowboys coach has recorded at least seven regular-season wins in 13 of his past 15 seasons (2014 and '18 were six-win regular seasons).
Then there's the schedule. Oklahoma State opens with Central Arkansas, Arizona State and new head coach Kenny Dillingham and South Alabama. That should mean the Cowboys only need to go 4-5 in conference play to cash this bet.
Even the conference slate is forgiving. Iowa State will still be working in a new quarterback in Week 4. The Cowboys get Kansas State and Oklahoma in Stillwater, and they avoid Texas, Texas Tech, TCU and Baylor. Oklahoma State also gets all four new members of the Big 12.
Sometimes teams just get a lucky break with the schedule.
This isn't going to be a vintage Cowboys team, but they should get to seven wins with ease.
Pick: Oklahoma State Over 6.5 Wins (-110) · Play to -130
---
By Pete Ruden
There are a lot of teams that will make a bowl this season, but Utah State isn't one of them.
For starters, the Aggies' offense ranked outside the top 115 in three of the most important Five Factors categories last season: Success Rate, Finishing Drives and explosiveness. On the defensive side of the ball, they finished 113th in explosiveness and 90th in Finishing Drives.
The only semi-bright spot was Success Rate, in which they ranked 58th — barely in the top 50% nationally.
But that was last year, right?
Well, it turns out Utah State has the seventh-worst TARP number in the nation with a -5 mark on both sides of the ball. Its -10 net TARP is the worst in the Mountain West by a large margin.
Part of that terrible returning production number impacts the offensive line in a big way. There's a very real chance Cooper Legas will be running for his life all season, especially when you consider he's starting the season against a stout Iowa front seven and running into Air Force just two games later.
That's not a good recipe for a quarterback who finished last season with only nine big-time throws and 14 turnover-worthy plays, per PFF. In fact, out of Legas' 222 passing attempts, only 68.5% were considered on-target and only 77.8% were considered catchable, according to Sports Info Solutions.
With so many starters gone at the skill positions and on the offensive line, wins won't be easy to come by. Action Network has Utah State favored in only three games this season — and two of those are under a touchdown.
I respect head coach Blake Anderson a ton, but I just can't see the Aggies making a bowl after all of the roster attrition.
Pick: Utah State Under 5.5 Wins (-140) · Play to -160
---
By Mike Calabrese
Last season, UAB was a run-centric team built around a strong offensive line and running back DeWayne McBride. UAB ran it at the ninth-highest clip in the nation and racked up 5.8 yards per carry (2nd).
However, a lot has changed in the past eight months. McBride is now a Minnesota Viking and the offensive line returns the fewest starts in the FBS.
And most importantly, Bill Clark and his assistants are also out the door — so UAB could bring in Trent Dilfer of all people.
The players advocated for Bryant Vincent — Clark's longtime offensive coordinator and interim coach last season — to remain as their head coach. They wrote a letter to the school president, but he turned them down and hired Dilfer, a man with zero college coaching experience.
Dilfer has surrounded himself with the greenest coaching staff in the nation, as seven of his 10 position coaches have never led a position room at the college level.
Dilfer's personality — which screams TV evangelist — led to a mass exodus of talent. The Blazers are -12 in the NET Tarp, which is worst in the nation.
This schedule lines up for exactly two wins — a home opener against North Carolina A&T and an October 7 home game against USF. That's it.
UAB draws three conference champions — all on the road — in a four-week span. Trips to Georgia, Tulane and UTSA could level this team's confidence. And on the personnel front, the Blazers are turning to Jacob Zeno, a quarterback who posted a 34 QBR in limited work last season.
I think it's more likely this team has a locker room mutiny than it wins five games this season.
Pick: UAB Under 4.5 Wins (-135)
---
By Mike Ianniello
I understand that Jamey Chadwell is no longer at Coastal Carolina (he's at Liberty), but this win total is just downright disrespectful to Grayson McCall.
After briefly entering the portal, McCall is back for his fifth year in Teal. He has the highest QB efficiency in college football history and in three years as the starter, he's thrown 78 touchdowns to just eight interceptions while completing over 70% of his pass attempts.
He'll have plenty of weapons around him once again. Coastal Carolina returns its top three running backs in CJ Beasley, Reese White and Braydon Bennett. The Chants also return their top three receivers, Sam Pinckney, Jared Brown and Tyson Mobley.
The Chanticleers' offense should keep things rolling in 2023.
On defense, they lose edge rusher Josaiah Stewart to Michigan, which is undoubtedly a massive loss. The defense should be solid against the run – as it was last year – but it struggled against the pass, and losing Stewart won't help that area improve.
In to replace Chadwell is former NC State offensive coordinator Tim Beck. Let me be clear, I hate Beck as a play caller. His offenses are incredibly frustrating to watch and rarely meet their full potential.
But what he does well might fit this team perfectly.
Beck runs an offense that wants to run the ball, scheme up high-percentage throws and just slowly dink-and-dunk down the field. What it lacks in excitement and explosiveness, it makes up for in efficiency.
He also now has the most efficient quarterback in college football history.
The offense is also designed to control the tempo and dominate time of possession. This should really take pressure off of the defense as it makes adjustments and figures out questions early in the year.
When McCall has been under center for the last three seasons, Coastal Carolina has gone 10-1, 10-1 and 8-2. He's worth a lot more to a win total than Chadwell is.
The Chanticleers draw Arkansas State and Texas State from the West Division, two games they should win. Their toughest conference games will be against James Madison and Marshall, both of which come at home. They'll likely start 3-1 in the non-conference play, as well.
Our Action Network Power Ratings have Coastal Carolina favored in 11 games. As long as McCall stays healthy, the Chants will sail over this win total.
Pick: Coastal Carolina Over 7.5 Wins (-115) · Play to -135
---
By Brett Pund
There aren't many schools that can claim they lost more production from last season than East Carolina. In fact, the Pirates rank 128th in returning production and have a -10.5 mark in Net TARP.
Starting with the offense, head coach Mike Houston is tasked with replacing the American Athletic Conference's all-time career passing leader in Holton Ahlers, a 1,400-yard rusher and a pair of 1,000-yard receivers who combined for 16 touchdown receptions.
ECU also lost four starters along the offensive line.
On defense, the Pirates lost eight of their top 12 tacklers from a season ago and only return six starters. This was a defensive unit that already ranked outside the top 100 in success rate and points per opportunity.
To make matters worse, ECU doesn't have a very easy schedule, with trips to Michigan and Marshall and a home game against Appalachian State in the non-conference slate. The Pirates also have to face SMU, UTSA and Tulane in AAC play.
There's a stretch on the Pirates' schedule where they play the Roadrunners, Green Wave, at Florida Atlantic and at Navy all in a row. According to our projected spreads, East Carolina will only be favored in three games this season.
I have a hard time seeing how this team gets to six wins. If you want to chase an alternate total of under five wins at a plus price, I also like that play, but I don't mind paying the juice here for the hook.
Pick: East Carolina Under 5.5 Wins (-130) · Play to 5 Wins at Any Price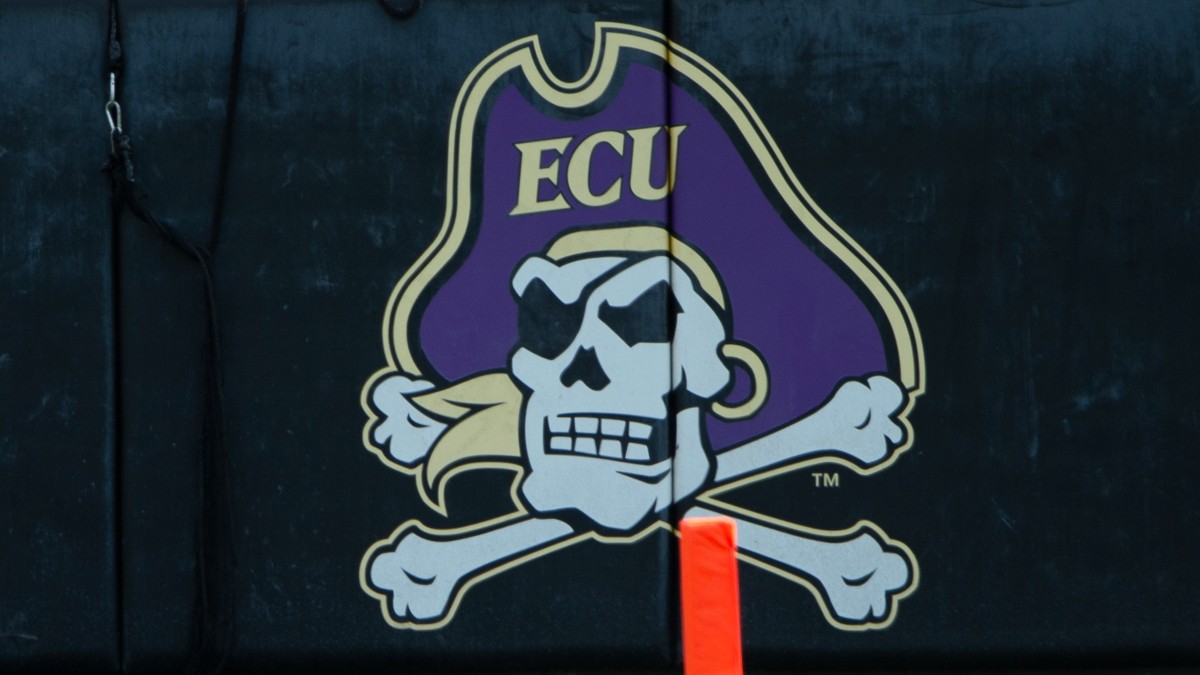 ---
By Daniel Preciado
The Syracuse Orange had one of their best seasons in recent memory last year, but they don't seem poised for a sufficient follow-up campaign. Even with the massive juice on the Under 6.5 at DraftKings, this is well worth a wager. This line is simply too generous.
The ACC is topped by Clemson and Florida State, while Syracuse — along with Virginia, Virginia Tech and others — resides in the lowest tier.
Dino Babers is in his eighth season as head coach and is also in a contract year. The offensive turnover — namely stud running back Sean Tucker heading to the NFL — certainly won't help Babers' job security.
Garrett Shrader will once again be the starting quarterback, and he's coming off a solid season in which he posted 26 total touchdowns, including nine on the ground. He's a veteran quarterback and can absolutely keep the team afloat, but there are only so many wins to go around in the ACC.
Syracuse had bright spots last season, but still wound up going 7-6.
Since Babers took over the program, he's only coached his way to two winning seasons. This roster simply can't compete in the ACC and will likely only scratch together four or five wins — at the most.
Pick: Syracuse Under 6.5 Wins (-150)
---
By Mark Harris
The Rams are primed to be a much more competent team in their second year under Jay Norvell. Colorado State sputtered to a 3-9 record in 2022, but it returns a good chunk of key players, and Norvell's stint at Nevada showed he can build a program.
In this day and age, it's rare for a college football team to return its starting quarterback, leading rusher and leading receiver, but CSU did just that. Clay Millen is back under center after starting 10 games last year, running back Avery Morrow is back in the fold and wide receiver Tory Horton returns after recording 1,131 yards and eight touchdowns.
The Rams' offense may not light the world on fire, but the continuity should prove effective against a Mountain West schedule.
Norvell has also proven he can oversee a second-year jump. In 2017, when Norvell was a first-year coach at Nevada, the Wolf Pack finished 3-9 before improving to 8-5 the next season. Nevada followed that up with three straight winning seasons under Norvell, so it's clear he's capable of success.
Colorado State's schedule isn't that difficult, either. It hosts Washington State in Week 1 before facing Colorado in Boulder two weeks later. Splitting those two Pac-12 games isn't impossible, and after that, the Rams play Middle Tennessee State on the road before hosting Utah Tech in Week 5.
In conference play, CSU gets Boise State and Air Force at home and also plays Mountain West bottom feeders UNLV, Nevada and Hawaii.
With a proven head coach and returning offensive production, the Rams should take a step up in 2023. There are many winnable games on this schedule, and Colorado State only needs to go 5-7 for the over to hit.
Pick: Colorado State Over 4.5 Wins (-164) · Play to 5 at Any Price
How would you rate this article?
This site contains commercial content. We may be compensated for the links provided on this page. The content on this page is for informational purposes only. Action Network makes no representation or warranty as to the accuracy of the information given or the outcome of any game or event.