College Football Futures Odds, Picks: Our 10 Best Preseason Bets, Including Texas, Clemson, Penn State & More
Credit:
Eakin Howard/Getty Images. Pictured: Clemson running back Will Shipley.
We've been waiting for this moment since Jan. 9 — college football is back.
To celebrate the return of football to our lives, our college football writers came through with 10 futures for the 2023 season. Whether you're looking for conference winners, a team to make the College Football Playoff or a season-long player prop, we have you covered.
So, let's enjoy this magical time of the year while we can. Because before you know it, it'll be late December — and hopefully it'll be a green one.
---
By Stuckey
The uncertainty surrounding the Iowa State betting scandal, in addition to some market movement, has thrown a wrench into a few of the win totals I played smaller earlier in the summer if you listened to our Big 12 preview podcast episode.
However, I do still like the price on Texas to win the league.
Is Texas finally back? From a national perspective, I'll say almost.
If Quinn Ewers truly worked on his footwork in the offseason to improve the efficiency of his deep ball, the Longhorns have a real chance of making the College Football Playoff. If not, I don't think the Longhorns can compete with the big boys for a national title just yet, but they certainly can still easily win the Big 12.
Head coach Steve Sarkisian has finally built up the depth and size across the roster to upper-echelon SEC quality. Look no further than the offensive line, which has gone from a weakness to one of the best units in the country.
The skill-position talent is immense even after losing Bijan Robinson, and the quarterback depth provides a very nice luxury that most teams don't have. Back-to-back top-five recruiting classes certainly helped build out a strong depth chart.
I also fancy some of the transfers brought in for a defense that doesn't have many glaring holes for a very good coordinator to work with.
The Horns won just eight games last season but came oh-so-close to a special year. They finished just 2-5 in one-possession games, including a one-point loss to Alabama and a brutal three-point loss in overtime to Texas Tech. In 2022, Texas finished outside the top 100 in turnovers forced and outside the top 70 in sacks despite leading the nation in pressure rate. Positive regression certainly looms on the Forty Acres.
The road won't be easy with all of the other top contenders showing up on the Big 12 schedule. However, I'm lower than the market on a number of those clubs. Plus, the league road slate is fairly manageable with Baylor, Houston, TCU (which should take a step back) and an Iowa State team in turmoil.
Ultimately, I think the Horns are head-and-shoulders above the rest of the league and we will see them back in the Big 12 title game for the first time since 2009. Hook 'em.
Pick: Texas to Win Big 12 (+100)
---
By Thomas Schlarp
Year after year, no one gets less respect from oddsmakers than the Utes.
All Kyle Whittingham and Co. have done is reel off two straight conference championships over the likes of Oregon and USC, both of which were favored to beat Utah.
Well, the disrespect continues again this year with Utah having only the fourth-best conference odds, trailing USC, Oregon and Washington. While those teams may be known for high-flying, flashy offenses, Utah's bread and butter has been its physical play and what will still be the conference's best defensive front seven — a major headache for the likes of Bo Nix, Caleb Willams and Michael Penix.
The biggest reason for these longer conference odds is the uncertain status of quarterback Cam Rising, who tore his ACL against Penn State in the Rose Bowl.
The Utes open with Florida, Baylor and Weber State, none of which factor into this bet. That theoretically should give Rising 10 months since his injury when Utah welcomes UCLA to town at the end of September.
But even if Rising does get off to a slow start, the defense is more than capable of carrying the load until late October when Utah plays USC and Oregon in consecutive weeks.
The Utes have lost one and two conference games, respectively, in each of their last two conference championship seasons, so they can likely afford a similar hiccup this year with how the Pac-12 likes to cannibalize itself.
Pick: Utah to Win Pac-12 (+550 · Play to +500)
---
By Mark Harris
The Washington Huskies came out of nowhere to win 11 games last year, and they have the pieces to put together another successful season.
With a ton of production returning to Montlake, Washington has a great chance to win the Pac-12 championship in what could be the conference's final season of existence.
It all starts with quarterback Michael Penix Jr., who many see as a trendy Heisman pick. The left-handed signal caller led all Power 5 quarterbacks with 4,641 passing yards — yes, that includes Caleb Williams and Drake Maye — and guided the Huskies offense to 515.8 yards per game, which ranked second in college football.
The returning offensive production is what really sets Washington apart. Action Network's metrics have the Huskies ranked No. 1 in returning production, and it makes sense when you see that UW's talented wide receiver trio of Rome Odunze, Jalen McMillan, and Ja'Lynn Polk are all back in Seattle, along with the talented offensive tackle duo of Troy Fautanu and Roger Rosengarten, among others.
A stingy defensive line and a retooled secondary should help Washington's defense improve after a hit-or-miss campaign last year.
Bettors should also exercise caution when wagering against UW head coach Kalen DeBoer. Whether it be at NAIA Sioux Falls, Fresno State or Washington, DeBoer wins wherever he goes and enters the 2023 season with a 90-11 career head-coaching record.
Offensive coordinator Ryan Grubb, who has been with DeBoer for a good chunk of his coaching tenure, also returns to UW despite being offered the offensive coordinator job at Alabama this offseason. Even Nick Saban couldn't break the Huskies' coaching continuity.
The Huskies actually have the third-best odds to win the Pac-12 at FanDuel, sitting behind USC (+200) and Oregon (+320).
Considering its placement in the preseason odds, there's some value in taking Washington to win the Pac-12 because of its fantastic coach and quarterback combo and its bevy of talented returning players.
Pick: Washington to Win Pac-12 (+340 · Play to +320)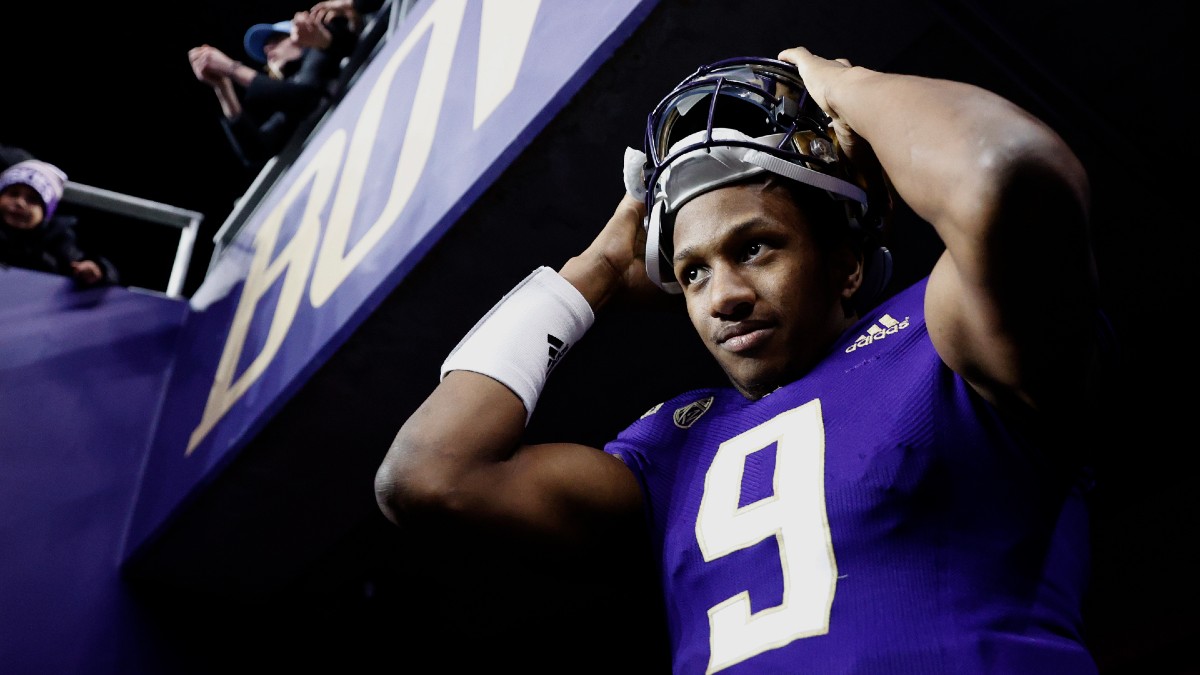 ---
By Mike McNamara
Would there be a better story in college football in 2023 than the Oregon State Beavers winning the Pac-12 in what is now likely the final season ever for the conference?
I don't think so, and I believe Jonathan Smith has the team to do it.
Smith has slowly improved in each season he's been at the helm of his alma mater, and expectations are sky-high this year in Corvallis.
A main reason for the buzz? The addition of former Clemson quarterback DJ Uiagalelei from the transfer portal. Oregon State was already poised to build off a potent rushing attack it had a year ago, but "DJU" provides the quarterback room with a veteran presence who has played in plenty of big games over the course of his career.
Defensively, the Beavers should continue to be one of the more physical teams in the conference. Oregon State returns plenty of pieces from a defense that held four Pac-12 opponents to 10 points or less last season. The unit also stifled Caleb Williams and company in a 17-14 loss to USC and held Florida to just a field goal in its Las Vegas bowl victory.
The Beavers don't really have a weakness on either side of the ball, and that balance is what you look for when evaluating teams that have what it takes to make it to Championship Weekend.
Lastly, the conference schedule is favorable. Gone are the days of the North and South Divisions. Instead, it's just about getting into that top two and making it to Allegiant Stadium on Dec. 3.
The Beavers avoid USC, and get other league contenders Utah, Washington and UCLA in the friendly confines of the newly-renovated Reser Stadium.
With conference foes like Oregon, Washington, USC and UCLA bolting for new leagues in 2024, Oregon State and Washington State are stuck in a precarious position moving forward.
The current players on this roster know that their destiny is in their control in this season, however. Give me the Beavers at 11-1 to take home the title in the final edition of the Pac-12 as we know it. Justice.
Pick: Oregon State to Win Pac-12 (+1200 · Play to +1100)
---
By Doug Ziefel
This is not like the other future bets you'll typically have in your portfolio. Many are plus-money, as the market often fails to accurately value specific teams correctly entering the season.
When it comes to Georgia, the oddsmakers are right for the most part; but there's one inefficiency we can capitalize on.
The Bulldogs are the clear-cut No. 1 team in the country. They enter this season aiming to become the first team to win three consecutive National Championships since Minnesota did so in 1934-36.
Their chances of doing so are solid, and the first step to accomplishing that feat will be claiming the SEC.
In years past, the Bulldogs were challenged by talented SEC teams and even dropped the 2021 SEC title to Alabama. This season, the Bulldogs are projected to face very little resistance on their way to the SEC title game.
Our Action Analytics team has the Bulldogs projected as double-digit favorites in every single game this season. So, with the expectation that Georgia will run the table in the regular season, is there really a challenge for them waiting in Atlanta?
Even if it is the Crimson Tide in Atlanta, we project the Bulldogs as 7.5-point favorites in that neutral-field matchup.
Georgia is the team to beat both in the SEC and in FBS. For my money, getting the Bulldogs at this price makes them the strongest conference investment on the board.
Pick: Georgia to Win SEC (-110 · Play to -115)
---
By Patrick Strollo
Things have not gone according to plan since Jimbo Fisher's arrival in College Station. Visions of grandeur included a trip to the College Football Playoff and a subsequent National Championship, but those remain to be seen.
After finishing last season with a losing record and a Week 2 loss to Appalachian State at home, it's reasonable to ask why anyone would think that this team has the chops to hang in the SEC.
Given its struggles, Texas A&M did finish the season strong with a 38-23 victory over LSU, dashing any hopes of a College Football Playoff trip for the Tigers.
While the questions abound for the Aggies, there are a couple of mitigating factors that should be considered when looking at this team for the 2023 season.
The sticker shock of a losing season is huge, but five of their seven losses were by six points or less last year.
Secondly, they dealt with inconsistent quarterback play due to injury. A starter hasn't been named for this season and Fisher has been mum about what is going on in camp, but the Aggies have two excellent options in Conner Weigman and Max Johnson.
Most importantly, they are one of deepest teams in the SEC on both sides of the ball because of success on the recruiting trail and through the portal, particularly on the defensive line.
To address the offensive woes that the Aggies experienced after finishing last season ranked 101st in the nation in scoring offense, Fisher went out and hired Bobby Petrino as offensive coordinator.
Petrino's reputation as an offensive mastermind precedes him, and he comes into a situation that will accentuate his skill set given the incredible talent he's inheriting on offense.
On defense, the Aggies return eight starters and will look to achieve results that are commensurate with their talent on the other side of the ball after a down season.
At +1400, the Aggies are considered a long shot to win the SEC, but they have the talent to get it done and face Alabama at home this year.
Fisher will be in the hot seat if this season looks anything like last year, so I expect the sense of urgency to be extremely high with a must-win attitude that seems to have evaded in him in seasons past.
The SEC is a serious grind, but four-figure plus-money returns offer what I think is exceptional value for a team loaded with five-star talent.
Pick: Texas A&M to Win SEC (+2000 · Play to +1200)
---
By Mike Ianniello
The NIL rules and a school collective established to pay $38,000 per year to the entire team have already helped SMU become the sixth-ranked team in the transfer portal class rankings. It helped bring in a bunch of transfers, highlighted by a half-dozen players coming in from Miami who give the Mustangs solid depth across the board.
The prolific Tanner Mordecai left for Wisconsin, but Preston Stone takes over as the starting quarterback after serving as the backup for the last two years. He's a former four-star recruit with a rocket arm who received offers from all of the top schools out of high school.
Despite losing star Rashee Rice to the NFL, SMU has one of the best wide receiver rooms in the Group of Five. The Mustangs have a ton of depth with Jordan Kerley, Moochie Dixon and Jake Bailey all returning, and they add Key'Shawn Smith from Miami and Jordan Hudson from TCU. Tight end RJ Maryland is back as well.
It would normally be a concern if the defense returned only four players, but the Mustangs defense was atrocious last season. A few of last year's starters actually returned but lost their starting jobs during the spring.
SMU did a good job bringing in transfer pieces to improve the defense. It was especially bad against the run last year, ranking 119th in rushing defense. The Mustangs bring in defensive end Elijah Roberts and defensive tackle Jordan Miller from Miami, and both should start right away.
The Mustangs also added a safety from Stanford, a defensive tackle from Oklahoma and cornerbacks from West Virginia, LSU and TCU who will all challenge for a starting spot and provide depth.
The offense should continue to flourish under Rhett Lashlee, and the defense can only improve from last year with the Power Five transfers SMU brought in.
The Mustangs have two difficult nonconference games on the road against Oklahoma and TCU, but the AAC schedule is a cakewalk. SMU doesn't play Tulane, UTSA or FAU. It'll be favored in every single conference game, with Memphis in late November likely standing as its toughest game.
If Stone can keep this offense humming, SMU has a great path to reach the conference championship game.
I like the Mustangs at +300 to win the AAC title.
Pick: SMU to Win AAC (+300 or Better)
---
By Brett Pund
What has been the issue holding back the Clemson Tigers from making another run to the College Football Playoff? It has been the poor play offensively due to stale play-calling from head coach Dabo Swinney.
However, Swinney made the best coaching hire of the summer by bringing over former TCU offensive coordinator Garrett Riley to revitalize the offense. The Broyles Award winner flipped the Horned Frogs' 65th-ranked scoring offense in 2021 to the nation's ninth-ranked unit in 2022.
Riley also inherits much more talent than he had at TCU, starting with quarterback Cade Klubnik in what will be his first full year as the starter. Add in four of five returners along the offensive line and a 1,100-yard rusher in Will Shipley, and Riley should have plenty of weapons in 2023.
As for the defense, eight starters return to help the team rank 29th in the country in returning defensive production. This was a unit that finished last season ranked in the top 20 in Defensive Points per Opportunity (3.22) and Havoc (35), and I expect it to be stout again.
To cap it all off, Clemson has seven home games this year, with the hardest opponents on the schedule coming to Death Valley in Florida State and Notre Dame. Meanwhile, the Tigers are projected to be the favorite in every game.
I prefer the odds to take them to make the playoff at +360 odds at Caesars, but if the offense clicks under Riley, this could be a special season at Clemson.
Pick: Clemson To Make CFP (+360 · Play to +300)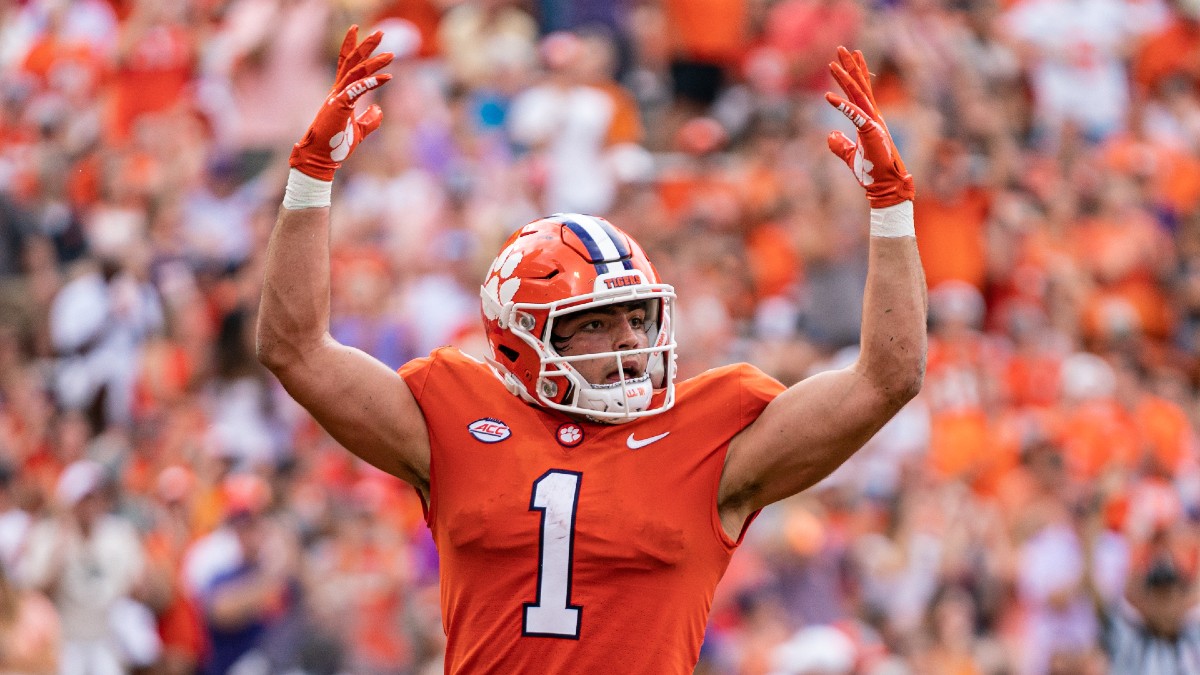 ---
By Mike Calabrese
It's rare you get a roster this talented at a price north of 20-1. Such is life in the shadow of Ohio State and Michigan.
Penn State has a pocket passer with a Heisman ceiling for the first time since Kerry Collins in the mid-90s. Drew Allar reminds me of a young Drew Bledsoe and produced zero turnover-worthy plays in 71 dropbacks last season.
Allar is surrounded by a considerable amount of talent. The offensive line could be great with 70.8% of starts returning and is anchored by future NFL millionaire Olu Fashanu.
Kaytron Allen and Nick Singleton ran for 1,928 as a duo last fall. That smashed the Big Ten record for a freshman tandem.
Out wide, the Nittany Lions are counting on Kent State transfer Dante Cephas to make some noise, but I wouldn't sleep on their deep tight end room either.
Defensively, they're loaded with All-American candidates at every level.
Chop Robinson could be a 15-20 tackles for loss kind of disruptor on the edge. True sophomore linebacker Abdul Carter was so good as a freshman that he has been bestowed the honor of wearing No. 11 this fall, joining Micah Parsons and LaVar Arrington.
And then there's Thorpe Award candidate Kalen King. The shutdown cornerback led the Big Ten and Power 5 in passes defended last season (25). Toss in Manny Diaz as their defensive coordinator, and I believe this will be a top-three defense in the nation.
Penn State hasn't beaten both the Buckeyes and Wolverines in the same season since 2008. If it splits thos games, it'll still have a very good chance of making the College Football Playoff.
Given their talent, workable schedule, and distinct home-field advantage, I foresee the Nittany Lions finally breaking through and making this 22-1 ticket extremely valuable from a hedge perspective come early January.
Pick: Penn State To Win National Championship (+2200 · Play to +2000)
---
By Alex Hinton
In the 2020 COVID-shortened season, Michigan made the curious decision to rotate four running backs, which did not really help anyone as the Wolverines finished 2-4. Since then, the Wolverines have primarily rotated their top two backs.
As the 1B to Hassan Haskins, Blake Corum rushed for 952 yards in 2021. He followed that up with 1,463 yards as a sophomore, emerging as one of the best running backs in the country.
Now, we barely need him to surpass 1,000 yards at a line that I find laughable.
Corum is coming off a knee injury, and fellow star running back Donovan Edwards emerged in his absence, finishing his season with three consecutive 100-yard games.
However, Corum was cleared in July and will be a full go next week. Additionally, the strength of Michigan's offense is its running backs and offensive line, and it knows that.
Michigan ran the ball on 61% of its offensive snaps last season. At that rate or a similar one, Corum and Edwards may both go over 1,000 yards this season. However, there's no line for Edwards so we'll take the gift on Corum.
The senior did not play heavy snaps in Michigan's first three games last season, and similarly, the Wolverines have a very soft schedule opening up with East Carolina, UNLV and Bowling Green in the first three games.
After the soft stretch, Corum ripped off eight consecutive 100-yard games, needing only needed 11 games to hit this line.
That's key because conference championship games and bowl games will not count here.
However, we will need Corum to average 87.5 yards per game to clear this line in 12 games. He averaged 132 rushing yards per game over his first 11 games last season and 152.75 per game during his streak.
Even ceding some work to Edwards this season, Corum should finish with well over 1,000 rushing yards. Barring injury, you likely will not have to sweat the Ohio State game either.
Pick: Blake Corum Over 1,050.5 Rushing Yards (-130)
How would you rate this article?
This site contains commercial content. We may be compensated for the links provided on this page. The content on this page is for informational purposes only. Action Network makes no representation or warranty as to the accuracy of the information given or the outcome of any game or event.