Thursday College Football Picks: How We're Betting Illinois vs. Chattanooga, 2 More Games Tonight (Sept. 22)
Credit:
Michael Reaves/Getty Images. Pictured: The Illinois Fighting Illini.
Thursday nights are for football — on both the professional and college levels.
Along with a matchup between the Steelers and Browns on deck in the NFL, we have three quality games on the college docket: West Virginia vs. Virginia Tech, Coastal Carolina vs. Georgia State and Chattanooga vs. Illinois.
Our college football writers broke down all three matchups for Thursday night and came through with a bet for each game.
Read on for all three picks and analysis below, and be sure to check back tomorrow for Action Network's Friday night college football betting coverage.
---
Thursday College Football Best Bets
The team logos in the table below represent each of the matchups that our college football staff is targeting from today's slate of games. Click the team logos for one of the matchups below to navigate to a specific bet discussed in this article.
Game

Time (ET)

Pick

7:30 p.m.

Virginia Tech +1.5

7:30 p.m.

Under 62

8:30 p.m.

Illinois -21

Specific bet recommendations come from the sportsbook offering preferred odds as of writing. Always shop for the best price using our NCAAF Odds page, which automatically surfaces the best lines for every game.
---
West Virginia vs. Virginia Tech
West Virginia makes the short trip to Blacksburg on Thursday to take on Virginia Tech.
The Mountaineers have gotten off to an abysmal start in 2022. They lost a thriller against Pitt to open their season and followed that up with an overtime loss to Kansas as 14-point favorites.
Neal Brown had to replace a lot of production from last year's team, so it's going to take some time for West Virginia to reach its full potential.
Virginia Tech had a horrible opening night loss at in-state foe Old Dominion but has rebounded, beating Boston College and Wofford while giving up a combined 17 points.
It's the first season under former Penn State defensive coordinator Brent Pry, and much like Brown, had a lot of production to replace. That raises the question: Should the Hokies really be underdogs at home against the Mountaineers?
---
Mountaineer Offense
J.T. Daniels really hasn't played that well in his first three games for the Mountaineers.
His PFF passing grade sits at just 72.1, he's averaging only 7.2 yards per attempt, and he has four big-time throws compared to four turnover-worthy plays against Pitt, Kansas and Towson.
Bryce Ford-Wheaton has become the go-to receiver for Daniels, commanding 35.6% of the targets. He already has 296 receiving yards and four touchdowns with an 84.1 PFF receiving grade.
The rushing attack looked great against a really good Pitt front seven but then gained just 3.8 yards per carry against Kansas in Week 2. This is also a rushing attack that lost its top back in Leddy Brown and ranked 78th in EPA/Rush a season ago.
West Virginia does have its entire offensive line back, but through three games, it ranks 45th in Offensive Line Yards and 91st in Havoc Allowed.
Mountaineer Defense
West Virginia brought back only four starters on the defensive side of the ball. Two of those four starters reside on the defensive line in Dante Stills and Taijh Alston, who combined for 12 sacks and 14 tackles for loss in 2021.
Stills already has 2.5 sacks, but West Virginia ranks 90th in Defensive Line Yards and 89th in Havoc.
The WVU linebacking corps got completely gutted after last season, losing its top six tacklers. It was very evident how inexperienced it was against both Pitt and Kansas, as the Panthers and Jayhawks gashed it for 6.1 yards per play.
The Mountaineers had just one starter return in the secondary and added two FCS transfers to help fill the void. But it hasn't been working out thus far.
The unit allowed a whopping 9.9 yards per attempt against Pitt and Kansas. It ranks 113th in EPA/Pass allowed, 83rd in Passing Success Rate Allowed and 108th in terms of coverage grade, per PFF.
So, even Grant Wells could have a field day against them.
---
Hokies Offense
There are a lot of new faces on the offensive side of the ball for Virginia Tech, and it's started to get better from the disaster against Old Dominion on opening week.
Wells transferred in from Marshall and has struggled so far outside of his last game against Wofford.
Wells is a very aggressive quarterback, who has a big arm and loves to take shots down the field. But he often makes a lot of mistakes. In his two seasons at Marshall, he had 54 big-time throws compared to 36 turnover-worthy plays.
He's now learning a new system under former Penn State co-offensive coordinator Tyler Bowen.
Virginia Tech lost all of its top skill position players from last season and didn't add anyone significant from the transfer portal to replace them.
So far, Virginia Tech has struggled running the ball, averaging only 3.7 yards per carry while ranking 119th in Rushing Success Rate, and 99th EPA/Rush.
The problem is the offensive line is getting worked up front because Virginia Tech gains just 2.56 yards before contact, which puts it 119th in Offensive Line Yards and 125th in terms of run-blocking grade, per PFF.
With its struggles on the ground, Pry will likely put the game in Wells' hands.
Hokies Defense
Pry has the Virginia Tech defense working really well in a new system through three games. Virginia Tech ranks fifth in the country in Success Rate Allowed, eighth in EPA/Play Allowed and 20th in havoc.
Virginia Tech's front seven has five starters back and allowed only 1.4 yards per carry to Old Dominion and Boston College. The Hokies are also second in Stuff Rate and third in Defensive Line Yards.
West Virginia's rushing attack — which was not effective against Kansas — is going to find it even harder to establish the run against the Hokies.
Virginia Tech's secondary returned three starters from last season and hasn't allowed anything through the air to opposing quarterbacks.
The Hokies are the top team in the country through three weeks in Passing Success Rate Allowed. They're also eighth in EPA/Pass Allowed and have given up only 4.6 yards per pass attempt. So, it's hard to see how Daniels is going to light up Pry's new defense.
---
West Virginia vs. Virginia Tech Betting Pick
Even though the Virginia Tech offense hasn't gotten going yet, this West Virginia defense hasn't shown the ability to stop a Power Five offense.
On the flip side, Pry has the Virginia Tech defense looking like one of the best in the ACC this season. I don't think the Hokies should be underdogs tonight at Lane Stadium — one of the toughest places to play a night game in college football.
I have the Hokies projected as a -0.8 favorite at home, so I think there's a little bit of value in taking the Hokies at +1.5.
---
---
Coastal Carolina vs. Georgia State
Two Sun Belt East strongholds will meet after an unpredictable start to the season.
Both Coastal Carolina and Georgia State were on opposite ends of the TARP spectrum entering the new campaign.
Coastal Carolina was expected to struggle after losing skill position players around its quarterback and the loss of nearly the entire defense.
The Chanticleers sit at 3-0, but were outgained in total yards by Gardner-Webb in Week 2. Also, Buffalo held the lead on the Surf Turf through the end of the third quarter before Coastal Carolina scored 21 points to push the spread last week.
The story in the preseason was the complete opposite for Georgia State, as it nearly maxed out a power rating boost thanks to its amount of returning experience.
Expectations were high against South Carolina, as the Panthers outgained the Gamecocks but ultimately lost. Georgia State would go on to keep up with North Carolina yard-for-yard without a victory in Week 2.
The Panthers also took a shocking outright loss to Charlotte last week as a three-score favorite. Although the 49ers' offense was gifted a scoop-and-score, the Panthers' defense was shredded for more than 400 passing yards.
---
There has been a noticeable drop in efficiency from the Coastal Carolina offense despite an undefeated record.
With Grayson McCall at quarterback, the Chants spent two seasons with one of the best Success Rate numbers of any program in FBS, as they had the ability to have double-digit play drives and burn 10 minutes off of the clock.
Running back Reese White has the most carries on the team, but two fumbles on the season has increased the workload of CJ Beasley.
The two running backs have combined for just 17 missed tackles and an average of three yards after contact. Coastal Carolina runs the ball on 65% of snaps, but currently supports a rank of 71st in Rushing Success Rate.
McCall is one of the few quarterbacks in college football that is worth a touchdown to the point spread, but for the first time in his career, the offensive line is not providing protection.
The Chants' offensive line is 114th in pass blocking and has seen a decrease in run blocking. McCall saw 12 pressures against Gardner-Webb, and that number has been eclipsed only by Appalachian State over the past three seasons.
Similar issues exist on the defensive side of the ball. It starts with no resistance to opponents that elect to throw the ball. The Chanticleers are outside the top 100 in Defensive Passing Success Rate, currently obtaining a tackling grade of 78th, per PFF.
Defensive coordinator Chad Staggs was handed one of the lower rates of returning experience, and the unit was already outside the top 100 in long passing plays allowed.
Coastal has been tough against the rush in games where its opponent is not Army. The Chants limited Buffalo and Gardner-Webb to less than 60 rushing yards, but Tyrell Robinson of the Black Knights had a trip of explosive plays and 135 total yards in Week 1.
The jury is still out on the run defense, but the Coastal pass defense must patch up holes to remain a Sun Belt powerhouse.
---
Head coach Shawn Elliott blames the slow start of the Panthers on mental mistakes. Blocking assignments, issues on PATs and multiple punt blocks by South Carolina have all contributed to an 0-3 start.
Georgia State is sure to have a gut check, as it ranks near dead last in penalties on the season.
When the offense is not mishandling the ball or drawing laundry on the field, there are flashes of one of the most explosive units in the Sun Belt.
Quarterback Darren Grainger has a five-to-two Big Time Throw-to-Turnover Worthy Play ratio, finding the end zone on nine occasions this season.
This is a rush-first offense (electing to run on 65% of snaps) with a Stuff Rate rank inside the top 35.
A trio of running backs have created 27 missed tackles on the short season. Marcus Carroll has been the most explosive of the backs, ranking top-20 in elusiveness of all rushers with at least 20 attempts.
The defense is where Georgia State runs into issues, as it got torched by Charlotte last week.
Sixth-year coordinator Nate Fuqua has allowed the Panthers' tackling grade to fall to 119th in combination with a Finishing Drives rank that is outside the top 100.
In 17 opponent opportunities, teams are averaging 4.5 points after crossing the Georgia State 40-yard line.
Offenses that can get to the second level have flown past the safety position, as both Jacorey Crawford and Jontrey Hunter lead the team in missed tackles.
---
Coastal Carolina vs. Georgia State Betting Pick
What made Coastal Carolina so successful the past two seasons was a methodical offense, a Havoc-minded defense and a strong Finishing Drives rank on both sides of the ball.
Head coach Jamey Chadwell is still running an offense with one of the slowest tempos in the nation at over 30 seconds per play. After being a top-20 offense in first downs over previous seasons, the number of drives led by McCall in generating movement by the chain gang has decreased.
The Coastal offensive rank in Line Yards mirrors the Georgia State defense, but when opponent adjustment is applied, there are expectations the Panthers will win the trench.
The loss to Charlotte was unexpected, as the Panthers entered as 20-point favorites. The spot was perfect for the 49ers, though, as Georgia State was in a sandwich spot after falling to two Power Five teams before its Sun Belt opener this week.
The Panthers' offense generated 35 points on eight drives extending beyond the 40-yard line, but the defense allowed Charlotte a 58% Success Rate on offense.
The Chanticleers have posted just five passing plays over 30 yards, which may help alleviate the issues of tackling from the Georgia State secondary.
Coastal Carolina is expected to dictate pace in this game, already running the fourth-highest rate of plays on Standard Downs.
If the Georgia State defensive line can continue a strong showing in Line Yards and Stuff Rate, there may be more punts than expected.
The Action Network projection makes this game Coastal Carolina -1 with a total at 55. Considering there is no value on the Georgia State number under a field goal, look for the explosive plays to decrease against the Georgia State defense and for a methodical pace from the Coastal Carolina offense.
Key numbers in the totals in this range are 62 and 59, as bet volume should be determined on getting the best of the number.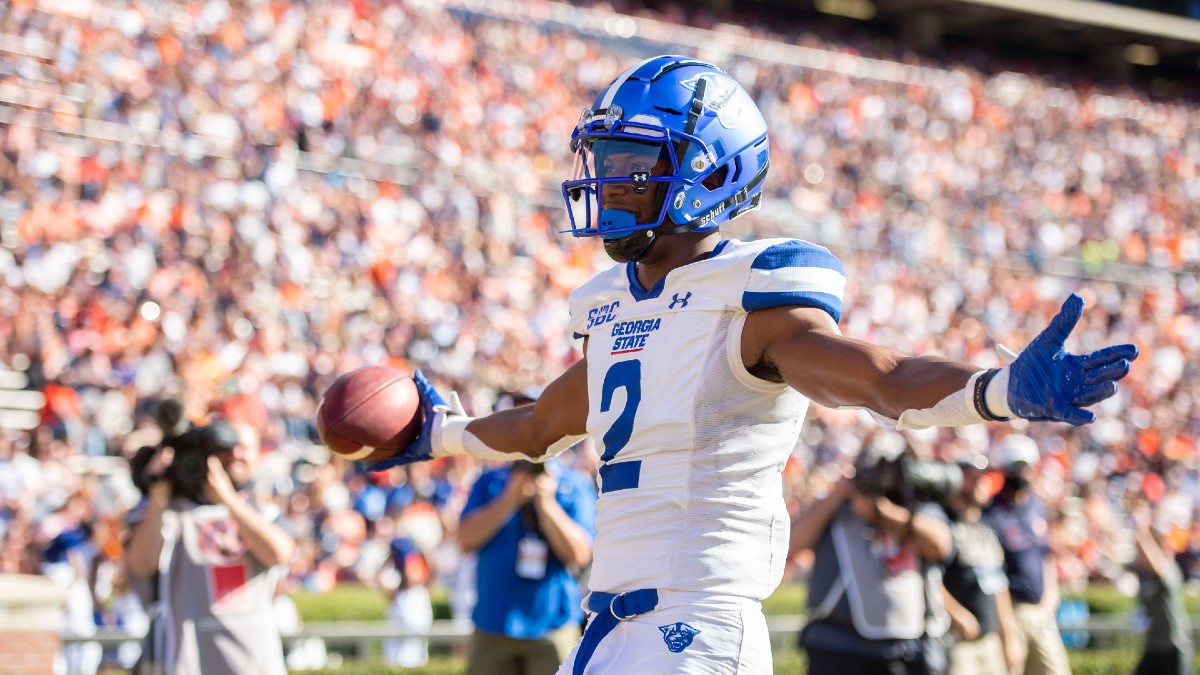 ---
---
Chattanooga vs. Illinois
By Keg
The Fighting Illini look to close out their non-conference schedule as they square off against the Chattanooga Mocs on Thursday night.
It will be the first time in the history of Memorial Stadium that a game is played on Thursday night.
Illinois also looks to keep its 17-0 all-time record against FCS teams intact.
Meanwhile, the Mocs are off to a strong start this season, as they're currently 3-0 on the season and ranked ninth in the coaches poll and 10th by Stats Perform.
Matching up against an FBS team is a challenge for any FCS program, but even more so when they have just three days to prepare. The Mocs head to Illinois to take on a Power Five opponent with one of the best running backs in the country.
Chattanooga has a talented quarterback, and its defense has given up no more than 20 points in each of its first three games, but how will it fare in its first FBS matchup?
---
I think it's fair to assume most people are not familiar with the Chattanooga Mocs, so let's run through a few quick things to know.
First and foremost, Mocs is short for Mockingbirds — the State bird of Tennessee.
Head coach Rusty Wright is in his fourth year as head coach with a current record of 18-13. The Mocs have not been to the FCS playoffs since he took over, and they just missed a bid last season.
Under Wright's direction, one goal has been clear: defense. Last year the Mocs led the SoCon in interceptions, sacks and scoring defense. This season, they rank 16th in first downs allowed, 21st in turnovers gained and 10th in total defense, limiting opponents to 266.7 yards per game.
Eastern Michigan grad-transfer quarterback Preston Hutchinson has been impressive so far this season. Hutchinson has completed 65.8% of his passes while racking up 752 passing yards and five passing touchdowns.
He also has tacked on four rushing touchdowns on 80 yards rushing.
Last time out against North Alabama, he became the first quarterback in four years to throw for more than 300 passing yards in a single game.
Not only is he a dual-threat quarterback, but he's also far from limited when it comes to passing options. 11 players on the Mocs have recorded at least one catch so far this season, with seven recording at least 20 receiving yards against North Alabama in their last game.
---
The Fighting Illini aren't getting enough credit for how good they've been so far this season. Yes, they lost to Indiana, but that was a conference road game on a short week.
With a win over the Mocs, Bret Bielema can become the first head coach to start .500 or better through his first 16 games at Illinois since John Mackovic in '88-89.
Illinois has been among the best in the country on defense, led by a duo of defensive linemen — Jer'Zhan Newton and Keith Randolph Jr. — that I expect will cause severe problems for Hutchinson and the Mocs' passing attack.
The Illini rank 17th in total defense, 15th in scoring defense, 12th in third down conversion against and fifth in opposing passer rating. They're eighth in Defensive Success Rate and 10th on Defensive Finishing Drives. Illinois is one of five teams that has yet to allow a touchdown at home this season.
Running back Chase Brown is the driving force of the Illini offense. If he tops 100 rushing yards against Chattanooga, he will become the first Illini to rush for more than 100 yards in five straight games.
Brown currently leads the nation in rush yards (496) and rushes of 10 or more yards (18) through three games.
I expect another big week from him, as his eyes are set on the record books.
---
Chattanooga vs. Illinois Betting Pick
Chattanooga is a top-10 FCS team with a talented offense and a solid defense. However, I don't think its strength at the FCS level will transition over against a Big Ten opponent in Illinois.
The Mocs may be able to slow down the Illini, but at the end of the day, I don't think they can contain Brown and this Illini offense.
Yes, they have put up some big numbers against FCS opposition, but as I mentioned previously, Illinois has yet to give up a single touchdown at home this season. Scoring a touchdown against the Illini would be impressive for Chattanooga; covering a double-digit spread seems a bit far-fetched.
Illinois opened as an 18.5-point favorite on WynnBET, which I was able to grab. But I would back the Illini as high as a 21-point favorite at home here.
Pick: Illinois -21 or Better
How would you rate this article?
This site contains commercial content. We may be compensated for the links provided on this page. The content on this page is for informational purposes only. Action Network makes no representation or warranty as to the accuracy of the information given or the outcome of any game or event.