College Football Playoff Eliminator for Week 10: Which Teams Are Still Alive As Initial Rankings Drop?
Credit:
Zach Bolinger/Icon Sportswire via Getty Images. Pictured: A College Football Playoff football.
The calendar has turned to November, which means the College Football Playoff race is officially heating up. For the first time this season, the committee unveils its rankings through nine weeks of action.
History tells us that much will change from the first edition of the rankings to the final version following Conference Championship week.
However, there are some takeaways that can be found in the initial rankings. How does the committee view certain conferences? How much do head-to-head results matter? Is a bad win or a good loss better? These are some of the questions we will get hints at later tonight.
While the committee makes its debut this evening, it's business as usual on our side, with the latest edition of Action Network's Eliminator Column. Entering last Saturday, I had eliminated 105 of the 131 FBS teams from games played in Weeks 1-8. Well, seven more have joined them, leaving us with 112 eliminated and just 19 still standing.
As always, those 19 are sorted into our three distinct tiers. But first, let's take a look at the latest teams going home following Saturday's action.
---
For the first time all year, I have chosen to eliminate a couple of teams that did not lose in the preceding week. Apologies to Maryland and NC State, but there's just no chance.
Eliminated From College Football Playoff in Week 9
The Wildcats were trucked in Knoxville, and any longshot playoff hopes went to ruin in the process.
With two losses and the fact that it's sitting firmly behind Ohio State and Michigan, there's no chance for the Terps in the Big Ten East. They're eliminated as a result.
NC State was officially eliminated from contention in the ACC Atlantic due to its head-to-head loss to Clemson. Per our rules below, a two-loss team that can't win its league is not going to the CFP.
Similarly to Maryland, the Nittany Lions are stuck behind Michigan and Ohio State. Despite a valiant effort against the Buckeyes, that loss officially ended any playoff hopes.
The Gamecocks were upset at home by Missouri, which ended any chance they had at a playoff berth.
After the heartbreaker at Clemson, the Orange were beat up by Notre Dame. The focus now turns to just trying to avoid a big losing streak.
Just like NC State, Wake Forest was knocked out of Atlantic contention following its road loss to Louisville.
---
Eliminated in Weeks 1-9
As always, here are the ground rules that will be in place all year:
Any loss eliminates a Group of Five team immediately. In the history of the CFP, there has only been one Group of Five team to make the playoff — last year's undefeated Cincinnati Bearcats. A one-loss Group of Five team is simply not making the playoff in the current format.
Auto-elimination for any Power Five team that loses a third game. To this point, there has never even been a two-loss team that made the playoff. There have been a few that have been close over the years, but there will certainly not be a three-loss team among the final four.
Any two-loss Power Five team that has been eliminated from conference championship contention will also be eliminated in this column. Given that we've never seen a two-loss team make it to this point, it's safe to assume a two-loss team would need to win its respective conference to have any chance.
Lastly, I reserve the right to eliminate any team that simply does not have a realistic path to the playoff.
Here are the latest tiers: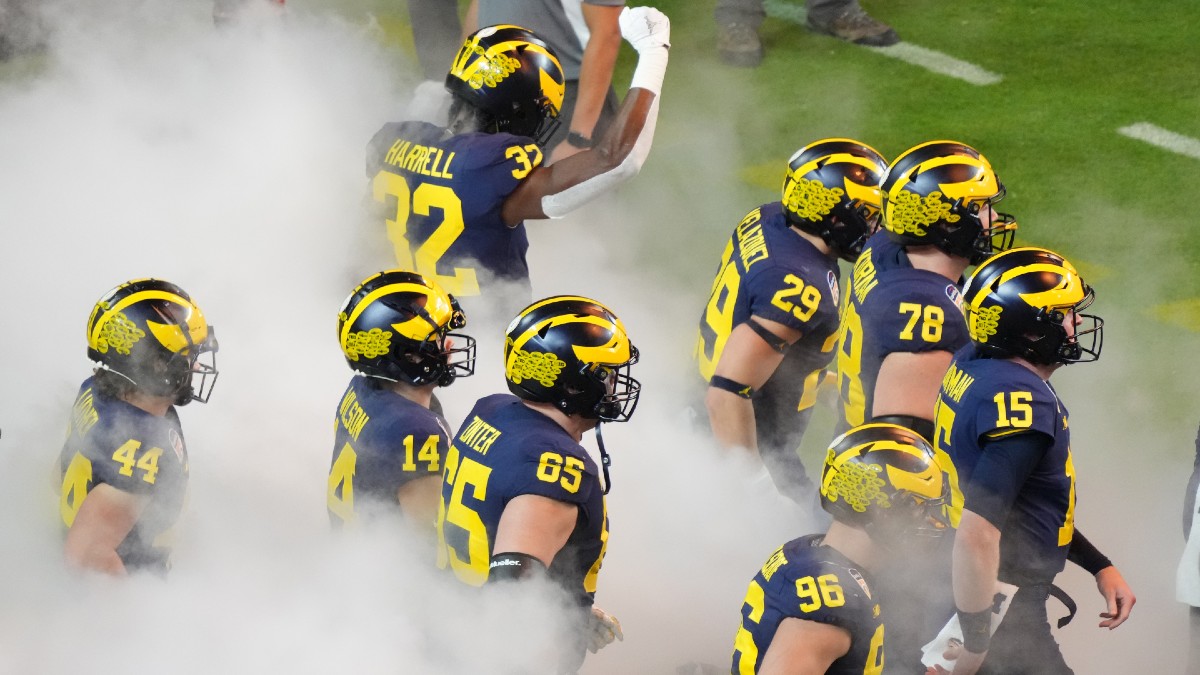 Collin Wilson's 2 CFP Bets to Target
---
All "To Make Playoff" odds are as of Tuesday, Nov. 1 and via DraftKings.
---
Firmly in the Mix (7)
The seven teams in here remain in complete and total control of their destiny as we enter the stretch run of the season. Win out, and it's hard to envision any scenario where any is left out.

Alabama Crimson Tide (+140)
The Tide remain the only one-loss team in this tier given their historical success and the quality of their loss. If Alabama wins at LSU and at Ole Miss to end the year and then beats either Georgia or Tennessee in the SEC Championship, Bama is a lock for the CFP.
Clemson Tigers (-180)
The Tigers' toughest remaining game of the year may be this week at Notre Dame. Given the lack of quality wins on the schedule, Clemson probably needs to go 13-0 to reach the playoff. I still believe this team is flawed, and a loss is out there. I wouldn't be shocked if it came Saturday night in South Bend.

Georgia Bulldogs (-550)
Why are Georgia's "To Make the Playoff" odds so high? If the Bulldogs lose to Tennessee this week and then win out, they're still very much in the race. If they beat Tennessee, win out in the regular season and then lose in the SEC title game, they would also still have a legitimate chance. The Oregon win continues to look better each week.

Michigan Wolverines (+190)
Jim Harbaugh's team continues to roll along. I'll say this, though: It better not look past Illinois the week before the headliner against Ohio State.

Ohio State Buckeyes (-650)
The Buckeyes survived their final real test before the battle with Michigan to end the year. Northwestern, Indiana and Maryland should all be comfortable wins, and as a result, I still believe OSU is the safest bet on the board to make the CFP.

Tennessee Volunteers (+105)
The Vols dominated Kentucky from start to finish Saturday night at home. Next up is the showdown with Georgia that everyone has been waiting for. A Tennessee win gives it a great chance at the playoff regardless of what happens in the SEC Championship.

TCU Horned Frogs (+750)
The Frogs found a way to win yet again in Morgantown. Now, they return home for a matchup with Texas Tech before a couple of tricky road games in Austin and Waco. With the parity in the Big 12, it's hard to envision this team being able to stay perfect the whole way, but it's been a heck of a run.
---
Hanging in There (6)
Each team in this tier has suffered a loss of some variety. That said, there's still a clear pathway to the playoff — just less room for error the rest of the way.
Illinois Fighting Illini (+1800)
Bret Bielema's boys keep rolling along, and the Illini remain the clear favorite in the Big Ten West. The Michigan game in Ann Arbor is the only matchup remaining in the regular season in which Illinois will not be a comfortable favorite.

North Carolina Tar Heels (+1800)
It's hard to say how good the Tar Heels really are, but they just keep on beating up a really weak ACC Coastal Division. It's all but a lock that UNC will meet Clemson in Charlotte in early December.
Ole Miss Rebels (+2500)
The Rebels bounced back from the LSU loss in impressive fashion with a road win at Texas A&M. Now? A bye and two weeks to prepare for Alabama. Everything is in front of this team.
Oregon Ducks (+650)
Oregon was written off after its blowout loss to Georgia in the opener. Since then, this team has done nothing but dominate its competition, and the Ducks remain in control of the Pac-12.

UCLA Bruins (+1700)
The Bruins bounced back from the Oregon loss with a blowout of Stanford. I don't hate a longshot on this team at 17-1 to make the playoff, especially because UCLA will likely have a chance to avenge its only loss if it keeps winning.

USC Trojans (+700)
The Trojans will likely end up kicking themselves for squandering a late lead to Utah, but a path still remains. In addition to the UCLA game, USC has a tricky nonconference matchup with Notre Dame sandwiched in between the Bruins and a potential Pac-12 Championship.
---
Would Need a Miracle (6)
Each of these teams still has a route to winning their respective conference. Do that, and hope for chaos in other leagues. You never know.
How would you rate this article?