College Football Odds, Predictions: BJ Cunningham's Week 12 Bets, Featuring Clemson vs. Miami, Maryland vs. Ohio State
Credit:
Michael Reaves/Getty Images. Pictured: Miami's Xavier Restrepo (7) and Key'Shawn Smith (5).
Week 12's college football slate features a number of solid games, and BJ Cunningham is wasting no time in betting them.
Cunningham's top bets for Saturday include Clemson vs. Miami, Ohio State vs. Maryland and Iowa vs. Minnesota.
Check out all three of Cunningham's top bets for Week 12 below.
The second-to-last regular-season week of the 2022 college football season is upon us.
There are plenty of big games that Collin Wilson covered in his Week 12 betting card and that Stuckey touched on in his weekly situational spots column. Well, BJ Cunningham is going to lay out how he's betting three more.
First, he's taking the underdog in a Big Ten battle in College Park, where Taulia Tagovailoa and the Maryland Terrapins host CJ Stroud and the Ohio State Buckeyes.
Then, Cunningham will turn his attention to a total in the Palmetto State, as Mario Cristobal's Miami Hurricanes face Dabo Swinney's Clemson Tigers in an ACC clash.
To wrap it up, Cunningham's betting the short underdog in Iowa vs. Minnesota, which will play a pivotal role in the Big Ten West standings just ahead of the conference title game.
So, check out how Cunningham is betting all three Week 12 games below.
---
BJ Cunningham's Week 12 College Football Best Bets
The team logos in the table below represent each of the matchups that BJ Cunningham is targeting from Saturday's slate of games. Click the team logos for one of the matchups below to navigate to a specific bet discussed in this article.
Game

Time

Pick

3:30 p.m. ET

Maryland +27.5

3:30 p.m. ET

Over 47.5

4 p.m. ET

Iowa ML +120

Specific bet recommendations come from the sportsbook offering preferred odds as of writing. Always shop for the best price using our NCAAF Odds page, which automatically surfaces the best lines for every game.
---
Ohio State vs. Maryland
Ohio State looks to get by its last test before a date with Michigan when it travels to College Park to take on Maryland.
The Buckeyes haven't had many close calls throughout their Big Ten schedule and are in a massive look-ahead spot with Michigan on deck in a game that will decide who not only goes to Indianapolis for the Big Ten Championship game but who keeps their College Football Playoff hopes alive.
To even be in the position, though, they have to get past Maryland first.
The Terrapins have completely fallen off the past two games, losing to Wisconsin, 23-10, and Penn State, 30-0, last week. So, that's why the Terps are 27.5-point underdogs at home.
---
Buckeyes Offense
CJ Stroud is still the favorite to win the Heisman Trophy, and it's easy to see why. He owns an 83.9 PFF passing grade and has thrown for 34 touchdowns to four interceptions. He's also put up a whopping 9.9 yards per pass attempt.
While Stroud has all of the talent in the world, it also helps to have two of the best wide receivers in college football in Jaxon Smith-Njigba and Marvin Harrison Jr., who will be very important in this game against a below-average Maryland secondary
Ohio State's rushing attack is built on the two-headed monster of Miyan Williams and TreVeyon Henderson. They've combined for a whopping 40 rushes over 10 yards and have 19 touchdowns between them.
Henderson didn't play against Indiana last week and is questionable for this game. So, it may end up being the Miyan Williams show, as he's coming off a 147-yard rushing performance on only 15 carries against Indiana.
Buckeyes Defense
The Ohio State defense has been really good this season, allowing only 4.2 yards per play (5th in FBS) while ranking sixth in EPA/Play Allowed.
The Buckeyes' front seven has done an incredible job stopping the run, allowing only 3.0 yards per carry and ranking fourth in Rushing Success Rate Allowed and 16th in Defensive Line Yards. However, they have been prone to giving up explosive runs, as they rank 54th in explosive rushing allowed.
Ohio State sits fourth nationally in EPA/Pass Allowed and has the 16th-best coverage grade, per PFF. However, the same issues that prevent Ohio State from defending the explosive run exist when it comes to defending the explosive pass as well. The Bucleyes rank 86th in explosive passing allowed.
The biggest concern for Ohio State in this game is when Maryland crosses the 40-yard line because the Terrapins rank pretty high in Offensive Finishing Drives at 27th. Ohio State, meanwhile, comes in at 68th in Finishing Drives Allowed.
---
Terrapins Offense
Last weekend against Penn State was maybe the worst game Maryland has had offensively with Taulia Tagovailoa under center. The Terrapins gained just 134 yards of offense and averaged just 2.2 yards per play.
However, Tagovailoa really hasn't been that bad overall this season. He has an 80.7 PFF passing grade AND IS averaging 7.6 yards per attempt to go along with an adjusted completion percentage of 78.4%.
Image via PFF.
Tagovailoa is going to have to throw the ball deep to beat this Ohio State secondary, and he's found success in that area this season. Of all his passes, 32.7% have been over 10 yards, and he owns an 85.2 PFF passing grade on those throws.
Maryland is averaging 4.4 yards per carry but ranks 83rd in Rushing Success Rate and 66th in EPA/Rush. Its offensive line has been getting a decent push, ranking 25th in Offensive Line Yards.
But the reality is it will need to rely on explosive plays in the run game, where it ranks 51st nationally.
---
Ohio State vs Maryland Betting Pick
This is an ugly game to bet. Ohio State finds itself in a massive look-ahead spot, and Maryland has looked terrible offensively in the last two games.
But history shows — albeit in a small sample size — that the week before playing Michigan, Ohio State has covered only twice in the last 12 years.
As far as this game is concerned, Maryland's ability to finish drives against Ohio State's defense should help it to cover as 27.5-point underdogs.
What is QuickSlip?

QuickSlip is an Action Network feature that allows users to automatically pre-load their bet slip at FanDuel Sportsbook.
---
---
Miami vs. Clemson
Clemson looks to stay undefeated and keep its College Football Playoff hopes alive when it hosts Miami.
After a dud of a performance against Florida State, Miami got a resounding 35-14 win over Georgia Tech. Things have gone about as poorly as possible for Mario Cristobal in his first season on South Beach.
However, an upset of Clemson would be a positive step in an otherwise lost season. It'd also get the Hurricanes to a bowl game.
After losing to Notre Dame, Clemson got back on track with a 31-16 win over Louisville last weekend. The Tigers are technically still alive in the College Football Playoff picture, but they are going to need a lot of help.
They need a resounding win over Miami and also need to win the ACC convincingly to have a shot at the playoff.
---
Hurricanes Offense
Miami's offense really hasn't been as bad as the final box scores have shown. The Hurricanes are 22nd in Success Rate, but the biggest problem is that they aren't explosive, ranking 126th in the country.
Sorting through the Miami injury report is a full-time job at this point, and it's up in the air as to whether it will be Tyler Van Dyke or Jacurri Brown at quarterback on Saturday.
Neither Van Dyke nor Brown has been very effective in the passing game, but Van Dyke is undoubtedly the better passer.
If Miami is going to hang around and cover this game, it has to be able to run the ball effectively. The Hurricanes are eighth in the country in Rushing Success Rate, 33rd in Offensive Line Yards and 46th in Power Success Rate.
They could also could return one of their best running backs in Henry Parrish, who has an 85.6 PFF rushing grade and is averaging 4.7 yards per carry.
Hurricanes Defense
Miami actually has a pretty solid defense, despite its 5-5 record. The Hurricanes are 29th in Success Rate Allowed, 35th in EPA/Play Allowed and 34th in Finishing Drives Allowed.
However, the biggest problem is the Hurricanes are giving up way too many big plays. Miami ranks 118th in explosiveness allowed and a lot of it has to do with the fact it is 120th in terms of a tackling grade, per PFF.
Miami has done a really good job stopping the run this season, only allowing 3.7 yards per carry and ranking in the top 40 in Rushing Success Rate Allowed, EPA/RushAallowed and Stuff Rate.
The secondary has been the biggest problem for Miami's defense this season, and it has to do with the number of big plays it's given up. The Hurricanes are allowing 8.4 yards per attempt (118th in FBS) largely because they rank 127th in passing explosiveness allowed.
That's not good news when facing DJ Uiagalelei, who is an elite deep ball passer.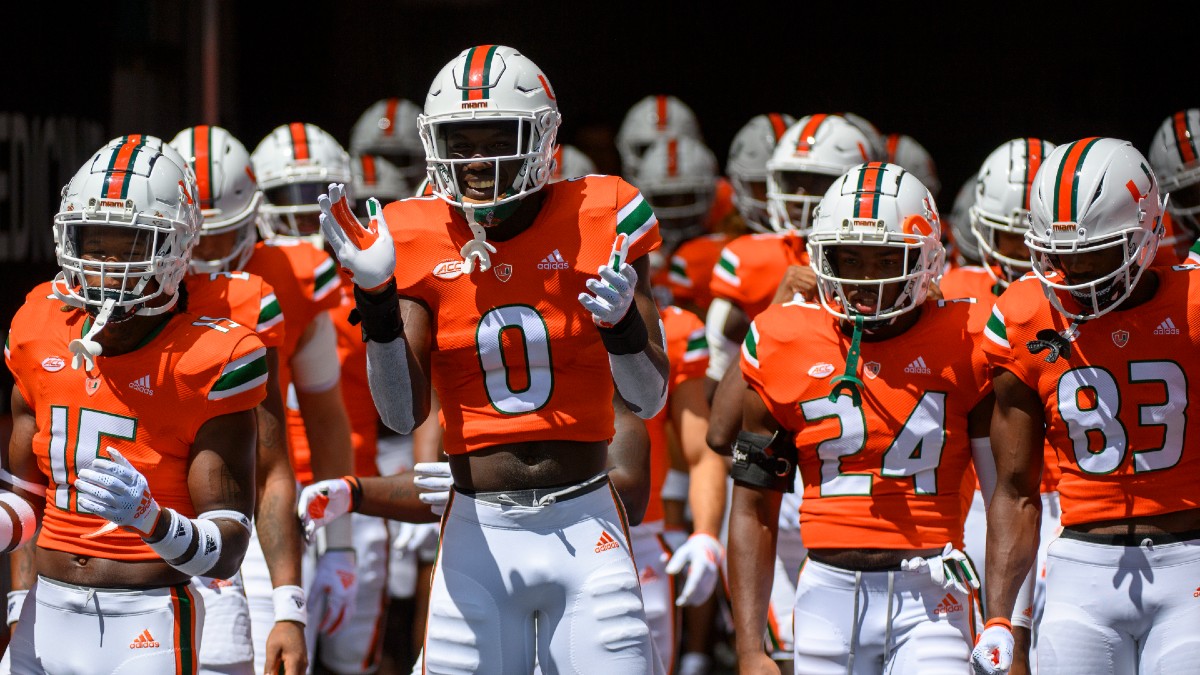 ---
Tigers Offense
The Clemson offense has been far from elite this season, and a lot of that has to do with the play of Uiagalelei. He had an incredible game against Wake Forest and has 22 big-time throws compared to only eight turnover-worthy throws, which is all great.
However, he's been average at best since that game.
Image via PFF.
Uiagalelei's ability to throw the deep ball is going to be crucial in this game. On throws over 20 yards in the air, he has a 92.0 PFF passing grade. Meanwhile, Miami's secondary is 127th in passing explosiveness allowed.
You can also beat Miami on the ground and Clemson has a decent rushing attack. The Tigers rank 18th in Rushing Success Rate and 21st in Offensive Line Yards. Additionally, Miami is 120th in the nation in tackling, so Will Shipley should be able to break off some big runs.
Tigers Defense
Clemson has been really average up front this season, which isn't typical of a  Dabo Swinney-coached team. The Tigers rank 42nd in Rushing Success Rate Allowed and 72nd in Defensive Line Yards.
In their past four games against Florida State, Syracuse, Notre Dame and Louisville, they've allowed 5.4 yards per carry. So, Miami, which boasts a solid rushing attack, should be able to run the ball consistently.
Clemson has an outstanding pass rush that ranks fifth nationally in Havoc and sixth in pass rush grade, per PFF. Miami has an average offensive line, so this could be the one big advantage for the Tigers on Saturday.
Clemson's secondary has been the strength of its defense, sitting 23rd in Defensive Passing Success Rate, 14th in EPA/Pass Allowed and 39th in terms of coverage grade, per PFF.
---
Miami vs Clemson Betting Pick
I think this total is a tad too low given the advantages both offenses have.
Uiagalelei should be able to throw all over the Miami secondary, while the Hurricanes should be able to run effectively while getting their best running back from injury.
Both Miami and Clemson play at an average pace with the Tigers ranking 53rd in seconds per play and Miami ranking 75th. If Clemson takes the lead, Miami will be forced to pick up the tempo.
I have 52.4 points projected for this game, so I like the value on over 47.5.
---
---
Iowa vs. Minnesota
Iowa travels to Minnesota for a massive Big Ten West clash for the Floyd of Rosedale in a game that could ultimately decide who wins the division.
Iowa has turned its season around and now finds itself in pole position to win the Big Ten West after a 24-10 win over Wisconsin in Iowa City. The Hawkeyes defense has kicked it to a new level and is one of the best defenses in the country.
With Illinois playing Michigan and the Hawkeyes owning the tiebreaker over Purdue, this could be the game where they take possession of first place in the division.
Minnesota is currently on a three-game winning streak after beating Rutgers, Nebraska and Northwestern. It's also tied for the lead in the division.
However, Illinois and Purdue hold the tiebreaker over the Gophers, and if they lose to Iowa, their hopes of winning the Big Ten West are effectively gone.
---
Hawkeyes Offense
Iowa's offense is one of the worst in the Power Five but has shown improvement over their last three games.
The Hawks averaged 4.5 yards per play against Northwestern, Purdue and Wisconsin after averaging under four yards per play in the three games before that. 
Spencer Petras has been bad this season, but it's not like he has been terrible in every single game. He put up a PFF passing grade above 82 and averaged over 7.2 yards per pass attempt against Rutgers, Michigan and Northwestern. 
However, the reason Iowa's offense has struggled is not because of Petras. Iowa's biggest Achilles' heel has been the offensive line.
The unit ranks 130th in pass blocking and Petras has been under pressure on 37.8% of dropbacks, which is the eighth-highest mark in college football for quarterbacks with at least 100 dropbacks. The good news for Iowa is Minnesota has no pass rush to speak of, so Petras may actually have some time to throw.
Iowa's run game has come alive in the past few weeks with the emergence of freshman Kaleb Johnson. Johnson has averaged 6.1 yards per carry in the last three games and ran for 200 yards against Purdue a few weeks ago.
Hawkeyes Defense
Iowa has the best defensive grade in college football at 93.9, per PFF. The Hawkeyes are one of only two teams in college football that are allowing under 4.0 yards per play.
If a team is going to beat Minnesota, it has to be able to stop the run, and Iowa has one of the best run defenses in the country. Iowa is allowing only 3.4 yards per carry while ranking eighth in Defensive Line Yards, first in rushing explosiveness allowed and fourth in EPA/Rush.
It helps when a team has one of the best linebacking duos in the country in Jack Campbell and Seth Benson, who are both in the top 10 for defensive grades among linebackers, per PFF.
If Iowa can stop the run and force Minnesota to throw the ball more often, the Hawkeyes should be in a solid spot. Iowa boasts the best secondary in the country, as the unit allows only 5.3 yards per attempt to opposing quarterbacks and owns the No. 1 coverage grade in the nation, per PFF.
In a game like this with a total set at 32.5, it's essential to have a good punter who can flip the field. That's one of the main reasons Iowa beat Wisconsin last weekend.
Tory Taylor has downed 28 punts inside the 20-yard line (third most in FBS), and opposing returners are averaging just 3.9 yards per punt return.
---
Golden Gophers Offense
Tanner Morgan didn't play in Minnesota's win over Northwestern last weekend, but it didn't seem to matter as the Gophers ran the ball for 302 yards and four touchdowns.
Morgan is questionable to play on Saturday, but the sentiment is that he's played his last game for Minnesota after suffering his second concussion of the season.
That means it will most likely be freshman Athan Kaliakmanis under center. Kaliakmanis has not been effective as a passer this season. He started games against Penn State and Northwestern and had under a 63 PFF passing grade in both starts.
However, Minnesota is one of the most rush-heavy offenses in the country, carrying the rock on 67.6% of offensive plays, which is the highest average for a non-triple option offense in the country.
It's a good thing the Gophers boast one of the best running backs in the Big Ten in Mohamed Ibrahim.
Ibrahim is the only running back in college football to rush for 100 yards or more in every game played this season. He's averaging 5.3 yards per attempt and has 38 rushes of over 10 yards, per PFF.
However, this is the best run defense he has faced this season. If Iowa can keep him in check, it's hard to see how Minnesota moves the ball effectively.
Gophers Defense
Minnesota has a decent front seven that's top-25 in Rushing Success Rate Allowed.
However, the defensive line has been a weakness for the Gophers. They rank 80th in Stuff Rate, 122nd in Power Success Rate Allowed and 35th in Defensive Line Yards. Going up against an improved Iowa rushing attack might prove fatal for this Minnesota defense.
The Gophers do have an outstanding secondary that's allowing just 6.0 yards per attempt and ranks 12th in Passing Success Rate Allowed with the fifth-best coverage grade in the country, per PFF.
They have two of the best safeties in the Big Ten in Tyler Nubin and Jordan Howden, who both sit inside the top 15 nationally in coverage.
They should be able to slow down Petras and the Iowa passing attack.
---
Iowa vs Minnesota Betting Pick
Even though Minnesota is one of the most rush-heavy offenses in the country, not having Morgan under center is a big blow to the offense given his ability to conduct the unit.
If Minnesota can't run the ball against one of the best front sevens in football, it will be forced to throw the ball more than it wants in expected 16 MPH winds.
This is also a good public versus pros game on the moneyline. Sixty percent of the tickets have landed on Minnesota, but a whopping 98% of the money lies with Iowa.
I like the Hawkeyes to prevail in this low-scoring affair with their improved run game and elite defense at +120.
How would you rate this article?
This site contains commercial content. We may be compensated for the links provided on this page. The content on this page is for informational purposes only. Action Network makes no representation or warranty as to the accuracy of the information given or the outcome of any game or event.