2022 NFL Draft QBs Guide: Betting On Malik Willis to Saints, Against Kenny Pickett As Top 12 Pick, More
Credit:
Getty Images. Pictured: 2022 NFL Draft QB prospects Malik Willis, Kenny Pickett, Desmond Riddler
The 2022 NFL Draft is finally here and all eyes are on the most important position on the field.
Teams without a franchise quarterback will always be on the lookout for the right fit on draft night. This year, teams that could be looking for a first-round QB include the Panthers (No. 6), Falcons (No. 8), Seahawks (No. 9), Texans (No. 13), Saints (Nos. 16 and 19), Steelers (No. 20), and Lions (No. 32).
This isn't the strongest QB class, but four quarterbacks consistently appear in first-round mocks: Liberty's Malik Willis, Pittsburgh's Kenny Pickett, Cincinnati's Desmond Ridder, and Mississippi's Matt Corral. But will all four of those quarterbacks hear their name called during Thursday night's first round?
Quarterbacks are consistently over-ranked in mocks. On The Athletic's Consensus Big Board, which features input from more than 60 analysts, only one QB even has a first-round ranking: Willis comes in at No. 28, followed by Pickett (34), Corral (45) and Ridder (46).
That's why my favorite bet of the draft is under 3.5 first-round QBs (-250) at FanDuel. Let's unpack why that's a strong play despite the steep juice, and how I'm betting these four QBs based on the 2022 NFL Draft odds at multiple sportsbooks as of Tuesday.
Note: Draft position over/unders as of publish and via DraftKings.
NFL Draft QBs Guide
Malik Willis
| | |
| --- | --- |
| School | Liberty |
| Draft Position | 13.5 (-130/+100) |
For teams looking to take a home run swing at QB, there's little question Malik Willis is this year's tantalizing gamble.
Willis is an immense talent. He has a huge arm and can make any throw, and he's an electric runner who can make plays by land or by air. Willis has a good pocket presence and excellent escapability. His accuracy and touch need work along with his ability to read the defense, but Willis is a traits guy through and through in a league increasingly trending in that direction.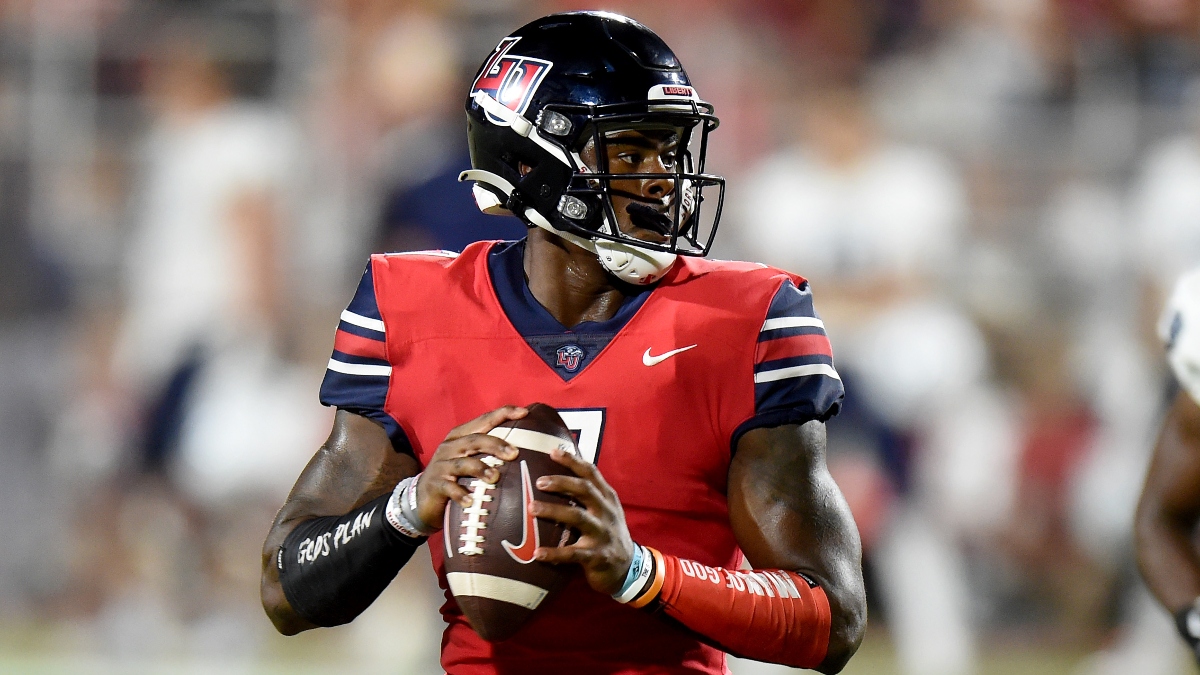 Look at the raw but talented quarterbacks who have gone near the top of recent drafts. Trey Lance went third overall last year after a huge trade up. Justin Herbert went sixth in 2020. Josh Allen went seventh in 2018. Patrick Mahomes went 10th in 2017. And all of these guys had question marks surrounding their ability to lead an NFL offense, but their traits were undeniable.
Many GMs who watched Allen and Mahomes duke it out in a playoff battle for the ages had to feel like they were playing a losing hand. Respect to guys like Kirk Cousins and Derek Carr, but only a few players on the planet have the traits and ability to totally take over games and win all on their own.
Willis is this year's traits and upside guy.
He's raw, but has superstar upside. At +118 odds to be drafted in the top 10 at FanDuel, Willis could make sense for the Panthers (No. 6), Falcons (No. 8) or Seahawks (No. 9) — each in a position to start fresh. The Jets with a second pick at No. 10 could also be a trade-up spot.
Willis is -140 to be the first QB drafted, too. I like that potential value better. The other QBs atop this class just don't have the sheer upside of Willis, and it takes only one team to fall in love.
Could the Saints be that team? They made waves in early April by trading the 18th overall pick in a package of multiple draft picks to the Eagles in return for the 16th and 19th picks in this year's draft. That's an odd early move to make unless there's a second domino coming — perhaps a draft day trade for a franchise QB you simply can't miss out on.
Bet(s): Saints to draft Malik Willis +750 at DraftKings
Kenny Pickett
| | |
| --- | --- |
| School | Pittsburgh |
| Draft Position | 16.5 (-125/-105) |
Pickett is the other consensus first-round QB and, in some ways, the opposite of Willis.
Pickett has elite accuracy and is ready to step in and start right away after four years starting at Pitt. Pickett played in a pro-ready system, and he had a breakout campaign with more touchdowns this season than his first three combined. He also has a career interception rate under 2%.
Historically, quarterbacks with good accuracy, low turnovers and lengthy experience tend to be strong NFL bets. Pickett has a high floor. He feels like this year's Mac Jones, less an upside swing, more the guy a contending team takes if they feel they have a strong system and roster already in place.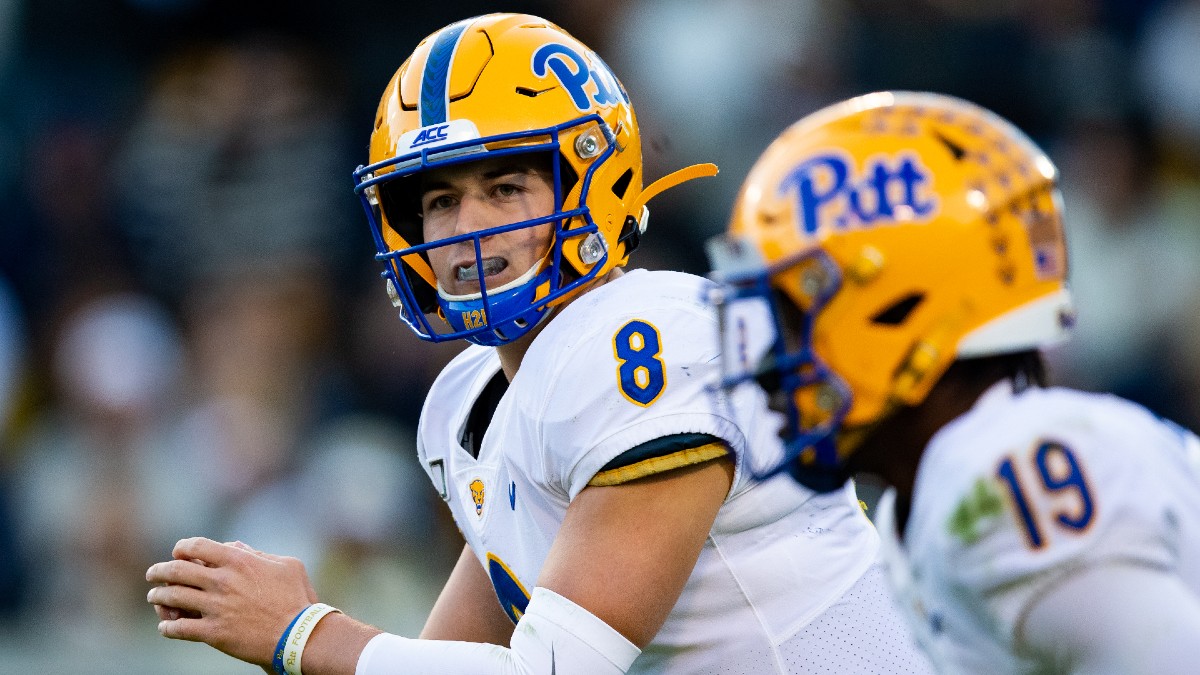 Pickett gets the ball out quickly, and his accuracy makes him well-suited for a system built around quick passes in the middle of the field, getting the ball to his playmakers. That means he isn't particularly versatile from one scheme to the next, and it makes him more valuable to a team like the Saints or Steelers.
Pittsburgh makes a ton of sense. The Steelers have a playoff-ready roster with a terrific defense, a great coaching staff and plenty of weapons. What they need is a quarterback to replace Ben Roethlisberger (and Mitchell Trubisky).
Pickett to the Steelers is +350 at DraftKings. Could he stay in Pittsburgh?
Another factor severely limits Pickett's upside — and it's not his hand size. Pickett turns 24 in June. He's older than all of last year's rookie QBs, older than Herbert. Heck, Mahomes, Allen and Lamar Jackson will all be 25 in Week 1 of this season. That's two MVPs and 147 wins already for guys one year older than Pickett.
Pickett falls firmly into the Carr or Cousins range of hopeful outcomes — a guy who might be the final piece in the right ecosystem, but not necessarily a star to build around.
With Pickett's draft position over/under sitting at 12.5 as of writing, we have to consider which team is taking the 24-year-old Pickett in the top 12 when the teams slated to draft that high have such incomplete rosters? I'll take the over.
Bet(s): Draft Position Over 12.5 at BetMGM
Desmond Ridder
| | |
| --- | --- |
| School | Cincinnati |
| Draft Position | 30.5 (-130/+100) |
Ridder got a lot of attention when he and his Bearcats rose to prominence with a playoff run. Ridder led Cincinnati to a perfect record in the regular season before falling to Alabama in the College Football Playoff.
Some scouts seem to love Ridder and even rank him at the top of the class, but he's lowest of these four on the consensus board. He has good-but-not-great accuracy and takes care of the ball, and he's a four-year starter who threw at least 18 touchdowns all four seasons on a team that 44-7.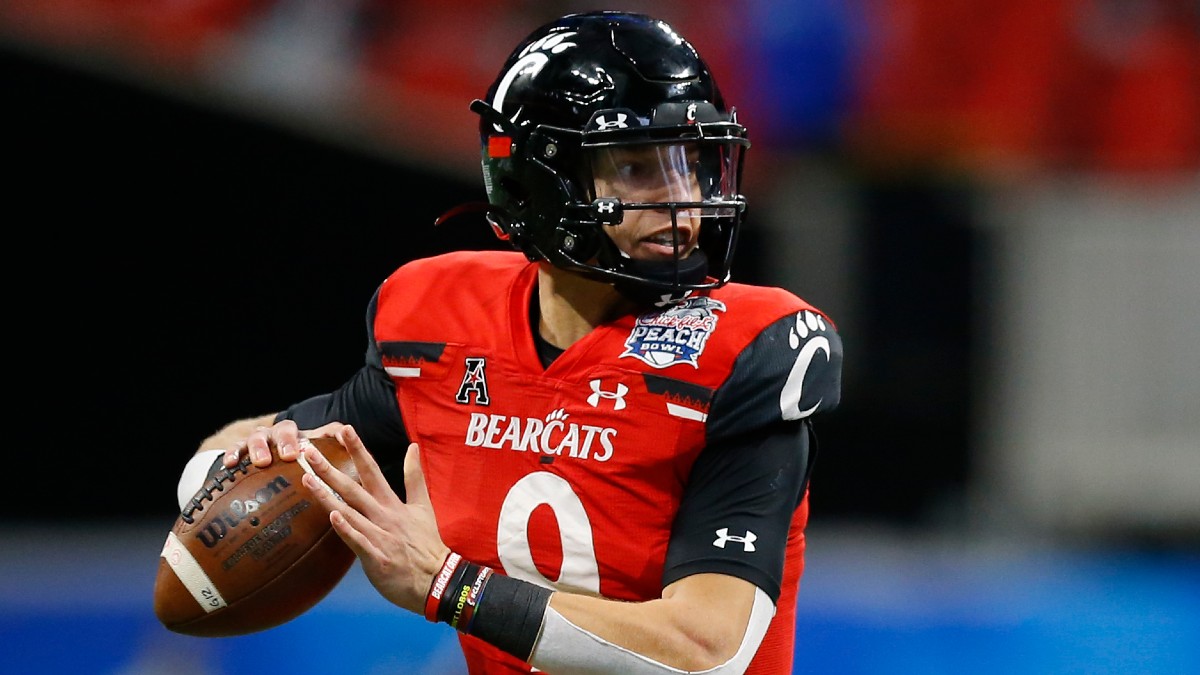 Ridder feels like a classic Day 2 pick, a second- or third-round gamble, but we know QBs tend to get over-drafted in a needy league. His over/under is set at 30.5, basically a first-round coin flip. I don't see it, but some NFL team might. I'll stay away from that one.
Bet(s): None
Matt Corral
| | |
| --- | --- |
| School | Ole Miss |
| Draft Position | 33.5 (-145/+110) |
Willis has star upside, Pickett looks starter-ready and Ridder is a beauty-in-the-eye-of-the-beholder guy, but I do not see it at all with Matt Corral.
Corral was a flashy breakout player under Lane Kiffin this season at Ole Miss. Corral is relatively athletic for his position and has a live arm, but everything about the Ole Miss offense felt like a gimmick — all motion and misdirection designed to confuse the defense and get the ball quickly into the hands of playmakers, a gimmicky collegiate yards-after-catch machine.
Corral ran heavy RPO and won't do much of that in the pros. He was a one-read quarterback, playing in a system designed to minimize the QB. He rarely dropped back in the pocket and frequently tucked the ball and ran for his life if his first read wasn't there.
Very little of what Corral did at Ole Miss will translate in any meaningful way to the pros. He had a good completion percentage, but was buoyed by a barrage of short passes. Corral has also had turnover problems with an ugly 4.3% interception rate a year ago and over 2.5% for his career.
Honestly, I don't see it. I don't know how any NFL team could watch the Matt Corral we saw at Ole Miss and spend a first-round pick to draft him.
Corral's 33.5 draft position over/under is basically a bet on whether he'll be a first-rounder. The only QB-needy team at the bottom of the first is Detroit at 32nd, and even if the Lions do want Corral, they pick again at 34 with Jacksonville in-between and might just as well wait for the latter pick.
I don't care how desperate NFL teams are for quarterbacks — I simply don't see any way Corral goes in the first round on Thursday night.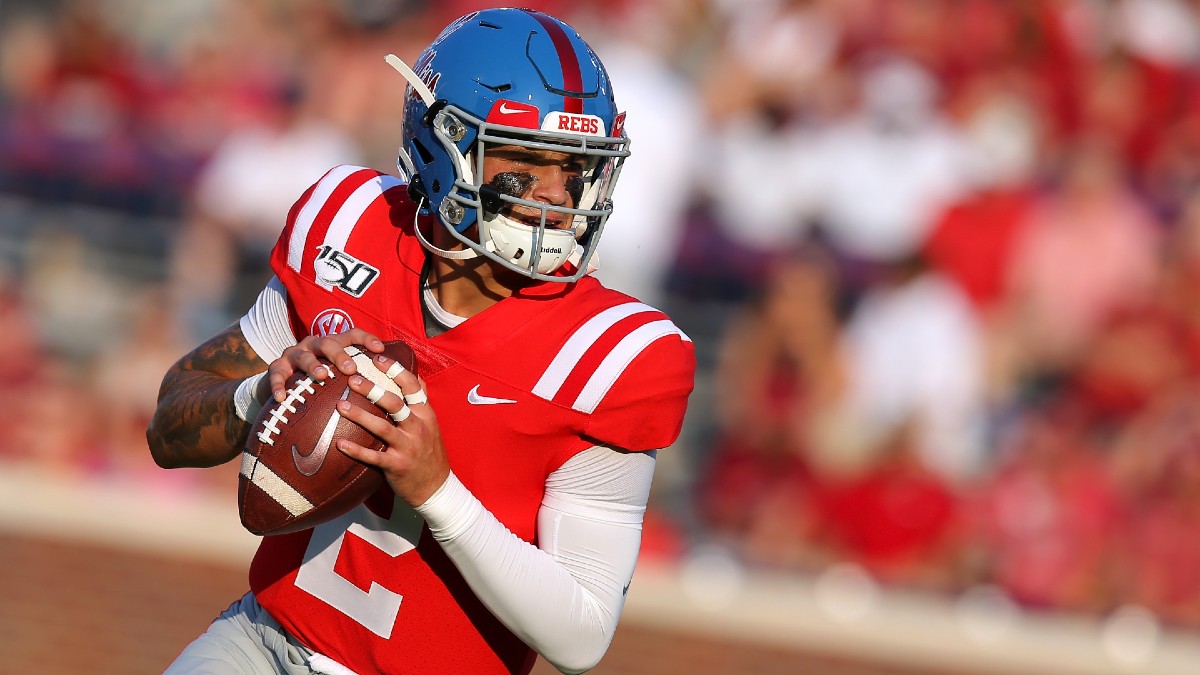 I'll take the over 33.5 on Corral, and he's the reason I love the under 3.5 first-round QBs bet. Those -250 odds imply a 71% probability, but I'd make the odds far greater. Even if Corral does get into the first, only so many teams need a QB that high, so he might just take the place of Pickett or Ridder.
I'm using the under 3.5 QBs bet to bankroll some of my other longer bets on draft night. I'll also put a little on the under 2.5 QBs at +190 odds (DraftKings). I fully expect Willis and Pickett to go in the first, but feel Ridder is a coin-flip at best while Corral is a longshot, so I like our chances at 34% implied.
The NFL is a quarterback league in 2022, but teams can only draft the players in front of them. And in this year's draft, Corral is just not a great selection.
Bet(s): Draft Position Over 33.5 at DraftKings
How would you rate this article?
This site contains commercial content. We may be compensated for the links provided on this page. The content on this page is for informational purposes only. Action Network makes no representation or warranty as to the accuracy of the information given or the outcome of any game or event.