The Ultimate Week 2 AAF Betting Guide: Don't Sleep on the San Antonio Commanders
Credit:
Courtesy of @aafcommanders/Twitter. Pictured: San Antonio QB Logan Woodside
Ian Hartitz previews all four games in our Week 2 AAF betting preview, including the Orlando Apollos at San Antonio Commanders.
Get the latest betting market information, analysis of key matchups, fantasy advice, picks for each game and more.
We've made it to Week 2 of the Alliance of American Football, people. Let's party.
There's a fine line between too little and too much coverage of such an amazing niche sport, and we at Action Network fully plan on wrestling that line to the gates of hell.
What follows is an all encompassing Week 2 preview featuring betting odds, trends, key matchups, injuries, daily fantasy edge and betting pick(s) for all four games.
And if that's not enough, we also have this lineup of comprehensive coverage:
Now let's dig into all four of this weekend's games.
Betting Odds: Salt Lake Stallions at Birmingham Iron
Spread: Birmingham -7.5
Over/Under: 44
Time: 2 p.m. ET on Saturday
TV: TNT
Betting market: The Iron have moved to 7.5-point favorites since opening at 6.5, while the over/under has sunk two full points.
Birmingham entered the season with the worst odds to win the championship and now finds itself favored by more than a touchdown against a solid Salt Lake squad that played Arizona fairly tight in Week 1.
Week 1 Takeaways
Salt Lake's 38-22 Loss to Arizona
The Stallions were within three points of the Hotshots at halftime before Josh Woodrum (hamstring) was lost for the game. Backup quarterback Matt Linehan averaged only 4.3 yards per attempt with a 54% completion in relief while alleged No. 1 receiver Kenny Bell played a team-high 61 snaps but failed to catch any of his three targets.
Salt Lake deployed a fairly underwhelming three-headed backfield featuring Joel Bouagnon (16 carries, 39 yards), Branden Oliver (8 carries, 40 yards) and Matt Asiata (4 carries, 3 targets, 4 yards, 1 TD).
The good news for the Stallions' rushing attack is Salt Lake has one of the league's largest offensive lines. Each starting guard and tackle is at least 6-foot-4 and weighs at least 315 pounds.
Birmingham's 26-0 Win Over Memphis 26-0
Luis Perez averaged a robust 7.6 yards per attempt last week, but he was plagued by a league-high five drops. Quinton Patton (4 receptions-107 yards-0 TD) was responsible for three of those miscues, although Perez still fed Patton a team-high nine targets.
Trent Richardson racked up a week-high 24 touches, although it's tough to ask for better game flow. Backup Ladarius Perkins actually played over Richardson in two-minute situations and wound up catching 6-of-8 targets for 36 yards to complement his five carries for 13 yards on the ground.
The Birmingham secondary completely shut down Christian Hackenberg and Co. Cornerback Jamar Summers stood out the most, earning AAF Team of the Week honors from Pro Football Focus for his performance.
Which team is healthier? Salt Lake
Practice and injury reports are pretty difficult to come by in this new league, but we'll do our best to update these sections as more information becomes available.
The Stallions have the game's most important injury to watch, as starting quarterback Josh Woodrum (hamstring) is considered a game time decision and wasn't able to practice until Friday. The rest of their passing game is also fairly banged up, as wide receivers Dres Anderson (hamstring, out), Jordan Leslie (hamstring, questionable), Kenny Bell (thigh, questionable) and Kaelin Clay (hand, doubtful) are far from 100%.
Meanwhile, Iron tight end Braedon Bowman was placed on the injured reserve list earlier this week and wide receiver Amba Etta-Tawo (knee) isn't expected to suit up on Saturday. Trent Williams (hamstring) missed an early-week practice, but managed to return to a limited practice on Friday and is questionable. Tight end Cole Hunt is also questionable, but managed to get in a full practice on Friday.
Key matchup: Luis Perez vs. Salt Lake's secondary
The Stallions surrendered week-high marks in yards per attempt (9.5), passing yards (275) and passing touchdowns (4) to Arizona last week. John Wolford and the Hotshots' up-tempo scheme deserve plenty of credit, but the Salt Lake secondary hasn't exactly earned the benefit of the doubt.
Meanwhile, Perez already looks like one of the league's top four quarterbacks thanks to his willingness to hang in the pocket under pressure and take chances downfield.
DFS edge: Ladarius Perkins
The fine folks at FanBall provide daily fantasy contests for the AAF featuring lineups that must include one quarterback, one running back, one wide receiver and three flexes.
Richardson is the week's highest-priced back at $7,000. Sure, he was one of only two backs to surpass 20 fantasy points last week, but he also averaged only 2.5 yards per rush on his 23 attempts and was bailed out by two short rushing touchdowns.
Richardson's backup, Ladarius Perkins, still had five rush attempts and finished second on the team with eight targets. Less ideal game flow, as well as the absence of several receivers, could lead to an ever bigger receiving role for Perkins in a week when he costs $4,800 and is priced as the RB11.
Bet to watch: Salt Lake +7.5
I'd feel much better about Salt Lake if we had a better idea of Woodrum's health. Either way, this sure is a lot points for a team that was pegged as the league's worst unit literally a week ago.
Betting Odds: Arizona Hotshots at Memphis Express
Spread: Arizona -13
Over/Under: 46
Time: 8 p.m. ET on Saturday
TV: NFL Network
Betting market: The Hotshots opened as "just" 10.5-point favorites but are now favored by as much as 13.5 points at some books. The over/under has also been on the move, falling to 46 after opening at 49.
It's safe to say the public is in full on #FadeHackenberg mode.
Week 1 Takeaways
Arizona's 38-22 Win Over Salt Lake
John Wolford beat out Trevor Knight and immediately seized control of the Hotshots offense. Wolford set week-high marks in yards (275), yards per attempt (9.5), touchdowns (4) and rush attempts (8) among all quarterbacks.
The Hotshots easily displayed the league's most modern offense thanks to their heavy use of tempo, RPOs and pre-snap motion to create advantages all over the field. Wolford's average time of 2.24 seconds to attempt was easily the quickest release of Week 1.
Rashad Ross caught 5-of-7 targets for 103 yards and two touchdowns, with the first coming on a deep ball and the second on a four-yard fade. He's locked in as the No. 1 receiver, but Richard Mullaney (six targets) and Josh Huff (five) were also plenty involved.
Memphis' 26-0 Loss to Birmingham
Christian Hackenberg actually threw a beautiful 39-yard touchdown pass in the fourth quarter … but it was called back due to an illegal formation penalty. Hackenberg was otherwise about as atrocious as we thought he would be.
Memphis came out in the second half last week with a key adjustment: Run more wildcat. I'm not kidding.
Zac Stacy (12 carries-58 yards) was the lone "bright spot" on offense, but even he was forced to split plenty of snaps and carries with the likes of Terrence Magee (5-18), Rajion Neal (3-4) and Anthony Manzo-Lewis (4-14)
Which Team is healthier? Memphis
The Hotshots are apparently reeling on the offensive line. Left tackle Malcolm Bunche, right tackle Brant Weiss and left guard Josh Allen weren't able to practice on Wednesday. However, each player returned to a limited practice on Thursday. Head coach Rick Neuheisel said specifically, "I think they'll be ready to go. How much of the game, we'll wait and see."
Tight end Gerald Christian is also banged up, but he was at least able to get some work in.
Memphis is believed to be fully healthy.
Key matchup: Memphis' front seven vs. Arizona's offensive line
The Memphis defense actually played quite well against the run, holding Birmingham to 86 rushing yards on 35 attempts — good for a week-low 2.46 yards per rush.
Arizona averaged only 3.82 yards per carry and didn't exactly dominate, but the Hotshots never abandoned the ground game and finished the game with week-high marks in rush attempts (39) and yards on the ground (149).
Strong line play can also help the Express slow down the Hotshots' high-octane passing offense. Consistent pressure is pretty much any quarterback's worst nightmare, and the Express racked up the third-most quarterback hits last week.
A unit that's at less than 100% up front certainly doesn't help Arizona's chances at controlling the line of scrimmage.
DFS edge: Jhurell Pressley
Arizona got Jhurell Pressley, Larry Rose and Justin Stockton involved last week, but Pressley easily stole the show. Overall, the Hotshots' No. 1 back converted 18 carries into 64 yards and caught a 30-yard touchdown.
Pressley is my No. 1 fantasy back this week thanks to both his hefty rushing workload and proven ability to thrive as a receiver.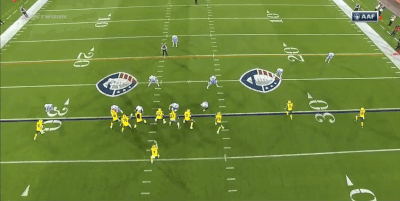 Richardson is the bigger name and seems poised to boast higher ownership than Pressley considering their similar price tags ($7,000 vs. $6,900).
Bet to watch: Memphis +13
I don't like betting on Hackenberg any more than the next guy, but 13 points is way too many for any matchup in a league that we still know next to nothing about.
I'll take Memphis +13 and plan to start hating myself shortly after Hackenberg's inevitable backbreaking first-half turnover.
---
>> Sign up for The Action Network's daily newsletter to get the smartest conversation delivered into your inbox each morning.
---
Betting Odds: Orlando Apollos at San Antonio Commanders
Spread: Orlando -6
Over/Under: 44
Time: 4 p.m. ET on Sunday
TV: CBS Sports Network
Betting market: The Apollos opened as 6.5-point favorites, so some money appears to have come in on the Commanders.
The over/under has dropped 1.5 points since its open, which is somewhat surprising considering this is pretty much the week's only matchup with two competent quarterbacks (depending on the health of Woodrum).
Week 1 Takeaways
Orlando's 40-6 Win Over Atlanta
Steve Spurrier showed off a surprisingly efficient offense during the Apollos' blowout victory. Garrett Gilbert's efficient excellence (9.1 Y/A and two TDs with zero INT) was buoyed by a steady dose of pick plays and high efficient crossing patterns, although he also demonstrated the ability to beat secondaries down the field with touchdown passes of 26 and 33 yards.
Akeem Hunt (10 carries, five targets), De'Veon Smith (five carries, one target) and D'Ernest Johnson (five carries, one target) seem poised to form a three-back committee for a potentially high-scoring Apollos offense.
Orlando might have the best one-two punch at receiver in the league between former NFLers Charles Johnson (4-60-0) and Jalin Marshall (3-51-1).
San Antonio's 15-6 Win Over San Diego
Logan Woodside beat out Dustin Vaughan for the starting job and proceeded to finish with a respectable 225 yards while averaging 7.1 yards per attempt. His two interceptions and mediocre 50% completion rate weren't positives, but he did have a touchdown dropped and dealt with some miscommunication.
The Commanders also utilized a three-headed committee featuring Kenneth Farrow (14 carries, zero targets), David Cobb (nine carries, three targets) and Aaron Green (six carries, one target). Green showed off his 96th-percentile agility score (per PlayerProfiler) on his way to averaging a team-high 7.2 yards per rush including a ridiculous 5.2 yards per rush after contact.
Mekale McKay (12 targets) was the only player to reach double-digit targets last week, and he managed to catch five of them for 80 scoreless-yards. Greg Ward Jr. (nine targets) and Alonzo Moore (five targets) filled out 3-WR sets. Moore is the field-stretcher and averaged 4.88 yards per route run in Week 1 — the second-highest mark among all wide receivers.
Key matchup: Orlando's WRs vs. San Antonio's secondary
Let me be the first to introduce you to the AAF's single best nickname courtesy of the San Antonio secondary: Area 51.
Area 51 racked up three interceptions against Mike Martz and Co. last week and the front seven tallied a week-high nine quarterback hits. Cornerbacks De'Vante Bausby (47 yards allowed on eight targets) and Zack Sanchez (20 yards allowed on six targets) in particular were impressive.
They'll need an encore performance in Week 2 to help slow down Marshall and Johnson, who graded out as PFF's No. 6 and No. 7 overall receivers, respectively, after one week of action.
Which team is healthier? Apollos
Orlando placed receiver and returner Marvin Bracy-Williams Jr. (forearm) and linebacker Jacob Pugh III (neck) on the injured reserve list.
Meanwhile, San Antonio had five players who started the week without a full practice. Tight end Cole Hunt (knee), running back Trey Williams (foot) and cornerback Duke Thomas (thigh) were unable to practice while offensive lineman Fred Lauina (knee) and safety Orion Stewart (back) were limited. The latter two players were able to return to a full practice on Thursday and appear positioned to suit up come game time.
DFS edge: Greg Ward
PFF graded the San Antonio offense as the league's second-best passing offense in Week 1 even though the Commanders scored only 15 points. A big reason could be a group of receivers that looks like the league's best unit.
Ward stood out as someone the offense is trying to get the ball to. Overall, the former collegiate quarterback caught 5-of-9 targets for 65 scoreless-yards, but also had a rush attempt, threw a pass and was the punt returner.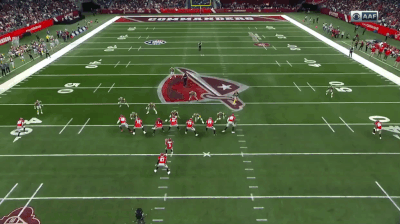 McKay ($6,800) finished with the most targets in Week 1, so pivot off the popular one-week sample by scooping Ward at $5,600.
Bets to watch: San Antonio +6.5; Over 44
I agree whole heartily with Koerner's favorite bet this week: San Antonio +6.5.
Here was the Oddsmaker's argument:
"I figured Orlando would be a slight road favorite in the -2.5 range, but nearly a touchdown favorite is too much. The Apollos are clearly the second-best team in the league, just behind Arizona. However, San Antonio is no pushover and likely a .500 or better team.
"Both of these teams were very close in odds to win the championship and regular-season win totals heading into the season, so it's remarkable to see this much of a jump in power ratings after one game."
I also like the over in what could be the week's only matchup with two above-average signal callers.
Betting Odds: Atlanta Legends at San Diego Fleet
Spread: San Diego -9.5
Over/Under: 43
Time: 8 p.m. ET on Sunday
TV: NFL Network
Betting market: The spread has held firm at 9.5 in favor of the Fleet, but the over/under has dropped by two full points since opening at 45. This isn't particularly surprising considering this matchup boasts two teams that haven't scored a touchdown yet this season.
Week 1 Takeaways
Atlanta's 40-6 Loss to Orlando
Matt Simms completed just 15-of-28 passes (54%) for 126 yards (4.5 Y/A) and threw a pair of interceptions while former Georgia quarterback Aaron Murray barely played better in relief.
Tarean Folston pretty much controlled the backfield with team-high marks in snaps (36), carries (12) and targets (4), but Folston totaled just 45 scoreless-yards and showed the type of burst we should probably expect from a running back who ran a 4.81-second 40-yard dash back in the day.
Head coach Brad Childress and offensive coordinator Mike Vick have both left the team within the last five weeks. Sheesh.
San Diego's 15-6 Loss to San Antonio
The Mike Bercovici era is over, as the Fleet will move forward with Philip Nelson under center. Mike Martz's offense showed an alarmingly passive approach to pass protection that resulted in a week-high nine quarterback hits allowed.
Ja'Quan Gardner is tentatively considered the man in the San Diego backfield, although it's unclear exactly how big of a role that will be. The Fleet's 69% pass play rate was both nice and the highest mark of any offense in Week 1.
Francis Owusu (seven targets), Brian Brown (seven) and tight end Gavin Escobar (six) worked as San Diego's top-three options in the pass game. Owusu (6-foot-2 and 221-pounds, 87th-percentile SPARQ-x score) boasts the most physical talent of the group.
Key matchup: San Diego's offensive line vs. Atlanta's defensive line
The Fleet were one of just four offenses with a PFF team run grade above 70 on offense in Week 1, while Atlanta found itself among the league's bottom-four defenses, allowing a brutal 5.48 yards per rush.
San Diego's aforementioned lack of affinity with running the ball could prevent the Fleet from taking advantage of this potential mismatch on the line of scrimmage. Still, it's tough to expect too much from a passing game that's down to their No. 3 quarterback with Josh Johnson taking his chances in the NFL and Bercovici benched indefinitely.
Which team is healthier? Push
I'm yet to find an injury report for either team this week. Stay tuned!
DFS edge: Tarean Folston
I know I just said some not-nice things about Folston's speed, but we are talking about two offenses that haven't found the end zone yet here.
Folston at $5,600 is akin to taking a chance with Lamar Miller at a similar mid-level price: It doesn't feel great, but we're pretty much getting the cheapest featured back possible.
Just because this is the AAF and not the NFL doesn't change the fact that volume is king in fantasy football.
Another strategy: Try to avoid the Memphis, Atlanta and San Diego offenses until we see any semblance of a competent pass or run offense.
Bets to watch: Atlanta +9.5; Under 43
San Diego carried higher preseason expectations than Atlanta or Memphis and has seemingly earned the benefit of the doubt over both squads among the league's three-worst teams.
In reality, the Fleet's performance in Week 1 wasn't that of a team that should be favored by 9.5 points under any circumstances.
I also like the under in a matchup between what could be two of the league's worst offenses.
How would you rate this article?