Moose club Week 5 – The Redskins were not the worst beat of the weekend
A late edition this week since I obviously had to create a new list after the double moose on the last football play of the weekend.
---
The term "Moose" has been used for years within the sports betting world to reference a bad beat. It originated within some of the old school gambling forums over 15 years ago and has stuck ever since.
Each Tuesday, I will highlight the 10 biggest mooses of the football weekend from my perspective (I can't see everything). If you had the misfortune of betting on four or more of the 10 I selected, you will be inducted into the "Sports Action Moose Club", get some gear, and potentially win cash (see the bottom of the article for details)
Let's dive into this week's top 10…
---
10.Connecticut +17
UConn backers were thrilled after the Huskies scored a touchdown to tie the game up at 28 in the fourth quarter, but that feeling didn't last long. SMU answered with a touchdown drive of their own to take a 35-28 lead. UConn then had a punt blocked, which led to another Mustangs touchdown on a short field, making it 42-28 with six minutes left. After UConn turned it over on downs inside their own 30-yard line, SMU added one more touchdown on a broken run to secure a 49-28 win and cover.
.@SMU_Football OL is big reason why they are 3-1. Firm slide pro here, giving QB all day. Blocked up a huge run earlier!@JoeMooreAward pic.twitter.com/Duwhd7mRJA

— Duke Manyweather (@BigDuke50) September 30, 2017
---
9. Penn State/Indiana Over 61.5
Penn State, who returned the opening kickoff for a touchdown, took a 28-14 lead into halftime. Over backers needed 20 points in the second half after the teams combined for 42 in the first half. Over backers came up 2.5 points short when the game ended 45-14. All you need to know is Penn State had one field goal blocked and missed another 21-yard field goal attempt in the second half.
Barkley went 98 yards for the touchdown in ~13 seconds ? HE IS NOT HUMAN. Not at all. #PennState #IUvsPSU pic.twitter.com/eAtoTc9YH4

— Palmira Ríos (@palmirayicela) September 30, 2017
---
8. Oklahoma State -11
Oklahoma State, who outgained Texas Tech 597-384 in total yards, absolutely dominated this box score, but only won by a score of 41-34. Here are the Oklahoma State trips inside of the Texas Tech 10-yard line:
Texas Tech 95-yard pick six
Missed 22-yard field goal
Touchdown
Touchdown
Touchdown
22-yard field goal
28-yard field goal
Missed 19-yard field goal
Oklahoma State, one of the most explosive offenses in FBS, scored a net of 20 points on eight trips inside of the Texas Tech 10-yard line. The Pokes threw a 95-yard pick six and had to settle for four field goal attempts inside the Red Raiders' 10-yard line… and they missed two of the four!
Here are the highlights from tonight's matchup with No. 15 Oklahoma State. #WreckEm pic.twitter.com/ECsLu5079K

— Texas Tech Football (@TexasTechFB) October 1, 2017
---
7. Cal/Oregon Under 68
This is the third time an Oregon game has made the list after another odd second half. Cal scored in the final minute of the first half on a one-play, 20-yard drive to make the score 17-7, capitalizing on an Oregon interception. Under backers, who had 43 points to spare in the second half, still looked good when Oregon took a 24-14 lead into the fourth quarter. Here is how the fourth quarter played out:
Cal field goal (24-17)
70-yard Oregon TD run (31-17)
Cal lost fumble inside own 20
Oregon TD run (38-17)
Cal fourth down conversion then TD (38-24)
Oregon punt
Cal turnover on downs at own 20
Oregon TD run with two minutes left (45-24 final)
The game goes over by a single point after two fourth quarter Cal turnovers inside of their own 20-yard line led to Oregon touchdowns.
HIGHLIGHTS | Ducks record five rushing TDs while the defense holds Cal to eight rushing yards to earn the 45-24 victory. #GoDucks pic.twitter.com/iln3JpFcsq

— Oregon Football (@oregonfootball) October 1, 2017
---
6. UNLV/SJSU Over 63
Over backers thought this was in the bag when UNLV took a 35-13 lead into the half after both teams scored 28 combined points over the final eight minutes of the second quarter. Over backers only needed 16 points in the second half, and UNLV looked like they might score on every possession against a horrendous Spartans defense. This is how each drive ended in the second half:
SJSU interception in UNLV territory
UNLV punt
SJSU turnover on downs at the UNLV 20
UNLV touchdown for 41-13 (XP)
SJSU interception at the UNLV 25
UNLV punt from the SJSU 40
SJSU punt from midfield
UNLV punt
SJSU lost fumble at the UNLV 1
UNLV takes a knee at the SJSU 1
There were zero points scored after UNLV took a 41-13 lead with four minutes left in the third quarter.
WATCH: @Bpres80_ with the 44-yard catch and run for his first TD since 2015! UNLV up 28-6! #UsNowLV pic.twitter.com/fB1oPAd9tk

— UNLV Athletics (@UNLVathletics) October 1, 2017
---
5. Kent State/Buffalo Over 40.5
The MAC finds its way onto the list for the fifth consecutive week. Buffalo led this game 20-13 at the half, meaning over 40.5 backers simply needed eight points in the second half to cash their over. They got seven of them with five minutes left in the third quarter after Buffalo scored to take a 27-13 lead. Any score from that point forward, even a safety, would have put the game over. This is how the agonizing fourth quarter played out:
Buffalo missed a 25-yard FG to put it over
Kent State turnover on downs at Buffalo 30
Buffalo punt
Kent State interception inside Buffalo 30
Buffalo turnover on downs at Kent State 20
Time expired with Kent State at Buffalo 20
Nobody scored after the five minute mark of the third quarter, and over backers got hooked by the 27-13 final despite only needing just one fat guy hurdle for a touchdown. (A field goal also would have been sufficient.)
??? @EmmanReed rushed for 144 yards a recorded a hat trick with 3 TD's in today's win over Kent State. #UBHornsUp #MACtion pic.twitter.com/C9NVqqwFNg

— #MACtion (@MACSports) September 30, 2017
---
4. Vanderbilt +9
Vandy scored a touchdown with three minutes left in regulation to cut the Florida lead down to 31-24. The Commodores had a few timeouts remaining, but they decided to attempt an onside kick, which did not succeed. Florida, who took over at midfield up seven, gained nine yards on their first three plays, setting up a fourth and 1 at the Vanderbilt 39-yard line with under two minutes to go. Since the Commodores had now used all of their timeouts, Vanderbilt backers simply needed a defensive stop or a gain of less than 39 yards. Unfortunately, they got neither; Malik Davis, who could have simply went down to end the game, broke a 39-yard touchdown run to give Florida a 38-24 victory and cover.
Malik Davis shuts the door on Vandy. @Campaign_Lik pic.twitter.com/nPENXNWZ7w

— UFSwampaholics (@UFSwampaholics) September 30, 2017
---
3. Redskins/Chiefs U 48.5
I'll just leave this here.
---
2. Redskins +7.5
No other words necessary.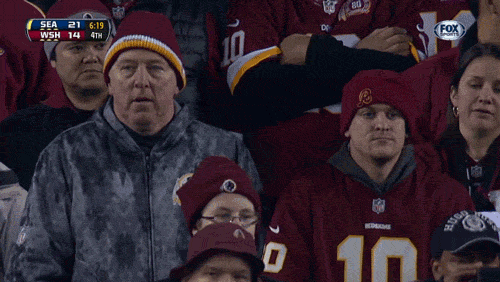 ---
1. Coastal Carolina +7.5
Coastal Carolina scored a touchdown with three minutes to go to cut the lead to 45-43. Since they had timeouts remaining, they kicked it deep to Louisiana Monroe, who subsequently got one first down before punting. Coastal, who began the drive at their own 33-yard line with under 30 seconds left, threw two incomplete passes before going into lateral mode on the final play of the game. You guessed it, ULM scooped and scored with no time left to win by a final score of 51-43. Scroll to 5:30 on the video below to watch the absurd ending.
---
If you are a pro subscriber as of the previous weekend and bet on at least four of the designated "mooses," you could potentially win $50 if you are the first to show proof of your membership and tickets ($25 minimum bets).
---
Be part of the Action
Download the Sports Action app at the App Store or Google Play