Best Super Bowl Squares For Rams-Bengals Pools: The Numbers You Want For Each Quarter, Final Score
Credit:
Rob Carr/Getty Images
Organizing or playing in a Super Bowl squares pool? Our Director of Predictive Analytics, Sean Koerner, simulated Rams-Bengals 10,000 times to highlight the squares you want.
Find his projected win probabilities for each quarter and the final score below, plus the overall optimal numbers.
---
» Print Our Super Bowl Squares Sheet «
---
Super Bowl Squares Results
1Q winning numbers: Rams 7, Bengals 3
2Q winning numbers: Rams 3, Bengals 0
3Q winning numbers: Rams 6, Bengals 0
4Q winning numbers: Rams 3, Bengals 0
Best Super Bowl Squares
The best Super Bowl squares are exactly what you'd expect: Combinations of 0s, 3s and 7s — aka numbers common in football between field goals (3) and touchdowns (7) and the two combined (10).
Before we run through each quarter, here are the best overall numbers: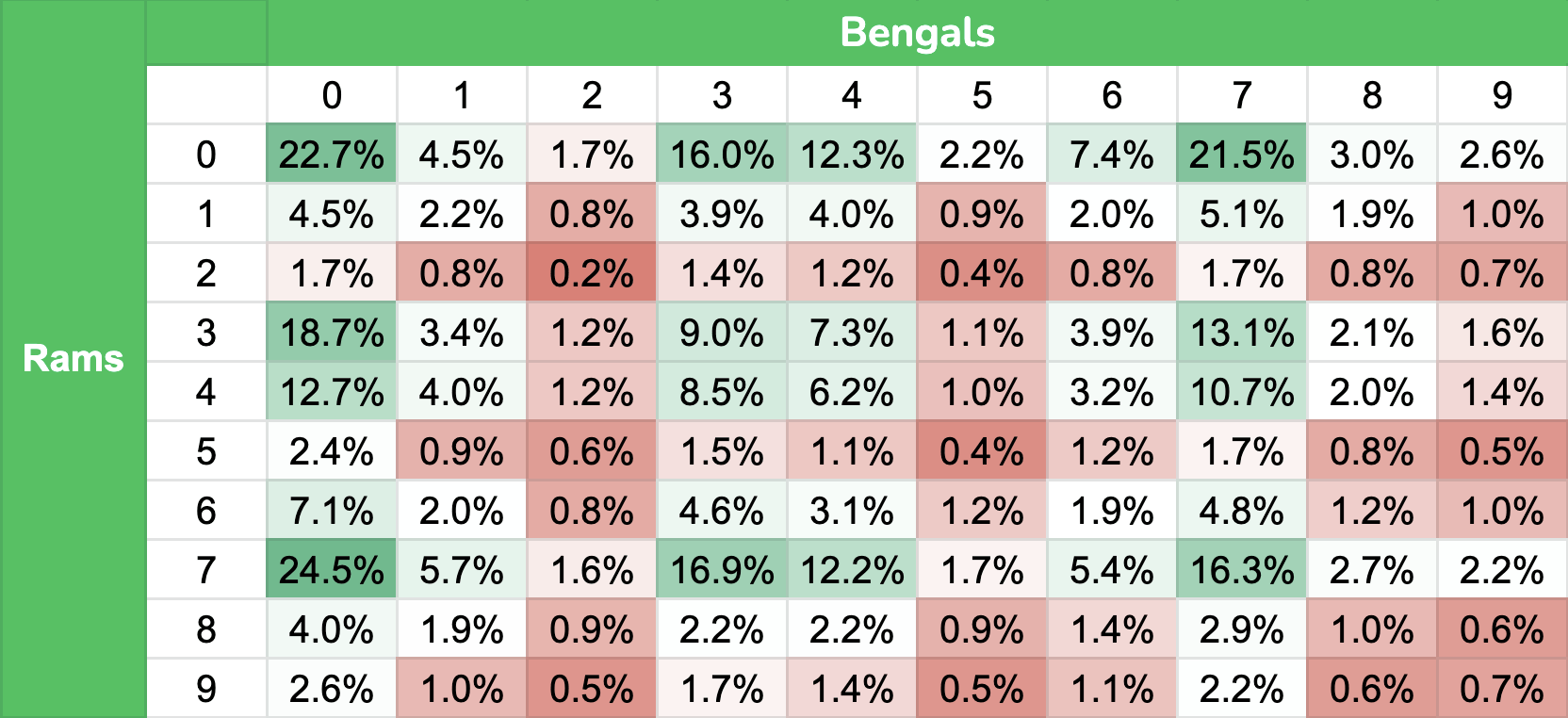 ---
Best Super Bowl Squares By Quarter
First Quarter Squares
There's no surprise that in the first quarter, 0-0 is the square with the highest probability of winning, followed by combinations of 0s, 3s and 7s.
Variance increases as a game progresses, so probabilities for the first quarter are more "straight forward" than for the final score.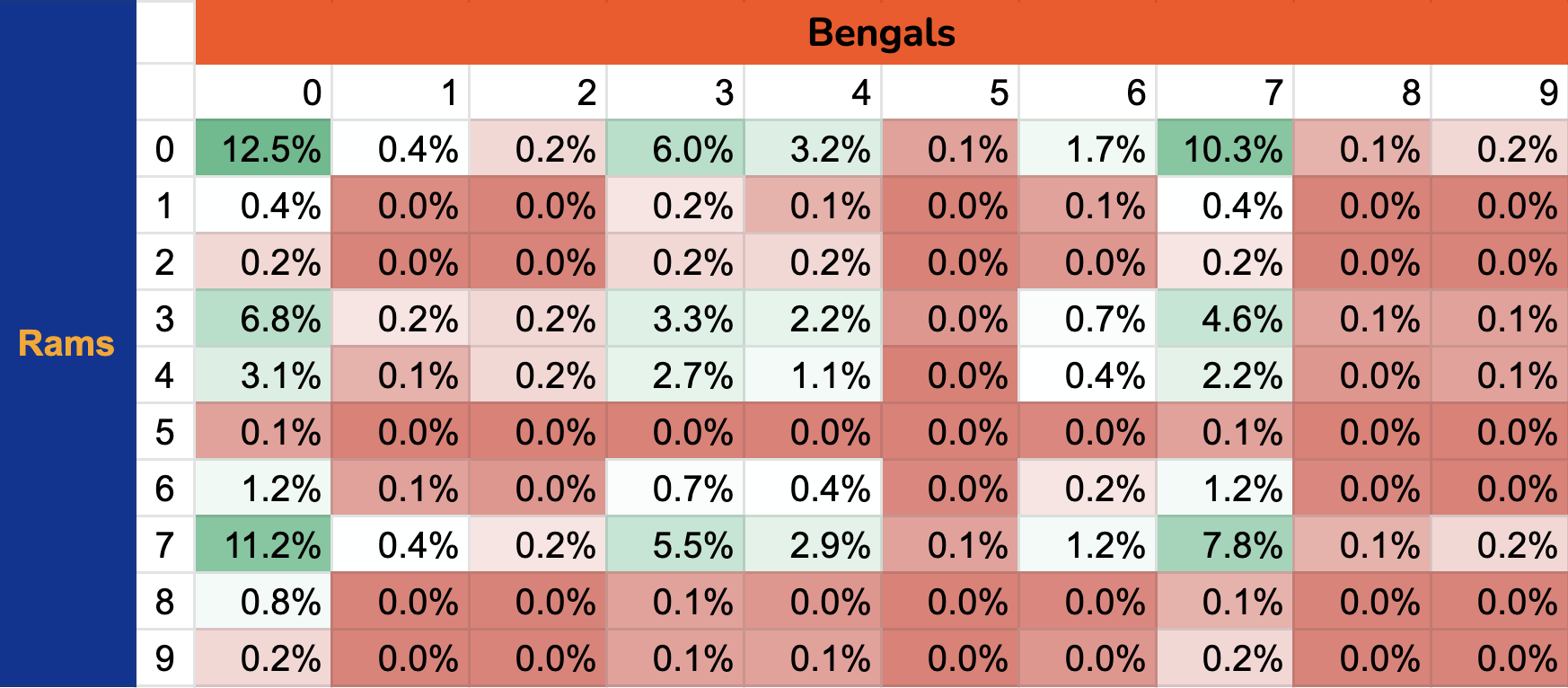 Second Quarter Squares
The best numbers for the second quarter are still combinations of 0s and 7s, but their probabilities do decrease relative to the first quarter.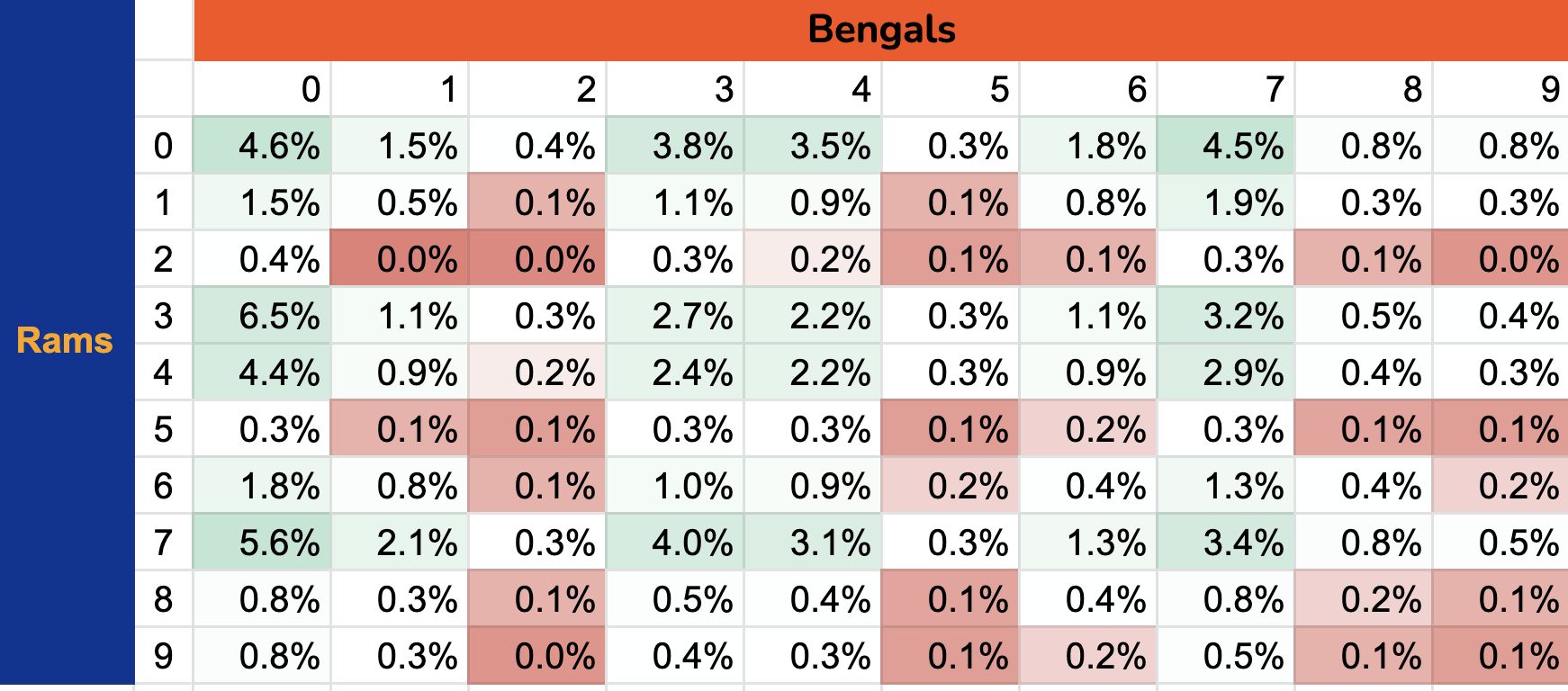 ---
« Our Favorite Props | Our Spread Pick »
---
Third Quarter Squares
The third quarter isn't all that different from the second, though 3s continue to decline since those are less likely after teams cross 13 points.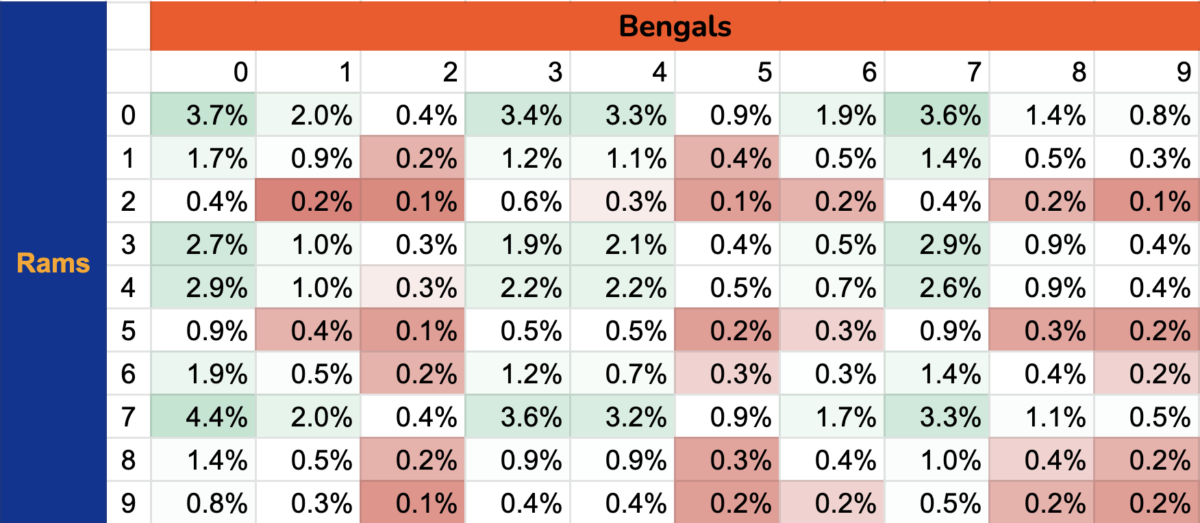 Final Score Squares
With a four-point spread, the value of Rams 7 and Bengals 3 sees the highest probability for the final score numbers.
---
'
---
How To Run A Super Bowl Squares Pool
Start by clicking here to downloading our printable Super Bowl squares sheet then follow the rest of our recommended steps below:
Pick a "buy-in" price for the squares to determine the pool's overall prize pot. There are 100 squares available, so if you charge $2 per square, there will be $200 in the pot.
"Sell" all 100 squares to your pool mates — friends, family, coworkers, whoever! — and put their names in random squares until all 100 are full.
Do not fill in the numbers until all the squares have names written in, or the first participants will take the best numbers — it's advantageous to get numbers like 0, 3 and 7 because football scores often end in these numbers.
We already put the teams on each axis but if you use your own sheet, you'll want to write Bengals on the top and Rams on the left (or vice versa).
Randomize the numbers 0-9 by picking them out of a hat (or using this site) and assign them to a spot along the "x" axis (Bengals), then repeat the same process for the "y" axis (Rams).
How would you rate this article?
This site contains commercial content. We may be compensated for the links provided on this page. The content on this page is for informational purposes only. Action Network makes no representation or warranty as to the accuracy of the information given or the outcome of any game or event.