Chiefs vs. Bills Odds & Picks: 3 Ways To Bet the Underdog In Sunday's AFC Championship
Credit:
Maddie Malhotra/Getty Images. Pictured: Josh Allen
A 3.5-point spread? Too high for a game that our NFL betting analyst makes close to a pick'em.
Find his full preview for the AFC Championship Game between the Chiefs and Bills below.
Chiefs vs. Bills Odds
Bills Odds

+3.5

Chiefs Odds

-3.5

Over/Under

54.5

Time

6:40 p.m. ET

TV

CBS

Odds as of early Sunday afternoon and via BetMGM, where you can bet $1 on the Bills or Chiefs moneyline to win $100.
Thanks to their Divisional Round win over the Browns, the Chiefs are hosting their third consecutive AFC Championship Game. Even more fascinating is that they're just the second team in NFL history to host three straight championship games, with the Eagles doing so between 2002-04. Ironically both teams were coached by Andy Reid, who made the ballsy decision to pass on fourth-and-1 to ice last week's game with backup quarterback Chad Henne.
The Chiefs now host the red-hot Bills, who are coming off their own Divisional Round win over the Ravens, making that eight straight victories for Buffalo, which has won 11 of its last 12 game — the lone loss over that stretch was to the Cardinals on Kyler Murray's game-winning Hail Mary to DeAndre Hopkins.
One of the Bills' few missteps this season was their 26-17 loss to the Chiefs in Week 6. Now the Bills hope to avenge that loss and head to their first Super Bowl since 1994, when they were victorious over … guess who? The Joe Montana-led Chiefs, who the Bills defeated 30-13 in the AFC Championship.
Now 27 years later, the Bills are hoping to repeat history against the reigning Super Bowl champions, who cruised to a 14-2 record with one of the NFL's best offenses.
Can the Josh Allen and the Bills avenge that early-season loss and make their first Super Bowl appearance in 27 years? Or will Mahomes lead the Chiefs to their second consecutive Super Bowl? Let's find out!
Buffalo Bills
The common sentiment surrounding this Bills team at the start of the season was that they were a top tier defense that would likely be wasted by Allen.
That's been everything but the case.
Allen ranks in the top five in most quarterback metrics, throwing for 4,544 yards with 37 touchdowns to only 10 interceptions while completing 69.2% of his passes. He's also rushed for 421 yards and eight touchdowns.
Under coordinator Brian Daboll — who has so far been snubbed for a head coaching gig — this offense ranks rank in the top five of nearly every metric. They're second in points per game (31.3), fifth in Football Outsiders' DVOA, third in offensive success rate (50.9%) and fourth in expected points added (EPA) per play. We've seen them largely abandon the run recently, particularly coming off last week's win over the Ravens, in which the Bills rushed only 16 times and once in the first half.
Nonetheless, this offense goes as Allen does.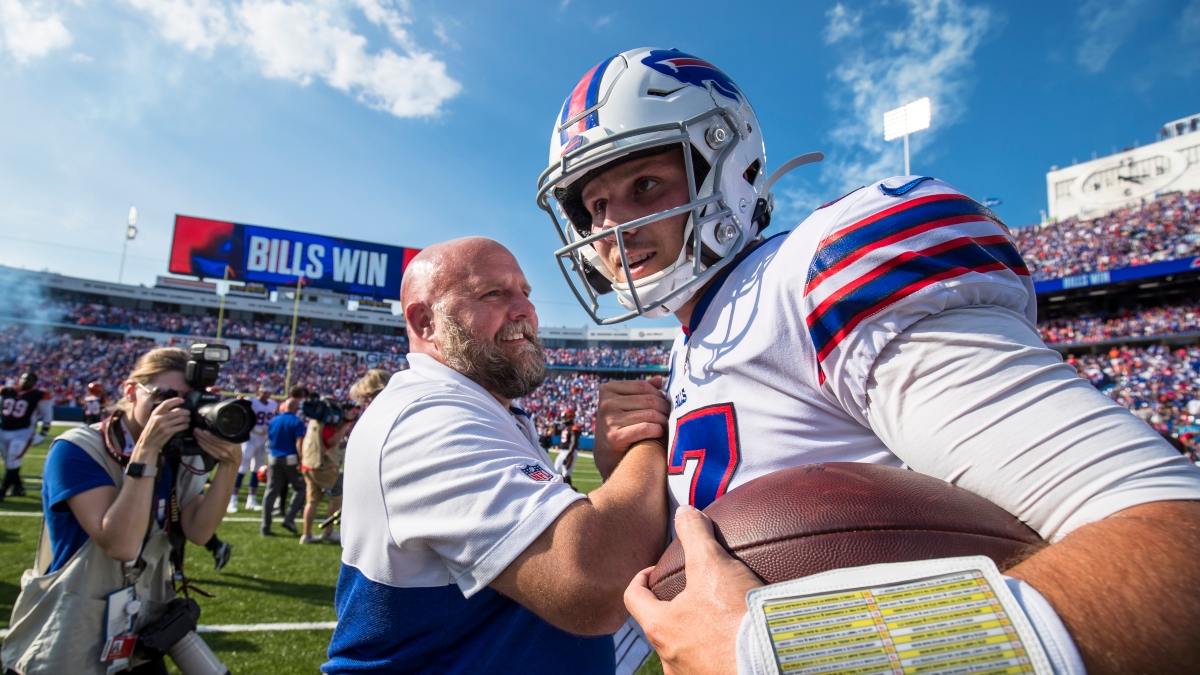 While this unit was great in the regular season, they've certainly had a drop-off so far in the playoffs. Looking deeper, however, it's clear they've had some bad luck.
In their Wild Card win over the Colts, the Bills had unfavorable field position, starting drives at their own 3-, 15-, 11-, 6- and 4-yard lines. Starting drives this close to your own end zone drastically limit what plays you can call, and yet the Bills still drove the length of the field, scoring touchdowns on drives from their own 4- and 15- yard lines to hang 27 total points on a Colts defense that ranks seventh in DVOA.
In the Bills' Divisional Round win over the Ravens, wind impacted the offense's ability to move the ball downfield. Still, they were able to make the big plays to score against a Ravens defense that's ninth in DVOA.
Although they did record only 17 points and 206 yards of offense against the Chiefs earlier this season, rain and wind drastically impacted the Bills' output. They were also coming off a short week with the Titans' COVID-19 outbreak delaying their Week 5 matchup to the Tuesday in-between. The Bills were also tasked with facing the Chiefs without right guard Jon Feliciano, who has made a major impact on Allen's ability to deal with pressure.
When you consider that Allen was dealing with a shoulder injury in that game, it's clear that the Bills team we saw in Week 6 isn't the same one we'll see Sunday.
Given the drop down in class from back-to-back top defenses to a Chiefs defense that ranks 22nd in DVOA, it's likely we'll see the Bills' best offensive performance of the playoffs — expect big days for wide receivers Stefon Diggs and Cole Beasley.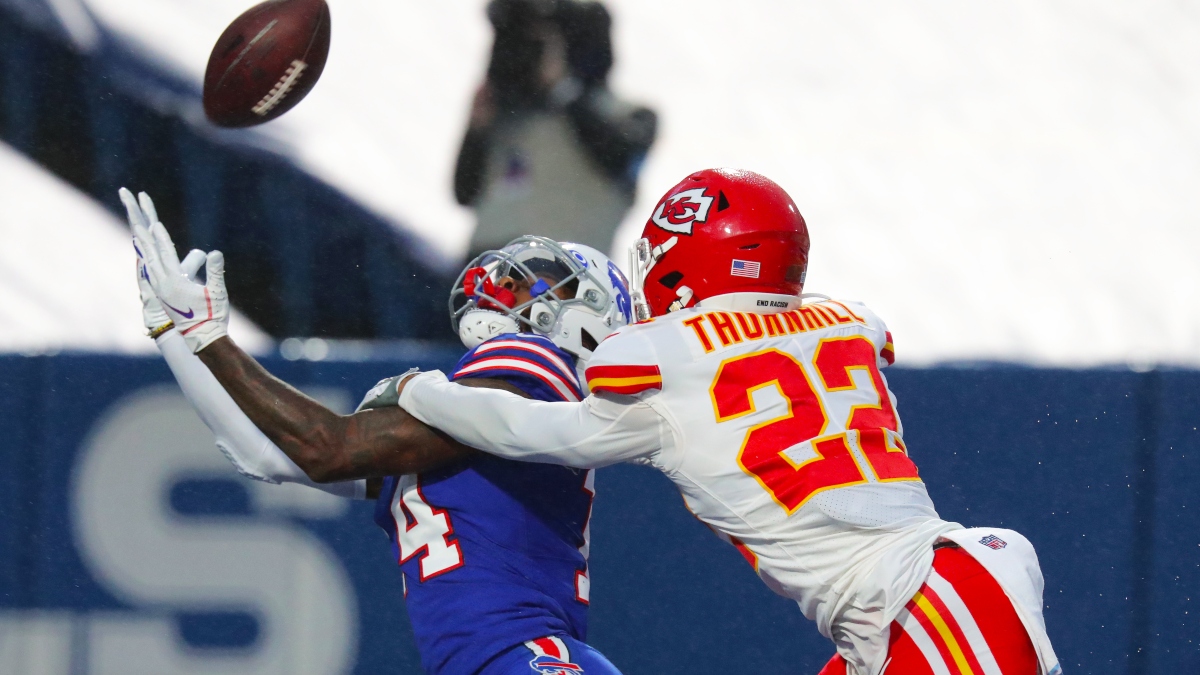 Their first matchup against the Chiefs tells us a lot about what we can expect defensively this Sunday — the Bills designed a game plan that limited deep throws and explosive plays, playing 68% of their snaps with two high safeties. This forced the Chiefs to run the ball more, taking the ball out of Mahomes' hands.
In some ways, it worked as the Bills were still within one score from winning down the stretch.
How the Bills defend Travis Kelce will be key: They've allowed 7.1 yards per catch and a 59% success rate to opposing tight ends, 24th in the NFL. Unlike that first matchup, though, the Bills will have their best coverage linebacker in Matt Milano available. His presence will be huge considering the Bills are 12-0 and have given up only 18 points per game when Milano played this season, compared to 3-3 and 30 points per game without him.
---
Kansas City Chiefs
The biggest question surrounding the Chiefs is the health of the reigning Super Bowl MVP, who left last Sunday's game with a concussion. Although Mahomes has cleared the concussion protocol and is set to start on Sunday, he's also been nursing a turf toe injury.
Nonetheless, numerous clips of him running at practice have been circulating on social media, so you have to assume that we'll be getting him at close to if not at 100%.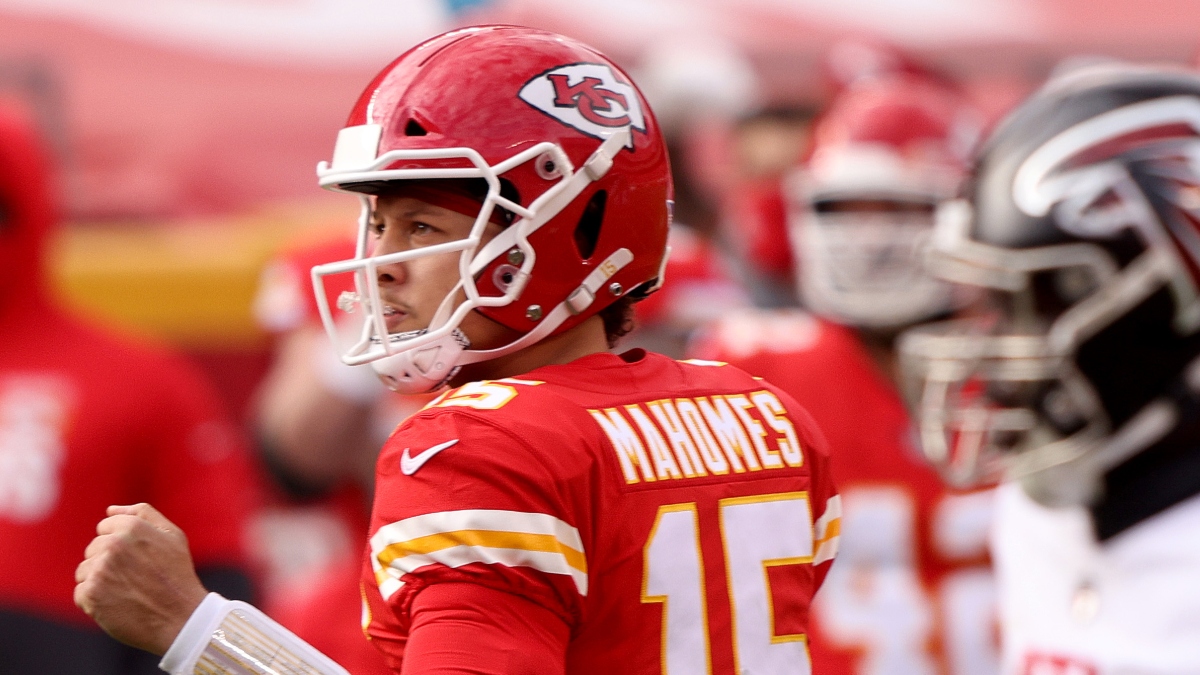 Mahomes put together another MVP-caliber season — he finished second in passing yards (4,740), fourth in touchdowns (38) and second in ESPN's Total QBR (82.9) as well as DVOA while throwing just six interceptions all season.
While Mahomes has averaged a league-leading 316 passing yards per game, he had one of his most pedestrian performances against the Bills, completing 21-of-26 passes for 225 yards and two touchdowns — and it's not that it was a bad game, he just didn't put up the video game numbers we're used to seeing from this offense.
Rain and weather aside, that Week 6 performance does tell us that the Bills designed a defensive game plan predicated on eliminating deep throws and forcing the Chiefs to run the ball. As a result, Clyde Edwards-Helaire rushed 26 times for 161 yards. And in total, the Chiefs rushed 46 times for 245 yards — their most since Week 16 of the 2012 season, when Jamal Charles was their feature back and Romeo Crennel was coaching.
The Chiefs simply haven't been a run-first team in the Andy Reid era, so it speaks volumes that they had nearly double the rushing attempts (46) as they did passing attempts (46) against the Bills.
Now, CEH is listed as questionable for Sunday after an ankle injury limited him in practice. While the expectation is that he should be good to go, it's likely we'll see a committee of Edwards-Helaire, Le'Veon Bell and Darrel Williams. The Chiefs also hope to welcome back wide receiver Sammy Watkins (questionable), who hasn't played since suffering a calf injury in Week 16.
Despite those key injury considerations, Kelce might be the most important weapon for this offense against a Bills defense that struggle to stop tight ends. In their first matchup, Kelce caught five of seven targets for 65 yards and two touchdowns. And while the Bills have Milano back for this matchup, you can't stop Kelce — you can only hope to contain him.
Kansas City's defense ranks 22nd in DVOA, including 16th against the pass and 31st against the run, which could be ideal given Buffalo's tendency to abandon the run. However, the Chiefs don't have a great pass rush this season, ranking just 19th in sacks (32) and 18th in ESPN's Pass Rush Win Rate (42%).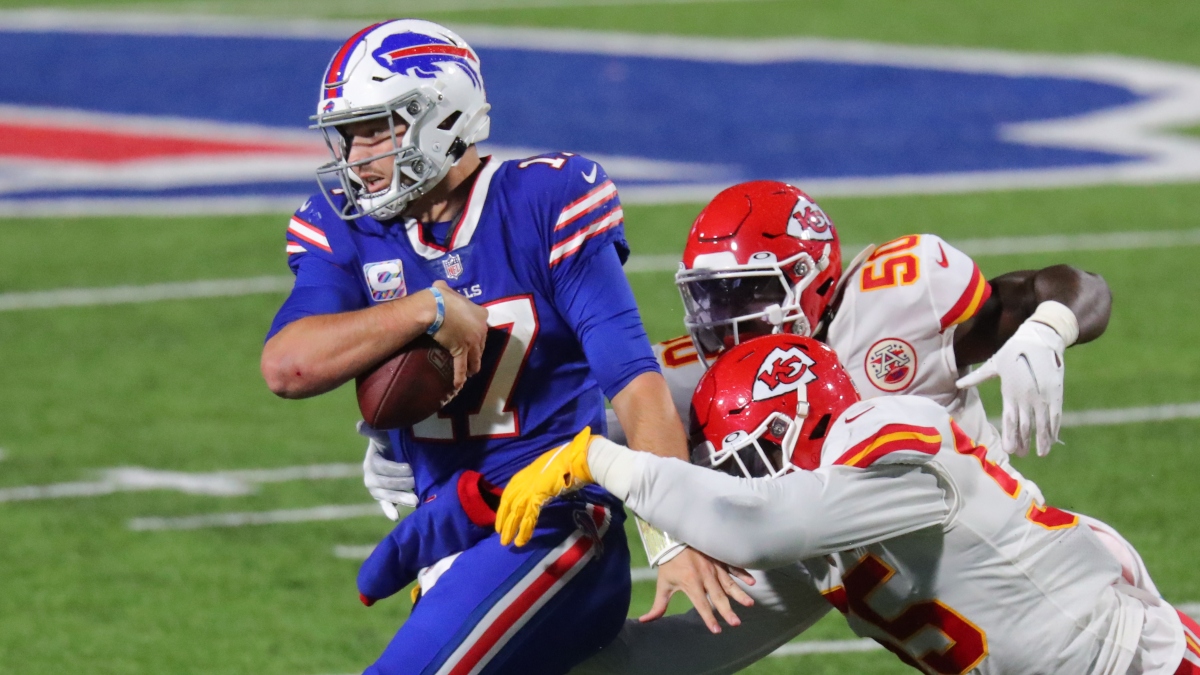 In addition, we're likely to see the Chiefs cornerback depth tested: Cornerbacks Bashaud Breeland (concussion, shoulder) and Rashad Fenton (foot) are questionable after being limited in practice all week. While they're more than capable of overcoming the loss of one of them with cornerbacks Charvarius Ward and L'Jarius Sneed as well as safety Tyrann Mathieu also on the roster, we should keep an eye on this unit.
Also it's important to note that the Chiefs are dead-last in red-zone scoring percentage, allowing touchdowns on a whopping 77.6% of opponents' trips inside the 20. If the Chiefs are to win, it will be on the back of Mahomes, because this defense is unlikely to hold the Bills to just 17 points again.
---
Bills-Chiefs Pick
Everything is lining up for the Bills. They're in the midst of a dream season. They're 13-3. And their only three losses were to the Titans in game that got delayed due to COVID-19, to the Chiefs in game that was marred by weather issues, and to the Cardinals on that Hail Murray.
Allen has been dominant as an underdog throughout his career: He's 14-6-2 (70%) as an underdog according to our Action Labs database.
My projections make the Chiefs favorites of only 0.88 points, and while that may come as a surprise, keep in mind that this team hasn't covered since Week 8 — and against a then-winless Jets. Excluding Week 17 when they rested starters, every single game the Chiefs have played since Week 8 has been decided by one score.
Although some may ague that we should give the Chiefs a boost since they've held double-digit leads in many of those games before letting teams back into games toward the end, at some point you have to question if they're as good as their record indicates. Despite winning 14 games, they have a Pythagorean Expectation of only 10.5 wins — there's only so many times a team can win one-score games before ending up on the wrong side of variance.
I see these offenses as evenly matched: The Chiefs are second in DVOA, EPA/play and success rate while scoring 29.6 points per game. The Bills are fourth in DVOA, EPA/play and success rate while scoring 31.3 points per game.
Unlike they did against Baker Mayfield, the Chiefs won't be able to blitz Allen with impunity — he has a 111.6 passer rating when blitzed. While the Chiefs blitzed Allen on 48% of dropbacks in first meeting to some success, this is an area in which Allen has thrived in this season. And given the inclement weather in the first matchup, I see him thriving this time around.
With the Bills owning the better defense, ranking 12th in DVOA compared to the Chiefs at 22nd, this spread is too high. This is a true pick'em for me, and while Mahomes could certainly overcome this, I'm willing to bet against that with him entering this game banged up.
I'll take the Bills at +3.5 to cover, at +9.5 in 6-point teasers, and for them to win outright and go to their first Super Bowl in 27 years.
PICKS: Bills +3.5; ML +150
How would you rate this article?