Grading Broncos Draft Picks: Why Denver Should Be Optimistic About This 2020 Class
Credit:
Getty Images. Pictured: Tyrie Cleveland, Jerry Jeudy, Albert Okwuegbunam
The 2020 NFL Draft is in the books, which means it's time to grade the class that the Denver Broncos assembled with their picks.
I should say up front that I love what the Broncos did in the draft, starting with the very first pick. Let's take a quick look at all 10 of their selections then run through my take on each pick, complete with fantasy football analysis of the skill position players.
Broncos Draft Picks
Round 1, Pick 15: WR Jerry Jeudy (Alabama)
Round 2, Pick 46: WR K.J. Hamler (Penn State)
Round 3, Pick 77: CB Michael Ojemudia (Iowa)
Round 3, Pick 83: C Lloyd Cushenberry (LSU)
Round 3, Pick 95: DL McTelvin Agim (Arkansas)
Round 4, Pick 118: TE Albert Okwuegbunam (Missouri)
Round 5, Pick 178: LB Justin Strnad (Wake Forest)
Round 6, Pick 181: G Netane Muti (Fresno State)
Round 7, Pick 252: WR Tyrie Cleveland (Florida)
Round 7, Pick 254: EDGE Derrek Tuszka (Dakota State)
Height: 6'1″ | Weight: 193 pounds
40-yard dash: 4.45 seconds
2020 Age: 21 | Class: Junior
Recruitment Stars: 4-5
Jeudy to the Broncos at No. 15 is one of the picks I got right in my final mock draft, and I like the fit.
Jeudy is more of a high-end No. 2 receiver than a "show me the money" No. 1 dominator, and in Denver, he'll get to play a complementary role alongside 2019 breakout receiver Courtland Sutton.
But just because he's a No. 2 option doesn't mean that he has diminished value in reality or fantasy. While Sutton commands defensive attention, Jeudy will be able to exploit softer matchups all across the formation thanks to his positional versatility.
Whatever targets you think wide receiver Emmanuel Sanders would get if he were still on the Broncos, you should probably assign most of those to Jeudy. He's basically a Sanders replacement, and in the post-Peyton Manning era in Denver, Sanders averaged 7.9 targets per game.
There are targets available on the Broncos. And of the six Round 1 wide receivers, Jeudy could have the highest market share of 2020 targets.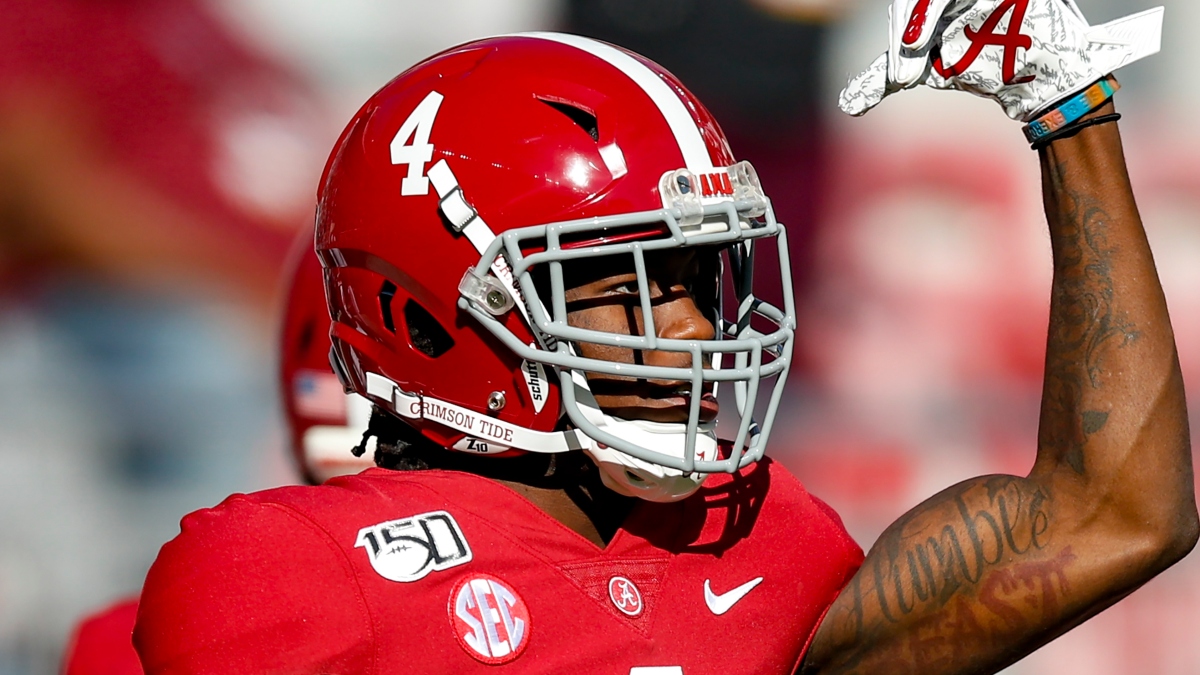 Like most rookie receivers, Jeudy might struggle early: Because of the coronavirus, it will probably be hard for him to pick up the offense and create chemistry with second-year quarterback Drew Lock, who isn't the most accurate of passers anyway.
But Jeudy will eventually find his groove, and I like him for the long term.
For most dynasty fantasy investors, the No. 1 wide receiver in the 2020 class is probably either Jeudy or CeeDee Lamb (Oklahoma). Most of the sharp rankers I know prefer Lamb, who is bigger (6-foot-2 and 198 pounds vs. 6-foot-1 and 193) and more explosive (124-inch broad jump vs. 120) and was more productive in college.
CeeDee Lamb (2018-19, 27 games): 127-2,485-25 receiving, 14.0 yards per target
Jerry Jeudy (2018-19, 28 games): 145-2,478-24 receiving, 11.9 yards per target
But I give the slight edge to Jeudy.
He's not much smaller than Lamb, but he's faster (4.45-second 40-yard dash vs. 4.50), and I think he's the more complete receiver. Lamb might have the higher ceiling, but Jeudy I expect has the higher floor.
Jeudy might never be an All-Pro producer, because he's not a classic No. 1 receiver. He's not a go-up-and-get-it dominator. But he does everything well. He's a smooth route runner with good hands. He plays inside and outside. He can go deep and across the middle of the field. When he's faced press coverage, he's usually beaten it.
And he's unlikely to face lots of press coverage with the Broncos anyway: I expect he'll line up most in the slot with Sutton and second-rounder K.J. Hamler on the perimeter. Jeudy lined up in the slot on 68% of his snaps in 2018 and 58% in 2019 (per SIS). And going against slot cornerbacks, he could dominate.
The 2018-19 Alabama teams had four wide receivers who all got regular playing time and might eventually be selected in Round 1: Jeudy, Henry Ruggs III, Devonta Smith and Jaylen Waddle.
That Jeudy was able to put up back-to-back seasons of 1,000-plus yards and 10-plus touchdowns receiving while sharing snaps and targets with those three other players is nothing short of spectacular.
Although he isn't built like a No. 1 receiver, he carries himself like one. The dude is swagalicious.
As the 2018 Fred Biletnikoff Award winner, Jeudy is in an elite cohort of past Biletnikoff winners to enter the league as first-round selections and play as 21-year-old rookies.
Randy Moss (1998, 1.21): 10 seasons with 1,000-plus yards
Larry Fitzgerald (2004, 1.03): Nine seasons with 1,000-plus yards
Brandin Cooks (2014, 1.20): Four seasons with 1,000-plus yards
Amari Cooper (2015, 1.04): Four seasons with 1,000-plus yards
A Cooks-sized receiver with a Cooper-esque skill set, Jeudy is unlikely to have a Moss/Fitz-caliber career, but he could be a reliable 1,000-yard producer for close to a decade.
Jeudy is my No. 1 rookie wide receiver in dynasty. He should be a top-tier resource for the developing Lock.
Because I expect all the rookie receivers to struggle early in the season because of the coronavirus situation, I'll bet the under on his 2020 yardage total of 850.5 at DraftKings Sportsbook. Over the past five season, only seven rookie wide receivers have had more than 850 yards receiving. That's just a high number.
But I'm very bullish on what Jeudy will do throughout his career.
Jerry Jeudy Prop Pick: Under 850.5 Yards Receiving (-110)
One unit. Limit -150. [Bet now at DraftKings]
Height: 5'9″ | Weight: 178 pounds
2020 Age: 21 | Class: Redshirt Sophomore
Recruitment Stars: 4
For fantasy, I should be higher on Hamler than I am: He might have the highest odds of NFL success of any Day 2 receiver, based on his young breakout age and college production.
But in Denver I'm not sure how much of a chance he'll get to put up fantasy points.
Because of his playmaking ability and deep speed, Hamler will have some week-winning performances in 2020 and beyond, but he'll also be competing for targets for at least two more seasons with wide receivers Courtland Sutton and Jerry Jeudy and tight end Noah Fant.
And that doesn't even take into account the targets that will go to running backs Melvin Gordon and Phillip Lindsay.
There's a real chance that Hamler will never be anything more than a field-stretching complement, which means he could be very inconsistent. As a result, he's probably most investable in the best ball fantasy format.
Hamler is a college slot receiver with raw routes and the distinct inability to beat press coverage — and in the NFL, he might need to play on the perimeter, because the Broncos might seek to maximize Jeudy's matchups by giving him the majority of slot snaps.
And Hamler might struggle on the perimeter: If a defender gets his hands on Hamler before he builds up speed, he's neutralized. Essentially, he's a scheme- and usage-dependent producer, and he didn't have a wealth of production in his two years of playing time at Penn State.
2018 (13 games): 42-754-5 receiving on 74 targets, 4-44-1 rushing
2019 (13 games): 56-904-8 receiving on 92 targets, 13-43-0 rushing
Hamler is a competent kick returner (23.5 yards per attempt for his career), and it's notable that he led the Nittany Lions in receiving in both his seasons.
But despite his versatility as a receiver, runner and returner, he's a limited player.
And here's the big problem: We don't have a 40 time for him because he didn't run at the combine. Everyone assumes that he's fast — but people made that same assumption about Jalen Reagor too, and at the combine, he wasn't fast. As a recruit, Hamler ran a 4.43-second 40-yard dash, which is good, but he ran it at 156 pounds.
Now that he's 22 pounds heavier — and still small for an NFL receiver, by the way — we don't know for sure how fast he is.
And as a senior in high school, Hamler suffered a season-ending ACL tear, which caused him to redshirt his first year at Penn State.
So — in summation — Hamler is a production-deficient, scheme-reliant slot-bound receiver with uncertain athleticism and a problematic injury history.
I can see why the Broncos drafted him in Round 2. Frankly, with that kind of profile, I'm surprised he didn't go in Round 1.
In all seriousness, Hamler is not untalented. Last year, he had at least a step of separation on 64% of his targets of 10-plus yards, good for the fourth-highest rate in the country. And since 2018, he has the fourth-most plays of 15-plus yards in the slot with 41 (per Pro Football Focus).
Although I don't like to credit receivers with elite speed when we don't have a verified 40 time, it's undeniable that Hamler ran by a lot of defensive backs in college. He's a dynamic athlete.
And in 2019, Hamler was quite comparable to Alabama wide receiver and No. 12 overall pick Henry Ruggs III against man coverage, judging by their positive play rates (per Sports Info Solutions).
K.J. Hamler: 59%
Henry Ruggs III: 58%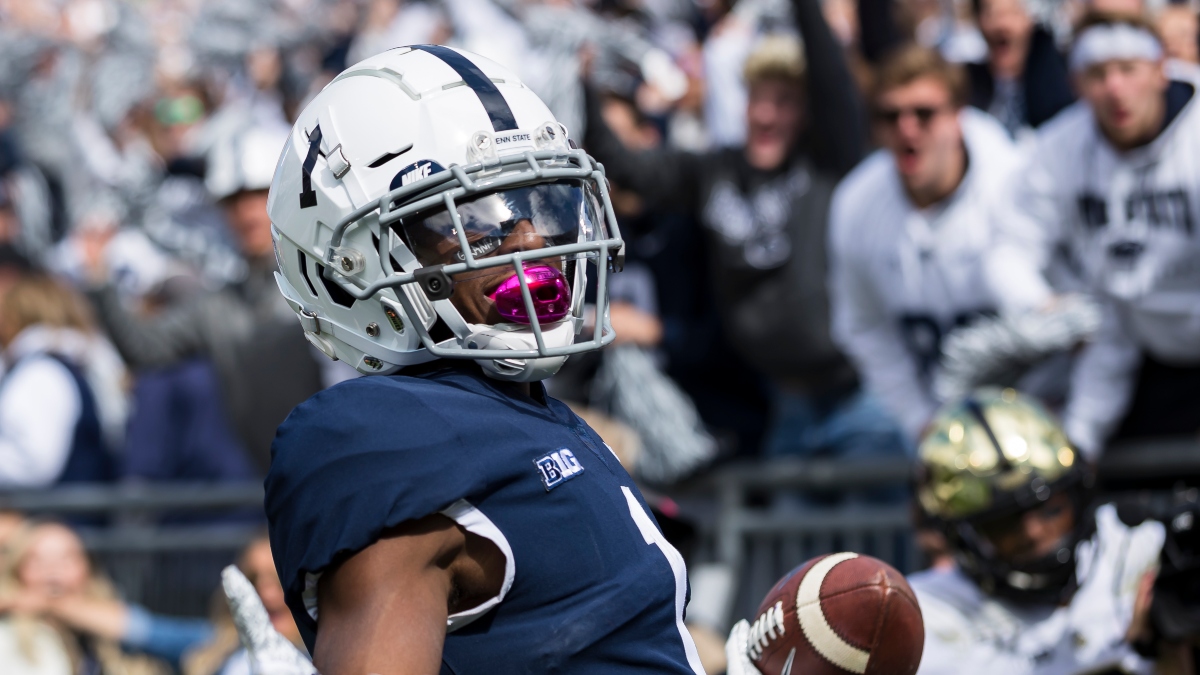 In fact, over the past two years, Hamler and Ruggs have had somewhat similar production.
K.J. Hamler (26 games): 96-1,658-13 receiving on 166 targets, 17-87-1 rushing
Henry Ruggs III (26 games): 86-1,487-18 receiving on 123 targets, 2-75-1 rushing
Ruggs is clearly the more explosive player — but he also has one more year of college experience. They're both 21 years old. They're both speedsters. They're both top-50 picks. They were both highly recruited high-school stars.
It was rumored that the Broncos were thinking about Ruggs in Round 1. He went off the board before they could pick at No. 15, so they did remarkably well to get someone highly comparable to him in Round 2.
Even if Hamler never turns into a consistent fantasy producer, he could have a Ruggs-like or DeSean Jackson-esque impact in the offense with his ability to stretch the defense and open the field for other receivers.
And in a best-case scenario, he could turn into Tyreek Hill.
Hamler is a boom/bust pick, but he gives the Lock a dynamic downfield weapon and offers value at No. 46 as an arbitrage play on Ruggs.
---
3.77: CB Michael Ojemudia
Height: 6'1″ | Weight: 200 pounds
40-yard dash: 4.45 seconds
2020 Age: 23 | Class: Redshirt Senior
Recruitment Stars: 3
I'm not a defensive guru, but I like this pick. Ojemudia has a great combination of size and speed — he has an 86th-percentile 104.9 speed score (per Player Profiler) — and with his traits, he has the potential to develop into a starter and just maybe a shutdown defender.
A linebacker/safety hybrid in high school, Ojemudia is a typical Iowa defender in that he's tough and physical, all play, every play.
He has the instincts and profile to be a press corner, and maybe he'll eventually be used that way, but in college he played almost entirely zone, so his transition to the NFL could be rough. But he has long-term potential.
He doesn't jump on routes. He rarely gets beat deep. He almost never is out-muscled when fighting for position with a receiver.
He looks like an NFL player.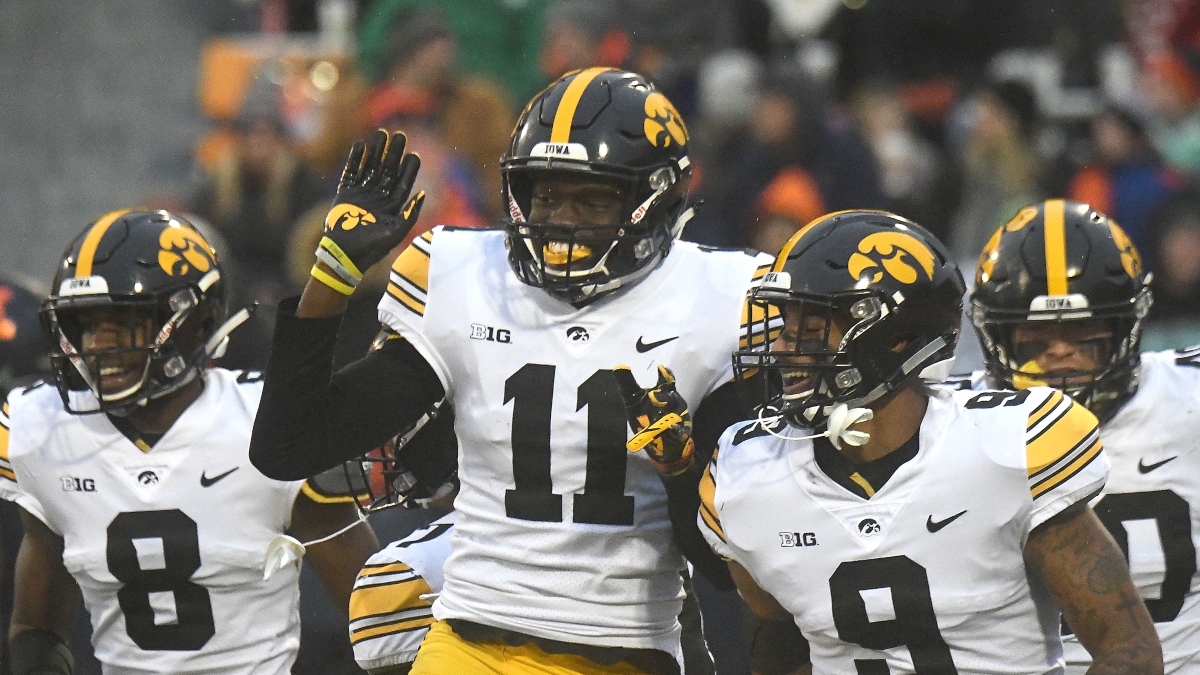 At No. 77, he provides value and adds depth to a position group that could use it.
---
3.83: C/G Lloyd Cushenberry III
Height: 6'3″ | Weight: 312 pounds
40-yard dash: 5.27 seconds
2020 Age: 23 | Class: Redshirt Junior
Recruitment Stars: 3
If you don't have the No. 1 pick to invest in quarterback Joe Burrow, at least you can use the No. 83 pick in Round 3 to draft the guy who served as his center for two years at LSU.
Lock should directly benefit from Cushenberry's presence.
A first-team All-SEC selection and leader of the 2019 Joe Moore Award-winning best offensive line in the country, Cushenberry should push for a starting spot sooner rather than later on the interior of the offensive line.
Although Cushenberry is best at center, he's powerful enough to play at guard. He might never be a Pro-Bowl player, but he could be a long-time stable starter in the middle of the offensive line, and that's worth something, especially in Round 3.
3.95: DT McTelvin Agim
Height: 6'3″ | Weight: 309 pounds
40-yard dash: 4.98 seconds
2020 Age: 23 | Class: Senior
Recruitment Stars: 4-5
PFF's No. 1 sleeper at interior defensive lineman, Agim entered college as one of the most coveted players in the 2016 recruitment class, and he started 3.5 years in the SEC.
He never dominated, but he always performed at an above-average level as both a pass rusher and run stopper, and he showed the versatility to play as 4-3 defensive tackle or 3-4 defensive end.
He should be a rotational player along the defensive front right away, and he could eventually be a high-end starter.
---
Height: 6'5" | Weight: 258 pounds
40-yard dash: 4.49 seconds
2020 Age: 22 | Class: Redshirt Junior
Recruitment Stars: 3
There are a number of factors going against Albert O as a fantasy asset: Tight ends take a while to develop anyway, he dropped out of Day 2, and he's now buried on the depth chart behind a second-year first-rounder.
TE Albert Okwuegbunam going to the Broncos at 4.118.

Stuck behind Noah Fant, one of his closest pre-draft comps.

Not ideal.

— Matthew Freedman (@MattFtheOracle) April 25, 2020
But for the Broncos, he's a great addition in Round 4. Okwuegbunam caught an SEC-high 11 touchdowns in his 2017 redshirt freshman season with Lock as his quarterback, and he has elite athleticism.
Okwuegbunam is Okwuegbunawesome.
If Fant for some reasons fails to develop, perhaps Okwuegbunam will be able to step up and produce.
At the combine, he blazed an amazing 4.49-second 40, which puts him in incredibly elite company. Over the past 15 years — about as far back as the league has reliable combine data — these are the players to run faster than a 4.55-second 40-yard dash and be drafted in the first five rounds.
Vernon Davis (2006, 1.06): 4.38 seconds
Evan Engram (2017, 1.23): 4.42 seconds
Jared Cook (2009, 3.89): 4.50 seconds
Noah Fant (2019, 1.20: 4.50 seconds
O.J. Howard (2017, 1.19): 4.51 seconds
Greg Olsen (2007, 1.31): 4.51 seconds
George Kittle (2017, 5.146): 4.52 seconds
Ladarius Green (2012, 4.110): 4.53 seconds
Mike Gesicki (2018, 2.42): 4.54 seconds
It's hard to find a cohort much better than that.
Athleticism means so much at the tight end position, and Okwuegbunam is rarely gifted with his physical abilities: The tight end prospect of the past 20 years to whom Albert O. is most comparable — based only on combine measurables — is two-time All-Pro Travis Kelce. The overall prospect to whom he's most physically similar? Former All-Pro edge rusher Robert Quinn (per MockDraftable).
In the best of ways, Okwuegbunam is a true freak.
In the RotoViz Prospect Box Score Scout, three of his 10 most comparable players are Kittle, Kelce and Martellus Bennett.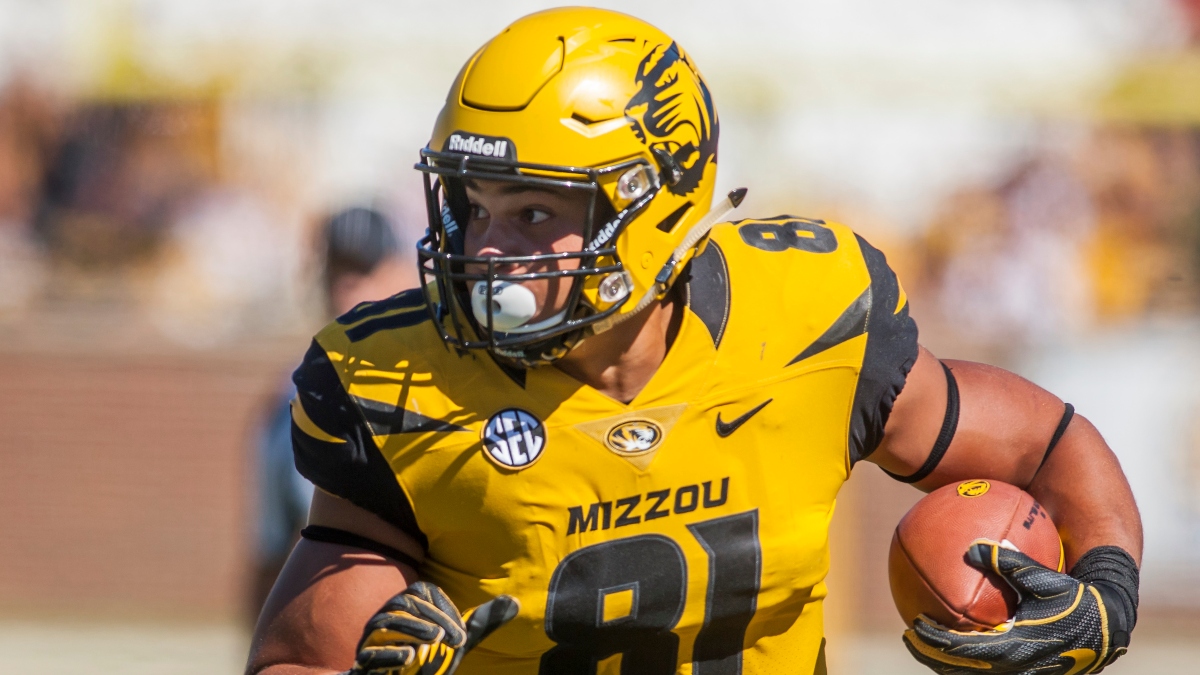 I think Okwuegbunam was criminally under-drafted at No. 118. Entering the draft, he was No. 39 in Gil Brandt's Hot 150, and given how connected Brandt is in the league, his rankings usually reflect the NFL's valuation of most rookies.
In Brandt's estimation, Okwuegbunam is a "take-a-chance prospect who is 70% boom and 30% bust."
I agree. NFL teams were pigheaded not to make him a top-100 pick. And the Broncos capitalized by getting him at a discount.
If he had declared last year, Albert O. might have been a first-rounder as a 21-year-old redshirt sophomore à la David Njoku in 2017. But he instead returned to Missouri, where he missed games and struggled with a shoulder injury for a second consecutive season. And so he slipped in the draft, even though his masterful combine performance gave him a position-high 99 Draft Score from Next Gen Stats.
Albert O. isn't much of a blocker or route runner, but he has near-elite above-the-rim ability at the catch point and matches up incredibly well with linebackers and defensive backs alike.
A massive boom/bust prospect, Albert O. has No. 1 overall tight end upside and "I can't believe I thought that guy was good" downside.
I almost hate to say this, but based on his style of play, athleticism and draft capital, he's a Jimmy Graham-esque prospect — except he's two years young than Graham was as a rookie.
---
5.178: LB Justin Strnad
Height: 6'3″ | Weight: 238 pounds
40-yard dash: 4.74 seconds
2020 Age: 24 | Class: Redshirt Senior
Recruitment Stars: 3
Strnad is a high-effort player with below-average athleticism. There's nothing inspiring about this selection, and I doubt he'll ever be a regular contributor on defense, but he'll play special teams and do the dirty work necessary to make the 53-man roster.
6.181: G Netane Muti
Height: 6'3″ | Weight: 315 pounds
2020 Age: 21 | Class: Redshirt Junior
Recruitment Stars: 2
This is a home-run pick that could turn out to be a grand slam.
Muti is a legend. He's mythic. He's pure power. At the combine, he smoked everyone with 44 bench-press reps at 225 pounds. The guy who finished second had just 37. And that total of 44 is the most anyone has gotten at the combine over the past five years.
Among all interior offensive lineman in the 2020 class, Muti is PFF's No. 1 overall player, gap/man scheme player and run blocker.
The dude is just a straight-up dominator. He blocks defenders flat into the ground — and then he continues to block them. He's a finisher. In 2017, he dominated in 14 games at left guard as a redshirt freshman.
The problem is that he's always injured.
He sat out the 2016 season because of an Achilles injury. In 2018, he played just 84 snaps before his season ended with a ruptured Achilles. And last year, he made it just 234 snaps before a Lisfranc injury effectively ended his college career.
It's hard for a guy to dominate if he's not on the field.
But if Muti can stay healthy, he could be an All-Pro guard and is entirely worth the risk at this point in the draft.
---
7.252: WR Tyrie Cleveland
Height: 6'2″ | Weight: 209 pounds
40-yard dash: 4.46 seconds
2020 Age: 23 | Class: Senior
Recruitment Stars: 4
Cleveland is unlikely to become a regular contributor on offense, but he has some potential.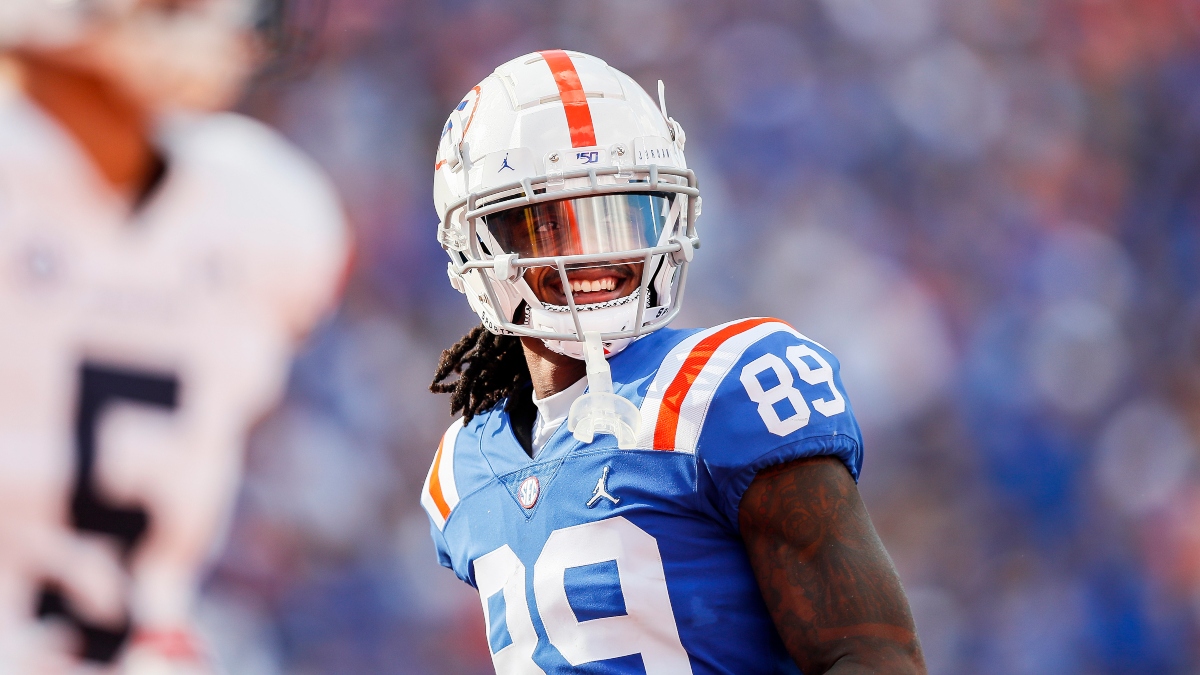 A heavily recruited high-school player, he actually led the Gators with 410 receiving yards as a sophomore in 2017 in just 10 games, and he has fantastic size-adjusted speed and explosiveness (per Player Profiler).
Speed Score: 86th-percentile 107.1
Burst Score: 88th-percentile 130.2
He did little as a junior and senior and finished his college career as a depth receiver, but at least he has the potential to be an above-average special-teams gunner thanks to his athleticism.
---
7.254: EDGE Derrek Tuszka
Height: 6'4″ | Weight: 251 pounds
40-yard dash: 4.79 seconds
2020 Age: NA | Class: Redshirt Senior
Recruitment Stars: NA
As an FCS prospect, Tuszka is hard to evaluate because of his level of competition, but athleticism wins off the edge, and Tuszka is an above-average athlete, placing no lower than the 70th percentile with his 40-yard dash, jumps and agility drills (per MockDraftable).
His 97th-percentile 6.87-second three-cone drill is especially elite for the position, and it speaks to his bend and overall ability to get off the edge.
In his final year at college, Tuszka earned a 90.1 PFF grade and has the potential to develop into a solid rotational edge.
---
Overall Grade for 2020 Draft Class
The Broncos had an excellent draft, especially when you take into account that before the event, they acquired cornerback A.J. Bouye (4.137) and defensive tackle Jurrell Casey (7.237) via trade for almost no draft capital. Both veterans have Pro-Bowl backgrounds and should start immediately for a defense that can certainly use them.
Bouye and Casey should be thought of as part of this draft class, which from top to bottom is quite impressive.
On offense, Jeudy, Hamler and Cushenberry should all be starters pretty quickly, and they all will benefit Lock at quarterback. Ojemudia, Agim, Okwuegbunam and Muti are great upside picks who add needed depth. Strnad and Cleveland could be solid special-teams players, and Tuszka might develop into a contributor.
It would've been nice to see the Broncos draft an offensive tackle, but you can't get everything in one draft class.
Overall, the Broncos absolutely nailed it.
Denver Broncos 2020 Draft Grade: A
How would you rate this article?