What the DeAndre Hopkins Trade Means for Deshaun Watson & Texans WRs In Fantasy Football
Credit:
Getty Images. Pictured: Deshaun Watson, Will Fuller
Fantasy football lost one of its most explosive quarterback-wide receiver duos when the Texans traded DeAndre Hopkins to the Cardinals within hours of the new league year opening.
The deal — which includes shipping David Johnson to the Texans — has fantasy implications for skill players on both teams, but let's focus on how it shifts expectations in Houston.
Our trio of fantasy football experts — Sean Koerner, Matthew Freedman and Chris Raybon — analyze the outlooks (and their initial rankings) for Deshaun Watson, Will Fuller, Kenny Stills and more.
---
Tom Brady Free Agency Promo! Bet $5 and Win $100 if TB12 picks any team with the exception of the Jets, Bills or Dolphins
---
What It Means for Deshaun Watson
Raybon
When throwing to receivers other than Hopkins in his career, Watson becomes a less efficient, more turnover-prone version of himself:
Hopkins: 263-of-385 (68.3%), 3,336 yards (8.69 YPA), 25 TD (6.5%), 8 INT (2.1%)
All others: 1,609-of-2,409 (66.8%), 19,438 yards (8.07 YPA), 143 TD (5.9%), 58 INT (2.4%)
Because the attention Hopkins makes the entire offense better, these splits could potentially be understating the drop-off. For example, Watson's splits with and without Fuller in the lineup are stark:
With Fuller: 8.72 YPA, 2.21 passing TDs per game, 0.32 rushing TDs per game
Without Fuller: 7.26 YPA, 1.31 passing TDs per game, 0.44 rushing TDs per game
Pre-trade, Watson was going as the QB3, but barring another major acquisition at receiver, a best-case scenario for Watson would be swapping spots with Kyler Murray (QB5).
Given the red flags from his with/without Fuller splits, though, Watson more realistically belongs in the low-end QB1 ranks.
Koerner
Watson takes the biggest hit from this trade — in his three seasons, he's never played a game without his stud WR (Hopkins).
I'm lowering Watson's passing yards per game from 272.5 to 261.5 and his passing TD% from 5.1% to 4.9%. Again, these help shape my team-level projections before scaling every player's targets/yards/TD projections to match.
There are other factors that go into team-level projections, such as my team ratings that help me forecast expected points per game, which will then fuel projections such as TDs.
Hopkins is worth about 1-1.5 points against the spread, which will also factor into each team's updated projections.
Koerner's Post-Trade Watson Projections: 4,001 pass yards; 25.6 pass TDs; 446 rush yds; 4.6 rush TDs; fantasy QB5
What It Means for Texans WRs
Freedman
Fuller (groin) is currently recovering from an offseason surgery, and he's yet to play an entire season in his four-year NFL career. But when healthy, Fuller has been a transcendentally explosive player with strong per-game production, especially with Watson.
Now that Hopkins is gone, Fuller will demand more defensive attention, but he will have top-12 positional upside when healthy.
And when Fuller is not healthy, Stills will be an intriguing option. Without Hopkins, Stills is an attractive big-play receiver who will likely go overlooked in drafts — especially in best-ball leagues — and if Fuller misses significant time this year, Stills will have the opportunity to put up WR1 production at a WR3 average draft position.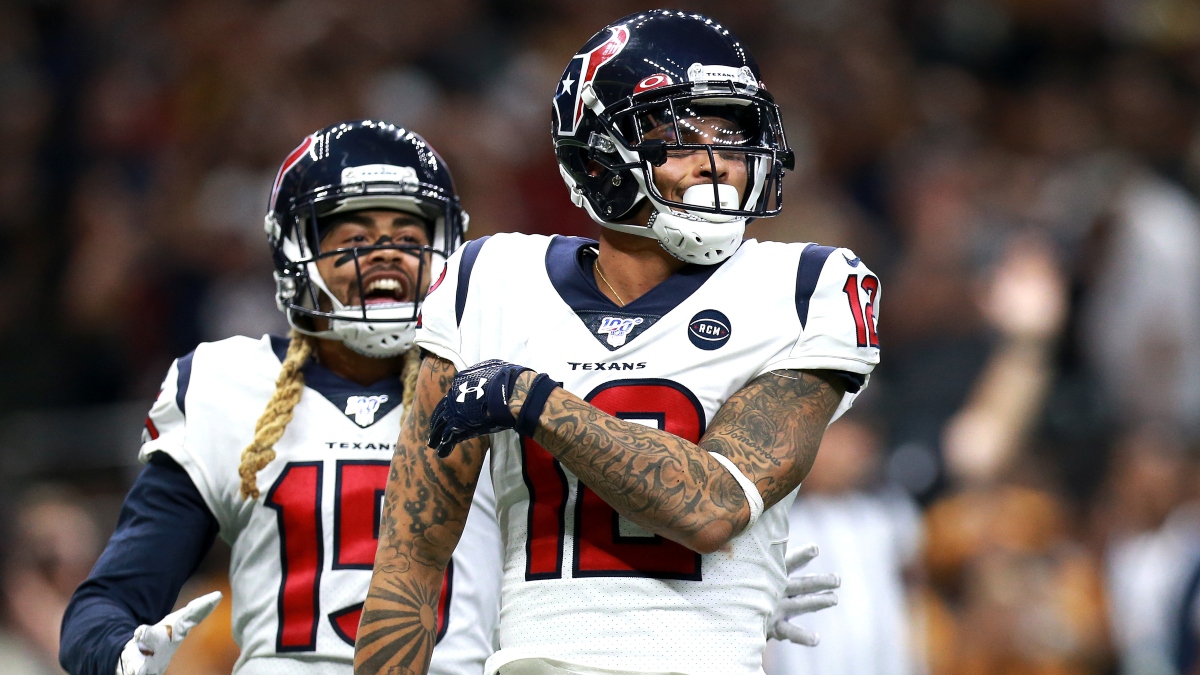 As dumbfounding as Bill O'Brien's decision was to trade Hopkins, that move probably created fantasy value on the whole for the wide receiver trio of Hopkins, Fuller and Stills.
Raybon
Here we go: Another year, another season that Will Fuller will enter with tantalizing upside and scary downside.
Talent-wise, Fuller is absolutely good enough to be a No. 1 WR — it helps that he became adept at playing inside and outside (he played 30.6% of his snaps from the slot). But we've never seen him without DeAndre Hopkins to draw away coverage. We just have to hope that Fuller cracks through the glass instead of being the glass that cracks — a risky proposition, no doubt, but one that could pay enormous dividends.
If not for his injury history, you could easily make the case for him as a top-10 fantasy WR, and it's tough to settle on a ranking for him until all the dominos have fallen around the league, but I'd peg him in the WR15-20 range for now.
Meanwhile, Stills posted a 40/561/4 line in 13 games last season, but actually put up better per-game numbers as the No. 3 wideout (3.0/50.2/0.44 on 4.1 targets) in nine games than as the No. 2 in four games that Fuller missed (3.3/27.3/0.00 on 4.5 targets). That was a small sample, however, and Hopkins obviously frees up more targets than Fuller, so Stills should be able to post WR3 value with upside for more.
Koerner
There are a ton of targets up for grabs for the Texans WRs and TEs. It's likely they bring in another WR, but I'm making my initial projections as if they don't.
Fuller's ceiling is enormous, but he's been unable to stay healthy. His games played in his four seasons have been: 14, 10, 7, 11. Therefore it's going to be very tricky trying to forecast the Texans passing game with such a volatile WR1 now.
Stills and Keke Coutee are also going to see a big boost from Hopkin's departure.
I think we'll also see the Texans incorporate more 2-TE sets, which will boost Darren Fells' and Jordan Akins' outlooks.
Here are my post-trade projections for all of these pass catchers:
Fuller: 55 receptions, 822 rec yards, 6.1 rec touchdowns (my WR39)
Stills: 53 rec, 727 rec yds, 5.6 rec TDs (my WR50)
Coutee: 47 rec, 505 rec yds, 2.8 rec TDs (my WR75)
Fells: 41 rec, 405 rec yds, 4.5 rec TDs (my TE25)
Akins: 38 rec, 431 rec yds, 2.8 rec TDs (my TE30)
How would you rate this article?