How Timing Affects Optimal Fantasy Football Draft Strategy
Credit:
Kyle Terada-USA TODAY Sports. Pictured: Los Angeles Chargers running back Melvin Gordon
Fantasy draft strategies vary, but the key to successful drafting is finding undervalued assets compared to market prices.
We explain this concept, as well as how the timing of your draft should affect strategy.
Venture onto the internet and you'll find plenty of different draft strategies for winning your fantasy football league: Zero RB, RB-RB, WR-WR, best player available, etc.
If only it were that easy.
But the one strategy that will work over the long haul is maximizing your draft value by hoarding as many assets at prices better than the market. Similar to the importance of closing line value in sports betting, comparing your rankings to current market prices — which is average draft position (ADP) in fantasy football — is the key to drafting well.
In fact, it's also The Action Network's Chris Raybon's biggest tip:
Biggest tip I can give when using #FantasyFootball rankings: Use them in conjunction with ADP.

For example, I have Goff & Kyler above Luck. That doesn't mean take Goff at Luck's 6th-round ADP, it means you can wait until the 8th or 9th and still get a top-6 option.

— Chris Raybon (@ChrisRaybon) July 30, 2019
Sure, we'd all love to have Patrick Mahomes on our fantasy football teams, but at what cost? Mahomes is currently being drafted as the 19th pick according to FantasyFootballCalculator.com's ADP data.
If you draft him in the first two rounds, you're paying more than where he's priced in the fantasy football market.
However, if he happens to fall to the third or fourth round in your draft, you can snag an asset that the market has deemed as more valuable than the price you're paying.
Now, the point of this isn't to determine when it's smart to draft Mahomes — I'll leave that to the true experts.
But it's instead to think about how you value a player vs. how the market does. Part of that is certainly scooping up players who slip too low during your draft, but, to Raybon's point, another key factor to successful drafting is leveraging your rankings against ADP data to find your own undervalued players.
For example, if you love Calvin Ridley this year and have him ranked as a fourth-rounder, getting him near his current ADP of 55 represents value. Do that enough over the course of a draft and you'll put yourself in the best position possible heading into the season.
While I've certainly spent too much time spewing about draft theory, it comes full circle to a very specific point regarding the timing of your draft.
Ideally, you want to draft as late as possible — preferably after the third preseason game when starters won't play — to minimize the chances that one of your draft picks suffers an injury prior to start of the regular season. But that's easier said than done.
My longest running league is spread across the East Coast, with most of us married with kids, so nailing down a draft date and time, especially during summer vacation months, proves difficult.
So while not ideal, some drafts simply have to take place earlier in August due to scheduling. And what does this mean for draft strategy?
Well, the earlier your draft is held each year the more variance you should expect between your draft and market values at the start of the regular season.
Think about it: If you drafted this week, you'd still have two weeks of preseason yet to be played, plenty of practices and a few key holdout situations waiting to be resolved.
Important skill-position players are sure to get injured before the start of the season — it's just the nature of professional football. And who knows how the Ezekiel Elliott and Melvin Gordon holdouts will go?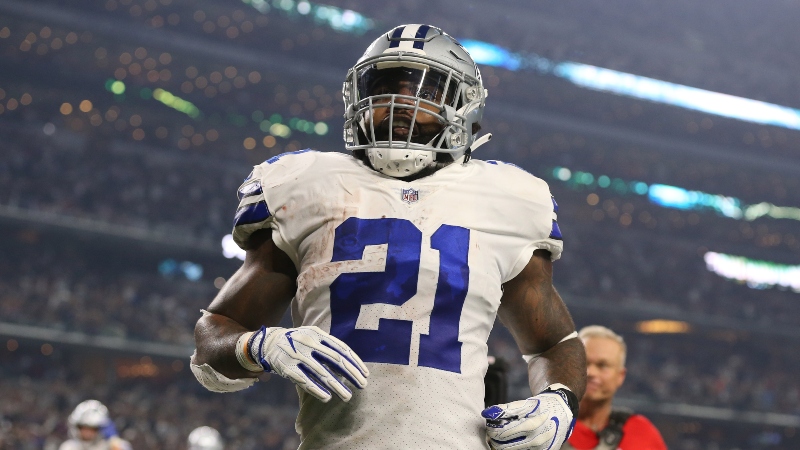 But if you draft during the last week of August, you'll have the luxury of more information regarding these key holdouts as well as a much smaller window for key players you drafted to get hurt.
So if you're stuck drafting earlier than you'd like, you can maximize your value by forgoing kickers, defenses and even quarterbacks (assuming standard 10- or 12-team leagues) and instead load your bench with late-round picks who have realistic paths to fantasy value.
While it might be unlikely that Elliott's holdout extends into the regular season, who truly knows? So if you're drafting right now, why not take a shot on another Cowboys RB with your final pick instead of taking a kicker?
And if Zeke ends his holdout, who cares? It likely costs only a last-round pick to snag Tony Pollard or Alfred Morris, so drop whichever one you have and pickup a kicker, which you'll need for Week 1 anyway.
There's literally zero downside to this strategy when the market is valuing both players as final-round selections, at best.
Whether you actually believe in their upside is a conversation for another day, but the overarching theme remains leveraging your rankings and potential upside against current market prices (ADP), especially if you're drafting early.
We all want to nail that deep sleeper who changes the trajectory of your fantasy team, like James Conner did last year, and for a myriad of reasons you might ultimately miss out during your draft. Just make sure wasting draft picks on kickers and defenses — and not understanding how to adjust strategy based on the timing of your draft — isn't one of those reasons.
How would you rate this article?