What Melvin Gordon's Return Means for Austin Ekeler, Justin Jackson in Fantasy Football
Credit:
USA Today Sports. Pictured: Austin Ekeler, Melvin Gordon, Justin Jackson
Our experts analyze how Melvin Gordon's return impacts the fantasy football value of Austin Ekeler and Justin Jackson.
Melvin Gordon's holdout is over.
MG3 will report back to the Chargers on Thursday. And while he's not likely to play until Week 5, it does have ripple effects on the fantasy football value of Austin Ekeler and Justin Jackson.
So what should you do if you own either backs?
Our experts Sean Koerner, Chris Raybon and Matthew Freedman debate how Gordon's return impacts Ekeler's and Jackson's outlooks as well as whether it's worth trying to trade either.
---
Austin Ekeler
Sean Koerner: Ekeler won't necessarily go back to the change-of-pace role we saw in 2018. He has absolutely demanded a higher touch share even when MG3 returns. However, it's enough of a hit to drop him to a mid- to low-end RB2.
The window to flip him for a RB1 type back is likely over, but you can still try. Gordon is unlikely to play this week and could even be eased in Week 5, which would give Ekeler RB1 value for the next two weeks. So a 0-3 team that could use those final two weeks of RB1 value from Ekeler would be more likely to buy high on him.
Of course, there's still the potential of MG3 getting injured shortly after returning, as players who rush into game shape/contact are more prone to injury. So Ekeler still has built-in RB1 upside if or when Gordon were to miss time again.
Matthew Freedman: To this point in the season, Ekeler has had a weird status in the trade market.
If you had Ekeler, it was natural to want to trade him, because you knew that MG3 was likely to return at some point, but you didn't want to let him go cheaply because he's an RB1 with MG3 out. But no one in their right mind would give up anything of value for Ekeler, because MG3 could come back any week. And now that MG3 is returning, whatever market there was for Ekeler has now shrunk — because who really wants to trade for a guy likely to be capped at 10 touches per game as the No. 2 back on his team?
If you have Ekeler, I think you keep him and hope that somehow he gets more touches than expected with MG3. If you trade him now, you're likely selling him at less than his intrinsic value.
Chris Raybon: Last season with Gordon active, Ekeler averaged 58.5 yards and 0.45 touchdowns on 8.5 touches per game, which equates to 12.0 PPR, 10.0 half-PPR and 9.8 standard points per game, or the equivalent of this season's RB28 in PPR, RB27 in half-PPR and RB25 in standard.
Given that Ekeler has been one of the best backs in the league this season and Anthony Lynn is a former running backs coach, odds are he would see it as unfair to reduce Ekeler all the way back to his previous role, so Ekeler will likely still get double-digit touches.
He should maintain a good portion of his value upon Gordon's initial return, as Gordon will need time to get up to speed. I've also found that running backs coming off holdouts tend to get injured at a 30% higher rate, which works in Ekeler's favor.
The biggest downside for Ekeler is that he'll likely lose goal-line work to Gordon, especially after fumbling at the 1-yard line in Week 2. Ultimately, Ekeler is a smash play this week and will still have low-end RB2 value going forward, though he might be difficult to trade given that casual players might undervalue him. Unless you get a good offer, you're probably better off holding onto him than selling low.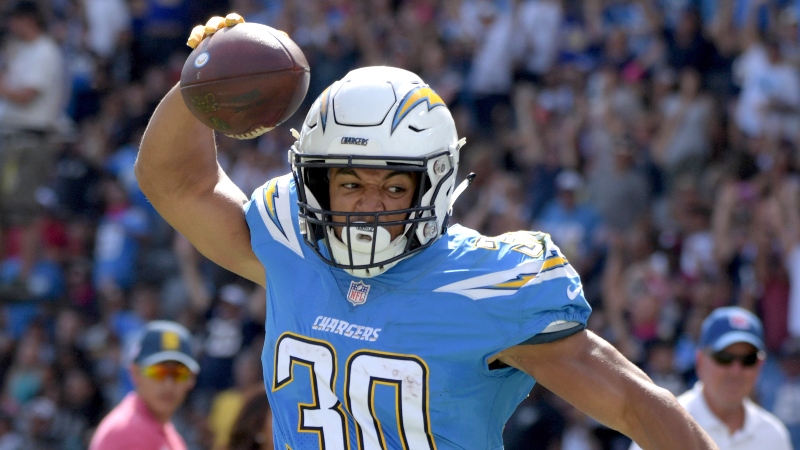 Justin Jackson
Koerner: Jackson will still be a low-end RB2/Flex option for this week's potential blowout against the Dolphins. Once Gordon suits up (likely in Week 5), Jackson will be demoted to more of an upside backup stash. He might even become droppable, depending on the size of your league and what other backup RBs are available.
Jackson's league-winning potential hinged on Gordon's holdout lasting the entire season or being traded, and if Ekeler were to go down. That scenario is now extremely unlikely, so Jackson's window of value is all but closed after this week.
People in need of a one-week RB2/Flex rental this week would be the main buyers for Jackson right now.
Freedman: Jackson's value has always been based more on potential than production, and that will especially be the case now that MG3 is back. But he has a good matchup for Week 4 and should be able to get some points as a big favorite against a Dolphins defense that has allowed the most fantasy points in the league to opposing backfields.
If you have Jackson, maybe you can offload him now to a desperate team that needs a back immediately. Otherwise, I think you can drop him after MG3 has worked his way back into game shape.
Raybon: Jackson having a long TD called back in Week 2 likely removed any hope for getting good value (or any value?) for him on the trade market, but he is Flex-viable as a 16-point favorite against the Dolphins.
So unless you're getting something of use in return, I would hold onto him this week, whether you start him him or not — it's always possible Ekeler gets hurt, after all. If Ekeler makes it back intact, I'd hold one more week just to confirm Jackson is actually phased out and Gordon/Ekeler don't get hurt that week, and then drop Jackson for a higher-upside stash who is second on the depth chart rather than third — or to simply add a bye-week reinforcement, whether it be at RB or another position.
How would you rate this article?