Koerner's Week 4 Fantasy Football Tiers: Ranking Every QB, RB, WR, TE, More
Credit:
USA TODAY Sports. Pictured: Dalvin Cook (33), Deshaun Watson (4), Evan Engram (88).
Sean Koerner unveils his fantasy football tiers for Week 4, including the players who are being undervalued and overvalued.
See his Week 4 rankings for QB, RB, WR, TE, D/ST, K -- and get a window into his strategy at each position.
Week 4 of the NFL season featured some outstanding performances from some surprising faces.
By now you've probably heard about Giants quarterback Daniel Jones' four touchdowns in a comeback win. Raiders wide receiver Darren Waller put the league on notice with a 13-134-0 line. And Dalvin Cook is inching closer to elite RB status with each start.
Now that we have reached the first bye week, which players should you be buying and selling as the season as we head into Week 4? Let's dive into my Tiers, which should be viewed as a window into how I'm approaching the week. As always, check out this piece for my most up-to-date rankings.
If you're looking for streaming advice, you can find my favorite streamers for Week 4 here.
---
Go To: QB | RB | WR | TE | K | DEF
---
Week 4 Fantasy Tiers
Quarterbacks
Tier 1
Patrick Mahomes (@ DET)
Mahomes is redefining the quarterback position. Many expected him to regress to a more human-like passer this season, but instead he has only improved. He deserves Tier 1 all to himself.
Tier 2
Lamar Jackson (vs. CLE)
Deshaun Watson (vs. CAR)
While Mahomes is pushing quarterbacking to new heights, Jackson is redefining the position in his own right. Having unlocked his passing potential through three games, he is the ultimate dual threat quarterback right now. He struggled quite a bit in Week 3 and still managed to finish as the QB11.
That appears to be closer to his floor now, which makes him the QB2 going forward. Watson is very much in the same mold as Jackson, but doesn't have nearly as much rushing upside. He is still a top-five quarterback, who has No. 1 overall quarterback upside every week.
Tier 3
Russell Wilson (@ ARI)
Jared Goff (vs. TB)
Dak Prescott (@ NO)
Matt Ryan (vs. TEN)
Daniel Jones (vs. WAS)
Aaron Rodgers (vs. PHI)
Kyler Murray (vs. SEA)
Philip Rivers (@ MIA)
Welcome to the NFL, Daniel Jones. I had mentioned last week that he was a solid QB2 play with upside, given his rushing ability. But I was not expecting a 300-yard passing game with two total TDs (one rushing, one passing).
We may have seen Jones' best game of the season already, but with a great matchup at home against the Redskins I think he deserves to be treated as a mid-to-low QB1 this week.
Rodgers has become a game manager as the Packers are relying on their strong defense and running game to take them to a 3-0 record. The big games will come and a matchup against the Eagles could force him to throw a bit more. He is a low-end QB1 this week based on matchup, but the lack of pass attempts and even rushing yards are a long-term concern.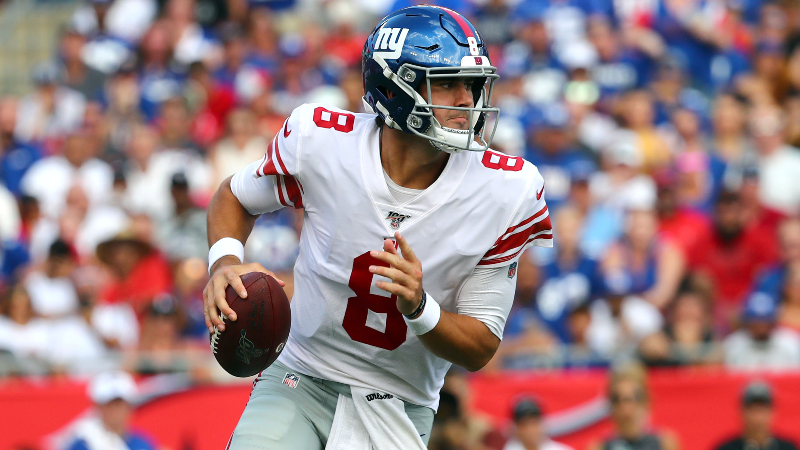 Murray finally flashed his rushing potential with a 69 yards last week. It's pretty clear he only wants to run when it's his last option. I think we will continue to see him throw for at least 250 yards while only rushing for 20-30 most weeks. Either way it's still an ideal blend of dual threat for fantasy purposes that will keep him as a low-end QB1 with upside every week.
Tier 4
Jacoby Brissett (vs. OAK)
Josh Allen (vs. NE)
Matthew Stafford (vs. KC)
After a two-week stretch of having Allen as my top streamer, this is the week you'll likely want to bench him. He's much more likely to have a floor game against the Patriots. With much better alternatives available, he should stay on your bench for this week.
Stafford is back into the streamer discussion this week in a home matchup against the Chiefs. He could be forced to throw more in a potential shootout, and we saw a higher ceiling the last time that happened (Week 1).
Tier 5
Mason Rudolph (vs. CIN)
Carson Wentz (@ GB)
Tom Brady (@ BUF)
Jameis Winston (@ LAR)
Rudolph sticks out like a sore thumb in this tier. He has the easiest matchup against the Bengals, but is obviously hard to trust right now after an up-and-down start. The Steelers raved about Delvin Hodges in the preseason, so there's a chance they give him a start later in the season if Rudolph doesn't look like the long-term answer.
Wentz and Brady are leap of faith "benches" this week. With Alshon Jeffery and DeSean Jackson still banged up and on the short week. I don't expect Wentz to have a stocked cupboard of weapons in what is a tough matchup at Green Bay on Thursday night.
Tier 6
Case Keenum (@ NYG)
Kyle Allen (@ HOU)
Marcus Mariota (@ ATL)
Keenum is a sneaky streaming option this week. Yes, he was a turnover machine on Monday Night Football, but this week's matchup against the Giants is going to elevate his production considerably.
Washington hasn't been afraid to let him air it out so he could put up QB1 numbers if this game turns into a shootout. His main downside is the real threat of an in-game benching for rookie Dwayne Haskins. It's going to come at some point this week, but tentatively think that Keenum will play the entire game Week 4.
After getting to watch some more film on Allen later in the week, I began to boost his projections as it looked like he could actually be an improvement over Cam Newton in this offense. Yes he lit up the Cardinals' defense, but he needs to be treated as a high-upside QB2 as long as Newton is out.
Tier 7
Baker Mayfield (@ BAL)
Gardner Minshew (@ DEN)
Mitchell Trubisky (vs. MIN)
Andy Dalton (@ PIT)
Teddy Bridgewater (vs. DAL)
Derek Carr (@ IND)
Mayfield's stock has hit rock bottom now.
The play calling was terrible and it's only a matter of time before Freddy Kitchens is forced to hand over those duties to Todd Monken.
I expected Mayfield to have a shaky start to the season due to a) building chemistry with Odell Beckham b) a tough schedule, but the Browns' schedule opens up in the second half of the season. After this week, it's a good time to consider buying low if you're really in need of a QB. But with so many usable fantasy quarterbacks out there, I don't see many scenarios where you even need to do that.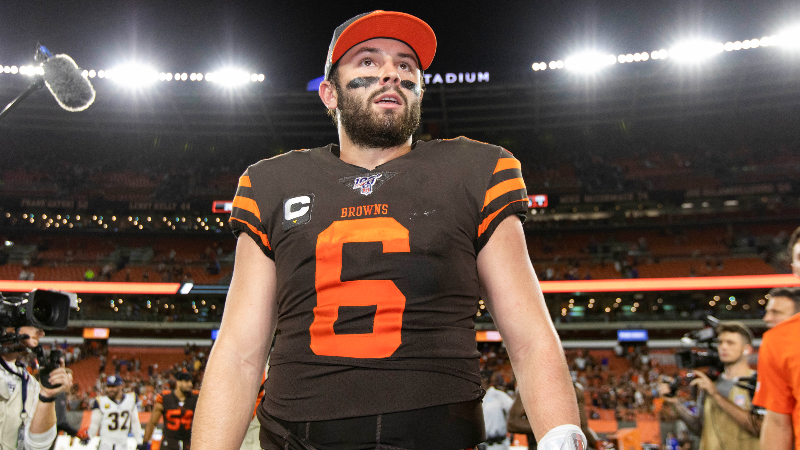 It's pretty ironic that once Drew Brees went down, the Saints didn't see the need for Taysom Hill to play 20% snaps. Therefore it looks like we can trust Bridgewater to be their full-time quarterback until Brees returns. He's a low-ceiling guy who is only a play in deep 2QB leagues this week.
Tier 8
Kirk Cousins (@ CHI)
Joe Flacco (vs. JAX)
Two quarterbacks in run-heavy offenses up against two tough defenses this week. Hard pass.
Tier 9
Josh Rosen (vs. LAC)
The Dolphins may actually go 0-16 this year, and, to be fair, it's not Rosen's fault. This is a situation to avoid completely, though he had quite a few dimes that his receivers dropped. It's a shame this is the second season he is playing on a terrible team with a terrible system.
---
Running Backs
Tier 1
Christian McCaffrey (@ HOU)
The Panthers did not miss a beat without Newton and looked even better under Allen. CMC owners can rest assured that he is going to be the RB1 going forward whether Cam or Allen is under center.
Tier 2
Ezekiel Elliott (@ NO)
Alvin Kamara (vs. DAL)
Saquon Barkley is set to miss 4-8 games due to an ankle injury. This leaves the "Big 4" at running back to the "Big 3" and elevates their fantasy value as a result.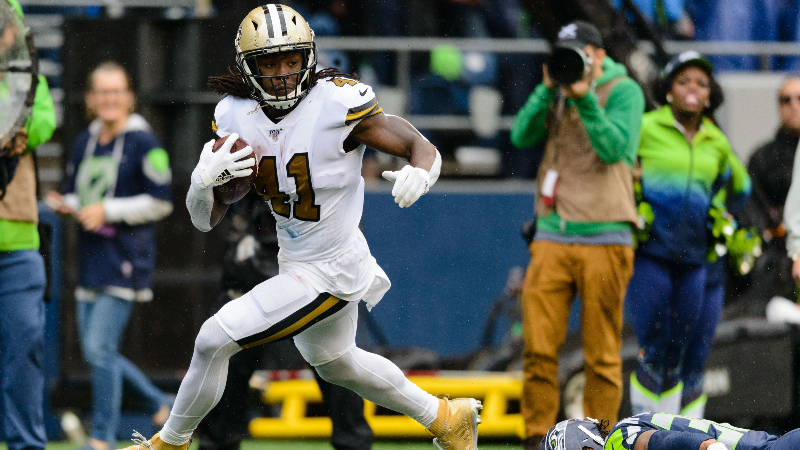 Kamara was able to put up his best game of the season with Drew Brees on the shelf. It's pretty clear that the Saints' plan while Brees is out is to feed Kamara even more. This is much more of a hit to Latavius Murray's value than it is to Kamara. He is still a top three running back going forward.
Tier 3
Dalvin Cook (@ CHI)
Austin Ekeler (@ MIA)
David Johnson (vs. SEA)
Cook is making the case to replace Barkley in the "Big 4." He is going to be a top-five back as long as he can stay healthy. Alexander Mattison is arguably the top handcuff in all of fantasy right now.
Ekeler is a top five back this week as well in what should be a blowout against the Dolphins. He will likely have to get most of his production in the first half as I think they may bubble wrap him in the second half if they are up big and let Justin Jackson dominate touches in the second half.
Tier 4
Nick Chubb (@ BAL)
James Conner (vs. CIN)
Leonard Fournette (@ DEN)
Chubb finally became a full-time back in Week 3, playing 97% of the snaps. It was a great sign for his long-term value (until Kareem Hunt returns in Week 10), but he gets a tough matchup this week against the Ravens. Lower your expectations if you have him. If you don't own him, I would try to buy low after this week if he doesn't put up 10 or more points.
Fournette was able to bust a long run that salvaged his Week 3. He has not been able to find the end zone this year and is due for some positive regression there. Expect him to find pay dirt for the first time Week 4.
Tier 5
Mark Ingram (vs. CLE)
Kerryon Johnson (vs. KC)
Todd Gurley (vs. TB)
Marlon Mack (vs. OAK)
Phillip Lindsay (vs. JAX)
Aaron Jones (vs. PHI)
Joe Mixon (@ PIT)
Devonta Freeman (vs. TEN)
Derrick Henry (@ ATL)
Gurley's start to 2019 has gone as feared. He looks as if his chronic knee issue may already be an issue and the Rams might start getting Malcolm Brown and even rookie Darrell Henderson more touches going forward. I think he could put up a decent game this week with a score against Tampa, then it will be time to sell high if you can.
Johnson saw a massive workload after the Lions decided to cut C.J. Anderson ahead of Week 3. While the efficiency wasn't there against a solid Eagles run defense, he had a career-high 20 carries and played a career-high 75% snaps. He was also given two goal-line carries and was able to punch one in for a score.
The only thing missing that would make him a RB1 going forward is more involvement in the passing game. As soon as we can bank on 2-4 catches per game, Johnson will viewed as a weekly RB1.
After scoring a touchdown in all three games so far, I think this week we need to lower our expectations for Henry. I worry the Titans could get into a situation where they are trailing the Falcons and lean on pass-catching back Dion Lewis to see a larger percentage of snaps, which will hurt Henry's floor/ceiling.
Tier 6
Wayne Gallman (vs. WAS)
Chris Carson (@ ARI)
David Montgomery (vs. MIN)
Sony Michel (@ BUF)
Justin Jackson (@ MIA)
If you have been stashing Gallman (and don't own Barkley) congrats on inheriting a low end RB2 for the next two months.
Gallman isn't even in the same galaxy as Barkley in terms of raw talent, but fantasy football is all about opportunity and that is what Gallman has plenty of right now. Treat him as a low-end RB2 this week against the Redskins.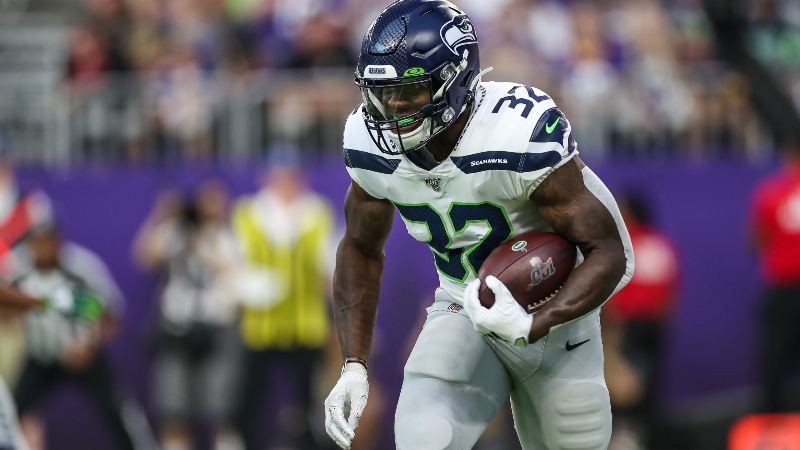 We need to monitor any potential backs that the Giants either bring in via free agency or call up from the practice squad. As always, check my updated rankings once we have more information before making any final sit/start decisions.
Carson's job security is in serious jeopardy if he can't overcome his fumbling issues. Luckily, coach Pete Carroll has been defending him, and Rashad Penny is hobbled with a hamstring injury. He needs to have a big game and not fumble this week for us to treat him as a RB2 going forward.
Jackson is a sneaky RB3/Flex this week where we are banking on him getting a ton of second-half usage with the Chargers potentially blowing out the Dolphins.
Tier 7
Royce Freeman (vs. JAX)
Josh Jacobs (@ IND)
Jacobs has not factored into the passing game enough to treat him any higher than a RB3/Flex right now. Gruden has voiced the need to start getting involved with some targets, so this will be something we need to closely monitor this week.
In a matchup where the Raiders are 7-point underdogs, it's critical for Jacobs to start seeing some passing work to make him game flow-proof. His usage in a game like this will have a big impact on his value this season; the Raiders should trail most games going forward.
Tier 8
James White (@ BUF)
Adrian Peterson (@ NYG)
LeSean McCoy (@ DET)
Miles Sanders (@ GB)
Carlos Hyde (vs. CAR)
Chris Thompson (@ NYG)
Kenyan Drake (vs. LAC)
McCoy's status is up in the air this week, so take my Chiefs running back rankings with a grain of salt. Check in with my updated rankings when it comes time to make sit/start decisions as I will have them updated up until lock time. Last week, the Chiefs' running back situation was completely up in the air less than a half hour before lock.
Hyde's value may take a huge hit if the Texans end up signing free agent C.J. Anderson, who tried out with the Texans on Tuesday.
Tier 9
Peyton Barber (@ LAR)
Jamaal Williams (vs. PHI)
Rex Burkhead (@ BUF)
Tarik Cohen (vs. MIN)
Duke Johnson Jr. (vs. CAR)
Damien Williams (@ DET)
Devin Singletary (vs. NE)
This is certainly a "check my updated rankings" tier. There could be a ton of movement with a few of these backs come sit/start decision time. Right now I am having Singletary suiting up for the matchup against the Patriots, but he appears to be a full blown game-time decision.
Tier 10
Frank Gore (vs. NE)
Rashaad Penny (@ ARI)
Ronald Jones (@ LAR)
Malcolm Brown (vs. TB)
Jordan Howard (@ GB)
Dion Lewis (@ ATL)
Giovani Bernard (@ PIT)
Nyheim Hines (vs. OAK)
Kalen Ballage (vs. LAC)
C.J. Prosise (@ ARI)
Gus Edwards (vs. CLE)
Penny, Brown and Mattison are arguably the three most valuable backup running backs who need to be owned in all leagues right now.
---
Wide Receivers
Tier 1
Keenan Allen (@ MIA)
DeAndre Hopkins (vs. CAR)
Julio Jones (vs. TEN)
These three wideouts have formed the top tier at wide receiver. Keenan Allen is open on nearly every single route, so Rivers has no problem force-feeding him. I learned a while ago to never anticipate Rivers spreading it around if Keenan is healthy.
Hopkins has hit a bit of a rough patch after two difficult matchups. The league can only contain Nuk for so long; he is due to explode for a massive game in the near future.
Tier 2
Davante Adams (vs. PHI)
Odell Beckham (@ BAL)
Adams and Beckham have started off 2019 a bit slow. Adams is more of a casualty of the Packers' strong defense and running game taking them to a 3-0 record. Beckham is a casualty of Baker's rough start and some poor playcalling. They will both only get better from Week 4 on.
Tier 3
Michael Thomas (vs. DAL)
Sammy Watkins (@ DET)
Amari Cooper (@ NO)
JuJu Smith-Schuster (vs. CIN)
Thomas was able to put up a usable 5/54/1 line with Bridgewater and should be a high-floor WR1 again this week as the Saints will likely be forced to throw a bit more against the Cowboys. JuJu was also able to put up a solid 3/81/1 game with Rudolph taking over for Big Ben.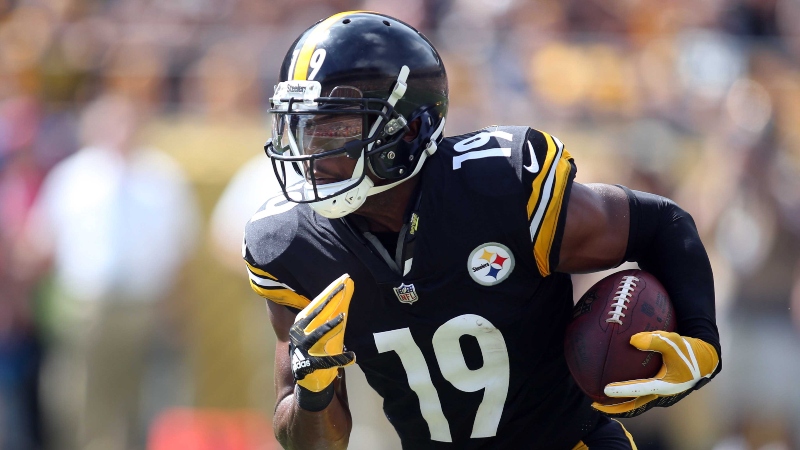 While I think he will be more of a WR2 going forward, the matchup against the Bengals is too good for him. If he drops another good game I would actually see if you can sell him at WR1 value before I think he slips into the WR2 range from Week 5 on.
Tier 4
Mike Evans (@ LAR)
Cooper Kupp (vs. TB)
Kenny Golladay (vs. KC)
Brandin Cooks (vs. TB)
Tyler Lockett (@ ARI)
Evans broke out of his hibernation with a massive 8/190/3 game. He is going to be fairly inconsistent this year and took advantage of a cupcake matchup against the Giants. I wouldn't blame you if you tried to sell high this week, I think you could find a buyer.
Golladay should bounce back against the Chiefs after a Week 3 dud. Tyler Lockett is in the middle of a massive breakout after back-to-back 10-plus catch games. He gets a mouth-watering matchup against the Cardinals this week and has overall WR1 upside this week.
Tier 5
Tyler Boyd (@ PIT)
Julian Edelman (@ BUF)
T.Y. Hilton (vs. OAK)
Robert Woods (vs. TB)
Christian Kirk (vs. SEA)
Marquise Brown (vs. CLE)
Adam Thielen (@ CHI)
Chris Godwin (@ LAR)
Larry Fitzgerald (vs. SEA)
I do not regret my mid-WR2 ranking of Brown last week. Despite the 2/49/0 line, he looked like a future WR1 in the making. Not to mention we saw his snap percentage rise to 75% this year. While Week 1 very well could be his best game of the season, he has some big games coming in the near future.
Hilton and Edelman are both highly questionable this week so we need to monitor their health to figure out where exactly to slot him before we make any sit/start decisions.
While I don't expect the Vikings to be as pass averse all season, it is concerning that Adam Thielen is only the WR25 in PPR despite seeing such a high percentage of the team's production in the passing game. His floor is dangerously low any given week he fails to score a touchdown. I'm treating him more as a mid/low end WR2 in a tougher matchup against the Bears.
Tier 6
Terry McLaurin (@ NYG)
Calvin Ridley (vs. TEN)
Josh Gordon (@ BUF)
D.J. Moore (@ HOU)
Marvin Jones (vs. KC)
Will Fuller (vs. CAR)
Allen Robinson (vs. MIN)
Emmanuel Sanders (vs. JAX)
McLaurin is another rookie receiver who is off to a blazing start. I think due to a couple of wide open passes that Keenum overthrew him, he's actually left some stats on the table. There's no reason to think he will slow down anytime soon and gets to face a Giants defense that has been torched by opposing receivers so far this season.
Gordon's stock has been on the rise ever since Antonio Brown was released and now that Julian Edelman is questionable for Week 4. He could be on the high-end WR2 radar if Edelman ends up missing.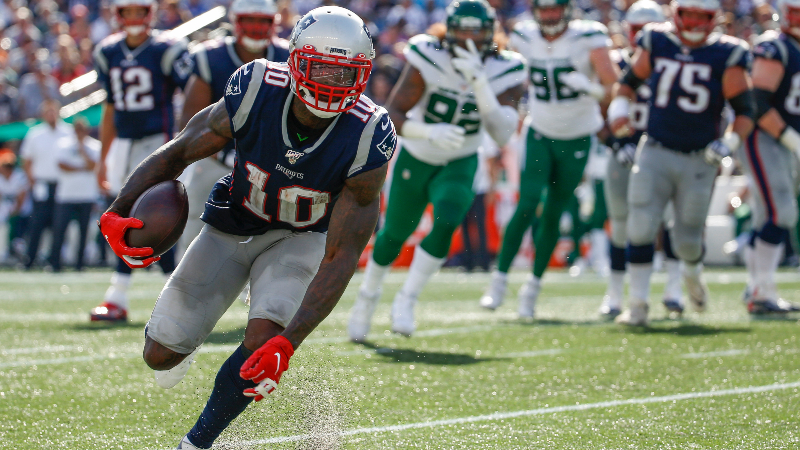 Jones is sort of a forgotten fantasy asset. He looks to be back in form and can be treated as a high-end WR3 with upside in a potential shootout against the Chiefs.
Fuller is going to break out any week now. You always have to be patient with him during slow stretches; his week-to-week production is going to be inconsistent as the Texans' main deep threat.
Tier 7
Curtis Samuel (@ HOU)
Sterling Shepard (vs. WAS)
Mike Williams (@ MIA)
Marquez Valdes-Scantling (vs. PHI)
D.K. Metcalf (@ ARI)
Stefon Diggs (@ CHI)
Jarvis Landry (@ BAL)
Desean Jackson (@ GB)
John Brown (vs. NE)
Tyrell Williams (@ IND)
Alshon Jeffery (@ GB)
Demarcus Robinson (@ DET)
Valdez-Scantling owners can breathe a sigh of relief. He is going to be a WR3 going forward now that he's established himself as Aaron Rodgers' No. 2 target. The Packers' run-first, play-solid-defense mentality has limited his upside some, but a matchup against the Eagles could force them to air it out which will only help MVS's outlook.
Diggs is only going to get better from Week 4 on, but I don't think we will see him become the high end WR2 he was drafted as. We have to lower our expectations of him as being more of a high-ceiling/low-floor WR3 right now.
Tier 8
John Ross (@ PIT)
Mecole Hardman (@ DET)
D.J. Chark (@ DEN)
Phillip Dorsett (@ BUF)
Dede Westbrook (@ DEN)
Randall Cobb (@ NO)
Paul Richardson (@ NYG)
Mohamed Sanu (vs. TEN)
Courtland Sutton (vs. JAX)
With Edelman questionable this week, Dorsett needs to be owned in every league and treated as a potential WR3 this week.
Hardman has a massive weekly ceiling while Tyreek Hill sits out for what should be a few more games. Just know that he does have a floor that we haven't seen yet. It's important to realize that you need to simply play him every week if you are thin at receiver and take the good with the bad.
Tier 9
Hunter Renfrow (@ IND)
Danny Amendola (vs. KC)
Cole Beasley (vs. NE)
Preston Williams (vs. LAC)
Trey Quinn (@ NYG)
Corey Davis (@ ATL)
Kenny Stills (vs. CAR)
DeVante Parker (vs. LAC)
Devin Smith (@ NO)
Damiere Byrd (vs. SEA)
Diontae Johnson (vs. CIN)
Nelson Agholor (@ GB)
Taylor Gabriel (vs. MIN)
Chris Conley (@ DEN)
If you are lacking at receiver, looking at this tier for a potential starter and are a pretty big favorite in your matchup, go with high(er) floor guys like Renfrow, Amendola, Beasley or Quinn. If you are in a similar spot but are a pretty big underdog, swing for the fences with Williams, Stills, Smith or Johnson.
---
Tight Ends
Tier 1
Travis Kelce (@ DET)
This position has been a pleasant surprise this year with so many young, talented tight ends breaking out and older veteran's coming out of the gate hot. I still have Kelce as the TE1 all to himself.
Tier 2
Evan Engram (vs. WAS)
Zach Ertz (@ GB)
Engram looks unstoppable with Jones at QB. He made an incredible one-handed grab and is going to be Jones' favorite target going forward.
George Kittle is on a bye this week, but even if Kittle was playing this week, I might still have Engram at the No. 2 slot. He is that good right now.
Tier 3
Darren Waller (@ IND)
Mark Andrews (vs. CLE)
Greg Olsen (@ HOU)
Austin Hooper (vs. TEN)
Delanie Walker (@ ATL)
A tier loaded with youth and the old guard. Waller is the Raiders' offense now after a 13/134/0 game against the Vikings.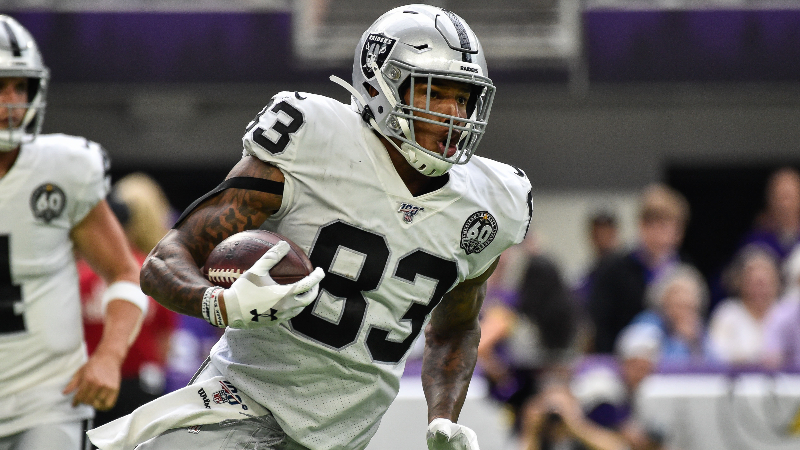 Andrews was finally slowed down in Week 3. We don't know for sure how much falls on the ankle injury, but he played his usual 53% snaps, so it wasn't due to lack of playing time.
We have to wonder if the easy three-game stretch to start the season overrated him in the short term as he's set to face much tougher defenses the rest of the way.
I've been harping on Hooper seeing positive touchdown regression, and we finally saw it with a two-touchdown performance Week 3. He faces a Titans defense that has allowed a touchdown to an opposing tight end in all three games this season.
Let's hope Hooper can keep up his red zone presence again this week.
Tier 4
OJ Howard (@ LAR)
Howard owns this tier. He is stuck between the TE1 Tier and the "streamers." Until we see more consistency from him, we will have to be a bit cautious.
Tier 5
Will Dissly (@ ARI)
T.J. Hockenson (vs. KC)
Dissly is my top tight end streamer for Week 4. He is not only trending up, but has the best matchup a TE could ever ask for against the Cardinals.
Hockenson has gone M.I.A. ever since he exploded in his Week 1 debut. Tight ends in general are inconsistent, especially rookies, so don't be surprised if he bounces back with a solid game against the Chiefs.
Tier 6
Eric Ebron (vs. OAK)
Vernon Davis (@ NYG)
Jared Cook (vs. DAL)
Noah Fant (vs. JAX)
Jason Witten (@ NO)
Jack Doyle (vs. OAK)
Trey Burton (vs. MIN)
Dawson Knox (vs. NE)
Jimmy Graham (vs. PHI)
Kyle Rudolph (@ CHI)
Jordan Akins (vs. CAR)
This is the "streamers" tier. Any one of these guys could get you a useful score this week if they manage to find the end zone. Knox is someone to keep your eye on. The rookie tight end broke out for a 3/67/1 game.
He was every bit as good as the box score indicates, and on his 49-yard gain, he stiff armed the first defender to the ground and then lowered his head and knocked the other would-be tackler into the ground. It was a flash of some of the potential he has after the catch and worth a flier in deeper leagues.
---
Kicker
Tier 1
Harrison Butker (@ DET)
Greg Zuerlein (vs. TB)
Michael Badgley (@ MIA)
Justin Tucker (vs. CLE)
Jason Myers (@ ARI)
Tier 2
Adam Vinatieri (vs. OAK)
Matt Bryant (vs. TEN)
Ka'imi Fairbairn (vs. CAR)
Matt Prater (vs. KC)
Stephen Gostkowski (@ BUF)
Aldrick Rosas (vs. WAS)
Brett Maher (@ NO)
Mason Crosby (vs. PHI)
Wil Lutz (vs. DAL)
Tier 3
Chris Boswell (vs. CIN)
Dustin Hopkins (@ NYG)
Cairo Santos (@ ATL)
Joey Slye (@ HOU)
Zane Gonzalez (vs. SEA)
Tier 4
Jake Elliott (@ GB)
Matt Gay (@ LAR)
Daniel Carlson (@ IND)
Eddy Pineiro (vs. MIN)
Austin Seibert (@ BAL)
Brandon McManus (vs. JAX)
Randy Bullock (@ PIT)
Steven Hauschka (vs. NE)
Josh Lambo (@ DEN)
Dan Bailey (@ CHI)
Jason Sanders (vs. LAC)
---
Defenses
Tier 1
Los Angeles Chargers (@ MIA)
Los Angeles Rams (vs. TB)
Tier 2
Pittsburgh Steelers (vs. CIN)
New England Patriots (@ BUF)
Baltimore Ravens (vs. CLE)
Seattle Seahawks (@ ARI)
Denver Broncos (vs. JAX)
Jacksonville Jaguars (@ DEN)
Indianapolis Colts (vs. OAK)
Tier 3
Minnesota Vikings (@ CHI)
Houston Texans (vs. CAR)
Chicago Bears (vs. MIN)
Green Bay Packers (vs. PHI)
New York Giants (vs. WAS)
Cincinnati Bengals (@ PIT)
Atlanta Falcons (vs. TEN)
Tier 4
Washington Redskins (@ NYG)
Tennessee Titans (@ ATL)
Kansas City Chiefs (@ DET)
Carolina Panthers (@ HOU)
Dallas Cowboys (@ NO)
New Orleans Saints (vs. DAL)
Philadelphia Eagles (@ GB)
Cleveland Browns (@ BAL)
Tier 5
Arizona Cardinals (vs. SEA)
Buffalo Bills (vs. NE)
Oakland Raiders (@ IND)
Tampa Bay Buccaneers (@ LAR)
Detroit Lions (vs. KC)
Miami Dolphins (vs. LAC)
How would you rate this article?