Why Mike Evans & Chris Godwin Can't Both Be Top-5 Fantasy WRs with Tom Brady
Credit:
Cliff Welch/Icon Sportswire via Getty Images. Pictured: Mike Evans, Chris Godwin
Tom Brady appears destined to land in Tampa Bay.
Part of the Buccaneers' appeal is certainly their offensive weapons — most notably the wide receiver duo of Mike Evans and Chris Godwin — but how would Brady impact their fantasy value?
Our experts — Chris Raybon and Matthew Freedman — analyzes what Brady's deal could mean Tampa Bay's pass-catchers.
[Brady-to-the-Bucs Promo! Bet the Bucs to win the NFC South at +250 (boosted from +160) and other Brady promos]
Raybon
Though he managed to scrape together a QB12 overall finish (QB16 on a per-game basis), it was clear Brady's supporting cast got the best of him last season.
His 3.9% touchdown rate was his lowest ever; his 6.6 yards per attempt average was his lowest since 2002, his 256.8 passing yards per game were his lowest since 2010, and his 60.8% completion percentage was his lowest since 2013.
As the season wore on and the temps got colder, his struggles became more and more apparent. After posting 7.3 yards per attempt in completing 64.7% of his passes in September and October, Brady slumped to just 5.9 yards per attempt and a 56.9% completion rate in November and December.
I realize a late-season decline will set the alarm bells for some, but the reason I point to supporting cast more than age is because that's what the tape — and the sideline cams — showed: Though often frustrated by his mostly unfamiliar receiving corps beyond Julian Edelman and James White, Brady still managed to earn the 10th-best passing grade from Pro Football Focus (77.4) among 39 qualifiers.
Throwing to Evans, Godwin and O.J. Howard (please!) as well as playing most of his late-season games down south should alleviate these concerns and vault Brady into the low-end QB1 discussion. Still, sheer regression coupled with fewer shootouts thanks to going from the most turnover-prone quarterback in the league to one of the least turnover-prone says Godwin and Evans won't join each other as top-five fantasy WRs again in 2019.
However, it is hard to imagine Brady agreeing to come to Tampa Bay if he didn't intend to lean on his two stud receivers. And he represents enough of an efficiency upgrade to keep them in the WR1 conversion — though mid-range to low-end is probably more realistic valuation than their average draft positions (ADP) as the WR5 and WR6 at MyFantasyLeague.com as of writing.
Of the two, Godwin retains a higher floor because Brady favors shorter, higher-percentage throws than his predecessors Jameis Winston and Ryan Fitzpatrick, and Godwin barring a tactical shift by Bruce Arians, Godwin will operate out of the slot in three-wide sets (he ran 63.4% of his routes out of the slot last season).
I'm hesitant to say Brady is a lock to set the Howard fantasy redemption train in motion, especially since Arians offenses have never been tight end-friendly, and also because we don't yet know whether the team will bring back Cameron Brate. But in theory, Brady's struggles in a post-Gronk world coupled with Howard's talent should make increasing Howard's involvement a point of emphasis.
This year is shaping up as a good one to wait on TE, and Howard represents great value as a low-risk, high-reward flier at his current ADP as the TE15.
If Ronald Jones opens the year as the No. 1 back, he would be a steal at his current ADP as the RB36 in what's likely to be a more efficient, less shootout-prone offense helmed by a quarterback who has been known to rely on his running backs in the passing game. However, the Bucs could also look to address the position in the draft and/or continue to use Dare Ogunbowale as the main passing-down back.
Strangely enough, Brady's departure may have resulted in creating the most fantasy value for Julian Edelman relative to his ADP.
As of Tuesday evening, Edelman's ADP has plummeted all the way down to WR43. While it's true that Edelman is getting up there in age, has struggled at times with durability and almost certainly won't replicate the efficiency he enjoyed with his former future Hall of Fame quarterback, it's also true that Edelman is still slated to be the Patriots' No. 1 receiver, with plays still being called by Josh McDaniels. No player slated to lead their team in targets should be selected outside the top-36.
I'm still viewing Edelman as a low-end WR3 with upside.
[Brady-to-the-Bucs Promo! Bet the Bucs to win the NFC South at +250 (boosted from +160) and other Brady promos]
Freedman
In 2015-16, Brady had a late-career renaissance as he averaged 24.8 fantasy points per game with ruthless efficiency as a top-three quarterback. But since then, his play has progressively declined.
2017: 21.7 fantasy points per game (No. 5 among quarterbacks)
2018: 20.6 (No. 18)
2019: 19.1 (No. 18)
As smart as Brady is, he's been a mid-range QB2 for the past two seasons.
His offensive weapons will be much better in 2020 than they were in 2019.  Evans and Godwin are probably the league's best wide receiver duo. Howard has the potential to develop into a top tight end, and Cameron Brate is a solid veteran at the position.
Even Jones, who entered the league as an unproven receiver, flashed last year in the pass-catching game with 31 receptions on 40 targets, and change-of-pace back Ogunbowale added 35 receptions on 46 targets.
But Brady will be 43 years old when the season starts, and he'll be playing with new teammates for a new coaching staff and organization in a new stadium and city. It would be highly surprising if Brady didn't have at least some transitional struggles.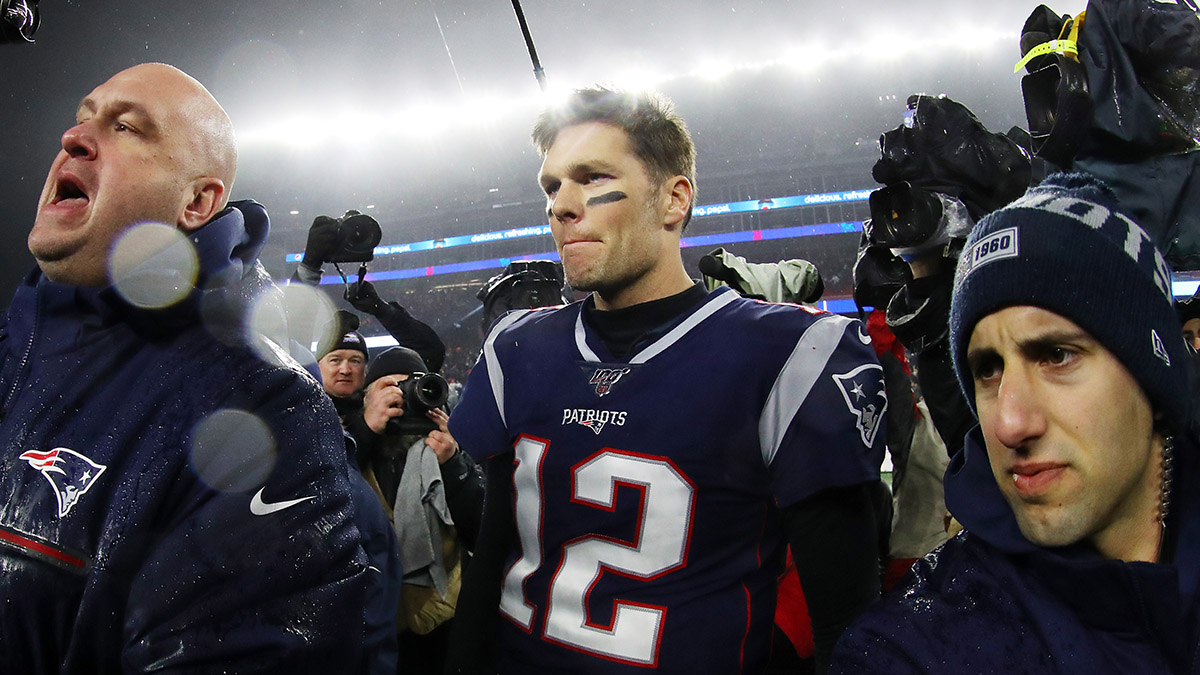 Any quarterback throwing to Evans and Godwin and playing for head coach and passing-game guru Arians deserves attention. Last year, even though he had a league-high 30 interceptions, Winston was the No. 8 fantasy quarterback with 22.9 points per game.
With his weaponry, Brady certainly has upside, and he will likely have some strong peak weeks. But at best Brady is a low-end QB1.
I'll be especially curious to see how Brady connects with Evans. Brady's arm strength has declined over the past half decade, and Evans is his best downfield, where he can use his size and ball skills to beat out smaller cornerbacks. Evans is one of just two players in NFL history to open his career with six straight 1,000-yard receiving seasons, so I'm not too worried about him: He has a very high floor.
But there's a big difference between 1,000 yards and five touchdowns and 1,400 yards and 12 touchdowns. With Brady, Evans could have either type of season, but if he falls toward the lower end of the spectrum, he'll significantly disappoint his fantasy investors.
Godwin, though, will probably be fine with Brady. A dynamically explosive slot receiver, Godwin should benefit from the past connections Brady has established with his middle-of-the-field receivers, specifically Edelman and Wes Welker, both of whom regularly saw 140-plus targets from Brady on a year-to-year basis.
A breakout superstar last year with a 1,300-yard campaign, Godwin could destroy defenses in 2020 if he and Brady connect early and he sees 140-150 targets. As good as Evans is, Godwin has a real chance to outproduce him in every statistical category.
Meanwhile, Upside and downside reside in Howard in equal measures. In 2020, he could be a top-three fantasy tight end. He could also play behind the veteran Brate and find himself benched because of a poor route that resulted in a Brady interception.
All I know about Howard is that I don't know.
I doubt Jones will be the locked-in lead back entering the 2020 season: At a minimum, he will be in a committee with Ogunbowale, and the Bucs could also draft a player or bring in a veteran to compete for touches.
But Jones will be just 23 when the season starts, and last year he buried the memory of a horrifying rookie season with a surprising 1,000-yard campaign as a part-time back. If he somehow gets a firm grasp on the early-down role and continues to progress as a receiver, we could be looking at a breakout player with a 1,500-yard, 10-touchdown campaign.
In New England … who knows what to think? Edelman and running back James White should still get their targets, and by the time lots or redraft leagues start up, they might be significantly discounted on account of Brady's departure.
But they will both have far lower floors than they had last year.
As for 2018 first-round running back Sony Michel and 2019 first-round wide receiver N'Keal Harry: The rest is silence.
How would you rate this article?