NFC East Odds & Race: How the Giants, Eagles, Cowboys & Washington Stack Up
Credit:
Getty Images. Pictured: Ezekiel Elliot, Daniel Jones, Chase Young, Jalen Hurts
It was a pretty good week for the NFC East — or as good of a week as possibly the worst division in league history could have.
While the Eagles and Cowboys each added one more to the loss column, the Giants marched into Seattle to upset the 8-3 Seahawks. Then the next day, Washington did them one better, coming back from a 14-3 halftime deficit to hand the Steelers their first loss of the season.
Heading into the final four weeks of the season, how does each NFC East team stack up?
Let's take a look at their playoff odds, who their ideal postseason opponents would be among the teams in the race for the final Wild Card spot — not counting the Bears; it goes without saying that everyone would want to play the Bears — and how bright the future is for each NFC East team in 2021 and beyond.
NFC East Odds
New York Giants
Record: 5-7 | Odds: -143
It's been a rough year for certain branches of the Bill Belichick coaching tree, with Bill O'Brien and Matt Patricia catching the midseason axe. But for Joe Judge, who served under Belichick from 2012-19, early returns have been stupendous.
A great way to get a sense of how well or poorly a coach is doing is to look at his record against the spread (ATS), and Judge's Giants are 8-4 ATS this season.
Of the Giants' five losses, only two have come by more than one score, both of which occurred in the first three weeks of the season– 26-16 at Pittsburgh in Week 1 and 36-9 vs. San Francisco in Week 3 — which suggests improvement. Since Week 4, the Giants are 5-4, with their four losses coming by margins of 8, 1, 3, and 2 points.
Judge has already established himself as the anti-Patricia when it comes to locker room buy-in — that much should be obvious for any team that continues to play hard after starting 1-6, but two key events stand out.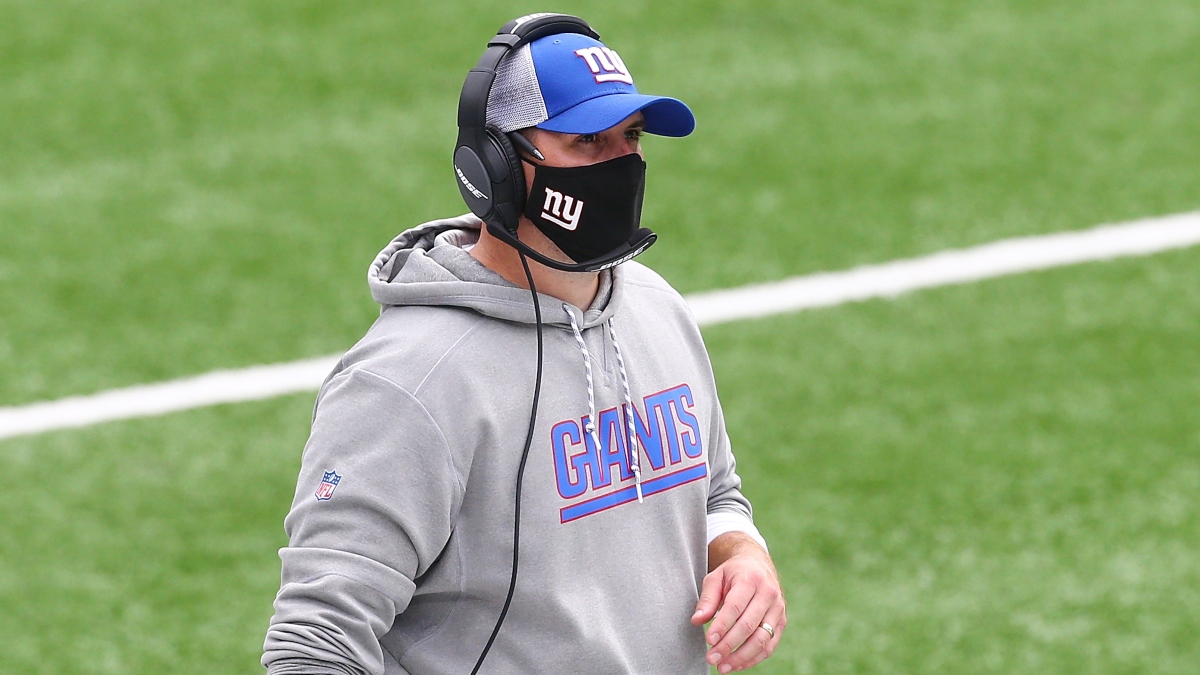 The first was after Judge suspended Golden Tate after the wide receiver openly voiced his displeasure with his role to Monday Night Football cameras, but also after he caught what could have been a game-tying touchdown had the Giants made the ensuing two-point conversion against Tampa Bay. Removing a productive player from an offense that was already struggling could have gone sideways, but the team responded with a win at Washington.
Then, Judge fired offensive line coach Marc Columbo — a well-liked coach, by most accounts — and replaced him with Dave DeGuglielmo, who has a reputation of wearing out his welcome and has been hired and fired five times over the past five years. Prior to the move, the Giants were averaging 110.5 rushing yards per game and had been sacked on 8.5% of dropbacks. In the two game since, the Giants have rushed for an average of 166.0 yards and been sacked on 3.2% of dropbacks.
The biggest difference-maker for Judge may be the hire of defensive coordinator Patrick Graham. Graham has quickly gained a reputation as a master game-planner, so much so that Seahawks coach Pete Carroll couldn't even figure out what happened to his offense in their surprise 17-12 loss to the Giants, but then refused to divulge Graham's tactics in fear that it may give future opponents a competitive advantage.
Giants' Path to the Playoffs
Week

Team

Record

14

Cardinals

6-6

15

Browns

9-3

16

Ravens

7-5

17

Cowboys

3-9

Combined Opponent Record: 25-23 (most difficult)
Football Outsiders' Playoff Odds Report, which simulates the season 30,000 times using its DVOA models, currently gives the Giants a 51.3% chance of winning the division, edging Washington at 43.5%. This assumes quarterback Daniel Jones has a 60% chance of returning from his ankle injury by Week 14 against Arizona, and an 80% of returning by Week 15 against Cleveland.
Anytime the odds are in your favor despite 20-40% of Colt McCoy, it's hard to complain, but it won't be easy — the Giants are the only team in the division whose remaining schedule of opponents have a combined record above .500. Working in the Giants' favor is that three of the four are at home — the rest of the division has two home games remaining each — and, more importantly, the head-to-head tiebreaker over Washington.
This means that Big Blue has to essentially have to keep pace with Washington to claim the NFC East crown. That will be easier said than done, however, as Washington has three games remaining against teams with losing records: 5-7 San Francisco, 4-8 Carolina and 3-8-1 Philadelphia.
With all that said, Judge has to be treating this week's game as a must-win. The good news? While the Giants are 3-point underdogs (check real-time odds here), the Cardinals have lost outright in four of seven games as a favorite this season and five of eight overall in Kliff Kingsbury's tenure, according to our Action Labs data.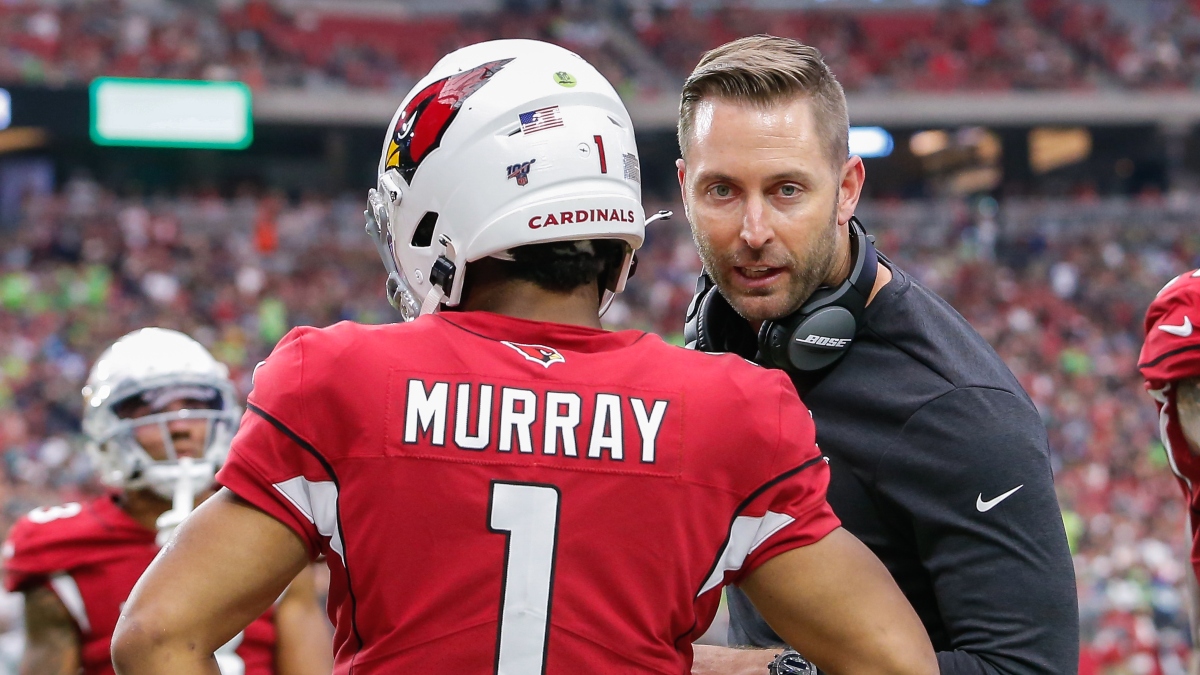 Already this season, Kingsbury has lost as a favorite to both ends of the spectrum of the Belichick coaching tree, falling to Patricia's Lions 26-23 as a 4.5-point favorite and to Brian Flores' Dolphins 34-31 as a 6-point favorite. And even more recently, the Cardinals lost to Belichick himself and his bizarro Patriots as a 1-point favorite in a game that Cam Newton threw for 84 yards with no touchdown and two interceptions.
Kingsbury feels like a coach who could hand the Giants a win on a silver platter, even if they're forced to start McCoy.
A win against Arizona in the 1 p.m. ET window would put immense pressure on Washington  traveling across country to face a well-coached San Francisco team in a what sets up as a major letdown spot after ending Pittsburgh's hopes for an undefeated season.
Giants' Ideal Playoff Opponent
Since 2003, teams that won the first game of a non-divisional playoff matchup are 54-38 in the rematch. The NFC East winner will host the top wild-card team, which will likely be either the second-place NFC West team or the Bucs. The Giants play the Cardinals this week, lost to the Rams 17-9, lost to the Bucs 25-23, and beat the Seahawks 17-12.
The Seahawks, Bucs and Rams are likely the preferred order for the Giants.
Why?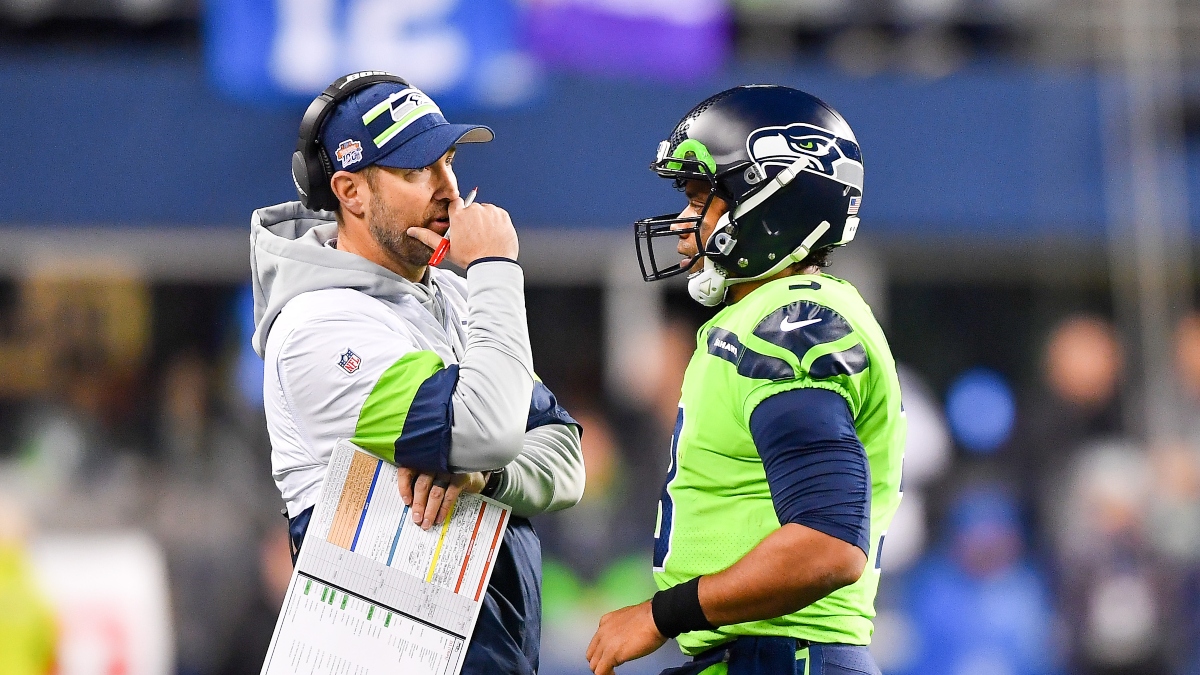 Since the Giants' biggest edge is in coaching and passing has the biggest impact on football games, the Giants would fare best against the opponent whom they have the biggest coordinator mismatch with, which is Graham vs. Seahawks offensive coordinator Brian Schottenheimer. Carroll is old-school as well, so even though he's a decorated coach, his team is no guarantee to solve the Giants a second time around — especially since the Giants have shown the ability to adjust in matchup No. 2 after both wins and losses, beating Washington twice in three weeks and beating the Eagles by 10 after losing the first matchup.
The Vikings with Mike Zimmer and Gary Kubiak could be vulnerable as well in the sense of being old school coaches whose philosophies could play into being the foil of a expert game plan, but the Giants would not be able to generate enough pure pressure to be the ideal kryptonite for Kirk Cousins.
The Bucs were chided for their game plan against the Giants in the first matchup, but their sheer amount of talent on both sides of the ball will make it tough for the Giants to pull off the upset in a rematch. McVay and Brandon Staley can match wits with this coaching staff.
If the Giants can stymie the Cardinals I may have to reconsider, but for now, I'm going with Seattle.
Ideal opponent: Seahawks
What the Giants' Future Holds
While winning two games with McCoy has highlighted what the Giants are made of, it did unfortunately rob them of precious time to further evaluate Jones, while also making it more difficult to acquire a replacement or help for Jones in the first round of the 2021 draft.
Maximum evaluation time for Jones is incredibly important, because if we had to judge today, Jones would not pass the franchise quarterback test. Now 889 dropbacks into his career, his adjusted net yards per pass attempt — a key metric for evaluating quarterbacks — sits at 5.16, and his mark of 4.88 this season actually represents regression from last season's 5.38.
ESPN's Total QBR — which takes into account rushing — paints Jones in a better light, as he improved from 57.0 last season (17th) to 66.2 this season (15th), though the mere two-spot increase is illustrative of the fact that passing efficiency and dual-threat quarterbacking is on the rise. And this is the second consecutive season that Jones has missed time due to a leg injury after suffering a high-ankle sprain late in 2019, so being a high-volume runner shouldn't be his only calling card to barely scraping mediocrity.
Jones has flashed the upside to post big numbers — he had four or more touchdowns in three games last season — and he has the intangibles to succeed. But after committing at least one turnover in 11-of-12 starts as a rookie and each of his first eight starts this season, he must prove that his current three-game turnover-less streak is sustainable over the longer term — something that can only be proven by increasing his sample size of turnover-free ball.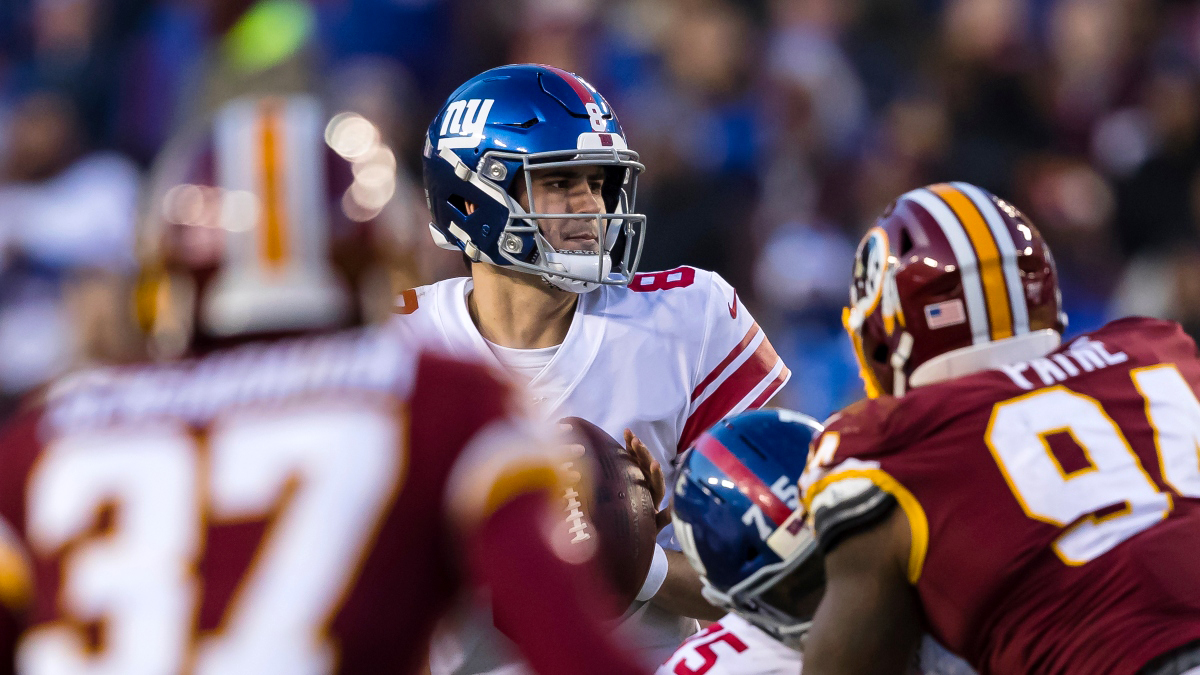 If Jones can't cut down on the turnovers, he could easily undermine the culture Judge has worked so hard to create: Especially after his most polarizing decisions involved the offense — suspending Tate and firing Columbo — how would it look for Judge to string the franchise's fortunes to a turnover-prone quarterback?
This is especially true given the possible ramifications of winning the division, which would guarantee the Giants not only a draft pick no higher than 19th, but also a first-place slate of opponents in 2021. With a year to digest Judge's and Graham's game plans, there is no guarantee that the Giants will be able to overachieve next season, period — much less against a first-place schedule.
Remember, this is a team whose only win against an opponent above .500 came with McCoy at the helm. Jones has never won a start against an opponent with a winning record.
More success also likely solidifies general manager Dave Gettleman in his role. While I've always thought the franchise's recent struggles ran deeper than the GM, it's still scary to rely on him to replicate the success he had this offseason bringing in players like James Bradberry, Blake Martinez, etc. given the hit-or-miss track record.

---
Washington Football Team
Record: 5-7 | Odds: +140
Though Washington arguably has more talent the Giants — surely on defense, if not also on offense given the emergence of Terry McLaurin and Antonio Gibson, as well as the career years from journeymen Logan Thomas and J.D. McKissic — you can't argue that Rivera hasn't done an excellent coaching job, which is amplified even more by the circumstances he has had to overcome.
In fact, Washington is flat-out the better team from the perspective of underlying metrics, and it's not even that close. Washington ranks 17th in overall DVOA while the Giants are 24th, and Washington improves to 15th in weighted DVOA (which gives more weight to recent games) while the Giants remain 24th.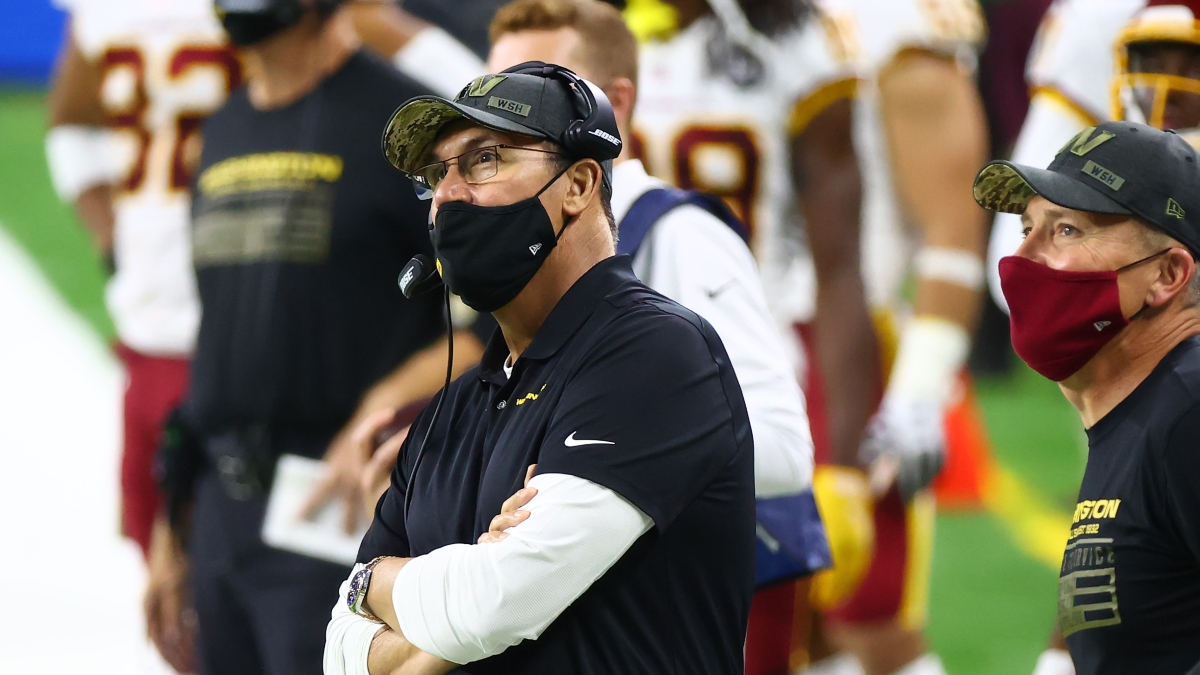 Washington's point differential is +4, indicating its "true" talent level is closer to a team with a 6.1-5.9 win-loss record. By contrast, the Giants' -34 margin suggests they are playing exactly true to their 5-7 record.
The one thing that gives me pause about anointing Washington as the best team in the NFC East despite laying claim to the division's most impressive win against an undefeated, though offensively vulnerable Steelers team is consistency — and it's not just player consistency, but given the way first halves have gone, it's the game plans themselves.
That the difference between a division title and an early vacation may come down to going 0-2 against the Giants is fitting, because while the Giants have become the epitome of keeping within striking distance from start to finish, Washington has been outscored by 85 points in the first half (7.1 points per game), second-worst in the league. The Giants, who rank 17th in first half margin (-0.8) outscored Washington by a combined margin of 33-13 over the first half of both meetings.
Since Alex Smith took over at quarterback, the results have been more of the same: Washington has been outscored 53-26 in the first half. It wouldn't be fair to lay lay the blame on Smith or offensive coordinator Scott Turner, though: The first-half offense has improved drastically under Smith, ranking fifth with a 58% success rate in Smith's four stats after being successful on only 44% of their first-half plays in the first eight games, third worst.
But especially given the talent the defense has and the level of play it has shown capable of — Washington ranks fourth in defensive DVOA! — defensive coordinator Jack Del Rio has not done a good enough job defending opponents' opening game scripts.
Here are Washington's defensive DVOA rankings, broken down by quarter:
1Q: 24th
2Q: 16th
3Q: 3rd
4Q: 2nd
Del Rio deserves all the credit in the world for a remarkable turnaround — this defense ranked 27th in DVOA last season and is now an elite unit. He also deserves credit for his second-half adjustments, but in a season that could swing based on allowing 16.5 first-half points per game to the Giants, Washington's first-half performance can't be ignored.
But if Washington can continue to make strides under Smith and the defense becomes more consistent early in games, watch out, because…
Washington's Path to the Playoffs
Week

Team

Record

14

49ers

5-7

15

Seahawks

8-4

16

Panthers

4-8

17

Eagles

3-8-1

Combined Opponent Record: 20-27-1 (second easiest)
Niners letdown spot aside, this is a slate that features three winnable games — even taking down the Seahawks doesn't look as impossible as it did before they lost to the Giants and Washington beat the Steelers, though Washington's chances do take a hit if Gibson is forced to miss time.
But it's also fair to consider that the 49ers game — or any other from here on out — will not be a letdown spot at all for this Washington squad. Given what the team leaders have gone through to get to this point — Rivera battling a life-threatening illness and Smith battling back from a life-threatening injury — and how close they are to the improbable, it's quite possible that Washington will have the emotional edge every time they take the field from here on out.
I'll be the first to admit that I made jokes when Rivera first declared his intention to bench Dwayne Haskins and try to win the division. While Rivera and I are in 100% agreement that Haskins is not the right guy for the job, I thought it would be in the franchise's best interests to play Haskins, increasing the likelihood of landing a top draft pick, without fully acknowledging what Rivera's circumstances — and this year in general — have reminded us all of: Not to take anything for granted.
Rivera is coaching every year like it's his last, and he's not wrong for it.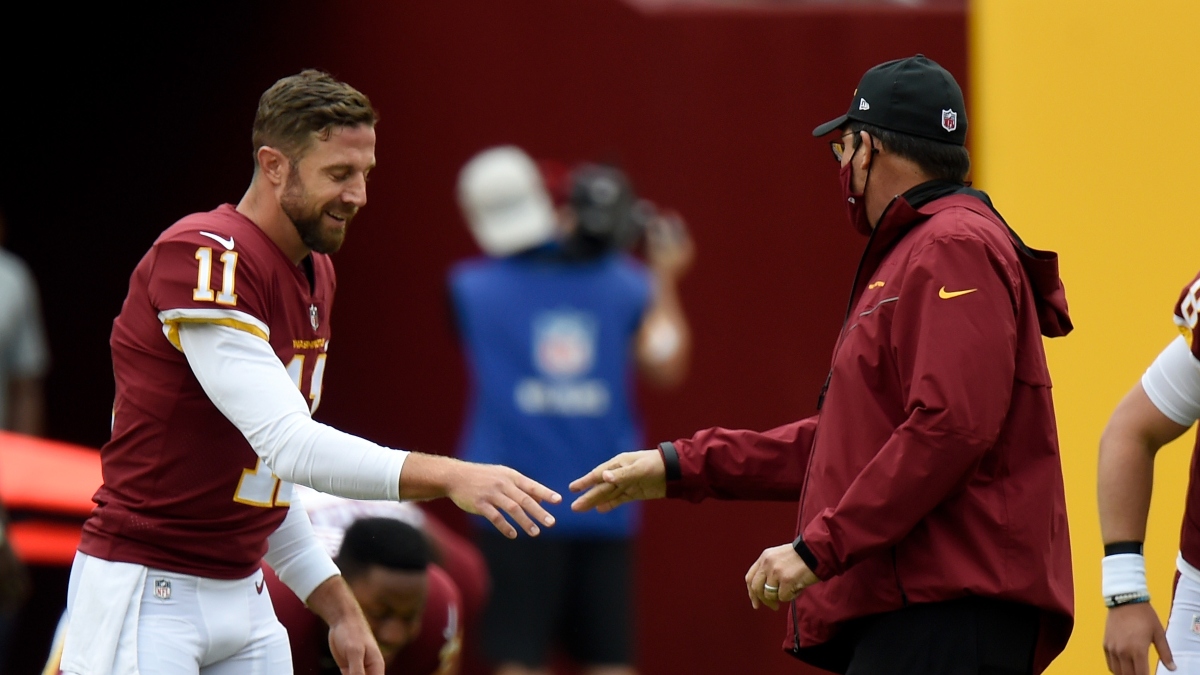 If there's truth to the narrative of a team taking on the personality of its coach and his will to win, we saw it in spades the Steelers game: Logan Thomas' valiant effort on third down, the goal-line stand and Smith's bloodied ankle. Even if it wasn't apparent until the comeback was complete, it's hard to look back at some of the plays Washington made in that game and not think "this is a team not to be fucked with down the stretch."
Now that Smith is regaining confidence in his ability to play in his surgically-repaired leg, he would do well to let some of that Riverboat Ron magic wear off on him. According to NFL Next Gen Stats, Smith is still doing what he has become infamously known for, which is throwing 4.1 yards short of the sticks, on average, lowest of any qualified quarterback.
But hey, even if Smith falters, if he can just get Washington to a Week 17 win-and-you're in scenario against Philadelphia, Rivera has a secret weapon: Haskins and his rousing halftime speeches, which are undefeated against the 2020 Eagles.
Washington's Ideal Playoff Opponent
Unlike the Giants, Washington doesn't have wins against any of its likely playoff opponents. The Football Team lost 30-15 to the Cardinals and 30-10 to the Rams. Smith didn't start either game, but he did come on in relief of Kyle Allen against the Rams and struggled mightily, completing 9-of-17 passes for 37 yards while losing 31 yards on six sacks, meaning he gained only six net yards on 23 dropbacks.
So, yeah, the Rams are probably not the best matchup.
The Cardinals outscored Washington 20-0 in the first half and punted only once on offense, so even though they may end up as the weakest team to make the playoffs outside of the NFC East winner, past history favors the Cardinals in a rematch.
Seattle and Tampa Bay could both be vulnerable to Washington, but the ideal opponent would put Washington's former quarterback Kirk Cousins in a rematch against the player initially tabbed to replace him. The Vikings are ascending and are up to 15th in total DVOA after a slow start, but they have shown the most vulnerability to flawed opponents. Minnesota lost to Dallas, 31-28, and needed overtime to beat Jacksonville, 27-24.
Cousins has also notoriously struggled against pressure fronts — look no further than last season's pitiful showing against San Francisco in the divisional round. The Vikings' 31st-ranked special teams also help.
Ideal opponent: Washington
What Washington's Future Holds
Despite the feel-good stories for Rivera and Smith, the reality is that Washington's run will make the future more difficult.
No matter who has been behind center, Washington has not won a game in which it has allowed more than 17 points, going 0-7 when it does and 5-0 otherwise. Smith is not the long-term answer at quarterback, and neither are Haskins or Allen. The defense should be legit going forward, but without a long-term option, a first-place schedule and a middling draft pick could kick-start Washington on a trip through mediocrity it suffered through during the Kirk Cousins years, or one that Rivera became all too familiar with in Carolina at the end of his Panthers tenure.
But if Washington can solve its long-term quarterback problem — easier said than done for any team with a long-term quarterback problem — things are promising. According to a report from The Athletic, Washington will have the fifth-most cap space entering 2021 (roughly $50.5 million) as well as the ninth-youngest roster (25.7 average age).

---
Philadelphia Eagles
Record: 3-8-1 | Odds: +1400
By now, you're probably well aware of the Eagles' issues: Doug Pederson was asked to retool his coaching staff — reportedly against his wishes — to bring in "new ideas" while an aging roster was retooled poorly, which has resulted in a disjointed offense that often asks an aging offensive line to hold up for a skittish Carson Wentz while receivers who struggle to get open are asked to win one-on-one matchups.
If you didn't know the "why," you're for sure familiar with the end result: Wentz leads the league in sacks (53) and interceptions (15), and now will be asked to lead the cheer from the bench for rookie Jalen Hurts.
Eagles' Path to the Playoffs
Week

Team

Record

14

Saints

10-2

15

Cardinals

6-6

16

Cowboys

3-9

17

Washington

5-7

Combined Opponent Record: 24-24 (second-most difficult)
The Eagles' intrigue stretches for as far as Hurts can take them, because at this point, the unknown is far better than what the offense under Wentz has looked.
During his senior season at Oklahoma, Hurts passed for 3,851 yards an 32 touchdowns while rushing for 1,298 yards and 20 touchdowns, so there's some serious dual-threat upside here.
The Eagles' toughest remaining opponent, the Saints, is up next, which works in Philadelphia's favor because New Orleans will have the least to game plan from. If Hurts is the real deal and the Eagles can steal a win against New Orleans, it's not out of the question for them to be playing for a division title against Washington in Week 17.
Eagles' Ideal Playoff Opponent
The Eagles got blown out to the Rams and lost to the Seahawks and Packers, so let's throw them out.
Philadelphia would almost certainly need to beat Arizona to be in contention entering Week 17 game against Washington, so from that standpoint, winning the regular-season matchup would favor Philly in a rematch. But given Philly's uneven performances against dual-threat quarterbacks this season — the Eagles allowed 108 yards to Lamar Jackson and 164 yards across two games before holding Russell Wilson to 12 yards — I'm rolling with the Vikings.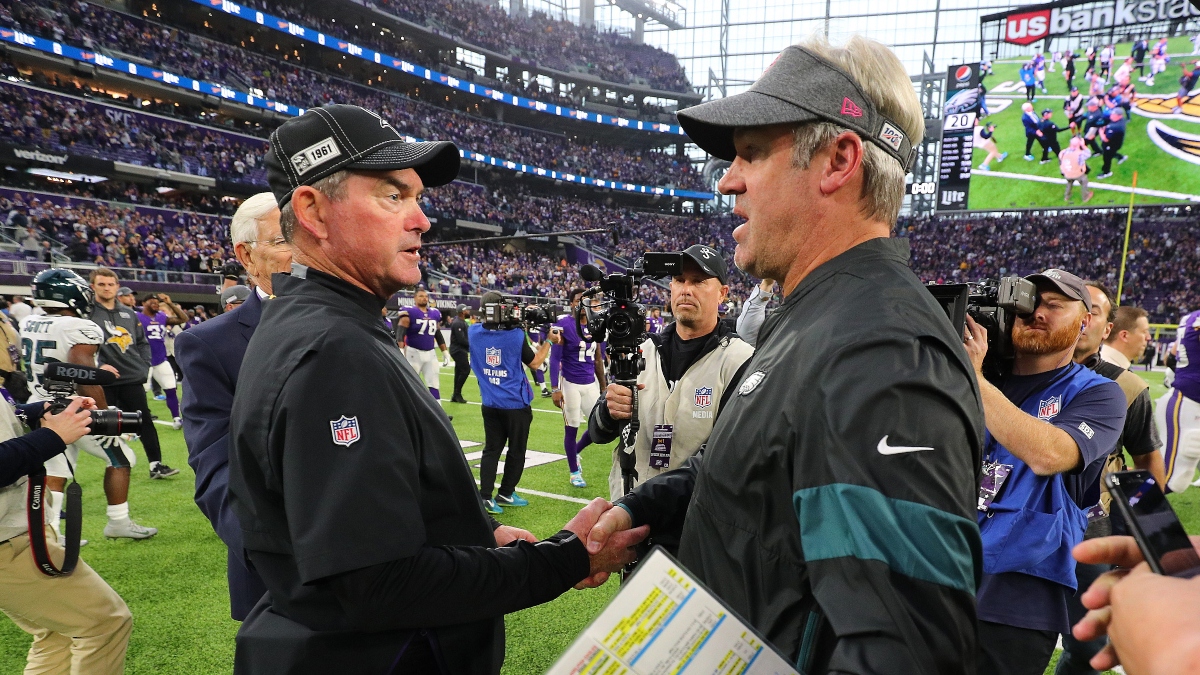 Pederson has had a forgettable year, but on his resume is a complete obliteration of a Mike Zimmer-coached team in the playoffs with the second-string quarterback.
Ideal opponent: Vikings
What the Eagles' Future Holds
The Eagles won a Super Bowl just three years ago, but now the entire franchise is one big regression.
Pederson is not coaching as effectively, general manager Howie Roseman has made mostly all the wrong moves since, and Wentz looks as if he's forgotten how to play quarterback. Pederson coached Wentz to an MVP-caliber season in Year 2, then won a Super Bowl with Wentz's backup, Nick Foles that same year.
As a roster put together by Roseman began to age and draft picks didn't pan out, it seems that team owner Jeffrey Lurie and Roseman failed to acknowledge the issue, instead saddling Pederson with coaches and "new ideas" that would have been nowhere as valuable as, say, selecting Justin Jefferson over Jalen Reagor, or not whiffing on the entire 2017 draft class, or not extending Alshon Jeffery, for instance.
Is it any coincidence that the team is failing at all of the areas of the new coaches that were brought in? Rich Scangarello was brought in for his expertise at play action; the Eagles rank 24th in play action yardage. Aaron Moorehead was brought in as receivers coach; Eagles wide receivers rank 31st in receiving yards. Andre Breiner was brought in as pass game coordinator; the Eagles rank 31st in passing DVOA. And Marty Mornhinweg was brought in as a senior offensive consultant; the offense ranks 29th in DVOA.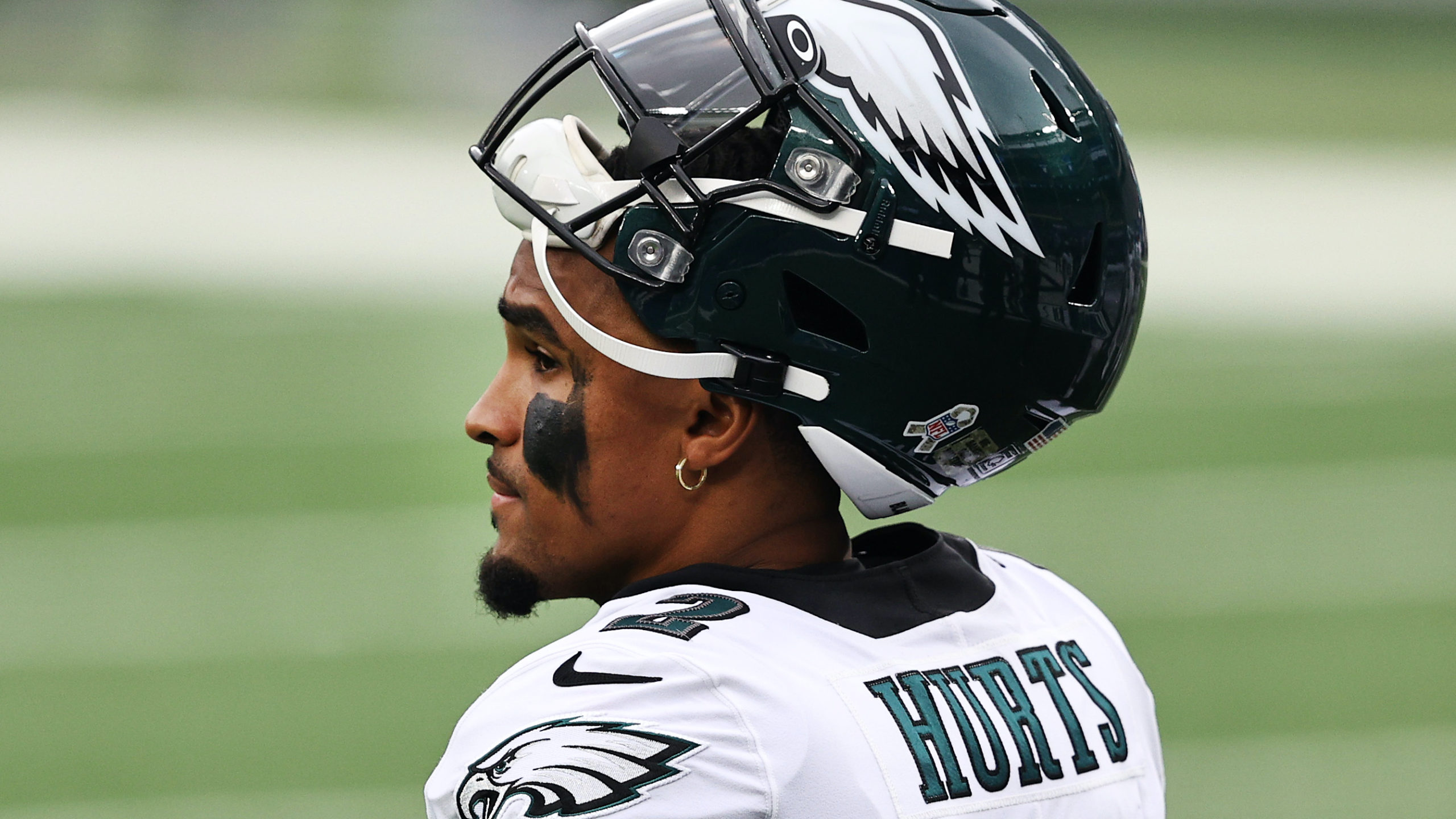 Pederson and Wentz likely need a fresh start at this point, because — to quote Jay-Z — "the situation ain't improving." The Eagles project to be roughly $63.5 million over the salary cap next season, second-worst of any team, and with the sixth-oldest roster to boot (26.71 average age).
The best thing that the Eagles can do over the final four games is attempt to gain clarity as to whether Hurts provides them with true long-term upside or is just another on the long list of Roseman draft busts. If they stumble into a division title, it could delay the inevitable with Pederson and Roseman, but it would also mean Hurts could be the real deal, giving the team more leverage in terms of moving Wentz.

---
Dallas Cowboys
Record: 3-9 | Odds: +4000
While former head coach Jason Garrett currently sits in first-place in the NFC East as the Giants' offensive coordinator, the Cowboys under Mike McCarthy have gone from America's Team to America's Shitshow in record time.
From the beginning of the season, it's been a question of what will break next: First, it was the defense. Then it was Dak Prescott's ankle. Then it was the NFL's supposed best backup who was supposed to insure the team was still competitive in case of an injury to Prescott. Then the offensive line. And, finally, Ezekiel Elliott's ability to hold onto the ball.
Cowboys' Path to the Playoffs
Week

Team

Record

14

Bengals

2-9-1

15

49ers

5-7

16

Eagles

3-8-1

17

Giants

5-7

Combined Opponent Record: 15-31-2 (easiest)
The Cowboys currently have a 1-2% chance to make the playoffs, but that would increase to 33% should they win out. And in a statement most likely to end up on @OldTakesExposed by the end of this Sunday: The Cowboys have four winnable games, starting this week with Cincinnati.
At 3-9, I'm officially declaring the Cowboys as the worst-ever team to play what qualifies as a trap game in NFL history.
Is Andy Dalton a vengeful man? I don't know. But what I do know is that the Cowboys better be ready for a fight, because this is a Bengals team that was last seen getting ejected in droves for their merciless cheap shots on Jakeem Grant.
The Cowboys, you may recall, let Dalton get knocked out from a cheap shot from Washington linebacker Jon Bostic without so much as a love tap afterward.
Starting QB eats one of the dirtiest hits of the season, no teammate wants to stick up for Dalton even with Bostic standing right there.

The state of the Cowboys in 2020. pic.twitter.com/pm259Sw6FA

— Joey Hayden (@_joeyhayden) October 25, 2020
Every Cowboys player on that field has flagged down a waiter with more gusto than they tried to flag down Bostic, much less get in his face.
In perhaps his best display of leadership all season, McCarthy shaded his players for not sticking up for Dalton, telling reporters: "We speak all the time about playing for one another, protecting one another," and "it was definitely not the response you would expect."
Losing the fight to Cincinnati (as in the actual game, not a physical fight) would essentially lose the war, as it would drop the Cowboys' playoff odds to under 1%.
Buckle up, folks.
Cowboys' Ideal Playoff Opponent
This one will be quick: By virtue of the Cowboys having three wins and one of them coming against Minnesota, it's Minnesota.
What the Cowboys' Future Holds
The upshot for the Cowboys here is that they likely didn't bank on potentially getting a top draft pick, but it's hard to objectively argue their future looks better than it did headed into this season.
The risk of signing Prescott to a long-term deal has increased, but the risk of not signing him is even greater — and this season has made it clear that the team has enough holes that it can't afford to go quarterback hunting in the draft if it has the ability to sign Prescott, especially since the pick won't be high enough to nab anything close to a sure thing.
Two of the franchise's cornerstone offensive lineman, Tyron Smith and Zack Martin, turn 30 next year.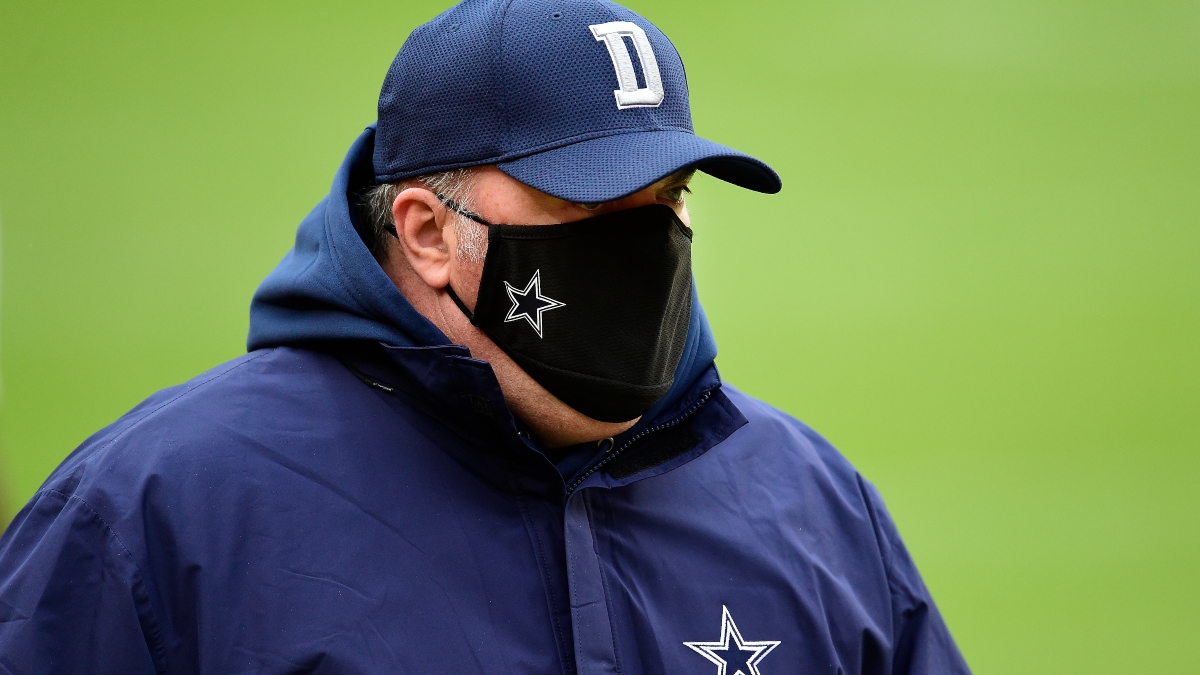 Most glaringly, the move that was supposed to vault this team to clear division favorite — removing Garrett and replacing him with McCarthy — has failed miserably while two organizations that appeared to be in flux (Washington and the Giants) have suddenly become the poster children for culture changes and quick turnarounds — one of them with Garrett serving in a key position, no less.
McCarthy has coached poorly enough to not be retained, but will injuries save McCarthy while his assistants take the fall? McCarthy wasn't dealt the best hand, but there were rumblings about a lack of preparation as early as the first month of the season, and he would have been winless until Prescott got hurt if not for the coaching abomination that is Dan Quinn.
Defensive coordinator Mike Nolan — better known to those who watch Cowboys tape as Mike No-Run-Defense — has been a disaster, and offensive coordinator Kellen Moore was recently called out by Tony Gonzalez for not calling better plays.
If healthy and re-signed, Prescott gives the Cowboys the best quarterback in the division on paper, but it's fair to question how much that means given the Cowboys' tendency to peak in July under owner and general manager Jerry Jones. After all, Jones thought McCarthy was sleepover-worthy, and that hasn't turned out well so far.
New Cowboys' HC Mike McCarthy stayed over Jerry Jones' house on Saturday night, per source. "Once you stay at Jerrry's house, he doesn't lose his guy," said source.

— Adam Schefter (@AdamSchefter) January 6, 2020
And then there's the ill-fated $50 million in guarantees Jones gave Elliott, a running back who went from constantly reminding us he wanted to be fed all of the cereal to one who can't keep the cereal from sliding off the spoon.
When will the NFL's most popular owner stop getting owned?
How would you rate this article?