NFL Betting Picks for Every Week 12 Game
Credit:
USA Today Sports. Pictured: Baker Mayfield, Odell Beckham Jr.
Our experts reveal how they're betting Week 12 of the NFL season, complete with spread and over/under picks for all of Sunday's games.
How should you bet the highest over/under of Week 12? Are any home underdogs offering value? What're the best angles of Seahawks-Eagles and Cowboys-Patriots?
Our experts reveal how they're betting (almost) all of Sunday's main slate, with spread and over/under picks for the following games:
Dolphins at Browns: 1 p.m. ET
Lions at Redskins: 1 p.m. ET
Raiders at Jets: 1 p.m. ET
Panthers at Saints: 1 p.m. ET
Seahawks at Eagles: 1 p.m. ET
Buccaneers at Falcons: 1 p.m. ET
Broncos at Bills: 1 p.m. ET
Steelers at Bengals: 1 p.m. ET
Jaguars at Titans: 4:05 p.m. ET
Cowboys at Patriots: 4:25 p.m. ET
Now let's dig into their bets!
Stuckey: Browns -6.5 1H/-10.5 vs. Dolphins
I never thought I'd be backing the Browns as double-digit favorites, but here we are.
I just don't get the love for the Dolphins in the market — I was shocked the Bills weren't favored by a touchdown or more last week and am equally as shocked the Browns aren't laying 14 here.
Ryan Fitzpatrick is putting up some quality yardage number, especially considering what he has to work with. But factoring in midseason injuries and departures, this is still one of the worst NFL rosters we've seen in a long time.
Let's start with the offense, which features a historically bad running game. The Dolphins are averaging 3.0 yards per carry, which ranks dead last. And those numbers are cumulative, meaning they include Kenyan Drake (since traded) and Mark Walton (recently cut). The Dolphins now feature Kalen Ballage, who is averaging fewer than 2.0 yards a carry.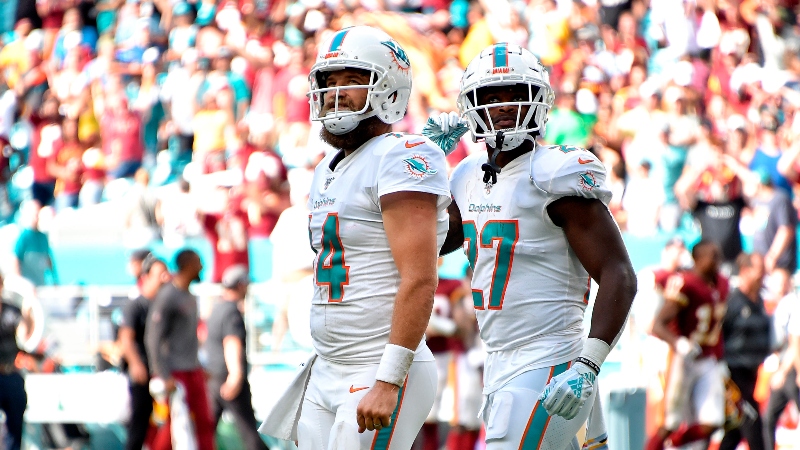 They just aren't capable of taking advantage of a vulnerable Cleveland rush defense that's allowing 4.8 yards per carry, which ranks 28th. And on the other side of the ball, the Browns should have plenty of success on the ground and through the air against a bad Miami front seven and depleted secondary.
I'll be splitting the Browns between the first-half and full-game to reduce the risk of a potential backdoor cover on a meaningless touchdown from FitzMagic that cuts the lead from 17 to 10.
[In New Jersey? Bet now at PointsBet]
Stuckey: Redskins +3.5 vs. Lions
This is pretty simple: I'm fading Jeff Driskel on the road with no rushing attack whatsoever against a team that currently has the better overall defense.
The Redskins' offense isn't pretty — their second-half touchdown of last week's blowout loss to the Jets was their first in more than a month — but I'll still take three and the almighty hook here against Driskel and a banged up Lions squad.
I'm not sure Dwayne Haskins is the answer — and in fairness, he doesn't have the most elite arsenal to work with on the outside. However, he should at least improve with experience whereas we already know what to expect from Driskel.
The Redskins are now more of a power running team, which won't work most weeks in today's NFL. But that approach can work against a Lions defense line that ranks near the bottom of the NFL in almost every advanced power metric.
The Skins can keep the chains moving on the ground and do just enough to cover this number in what should be an ugly matchup. Hold your nose!
[In New Jersey? Bet now at PointsBet]
This is a good time to use the Pythagorean wins theory. If you're not familiar, this is an old concept originally created by baseball analytics pioneer Bill James.
The theory was relatively simple: Using the number of runs a team scored and the number of runs it allowed, you could deduce how many wins a team should have. The delta between that number and their actual wins is an indicator of whether or not they exceeded expectations.
Get it?
Also lucky for me, our genius Bet Labs tool — which is a collection of millions of data points from the past 20 years distilled into betting systems (subscribe!), — has a Pythag wins data set. This is what it looks like when you fade teams with winning records but negative point differentials (in Millman terms, teams that the public perceives as being good but I know better).
When I spin the wheel, I get this as an answer for Week 12: The Raiders on the road as three-point favorites against the Jets. The math adds up in multiple ways. The Raiders have scored 225 points and allowed 250 (eee gad).
Do I worry that I'll be betting on a bad team? I sure do. Am I worried that my hard-earned money will be in the hands of Sam Darnold? You betcha!
But am I going to do it? With confidence, not just because my instincts say so, but because the numbers do, too.
[In New Jersey? Bet now at PointsBet]
Sean Zerillo: Panthers-Saints Under 47
The Saints and Panthers have yet to play this season, but both teams have put 10 games worth of their offense on film, and they're extremely familiar with one another thanks to their biannual meetings.
For trend bettors, this game represents another spot to play a late-season under in a matchup between divisional opponents:
After exploding onto the scene with four consecutive wins, Kyle Allen has three touchdowns to nine interceptions over his past four games, averaging just 6.3 yards per pass attempt.
The Panthers offense ranks fourth in offensive pace, but I would look for them to slow it down and keep the ball on the ground after Allen's 93 inefficient passing attempts over two consecutive losses.
Furthermore, the Saints will look to control the game on the ground against the Panthers' 32nd ranked rushing defense, with Alvin Kamara and Latavius Murray, and avoid Carolina's strong passing defense (third in Football Outsiders' DVOA).
The Saints rank 29th in offensive pace, and Kamara now appears fully healthy, recording more than 20 touches last Sunday for the first time in six weeks.
[In New Jersey? Bet now at PointsBet]
Stuckey: Eagles -1 vs. Seahawks
This is probably my favorite buy-low, sell-high spot of the weekend.
I've been itching to fade the Seahawks since their win at San Francisco, which was their first good win all season. Yes, Wilson has been brilliant. But the rest of the team? Not so much.
Let's dig a little deeper into their 8-2 record.
They have only a net +12 point differential at the end of regulation. That means they've outscored their opponents by a total of 12 in regulation and nine in overtime! A few different bounces of the oblong ball or a made field goal by Greg Zuerlein, and the Seahawks are potentially sitting with a record of 5-5 — same as the Eagles.
The Seahawks have holes in the trenches and secondary. Even their special teams have been a disaster. Wilson can't mask those deficiencies forever.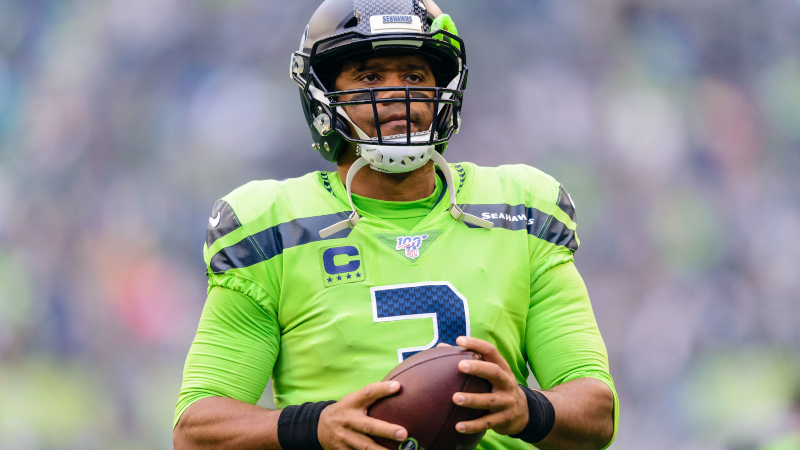 Look, the Eagles certainly have their flaws. And while the offense is very limited in explosiveness, they should have some success on the ground against a Seattle defense allowing 4.8 yards per carry (22nd in the NFL).
In a matchup of two teams that lean heavily on the run — both rank in the top-six in rush attempts per game with similar yards per carry marks — the Eagles' run defense has a significant advantage. They're allowing only 3.8 yards per carry, which ranks sixth in the league. And I expect the Eagles to own the trenches on both sides of the ball, which will ultimately be the difference.
Don't completely write off the Eagles. Remember they were 4-6 before eventually making the 2018 playoffs. I had to play the Birds when a -1 popped in the market and would play them at anything under 3.
[In New Jersey? Bet now at PointsBet]
Stuckey: Buccaneers-Falcons Over 51
Yes, the Falcons defense has performed significantly better over the past two games, which you could argue coincides with Raheem Morris and Jeff Ulbricht taking over defensive play-calling. It may have had a slight positive impact, but I'm still not buying this Falcons defense as a whole.
I have always liked the defensive line, but the secondary is a major weakness that Jameis Winston can exploit. The same can be said for the Bucs, who have a rock solid defensive line, but whose secondary has been nothing short of a horror show, ranking 30th in pass defense DVOA.
We have two offenses that struggle to run the ball — they are two of the 11 teams that average fewer than four yards per carry — so don't expect much on the ground. However, you can expect plenty of explosive plays through the air with two offenses that feature two of the most dynamic wide receiver duos in the league.
I expect a good ol' fashioned shootout in Atlanta between teams out of playoff contention. I wouldn't be shocked if both almost completely abandon the run, which will also slow the clock down. And both of these teams play on the faster side, ranking in the top 10 in plays per second.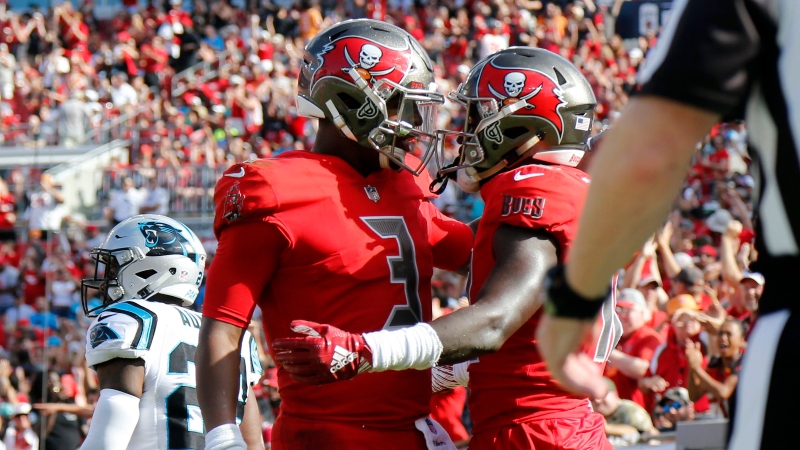 Plus, you can probably count on a few Winston gift points as well, which won't hurt the over.
[In New Jersey? Bet now at PointsBet]
Stuckey: Broncos +4 at Bills
The Broncos are 3-7 and out of playoff contention while Bills are 7-3 and currently sitting fifth in the AFC as of Thursday evening. But let's not go crazy about this Buffalo team, which has benefited from one of the easiest schedules in the NFL.
Look no further than the Bills' hysterically-low strength of victory of .214! That means the teams they've beat have a combined win percentage of 21.4%.
Two of their wins have come against the Dolphins and four of their other five came against the Jets, Giants, Bengals and Redskins. The Bills' only good win came in Tennessee when Marcus Mariota was still under center for the Titans. The Bills also benefited from four missed field goals in that seven-point victory.
The Bills are just an average AFC team. So are the Broncos.
Despite the record discrepancy, these two teams are essentially even in my book. Not only have the Broncos played the much tougher schedule, they've lost three to four games they easily could've won. Don't be fooled by the records here — take the four points with the road dog.
[In New Jersey? Bet now at PointsBet]
Stuckey: Bengals +3.5 1H; +7 vs. Steelers
This is a prime Mike Tomlin spot — one of my favorite spots in the NFL, which pops up when the Steelers are road favorites — especially against bad teams.
Tomlin is as good of a coach as there is when it comes to motivating teams for an emotional spot. But on the other side of the coin, his teams perennially come out flat in spots just like this one against an 0-10 team in an half-empty stadium.
Tomlin 25-34-1 against the spread for a -15.3% ROI, worst among 101 coaches who have been a road favorite since 2003.
He's 13-27-1 (32.5%) ATS vs. teams with a losing record, with the worst ROI (-32.8%) among 99 coaches (second-worst is Jon Gruden at 2-10).
He's 5-13 ATS as a favorite of seven or more points.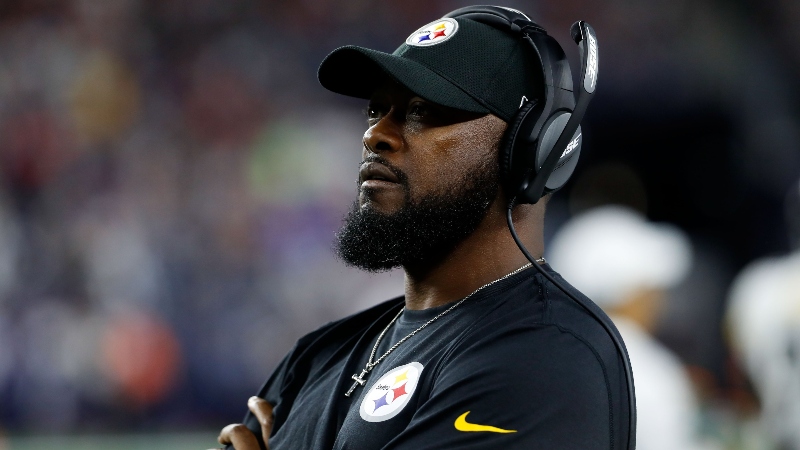 Cincinnati is absolutely dreadful, but fade the Steelers in a game the Bengals should be up for as they seek their first win against a division rival.
I split half my bet on Bengals first-half +3.5 since I don't think their offense will be capable of coming back from a big deficit if the Steelers do somehow go ahead. I think this is a close throughout and +7 is a premium in what should be a low-scoring divisional matchup.
[In New Jersey? Bet now at PointsBet]
Sean Koerner: Jaguars-Titans Under 41.5
The Titans are coming out of their Week 11 bye with a likely clock-killing game plan to feed Derrick Henry. It would make sense to attack the Jaguars on the ground as they've been a sieve to opposing backs ever since Marcell Dareus was placed on IR in Week 8. Carlos Hyde ran over them for 160 yards in Week 9, while Marlon Mack and Jonathan Williams ran for 100-plus yards each on them last week.
In terms of pace of play, the Jaguars rank 16th while the Titans are 23rd (per Football Outsiders). However, in close games (within one score), both teams slow down with the Jaguars ranking 30th and the Titans 27th.
This matchup sets up to be a close run-heavy battle, which means both teams are likely to give into a game flow that strongly favors the under. Forty-one is one of the top-three key numbers for totals, so locking in under 41.5 before it falls to 41 at all books is the play.
[In New Jersey? Bet now at PointsBet]
Stuckey: Cowboys +6.5 at Patriots
Welp, it's time to fade the Pats at home, where Brady is 73-44-5 (62.4%) ATS in his career, covering by almost four points per game. A 21.8% ROI is pretty damn good.
That said, this line is way too high per my numbers.
The Patriots offense still isn't humming and they've had a number of key injuries along the offensive line (and at fullback), which have stymied the running game. Getting Isaiah Wynn back should help some, but there will still be gaps that the Cowboys can exploit to get pressure on Brady, which you have do to slow him down.
The Patriots also obviously sorely miss Rob Gronkowski at tight end and have been dealing with a never-ending carousel at receiver due to injuries and cuts, so it's obvious why the timing has been so off.
And while the defense is elite, it's slightly overvalued due to its cakewalk of a schedule.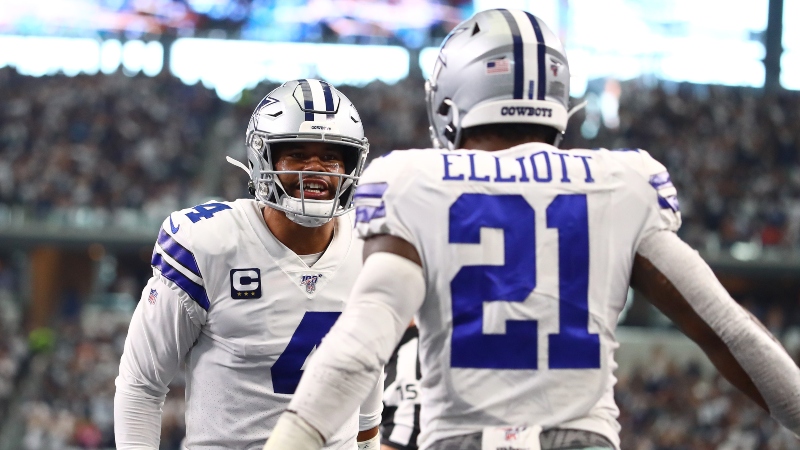 Dallas has the No. 1 overall offense according to DVOA, which includes a rush and pass offense ranked in the top three. The Patriots' struggling offense, meanwhile, ranks 14th in pass offense and 18th in rush offense.
It all starts up front with an elite offensive line, but it doesn't hurt to have a back like Ezekiel Elliott, who should have success against a vulnerable Patriots run defense. And when the Cowboys aren't running it, Dak Prescott — who is playing as well as any quarterback — should have plenty of time to find his weapons.
Plus, the X-factor could be Prescott's legs. The Patriots have struggled with mobile quarterbacks in the past as they keep the chains moving and pick up yards once they get past the first level of the heavy man-to-man Pats defense.
This Cowboys offense is playing too well to be catching almost a touchdown against a struggling Pats offense. I make this line 3.5, as I don't see much separation between these teams.
Yes, the Patriots will have a huge coaching advantage, but I can't pass up the touchdown. If it doesn't come, I still like 6.5 (which I played) and also bought some to 7.
How would you rate this article?
This site contains commercial content. We may be compensated for the links provided on this page. The content on this page is for informational purposes only. Action Network makes no representation or warranty as to the accuracy of the information given or the outcome of any game or event.