NFL Week 7 Fantasy QB Breakdown: Win Your Cash Games with Jameis Winston
Credit:
Credit: Kim Klement-USA TODAY Sports. Pictured: Jameis Winston
Matthew Freedman breaks down every starting quarterback's daily fantasy value for Week 7 of the NFL season.
Jared Goff, Joe Flacco and Jameis Winston highlight Sunday's main slate of passers. Below is a deep dive on all three.
See the full version of this piece at FantasyLabs. 
The 2018 NFL season rolls on, and we're still on pace for a record-breaking campaign with an average of 24.1 points per game per team. We could be in for another week of high scoring with a 10-game main slate that kicks off on Sunday, Oct. 21, at 1 p.m. ET.
With four teams on bye, two in London and six in prime-time games, we are without the following quarterbacks:
Thursday Night Football: Broncos (Case Keenum) at Cardinals (Josh Rosen)
International Series (London): Titans (Marcus Mariota) at Chargers (Philip Rivers)
Sunday Night Football: Bengals (Andy Dalton) at Chiefs (Patrick Mahomes)
Monday Night Football: Giants (Eli Manning) at Falcons (Matt Ryan)
Byes: Packers (Aaron Rodgers), Raiders (Derek Carr), Steelers (Ben Roethlisberger) and Seahawks (Russell Wilson)
For analysis on the smaller slates, consult Chris Raybon's premium strategy guides (released throughout the week).
In writing this piece, I've relied primarily on the FantasyLabs Models. This breakdown is less of a comprehensive analysis of each quarterback and more of an introduction to this week's players via our large suite of analytic DFS Tools. We'll start with three high-priced quarterbacks, follow with three passers at the top of our individual Pro Models and finish with the rest of the slate's starting quarterbacks.
For updates on Vegas spreads and over/unders, check out The Action Network Live Odds page.
Highest-Priced Quarterbacks
This week, three quarterbacks have top-five positional salaries on DraftKings and FanDuel. The one who most catches my eye is Jared Goff.
Jared Goff: Los Angeles Rams (-10) at San Francisco 49ers, 52 Over/Under
$6,600 DraftKings; $8,300 FanDuel
The Rams have hit their implied Vegas totals in an NFL-high 16-of-22 games under beard model and head coach Sean McVay since last season.
Even though the Patriots are surging, the undefeated Rams are entrenched as the No. 1 team in The Action Network's NFL Power Rankings, and Goff has 300-plus yards passing in 8-of-14 regular-season starts since last season's Week 8 bye. He leads all starting quarterbacks with 10.0 adjusted yards per attempt (AY/A). Deployed in a high-efficiency, fantasy-friendly way, Goff has used play action on a league-leading 39.3% of his attempts.
He's one of only two quarterbacks this season to be at worst a league-average passer to each section of the field. The other is Rodgers.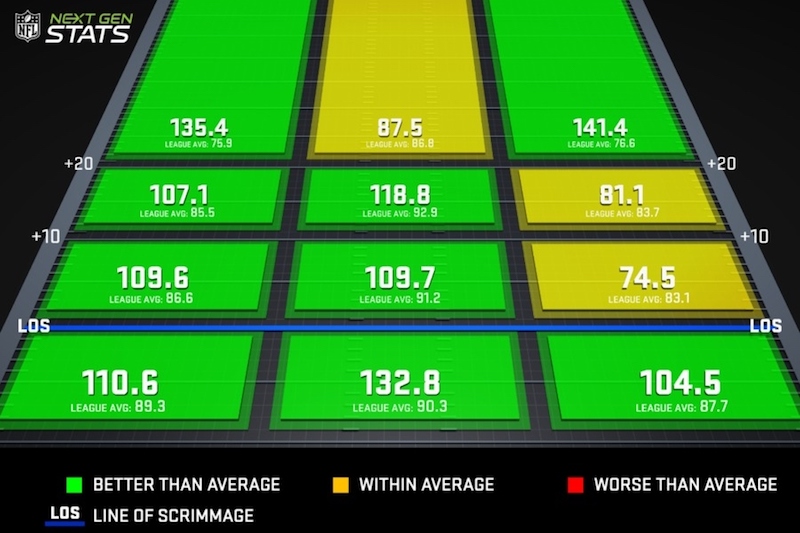 Although Goff completed just 50% of his passes in Week 6 for 201 yards and no touchdowns — throwing one interception and taking five sacks — we shouldn't read too much into that performance. Born and raised in California, where he attended college and now plays professionally, Goff is a warm-weather passer who had to deal with a 25-degree game-time temperature in Denver last week.
He won't have to battle the elements this week in San Francisco.
Goff has a great matchup against the 49ers, who are dead last in the league with a dreadful Pro Football Focus coverage grade of 38.5. Other than rookie Josh Rosen (Week 5), quarterbacks have had no problem producing against the 49ers: Every non-Rosen passer to face the 49ers has hit his salary-based expectations this season.
Kirk Cousins in Week 1: 20.4 DraftKings points, 244-2-0 passing
Matthew Stafford in Week 2: 28.7 DraftKings points, 347-3-0 passing
Patrick Mahomes in Week 3: 28.3 DraftKings points, 314-3-0 passing
Philip Rivers in Week 4: 22.7 DraftKings points, 250-3-0 passing
Aaron Rodgers in Week 5: 31.4 DraftKings points, 425-2-0 passing
On average, the 49ers have allowed an exploitable +7.62 DraftKings Plus/Minus to veteran quarterbacks.
Even if running back Todd Gurley has another offense-leading performance this week, there could still be enough gold in that mine for Goff to hit pay dirt multiple times. Goff will likely be without his primary red-zone target, Cooper Kupp (knee), but the Rams have enough receiving talent on the roster to compensate for the wide receiver's absence.
The Rams lead all teams with their 31.25-point implied Vegas total, and this game has the slate's highest over/under. Goff has position-high floor projections in our Models.
Model Quarterbacks
Besides Brady, there are three quarterbacks atop the individual Pro Models that Jonathan Bales, Peter Jennings (CSURAM88), Adam Levitan, Sean Koerner, Chris Raybon, Kevin McClelland (SportsGeek) and I have constructed.
Of the three, Joe Flacco might be the one I like the most.
Joe Flacco: Baltimore Ravens (-2.5) vs. New Orleans Saints, 50 O/U
$5,400 DraftKings; $7,500 FanDuel
UPDATE (10/20): Left guard Alex Lewis (neck) has been ruled out and right tackle James Hurst (back) is questionable and should be considered a game-time decision. Without them, Flacco's pass protection could suffer.
Regression will come for Flacco at some point, but right now he's pacing for a career-best 4,768 yards thanks to new wide receivers John Brown, Michael Crabtree and Willie Snead, all of whom are above-average players in their given roles.
Brown leads the team with 424 yards receiving and 924 air yards, Crabtree is first on the team with 55 targets as a possession receiver and Snead (along with Crabtree) is tied for first with 30 receptions, giving Flacco his most reliable slot receiver since Anquan Boldin in 2012.
And although the Ravens have an unsettled rotation of four tight ends (two of whom are rookies), the group is third in the league with 6.7 receptions per game.
This might be the most complete receiver group Flacco has had since he won a Super Bowl.
Flacco hasn't been giving opposing defenses the full-on Cask of Amontillado treatment, averaging just 18.5 DraftKings points per game, but that has been accompanied with a +3.18 Plus/Minus and 1.4% ownership rate in large-field guaranteed prize pools.
Even though this week marks the fewest quarterbacks we've had this season on a main slate, we're still projecting Flacco for less than 5% ownership against the Saints, who have allowed quarterbacks to score the third-most DraftKings points per game (27.1) and are 30th in Football Outsiders' pass DVOA (35.8%).
It's fair to wonder whether the Saints pass defense is as bad as those numbers suggest. After all, in 3-of-5 games, the Saints have held opponents to fewer than 20 points and quarterbacks to fewer than 16 DraftKings points with a 0% Consistency Rating. In those games, the 2017 defense that was fifth in pass DVOA (-11.3%) looked almost present.
But here's the thing: Those three games were against the underachieving trio of Tyrod Taylor (Week 2), Eli Manning (Week 4) and Alex Smith (Week 5) — and those three collectively failed to hit their salary-based expectations by an average of just 0.98 DraftKings points. So in the aggregate, three subpar quarterbacks came very close to doing what their salaries suggested they would do — and in the other two games the Saints were destroyed by above-average but not elite quarterbacks.
Ryan Fitzpatrick (Week 1): 45.3 DraftKings points, 417-4-0 passing, 12-36-1 rushing
Matt Ryan (Week 3): 43.2 DraftKings points, 374-5-0 passing, 4-12-0 rushing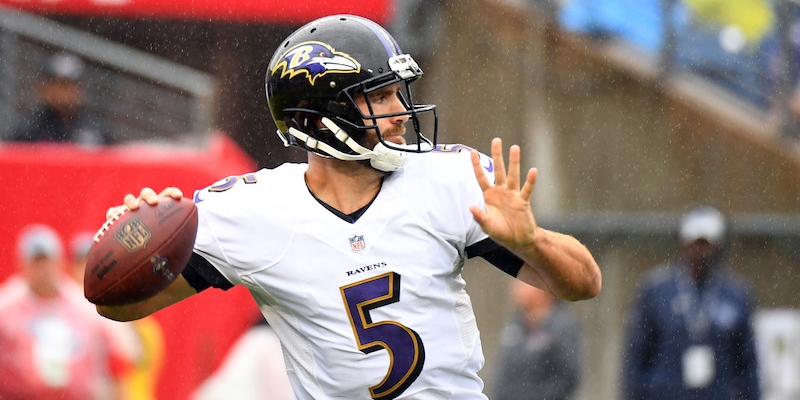 In the post-Ray Rice era, Flacco has had notable home/away and favorite/underdog splits.
At home (31 games): 18.0 DraftKings points, 250.0 yards and 1.61 touchdowns passing, 0.65 interceptions
On road (33 games): 15.3 DraftKings points, 250.7 yards and 1.15 touchdowns passing, 1.09 interceptions
As favorite (44 games): 17.2 DraftKings points, 251.8 yards and 1.56 touchdowns passing, 0.87 interceptions
As underdog (20 games): 15.2 DraftKings points, 247.0 yards and 0.95 touchdowns passing, 0.89 interceptions
As home favorite (29 games): 18.3 DraftKings points, 250.8 yards and 1.66 touchdowns passing, 0.59 interceptions
In an ideal situation, with the best receivers he's had in half a decade and facing a defense that has been punished by competent quarterbacks, Flacco is intriguing. He's losing a few opportunities per game to first-round rookie project Lamar Jackson, but Flacco is still second in the league with 264 pass attempts. He has smash potential.
Flacco is the No. 1 DraftKings quarterback in the CSURAM88, SportsGeek and Freedman Models.
Quarterback Rundown
Of the other starters on the slate, Jameis Winston warrants mention.
Jameis Winston: Tampa Bay Buccaneers (-3) vs. Cleveland Browns, 50 O/U
$6,300 DraftKings; $7,800 FanDuel
Winston had a position-high 24.32% ownership rate in the high-stakes MEGA Millionaire Maker on DraftKings last week, and we're expecting him to be popular again this week. Winston is hardly the paragon of on-the-field consistency and off-the-field respectability, but last week he led all quarterbacks with his 35.9 DraftKings points on 395 yards and four touchdowns passing. He's not a must-play cash-game option, but he's on the short list.
With perhaps the league's top collection of pass-catching talent in wide receivers Mike Evans, DeSean Jackson, Chris Godwin and Adam Humphries and tight ends O.J. Howard and Cameron Brate, the fourth-year passer has position-high median projections in our Models.
See the full version of this piece at FantasyLabs. 
---
Positional Breakdowns & News
Be sure to read the other Week 7 positional breakdowns.
• Running Backs
• Wide Receivers
• Tight Ends
For more in-depth NFL analysis information, check out The Action Network.
After this piece is published, FantasyLabs is likely to provide news updates on a number of players. Be sure to stay ahead of your competition with our industry-leading DFS-focused news blurbs.
---
---
Matthew Freedman is the Editor-in-Chief of FantasyLabs. He has a dog and sometimes a British accent. In Cedar Rapids, Iowa, he's known only as The Labyrinthian.