Wild Card Weekend Fantasy WR Breakdown: Will T.Y. Hilton Dominate Texans Yet Again?
Credit:
Credit: Shanna Lockwood-USA TODAY Sports. Pictured: Indianapolis Colts wide receiver T.Y. Hilton (13), Houston Texans cornerback Johnathan Joseph (24).
Read the full version of this piece on FantasyLabs
The regular season is over, but that's no reason to stop playing daily fantasy football. Wildcard weekend brings a wonderful four-game slate that kicks off on Saturday at 4:35 p.m. ET.
In this positional breakdown, I'm looking at three wide receivers at the top of the individual Pro Models that Jonathan Bales, Peter Jennings (CSURAM88), Adam Levitan, Sean Koerner, Chris Raybon, Kevin McClelland (SportsGeek) and I have constructed.
If you want more information on the rest of this week's wide receivers, subscribe to FantasyLabs, where you can access the large suite of analytical DFS tools I use to research every player.
After this piece is published, FantasyLabs is likely to provide news updates on a number of players. Stay ahead of your competition with our industry-leading DFS-focused news feed.
For updates on Vegas spreads and over/unders, check out The Action Network Live Odds page.
---
>> Sign up for The Action Network's daily newsletter to get the smartest NFL conversation delivered into your inbox each morning.
---
Model Wide Receivers
This week, the two wide receivers who stand out most in the FantasyLabs Pro Models face each other in the first game of the postseason.
DeAndre Hopkins: $8,700 DraftKings; $8,800 FanDuel
T.Y. Hilton: $7,800 DraftKings; $7,700 FanDuel
DeAndre Hopkins: Houston Texans (-1.5) vs. Indianapolis Colts, 48 Over/Under
UPDATE (1/5): Wide receiver Keke Coutee (hamstring) is officially questionable but expected to play.
The Texans opened as -2.5 favorites, but the line has moved toward the Colts. On the Wednesday edition of The Favorites podcast, bookmaker Bob Scucci noted that the public and the wise guys are both backing the Colts, which in theory doesn't bode well for Hopkins.
Even so, given the smaller slate, Hopkins has the highest median and ceiling projections of all wide receivers in our Models.
Additionally, according to The Action Network NFL Power Rankings, the public and the sharps might be wrong to back the Colts: Our numbers suggest that the Texans are the most undervalued team of wildcard weekend.
The Texans have a slate-high 24.75-point implied Vegas total, and professional bettors have targeted the over throughout the week, which makes sense: It's winter, and the Texans-Colts game will be played indoors. Over the past 15 seasons, domed games have a postseason over/under record of 28-9-0, good for a magnificent 49.8% return on investment (per Bet Labs). For comparison, outdoor postseason games are 53-70-4 with a -15.5% ROI.
The game environment is definitely in Hopkins' favor: The Colts and Texans are both top-10 in situation-neutral pace and should combine to have the week's fastest-paced matchup.
On the Wednesday edition of The Action Network NFL Podcast, we talked about Hopkins as strong play in both cash games and guaranteed prize pools, and it's easy to see why: Hopkins is first in the league with his 0.32 market share of targets and 0.45 share of air yards.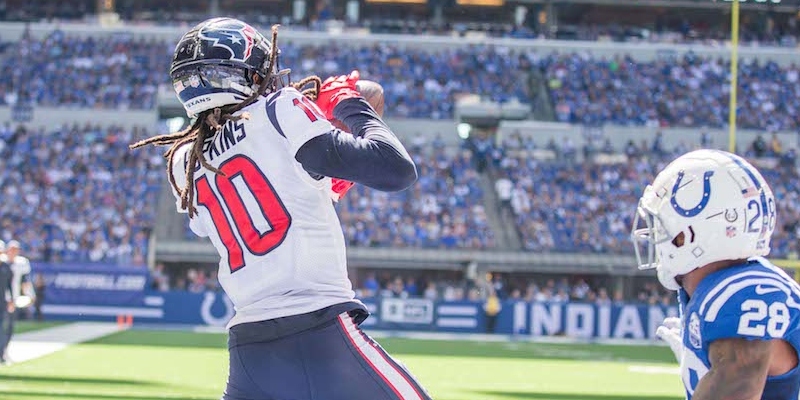 For the second straight season, Hopkins has had an All-Pro campaign, and since last season he's second among all wide receivers with 17.4 FanDuel point per game.
There is, however, some cause for concern based on his splits over the past two seasons. As important as quarterback Deshaun Watson is to the Texans, for Hopkins' personal production it's possible that wide receiver Will Fuller is even more important.
With Fuller lined up across from Hopkins, opposing defenses have to respect the speedster's field-stretching ability, which means that they can't shade safeties to Hopkins' side of the field.
Nuk's per-game splits since last season suggestive.
Watson starts, Fuller plays (11 games): 19.6 FanDuel points, 9.6 targets, 6.3 receptions, 101.2 yards and 1.1 touchdowns receiving
Another quarterback starts, Fuller plays (five games): 18.6 FanDuel points, 13 targets, 6.4 receptions, 98.2 yards and one touchdown receiving
Watson starts, Fuller doesn't play (11 games): 15.5 FanDuel points, 10.6 targets, 7.6 receptions, 91.8 yards and 0.45 touchdowns receiving
Another quarterback starts, Fuller doesn't play (four games): 14.7 FanDuel points, 12.3 targets, 6.5 receptions, 84 yards and 0.5 touchdowns receiving
The samples are all small, but the numbers suggest that he's benefited more from Fuller than from Watson, and that might actually make sense. Regardless of whoever throws him the ball, Hopkins gets a lot of targets. But with Fuller on the field, the quality of Hopkins' targets — and what he can do with those targets — improves dramatically.
T.Y. Hilton: Indianapolis Colts (+1.5) at Houston Texans, 48 O/U
UPDATE (1/5): Wide receivers T.Y. Hilton (ankle) and Dontrelle Inman (shoulder, finger) are questionable but expected to play.
Hilton (ankle) missed practice every day this week and is officially questionable, but wild horses (or colts) couldn't keep him from suiting up for this game. Hilton has practiced only once since Week 14, but he hasn't missed a game since returning from hamstring and chest injuries in Week 7.
Even with his balky ankle, Hilton is probably the slate's second-most desirable receiver.
For his career, Hilton has notable home/away and favorite/underdog splits.
Home (56 games): 5.0 receptions, 80.1 yards, 0.41 touchdowns
Away (52 games): 4.4 receptions, 69.5 yards, 0.32 touchdowns
Favorite (61 games): 5.3 receptions, 85.4 yards, 0.46 touchdowns
Underdog (47 games): 3.9 receptions, 61.4 yards, 0.26 touchdowns
Given that he's a road dog, this seems like a horrible spot for him, especially since the Texans are tied for fourth with a 90.2 Pro Football Focus (PFF) coverage grade.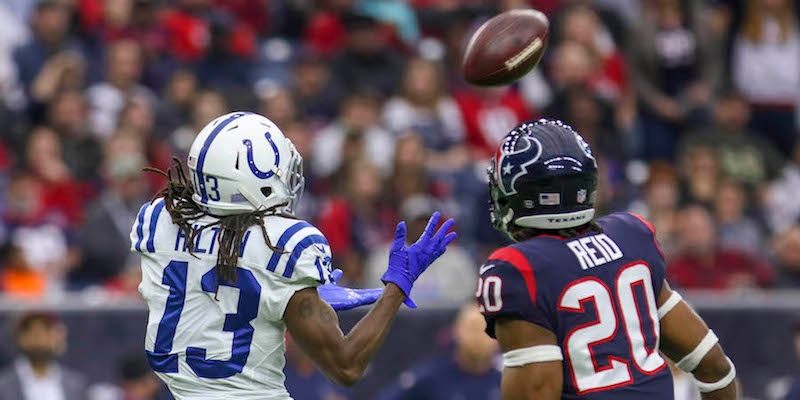 But the Texans-Colts game has a slate-high pass funnel rating of 76.2. On top of that, Hilton has dominated the Texans ever since head coach Bill O'Brien joined the team in 2014. Hilton's Texans-based splits (half point-per-reception scoring) since that time are intriguing (per the RotoViz Game Splits App).
Against 31 other teams (67 games): 12.2 fantasy points, 8.4 targets, 4.8 receptions, 76.1 yards, 0.36 touchdowns
Against Texans (10 games): 15.7 fantasy points, 8.6 targets, 5.4 receptions, 105.7 yards, 0.4 touchdowns
Against Texans with QB Andrew Luck (six games): 17.7 fantasy points, 9.5 targets, 6.3 receptions, 125.2 yards, 0.33 touchdowns
Underdog against Texans (three games): 20.0 fantasy points, 10 targets, 5.7 receptions, 141 yards, 0.67 touchdowns
On road against Texans (five games): 21.4 fantasy points, 9.6 targets, 6.2 receptions, 146.8 yards, 0.6 touchdowns
The samples are small — they're always small in football — but come on! Hilton smashes against the Texans, and when playing them he's great with Luck, as a dog and/or on the road.
In his two games against the Texans earlier in the season, Hilton was true to form.
Week 4 (vs. Texans): 13.5 FanDuel points, 4-115-0 on six targets
Week 14 (at Texans): 24.4 FanDuel points, 9-199-0 on 12 targets
Jam. Him. In.
While in the past a healthy percentage of Hilton's routes have been of the slot variety:
2017: 36.8%
2016: 57.4%
2015: 27.9%
2014: 40:2%
2013: 44.0%
2012: 42.7%
This season he's run a career-low 28.0% of his routes out of the slot, so he won't spend too much time facing slot corner Kareem Jackson, who leads the secondary with his 85.7 PFF grade.
Instead, the corner Hilton is likely to face most is Shareece Wright, who has a 60.8 PFF grade. In Weeks 4 & 14, he allowed two touchdowns to the Colts, who singled him out with 18 targets in his coverage.
Gimme some.
Wildcard Weekend Positional Breakdowns
Be sure to read the other wildcard weekend positional breakdowns.
• Quarterbacks
• Running Backs
• Tight Ends
For more in-depth NFL analysis information, check out The Action Network.
---
---
Matthew Freedman is the Editor-in-Chief of FantasyLabs. He has a dog and sometimes a British accent. In Cedar Rapids, Iowa, he's known only as The Labyrinthian.