2023 NFL Division Futures: Raybon's Top 3 Post-Draft Picks
Credit:
Todd Kirkland/Getty Images. Pictured: Atlanta Falcons tight end Kyle Pitts.
The NFL Draft has wrapped up, which means the 2023 season is only four about months away.
Luckily, we don't have to wait that long to start adding some futures to our portfolio.
Our Chris Raybon has come through with three division futures he has already locked in since the conclusion of the NFL Draft, including picks for the NFC South, AFC South and NFC West.
Check out Raybon's full breakdown for all three divisions below.
---
Every division longshot bet is also a fade, so before I get into why I like the Falcons, here's a buffet of reasons why the Saints are a screaming fade for me at +125.
Quarterback reasons: Pete Carmichael Jr. represents Derek Carr's fifth offensive coordinator as a pro. His four previous seasons in Year 1 of a new offensive coordinator currently stand as his four worst seasons in passer rating, completion rate, yards per attempt and passing yards per game. Carr went 22-40 (35.4%) as a starter in those four seasons compared to 41-39 (51.3%) in all other seasons. He's posted a winning record as a starter just twice, and neither of those instances came during one of those four seasons. Andy Dalton's efficiency metrics from last year with the Saints (95.2 passer rating, 66.7% completion rate, 7.6 YPA) easily exceed Carr's career-highs in the four seasons in which he had a new OC (91.1 rating, 62.7% completion rate, 7.0 YPA).
Coaching reasons: Dennis Allen-coached teams are 0-4 toward the over on their preseason win total. Allen is 15-38 (28.3%) all-time as a head coach. His 7-10 record last season was a career-best.
Trend reasons: Since the NFL switched to the current divisional format in 2002, there have been 49 teams listed as the sole favorite to win their division at plus-money odds. Only 15, or 30.6%, went on to win the division. The average implied odds for those 49 teams were 40.4%, meaning teams like the Saints tend to fall spectacularly short of expectation.
With that being said, this is far from an "anyone but the Saints" pick. The more I dig into these teams, the more I'm convinced the Falcons will be the best team in the NFC South.
The Falcons weren't far off last season. They fielded an above-average offense (13th in Football Outsiders' DVOA) and an elite special teams unit (fifth) but struggled mightily on defense (30th). Improve the defense from terrible to merely bad, and you have a nearly identical DVOA profile to the Seahawks (14th offense, 21st defense, fourth special teams), a team that won nine games and earned a playoff berth.
Improve the defense the Falcons did — so much so that there's even a chance they skip the "merely bad" step altogether and approach, dare I say, league average.
They entered the offseason with two building blocks already on the roster: Grady Jarrett, your favorite defensive tackle's favorite defensive tackle, and A.J. Terrell, one of the game's premier cover cornerbacks.
But in a departure from the recent past, the Falcons emerged with a defense consisting of players whose talents go beyond wasting Jarrett's career.
Safety Jessie Bates III is the kind of signing who upgrades the defense at multiple spots because his range and ability to play single-high will allow fellow safety Richie Grant to line up closer to the line of scrimmage, where he's most effective.
Calais Campbell is another elite player whose signing impacts multiple spots because he's still playing at such a high level that it will force offenses to alter their blocking schemes to account for him, freeing up Jarrett and others.
Adding defensive tackle David Onyemata and linebacker Kaden Elliss from the Saints gives the Falcons two more quality front-seven defenders — along with the added benefit of directly weakening the Saints.
Speaking of weakening the Saints, new defensive coordinator Ryan Nielsen was also poached from the Saints after serving in various roles for them from 2017-22. He is highly regarded for his work in player development on the defensive line. The switch from 73-year-old Dean Pees to the 44-year-old Nielsen is another reason to buy into the glow-up of the Falcons defense.
Given Nielsen's background, it's no surprise the Falcons have amassed their deepest, most talented defensive line in recent memory. Last season, the market was slow to adjust to how good the Falcons were on offense, and I see the same thing happening with their defense this season. It will be an entirely different (and better) unit.
Any qualms about betting on a Desmond Ridder/Taylor Heinicke-quarterbacked team to win its division should be eased by remembering the Falcons led the division in offensive DVOA last year (+5.8%, 13th) — edging the Bucs (+0.4%, 16th), Saints (-7.0%, 22nd) and Panthers (-10.0%, 27th) — and should widen that gap this year.
Remember, last year's division-best offense came with the rookie version of Ridder (and a worse version of Heinicke known as Marcus Mariota), Kyle Pitts missing the final seven games and no Bijan Robinson.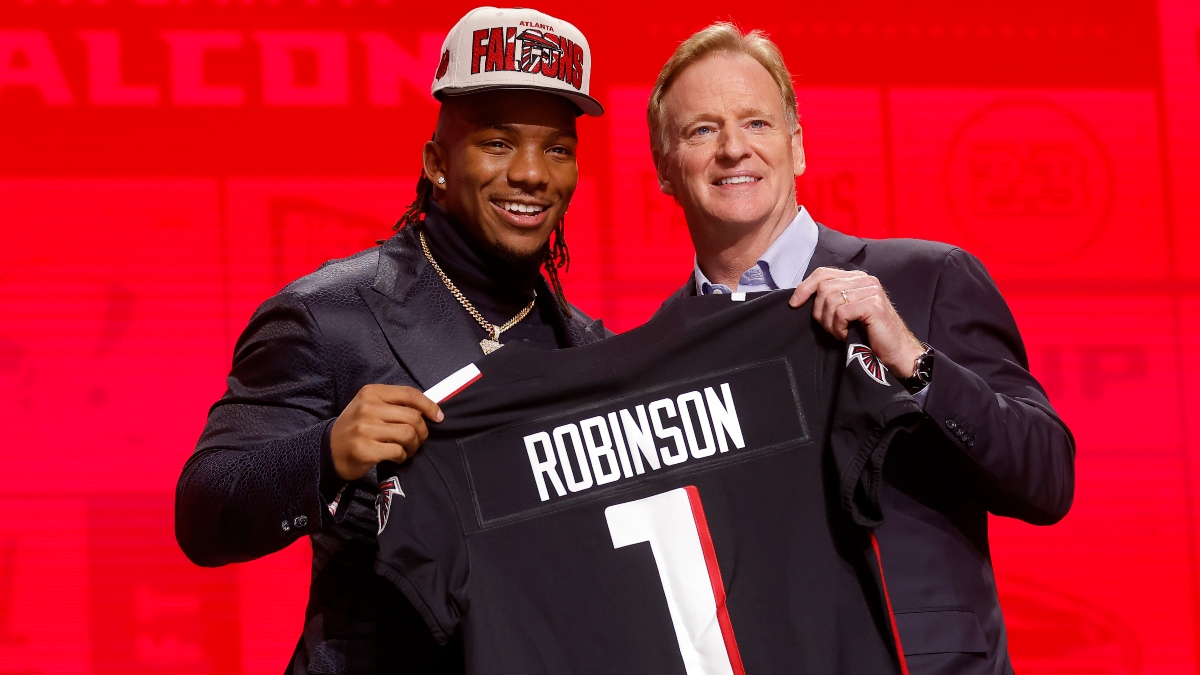 We can debate the merits of taking a running back in the top 10, but what can't be debated is how scary Robinson makes this offense. Not only is he a generational prospect in the ilk of Christian McCaffrey or Alvin Kamara (or possibly better), but he's also yet another movable chess piece who can also play multiple positions, joining Pitts (tight end/wide receiver) and Cordarrelle Patterson (running back/wide receiver).
A common knock on the Falcons is their wide receiver depth, but Pitts played in the slot or out wide 72.2% of the time last season, so he's technically a wide receiver. I thought general manager Terry Fontenot made an underrated move by signing Jonnu Smith, which gives them the option of lining up with an explosive receiving threat at tight end when Pitts lines up at wide receiver (as opposed to the block-first tight ends they used in that role last season).
The Robinson pick will also shift Patterson's primary role to wide receiver, meaning that on passing downs, the Falcons could roll out a skill-position corps of Robinson at running back, Drake London, Pitts and Patterson at wide receiver, and Smith at tight end on passing downs. Who needs Mack Hollins!?
Not to mention, all of this will take place behind one of the NFL's best offensive lines. Below are the PFF grades and positional ranks for the projected starting five.
LT Jake Matthews 77.2 (14th of 81)
LG Matt Hennessy 75.4 (would be 7th of 78 if enough snaps to qualify), –or–

LG Matthew Bergeron (Syracuse) 75.2 (69th of 451)

C Drew Dalman 65.9 (14th of 36)
RG Chris Lindstrom 95.0 (1st of 77)
RT Kaleb McGary 86.6 (4th of 81)
As a Falcons backer, I like the injury insurance the Bergeron pick provides. For the Falcons offense to operate optimally, the focus has to be on mitigating their deficiencies at quarterback, which becomes a lot more difficult if they also have to allocate resources to mask a major talent drop-off on the offensive line due to injury.
One other advantage of note for the Falcons: They ended up losing the second- and third-place divisional tiebreakers last season, which affords them the benefit of playing a last-place schedule this season. That means they'll be the only team in the division to face Arizona and the only team in the division to face Washington. Those matchups are worth a not insignificant amount of extra win probability compared to the slates to be faced by the Bucs (Philadelphia-San Francisco), Panthers (Dallas-Seattle) and Saints (Giants-Rams),
So, to recap: The Falcons figure to have the best offensive in the division, a much-improved defense, and an elite special teams unit. They also have the easiest schedule. And unlike most other divisional longshot bets, the Falcons might not even need a lucky break — there's a decent chance they legitimately are the best team in their division.
Bet To: +200
---
The Colts (+550) and Texans (+800) made more noise on draft day, but the Titans' combination of talent, coaching and experience leaves them the most well-positioned of the three to unseat the favored Jaguars (-160) for the AFC South crown.
The Titans are being undervalued by the market after being decimated by injuries last season. They finished with the third-most Adjusted Games Lost (128.6), a metric that quantifies games missed due to injury by starters and key situational players.
Defensive injuries were especially brutal, as no team had more Adjusted Games Lost on defense than Tennessee's 85.6. In a world with a more typical amount of injuries (which is the most likely outcome), I think the 2023 Titans are a good bet to look less like the Titans of 2022 and more like the Titans of 2018-21, a period in which they won at least nine games each season and captured back-to-back division titles in 2020 and 2021.
The front seven is still loaded with talent: Jeffery Simmons, Denico Autry, Teair Tart, Arden Key, Harold Landry and Azeez Al-Shaair are just some of the names.
Kevin Byard is still one of the best all-around safeties in the league, and Amani Hooker is one of the best safeties in coverage. Free-agent cornerback Sean Murphy-Bunting comes over from Tampa Bay after allowing a 55.0% catch rate and 4.3 yards per target last season. Holdover Kristian Fulton came into his own down the stretch last season, allowing a 48.8% catch rate and 5.5 yards per target over his final eight games.
Despite all of their injuries last season, the Titans were still No. 1 in DVOA against the run. Injuries mainly took a toll on their pass defense, which dropped from 11th in DVOA in 2021 to 28th last season. I don't expect the Titans to post back-to-back No. 1 finishes in run defense, but given the talent on the roster, I see no reason why they can't marry their elite run defense of 2022 with their above-average pass defense of 2021.
Offensively, Derrick Henry is still Derrick Henry. His 5.1 yards per touch last season was smack dab on his career average. Ryan Tannehill was still efficient, clocking in at fifth among 33 qualified quarterbacks in raw yards per attempt (7.8) and 11th of 33 in Adjusted Net Yards Per Attempt (6.39).
The Titans were 6-6 in Tannehill's starts but 1-4 in games he missed. I'm not as high as some on 33rd overall pick Will Levis (Kentucky), but it's hard to imagine a scenario in which Levis is not an upgrade on Malik Willis and Joshua Dobbs in the event Tannehill again misses time.
Treylon Burks is no A.J. Brown, but he quietly rebounded from a disastrous start to his career and showed signs of living up to his first-round pedigree. Burks' last five healthy games included receiving yardage totals of 111, 70, and 66. Wide receivers generally make the biggest leap in Year 2, so it's not out of the question that he approaches the 998.3 receiving yards Brown averaged in three seasons as a Titan (albeit with less touchdown production.)
Second-year tight end Chigoziem Okonkwo averaged 14.1 yards per catch as a rookie and is the most explosive player the Titans have had at the position in recent memory. Fellow second-year man Kyle Phillips popped for a 6/66/0 receiving stat line on nine targets from the slot in his only fully healthy game before his season was derailed by injuries.
The Titans rebooted at tackle by signing Andre Dillard away from the Eagles and drafting Peter Skoronski (Northwestern) 11th overall, giving them their first tandem of starting tackles drafted in the first round since the final year of the Taylor Lewan-Jack Conklin pairing in 2019. They also signed former 49er Daniel Brunskill, who offers similar production to the outgoing Nate Davis for a fraction of the contract he received from the Bears in free agency.
Just as the Titans are being discounted due to outlying bad injury luck, the Jaguars (-160) are being overvalued due to outlying good injury luck. Jacksonville registered just 39.8 Adjusted Games Lost in 2022, the second-fewest in the league.
A Trevor Lawrence-led offense featuring Travis Etienne, Calvin Ridley, Christian Kirk and Evan Engram at the skill positions will undoubtedly slap, but the Jaguars have issues nearly everywhere else.
Offensive line: Not one offensive lineman on the Jacksonville roster earned a PFF grade in the 50th percentile or better for their position last season. Brandon Scherff got $30 million guaranteed from general manager Trent Baalke and proceeded to have by far the worst year of his career. He is no sure thing to bounce back at age 32. Left tackle Cam Robinson is coming off a torn meniscus and is facing a PED suspension that could range from two to eight games. The line could be a trouble spot even if No. 27 overall pick Anton Harrison (Oklahoma) pans out at tackle in Year 1, though Baalke's recent track record with offensive linemen doesn't paint the most optimistic portrait. Projected starting right tackle Walker Little, a 2021 second-round pick, regressed in Year 2. Projected starting center Luke Fortner, a 2022 third-round pick, was one of the worst centers in the league as a rookie.
Pass rush: The Jaguars ranked 27th in sack rate last season (5.5%) and didn't address the edge rusher position until late in Round 4 with Tyler Lacy (Oklahoma State). Josh Allen remains their only established pass rusher on the outside. Last year's No. 1 overall pick, Travon Walker, registered only 3.5 sacks in 15 games last season and already looks like a bust.
Pass coverage: Third-year cornerback Tyson Campbell is the team's only true difference-maker in pass coverage, and Baalke didn't address the secondary until late in Round 5 with safety/nickelback Antonio Johnson (Texas A&M). Save for the unlikely event of Baalke unearthing an immediate contributor with a late Day 3 pick or in the undrafted free agent market, not enough has changed for a defense that finished 30th in DVOA against the pass in 2022.
The gap between the Jaguars and Titans is far bigger stylistically than it is talent-wise. And whatever gap exists, Mike Vrabel helps close it. Doug Pederson is a fine coach, but Vrabel is far better at defying the odds. He's an incredible 20-19 (51.2%) straight-up as an underdog, while Pederson is 19-26 (42.2%). He's also 4-1 toward the over on preseason win totals with Pederson at 3-3.
Another equalizer for the Titans is an easier schedule. Jacksonville's first-place finish features tilts with the Chiefs, 49ers and Bills, all of which the Titans will avoid, instead facing more winnable matchups versus the Chargers, Seahawks and Dolphins.
Talk of the Titans possibly tanking is driving their price down as well. Those rumors are likely being fueled by reports that the Titans would have no issue turning to Levis.
But "turning to Levis" is being conflated with speculation that they would tank the season. I find it hard to believe a coach as competitive as Vrabel would willingly tank in a winnable division, especially after the way 2022 ended. It's far more likely that Vrabel is willing to play the best quarterback precisely so he can win as much as possible. In fact, Tannehill got the job after Marcus Mariota was benched six games into 2019.
Once you put last season's injuries in proper context, it's clear the Titans' demise is greatly exaggerated. They're a flawed team for sure, but they're not three-projected-wins-worse-than-the-Jaguars flawed.
Not only did they win nine or more games in the four seasons prior to last, but they also started last season 7-3, meaning they've been their typical winning selves for all but a tiny sliver of Vrabel's tenure. It just so happens that the tiny sliver occurred most recently, creating massive value to exploit.
Bet To: +200
---
The Seahawks went 9-8 and finished 10th in overall DVOA last season, then had a strong offseason that leaves them well-positioned to make another leap in 2023.
Meanwhile, the rest of the NFC West looks primed to take a step back.
The Rams (+550) are dealing with a cap situation that forced them to sit out free agency entirely after also being forced to move on from many of their starters from 2022. Jalen Ramsey and Bobby Wagner are the most notable departures, but the list goes on and on. The Cardinals (+2400), meanwhile, have emerged as the favorite to finish with the NFL's worst record.
Barring something unforeseen, this division will be a two-team race between the Seahawks and 49ers (-165).
The 49ers have almost nowhere to go but down after a 13-4 season, and their offseason hasn't exactly gone well so far. They had a shaky draft that saw them go backup safety-kicker-backup tight end with their first three picks.
Jimmy Garoppolo (40-17 career record as a starter) has been replaced on the roster by Sam Darnold (21-34), and with Brock Purdy's UCL recovery timeline in question and Trey Lance a potential trade candidate, there's a real possibility that Darnold has to make meaningful starts for the 49ers this year.
On top of that, their offensive line is in as fragile of a state as it's been in quite some time: That Trent Williams turns 35 this season and hasn't played a full season since 2013 is the least of their concerns. Each of their three projected starters on the interior — Aaron Banks (59.5), Jon Feliciano (57.4) and Spencer Burford (51.8) — failed to earn PFF grades that cracked the 40th percentile at their respective position in 2022.
And after losing Mike McGlinchey in free agency, their projected starting right tackle is Colton McKivitz, a former Day 3 pick with just 439 snaps and five starts to his name across three NFL seasons.
In stark contrast to the 49ers, the Seahawks' 2023 draft was among the league's best. Adding cornerback Devon Witherspoon (Illinois) at No. 5 overall to a defense that already includes Tariq Woolen at corner — and Quandre Diggs and Jamal Adams at safety — gives Seattle one of the league's most talented secondaries.
No. 37 overall outside linebacker Derick Hall (Auburn) gives them another pass-rushing threat alongside Uchenna Nwosu and Darrell Taylor. I like that the Seahawks addressed their pass rush despite finishing seventh in sack rate (7.6%), as their 19th-place ranking in pressure rate (20.8%) suggests that they overachieved a bit in the sack department.
With that said, the Seahawks were 17th in DVOA against the pass last season and improved both their secondary and pass rush, so it's quite possible they make the leap into above-average/good territory in 2023.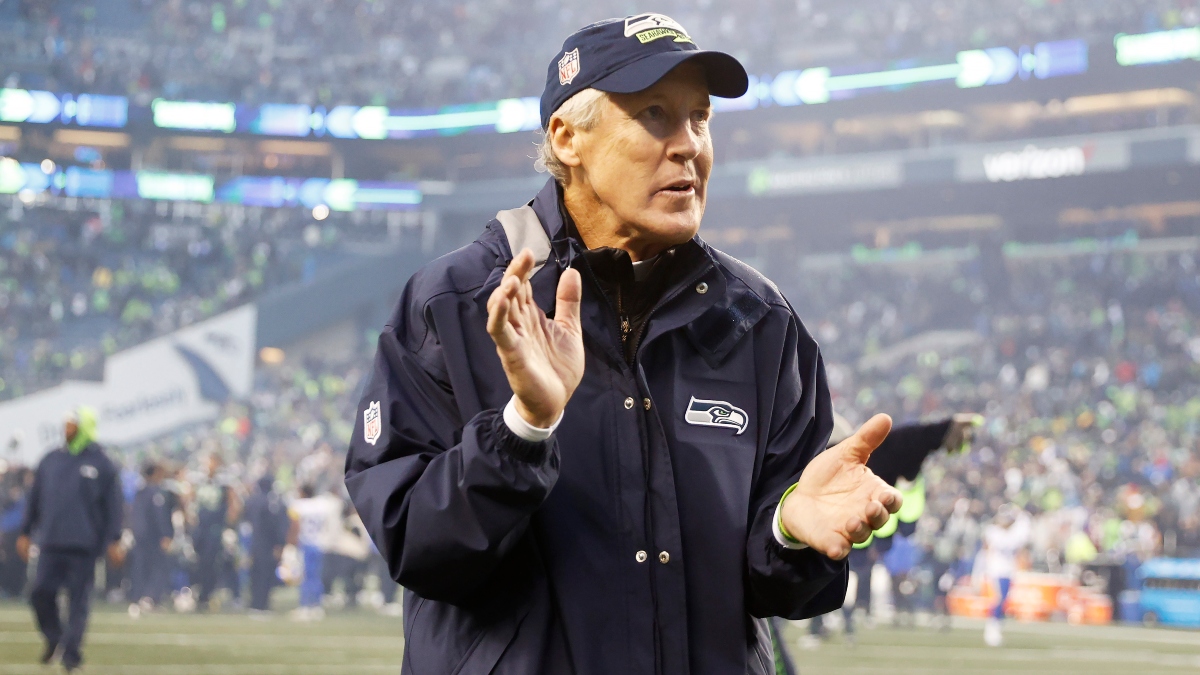 Seattle's 25th-ranked run defense should improve with the signing of a couple of familiar faces in linebacker Bobby Wagner and defensive tackle Jarran Reed. Wagner was the best linebacker in the league last season against the run (and overall), and Reed is a plus run defender as well.
I still think Seattle would do well to add an impact player to its defensive front, but it did give itself some swings in that regard, selecting defensive tackle Cameron Young (Mississippi State) in Round 4, defensive end Mike Morris (Michigan) in Round 5 and taking a flier linebacker Devin Bush, the 10th overall pick in 2019 who never panned out in Pittsburgh.
Offensively, Seattle got the top wide receiver in the draft in Jaxon Smith-Njigba (Ohio State). Smith-Njigba is an inside-outside threat who is likely to man the WR3 role behind D.K. Metcalf and Tyler Lockett from Day 1. If he plays up to his draft pedigree in Year 1, the Seahawks will be in the running for the league's top wide receiver trio this side of Cincinnati.
Second-round RB Zach Charbonnet (UCLA) was viewed by some as a luxury pick after the team used a second-round pick on Kenneth Walker last season, but I like the fit. Not only is Charbonnet a more patient runner than Walker, but he was also seventh in the nation in receiving yardage at running back (320), giving them a more viable passing-game option than they had with Travis Homer over the past few seasons. At 6-foot and 214 pounds, Charbonnet averaged 19.4 carries per game as a senior and would also be able to carry the load if Walker were to miss time.
Thanks to their skill-position talent, the Seahawks found a way to offset the deficiencies of their young offensive line a year ago. They managed to finish eighth in pass DVOA despite a line that ranked 22nd in sack rate allowed (7.4%), while their running backs posted the fifth-best yard-per-carry average (4.78) despite the line clocking in at No. 30 in Adjusted Line Yards (4.03).
The Seahawks have even more skill-position talent this time around, but the offensive line is a good bet to take a step forward. Left tackle Charles Cross allowed just three sacks in his final 10 games after yielding four sacks across his first eight contests. We often see tackles make a big leap in Year 2, so there's some upside for Cross and/or Abraham Lucas to turn elite a la Andrew Thomas a couple of years ago.
Even if neither turns elite, the line should still be in good shape.  Free agent signee Evan Brown is a much better run blocker than anyone Seattle had on the interior last season, and fourth-round pick Anthony Bradford (LSU) has a good chance to start from Day 1 and shore up the other interior spot.
In Pete Carroll's 13 years as head coach, the Seahawks are 8-4-1 toward the over on their win total, and though I think it's way too early to invest in a win total over, I point that out to illustrate that Seattle is a good bet to exceed expectations, which it'll obviously need to do to close the gap on the 49ers.
The Seahawks probably aren't good enough to sweep a healthy 49ers team, but it's worth noting that if they would've swept the 49ers instead of getting swept by them in 2022, both teams would have finished with identical 11-6 records.
The Seahawks have won the division in 5-of-13 years (38.4%) under Carroll, with three of those instances coming when they were not the favorite.
Given the state of the Rams and Cardinals, plus the fact that the 49ers have never won back-to-back division titles in the Kyle Shanahan era, this is as good of a time as any to bet on Seattle to bag NFC West title No. 6 under Carroll.
Bet To: +200
---
Defensive coverage stats from PFF. All other stats from Pro Football Reference unless otherwise noted.
How would you rate this article?
This site contains commercial content. We may be compensated for the links provided on this page. The content on this page is for informational purposes only. Action Network makes no representation or warranty as to the accuracy of the information given or the outcome of any game or event.