NFL Divisional Round Fantasy Football Takeaways: Tom Brady Again Defeats Father Time, C.J. Anderson Keeps Balling, More
Credit:
USA TODAY Sports. Pictured: Patriots QB Tom Brady (12), Rams RB C.J. Anderson (35).
The top-two seeds in both the AFC and NFC advanced to the Conference championship games this weekend.
Patriots QB Tom Brady tapped into the fountain of youth with a dominant passing performance against the Los Angeles Chargers.
LA Rams backup RB C.J. Anderson continued his hot streak on the ground with a 100-yard performance against the Dallas Cowboys.
The Divisional Round featured a bit more offense than we saw during Wild Card weekend, and we're down to just four teams with a chance at hoisting the Lombardi Trophy.
There wasn't a single upset in Saturday or Sunday's action, as each of the conference's No. 1 and No. 2 seeds will meet in their respective conference championship.
The Rams, Chiefs and Patriots all managed to both win and cover in their matchups, but the Saints needed a come-from-behind effort to take down the Eagles.
Let's take a look at some of the takeaways from each team that suited up over the weekend, starting with those that were lucky enough to advance to Championship Sunday.
Playoff Patrick and the Chiefs Advance
Patrick Mahomes didn't quite play at his MVP-level ceiling during the Chiefs' 31-13 victory over the Colts, as he completed 27-of-41 passes (66%) for 278 yards (6.8 Y/A) with zero touchdowns or interceptions while taking four sacks for just the second time all season.
The good news for fantasy owners is the Chiefs appeared to focus their entire passing game on their top options at the expense of some of the team's auxiliary receivers.
Tyreek Hill: eight receptions-72 yards-zero touchdowns (13 targets)
Travis Kelce: 7-108-0 (10)
Sammy Watkins: 6-62-0 (8)
Damien Williams: 5-25-0 (6)
Slot receiver Gehrig Dieter (one target), backup tight end Demetrius Harris (one target) and No. 3 receiver Chris Conley (two targets) combined for one catch and 11-scoreless yards.
Of course, the Chiefs offense was still plenty efficient thanks to their excellence on the ground. Damien Williams continued to work as the team's undisputed lead back and converted 25 carries into 129 yards (5.2 YPC) with a touchdown to go along with five catches for 25 scoreless yards.
Spencer Ware (hamstring) was again inactive, but Williams seems locked in as the lead back anyways after the Chiefs gave him a contract extension prior to Week 17.
Darrel Williams (three carries-nine yards-one touchdown), Tyreek Hill (1-36-1) and Mahomes himself (3-8-1) also managed to find the end zone on the ground. TyFreak's score in particular seemed particularly unfair for the Colts defense to handle.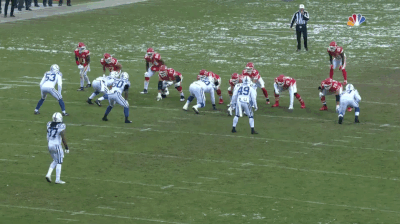 Next up: A Patriots defense that Mahomes shredded for 352 yards and four touchdowns back in Week 6.
This Rams' Rushing Attack is Pretty Freaking Awesome
We knew the Rams' offensive line was special entering Saturday's Divisional Round matchup against the Cowboys, but their domination on the ground during their 30-22 victory over the Cowboys was still surprising.
Todd Gurley = amazing
CJ Anderson = apparently still good
…
Rams offensive line = historically great

Most adjusted line yards per rush since 1996 (when Football Outsiders began tracking):

1. 2018 Rams (5.49) 👀
2. 2018 Saints (5.19)
3. 2002 Broncos (5.13)
4. 2000 Rams (5.09)

— Ian Hartitz (@Ihartitz) January 2, 2019
C.J. Anderson (23-123-2) and Todd Gurley (16-115-1) easily cleared the century mark on the ground against the Cowboys' fifth-ranked defense in rush DVOA. The Rams' 273 rushing yards were 95 more than the Cowboys had allowed in a game all season.
Gurley seemed rather close to 100%, but it was tough for the Rams to take CJA off the field. This sustained success could result in a similar backfield split for next week's matchup against the Saints.
Gurley: 45 snaps (57%) | 16 carries | two targets
Anderson: 34 snaps (43%) | 23 carries | one target
Meanwhile, Jared Goff completed just 15-of-28 passes (54%) for 186 yards (6.6 Y/A) with zero touchdowns and interceptions. Robert Woods (6-69-0) and Brandin Cooks (4-65-0) did a good job getting open, but Goff's biggest play of the afternoon ended up being made with his feet.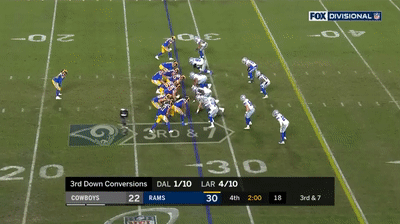 Next up: A rematch with Drew Brees in the Saints at the Superdome.
Turns Out Tom Brady and the Patriots Aren't Done Being Great
Shame on everyone (myself included) who believed the Chargers were the team to end Bill Belichick's evil empire. New England had more than a few standout performers during Sunday's one-sided 41-28 blowout:
Tom Brady completed 34-of-44 passes (76%) for 343 yards (7.8 Y/A) with a touchdown and zero interceptions. The GOAT made several truly exceptional tight-window passes in addition to his usual steady diet of efficient check downs.
Sony Michel churned out 129 yards on 24 carries (5.4 YPC) against the Chargers' undersized front-seven. The Patriots' 2018 first-round pick and scored three touchdowns… in the first half!
James White is allegedly a running back, but the long-time Patriots' playoff stud didn't get a single carry against the Chargers. Instead, White caught 15-of-17 passes for 97 yards. His 15 receptions tie Darren Sproles for the most catches in a playoff game EVER.
Julian Edelman caught 9-of-13 targets for 151 yards. The performance from the Patriots' No. 1 receiver was especially impressive considering Edelman was matched up with slot corner Desmond King (PFF's No. 2 overall cornerback) for most of the afternoon.
The Patriots didn't become a more-explosive offense overnight, but they did showcase the devastatingly consistent efficiency that fans are accustomed to seeing from them nearly every January. They'll play their eighth-consecutive AFC Championship next Sunday against the Chiefs.
It's Time for Another Championship Sunday in New Orleans
The Saints survived a quick 14-point Eagles' lead and ultimately captured a 20-14 victory. The story of the game was third-year receiver Michael Thomas, who caught 12-of-16 targets for 171 yards and a touchdown.
Drew Brees' best receiver ever has converted 38 targets into 27 catches for 387 yards and three touchdowns in three career playoff games. Thomas is extremely difficult to keep in check for 60 full minutes, as his natural talent is a match made in heaven with Brees' accuracy and Sean Payton's scheme.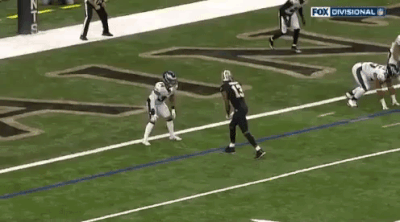 Brees was plenty solid in his own right, completing 28-of-38 passes (74%) for 301 yards (7.9 Y/A) with a pair of touchdowns and one interception. Running backs Alvin Kamara (16-71-0 rushing, 4-35-0 receiving) and Mark Ingram (9-53-0 rushing) were each plenty involved as well throughout the game.
Thomas exploded for a 12-211-1 line against the Rams during the Saints' 45-35 victory in New Orleans back in Week 9. The Saints will need their passing game's No. 1 weapon to continue to dominate against an L.A. defense that will have Aqib Talib this time around.
The Clock Struck Midnight on Andrew Luck's Fairy Tale Season
The Colts won 10-of-11 games going into Saturday's road trip to Arrowhead, but head coach Frank Reich and company weren't quite able to get the job done. Andrew Luck never seemed comfortable in this non-ideal spot, as he completed just 19-of-36 passes (53%) for 203 yards (5.6 Y/A) with one touchdown and zero interceptions.
The afternoon's most-surprising development was the Colts' inability to consistently protect their franchise quarterback. They didn't allow a sack in six games with a fully healthy offensive line, but the Chiefs became one of just three defenses all season to take down Luck at least three times.
The Colts fell behind too quickly to fully commit to Marlon Mack (9-46-0) and Nyheim Hines (3-24-0) on the ground against the Chiefs' league-worst defense in adjusted line yards allowed per rush.
T.Y. Hilton (4-60-1), Eric Ebron (5-51-0) and Dontrelle Inman (4-55-0) made a few plays in the passing game, although it's fair to say the Colts don't exactly boast the same level of talent at their skill positions as some of the league's other contenders.
Reich and Luck largely outperformed any-and-every expectation that was given to the Colts entering the season. Further improvement to their defense and receiving core could help them take the next step this time next year.
The Cowboys Forgot How to Play Defense AND Run the Ball
The Rams beat the Cowboys with a dominant rushing attack combined with a suffocating front-seven that controlled the line of scrimmage.
Basically, Ezekiel Elliott and company were beat with the same game plan that largely got Dallas to this point in the first place.
Zeke managed just 47 yards and a touchdown on 20 carries, while he caught 2-of-5 targets for 19 yards. The game marked just the third time in 43 career games that Elliott was held under 50 rushing yards, while Saturday was the first game since Week 7 that he didn't catch at least four passes.
The return of All-Pro center Travis Frederick (illness) next season would go a long way towards fortifying the interior of the Cowboys offensive line in a potential future rematch.
The lone bright spot for Cowboys fans was the performance of Dak Prescott, who completed 20-of-32 passes (63%) for 266 yards (8.3 Y/A) with two total touchdowns. Michael Gallup (6-119-0) and Amari Cooper (6-65-1) also made plenty of big-time plays.
Both Prescott and Cooper may have earned themselves new contracts based on their largely excellent play since joining forces in Week 9, as the stretch was the best the Cowboys' signal caller has looked since his incredible rookie season.
Good Thing Philip Rivers has a Large Family Support Group
History told us that Rivers and company faced an uphill battle coming into Foxborough. That came to fruition Sunday afternoon, as Rivers completed just 25-of-51 passes (49%) for 331 yards (6.5 Y/A) with three touchdowns and one interception.
The majority of the passing game's production came well after the outcome was already decided, with the exception of Keenan Allen's 43-yard touchdown in the first quarter that resulted from a blown coverage anyway.
The Patriots consistently brought extra rushers at Rivers and dared the 37-year old quarterback to beat them down the field. Meanwhile, the Chargers' rushing "attack" consisted of just 19 combined yards and one touchdown from Melvin Gordon and Justin Jackson.
Sunday was a tough day for everyone involved with the Chargers in general.
Rivers had the league's fourth-quickest release time this season among starting quarterbacks and is capable of masking some of the Chargers' deficiencies up front. Still, they'll need to improve the league's 13th-ranked offensive line in adjusted sack rate. Only left tackle Russell Okung (No. 13) ranked among PFF's top-25 linemen at their position this season.
The Eagles' Playoff Run has Gone Flaccid
Nick Foles' game-sealing interception went directly through Alshon Jeffery's hands late during the Eagles' final drive of the game. The Eagles scored two touchdowns to open up the game and appeared on the verge of more playoff magic, but they ultimately finished with just 250 total yards of offense and failed to establish any sort of consistency in the run or pass game.
The legend of ole' St. Nick won't grow any longer this season, although it's still impossible to discount everything he's done during the last 12 months..
Nick Foles in 12 full starts with the Eagles over the past two seasons:
10-2
67.9% completion rate
7.3 Y/A
4.7% TD rate
2.0% INT rate

Carson Wentz in 24 starts during the same span:
16-8
64.7% cmp
7.6 Y/A
6.4% TD
1.7% INT

— Ian Hartitz (@Ihartitz) January 14, 2019
Carson Wentz has been the more efficient quarterback during the Doug Pederson era. Still, there's little doubt that Foles will fetch a handsome sum on the trade market if the Eagles do decide to stick by Wentz for the future.
---
Be sure to check out FantasyLabs' industry-leading NFL News and Models, along with the Multi-Lineup Builder, Stack Builder, ownership projections and more. Other tools for the 2018 season are also available, including the Matchups page, DFS Contests Dashboard, NFL Ownership page and NFL Correlations page.