Freedman's Favorite NFL Futures Bets: Will Patriots or Rams Play in Super Bowl 54?
Credit:
Mark J. Rebilas-USA TODAY Sports. Pictured: Tom Brady, Jared Goff
Matthew Freedman continues his series featuring one of his favorite bets for each day of 2019.
On Thursday, he looks ahead to Super Bowl 54, highlighting his favorite NFL futures bets for the Patriots and Rams.
Each day, I publish at least one quick-n'-dirty piece highlighting one of my favorite props. (You can see the master list of my 2019 prop bets here.)
But on Thursday, I'm switching things up to feature two of my favorite NFL futures bets.
If you're looking for your Freedman props fix, you can find some picks for the 14-game NHL and six-game NBA slates. (Yeah, there's a lot of action.)
2019 Year-to-Date Record
45-30-5, +18.38 Units
NFL: 21-13-0, +11.72 Units
NBA: 12-9-0, +2.69 Units
NHL: 8-4-4, +5.26 Units
Golf: 2-3-1, -0.70 Units
NCAAF: 0-1-0. -1.0 Units
Exotics: 2-0-0. +0.40 Units
Freedman's Favorite 2019 NFL Futures Bet: Will Patriots or Rams Play in Super Bowl 54?
While Super Bowl 53 and the 2018 NFL season are still relatively fresh in our memories, I figure it's a good time to give my two favorite futures for next season.
Chris Raybon has a great piece on the 11 teams worth a Super Bowl 54 futures bet, and unsurprisingly, the Patriots and Rams are included in that number.
I easily see how either of those teams could win Super Bowl 54. But I'm going to argue against them, because as a wise man once said, negativity is a virtue. It's often a good idea to avoid white swans.
Although the Pats and Rams are among the favorites to win next season's Super Bowl, it's likely that neither team will reach the big game.
Will the New England Patriots Play in Super Bowl 54?
At -500 odds, "No" has an implied probability of 83.3%, but that seems too low.
I have a lot of respect for head coach Bill Belichick and quarterback Tom Brady. They're almost certainly the best the NFL has ever seen at their respective positions.
But Brady will be 42 years old when the season starts. His play regressed in 2018, and it could slip further in 2019. His primary playmakers in tight end Rob Gronkowski and wide receiver Julian Edelman will be 30 and 33 next season.
On defense, the Patriots could be without a few key starters in edge rusher Trey Flowers, defensive tackle Malcom Brown and cornerback Jason McCourty, all of whom are free agents. And they will definitely be without defensive play caller Brian Flores, who is the Dolphins' new head coach.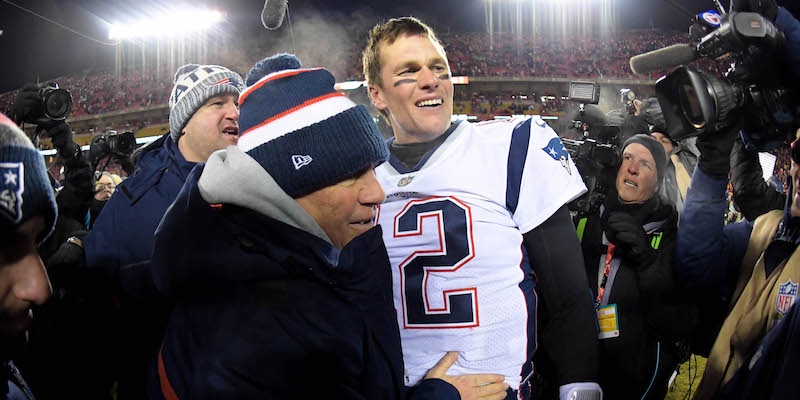 And none of this takes into account the competition in the AFC.
The Steelers and Chargers should still be strong with quarterbacks Ben Roethlisberger and Philip Rivers. The Colts could improve in HC Frank Reich's second year. The Chiefs, Texans, Ravens and Browns could all enjoy improved quarterback play with the continued development of Patrick Mahomes, Deshaun Watson, Lamar Jackson and Baker Mayfield.
And it's always possible that a defense-driven team like the Jaguars or Broncos could rebound with a new quarterback and easier schedule.
I think the odds are closer to 90% that the Pats don't play in Super Bowl 54.
---
>> Sign up for The Action Network's daily newsletter to get the smartest conversation delivered into your inbox each morning.
---
Will the Los Angeles Rams Play in Super Bowl 54?
At -400 odds, "No" has an implied probability of 80.0%, but that also seems too low to me.
The NFC isn't as stacked as the AFC, but the Rams will be challenged to return to the Super Bowl.
The Saints were arguably the superior team in 2018 and will still have quarterback Drew Brees, wide receiver Michael Thomas, running back Alvin Kamara and most of their key defensive players.
The Eagles and Cowboys should be better in 2019 with a full season of action from quarterback Carson Wentz and wide receiver Amari Cooper, respectively.
The Vikings could be better in quarterback Kirk Cousins' second season in Minnesota, and the Bears could improve as quarterback Mitchell Trubisky continues to develop. And the Packers should be more explosive now that quarterback Aaron Rodgers won't be shackled to the conservative play calling of former HC Mike McCarthy.
In the NFC West, the Seahawks — and maybe even 49ers — could make life hard on the Rams: As long as quarterbacks Russell Wilson and Jimmy Garoppolo are healthy, they're dangerous.
And teams like the Falcons and Panthers could always find their way back to the Super Bowl if quarterbacks Matt Ryan and Cam Newton recapture their MVP magic.
And the Rams might simply regress. Wide receiver Cooper Kupp could be slow to recover from his season-ending knee injury, and the offense suffered without him in the second half of 2018. And in free agency the defense could lose key starters in defensive tackle Ndamukong Suh, edge rusher Dante Fowler and safety LaMarcus Joyner.
As is the case with the Pats, I think the odds are close to 90% that the Rams don't play in Super Bowl 54.
THE PICKS: Pats No (-500), Rams No (-400)
---
Matthew Freedman is the Editor-in-Chief of FantasyLabs. He has a dog and sometimes a British accent. In Cedar Rapids, Iowa, he's known only as The Labyrinthian.
How would you rate this article?