NFL Odds, Picks & Predictions: The Week 14 Bets To Make Now
Credit:
Kevin C. Cox/Getty Images. Pictured: Michael Thomas (left) and Alvin Kamara.
There's only one day off between Week 13 and Week 14, with Cowboys-Ravens closing one week on Tuesday and the Patriots-Rams kicking off the next on Thursday.
Still, locking in value early is important, and our staff is here to help. They outline the bets they've already made below, featuring three spreads and two totals.
NFL Odds, Picks & Predictions
Patriots vs. Rams Under 44.5
Kickoff: 8:20 p.m. ET on Thursday | More Game Info
Mike Randle: One of the best performances of 2020 was the Patriots defense in Week 13. Bill Belichick's unit pitched a shutout against the Chargers in a big 45-0 road win.
Thursday night's matchup between Sean McVay and Belichick is worth the price of admission, but historically, Belichick has the advantage.
New England will follow a ball-control model behind Cam Newton. The Patriots rank just 21st in pace with an average of 28.1 seconds per play. That number drops to 30.8 in game-neutral situations and to a snail-paced 34.6 when leading by seven or more points or more (per Football Outsiders).
The Patriots defense struggled for much of the season, but has been much improved over the past month. Prior to the shutout of Chargers, the Patriots held the Cardinals to just 17 points while limiting Kyler Murray to just 170 passing yards and 31 rushing yards.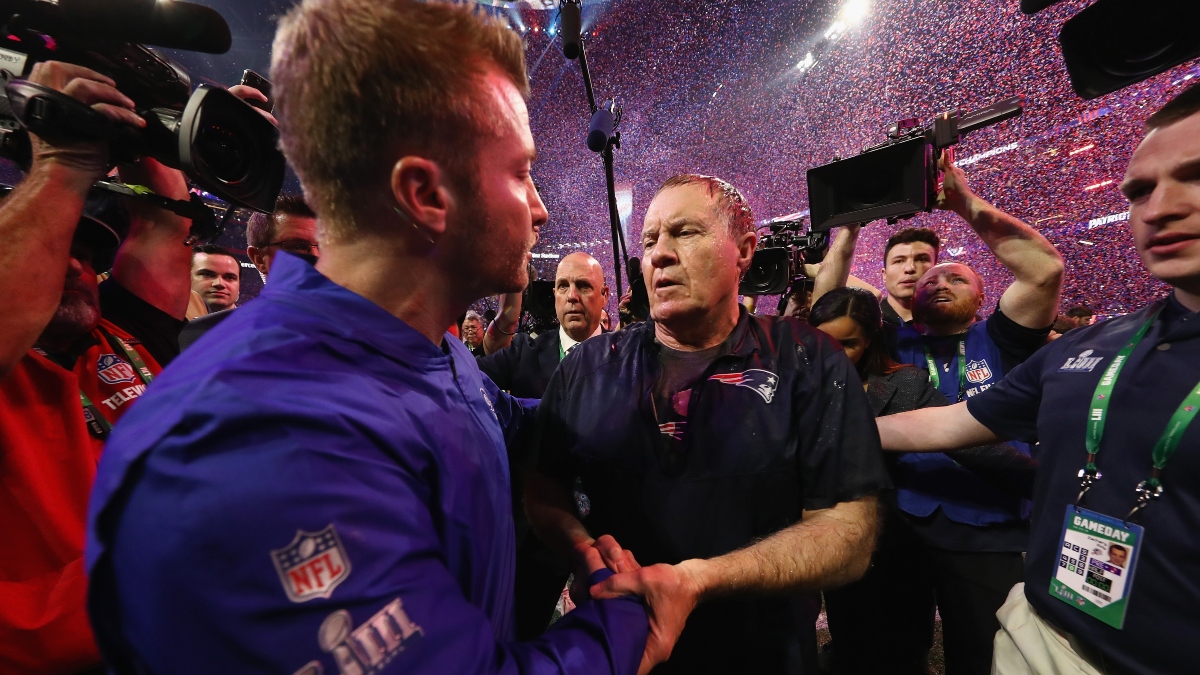 While most think of the efficiency of the Rams offense, it's their defense that has made the difference in this season's success: They rank fifth overall in defensive efficiency, including fifth-best against the pass.
Both teams excel at limiting quarterback production, with the Rams (second) and Patriots (fifth) both among the league leaders at fewest fantasy points allowed to signal callers. The Rams are fourth in the NFL with three sacks per game, and the Patriots have tallied five sacks in their past two games against Murray and Justin Herbert.
New England stayed on the West Coast this week, staying at UCLA's campus instead of flying home. I expect a close game between two strong teams with great coaches, and will back an under on a total that's dropped a point since open.
Falcons -2.5 at Chargers
Kickoff: 4:25 p.m. ET on Sunday | More Game Info
Raheem Palmer: Wise guys will likely line up to take +3 or +3.5 on the Chargers if and when the lines moves, and honestly I don't care — many of these same "sharps" have fallen victim to trying to catch a falling knife by betting the Eagles, who are just 4-8 against the spread this season.
I can't stress this enough: You're lighting money on fire by backing an Anthony Lynn-coached team at this point. Last week, I faded the Chargers and I'm going back to the well again. Why wouldn't I?
The Chargers have not beaten a team with more than two wins — their three victories have come against the Jets (0-12), Jaguars (1-11) and Bengals (2-9) in Joe Burrow's first start of his career. Those teams have a combined record of 3-32 with a point differential of -345, and those games were dog fights in which the Chargers had legitimate chances of losing.
The Chargers have played the Chiefs, Buccaneers and Saints tough, but since then, the Chargers have been a disaster.
The Chargers have given up 27 or more points in nine straight games and are coming off their worst loss in franchise history: A 45-0 drubbing at the hands of the Patriots in which Cam Newton completed 12-of-19 passes for 69 yards and a touchdown. It marked the Chargers' first home shutout since 1988.
Their season is over, yet the Chargers remain committed to Lynn, who is now 29-31 during his tenure and an abysmal 8-20 since the start of 2019.
The Chargers are 30th in Football Outsiders' DVOA, 18th in offense and 26th in defense. They've struggled the most on special teams, ranking dead last in DVOA. The Chargers allowed a punt return and a blocked field goal to be returned for touchdowns in the loss to the Patriots.
The Patriots lined up to punt 5 times in this game. The #Chargers had the wrong number of players on the field for 3 of those plays. On one series, they lined for a punt with 12, got flagged and gave up the first down, then lined up with 10 four snaps later. pic.twitter.com/DOum0vObiZ

— Daniel Popper (@danielrpopper) December 7, 2020
The Falcons, on the other hand, have improved under interim head coach Raheem Morris. After starting 0-5 under Dan Quinn, the Falcons are 4-3 since his firing — and two of those three losses have come at the hands of the 10-2 Saints, who are the cream of the crop in the NFC.
Atlanta's biggest improvement has been its defense, which has gone from 30th in expected points per play (0.174) and 29th in defensive success rate (51.2%) to sixth in EPA/play (-0.074) and defensive success rate (42.3%) since Morris took over in Week 6.
Atlanta's offense has struggled in the red zone, converting only 50% of their 44 trips inside the 20-yard line. Still, I believe these are two teams headed in opposite directions, and we should see an improvement in the Falcons' offensive output against a Chargers defense that's bleeding points to everyone. Since the firing of Quinn, the Falcons have put up 40, 22, 25, 34 and 43 points in their non-Saints games, so we should expect the Falcons to score into the high-20s Sunday.
They're a mediocre NFL team that continues to fight under Morris. Despite a sensational rookie season from Herbert, the Chargers appeared to have quit on Lynn, who is the epitome of gross incompetence.
Overall, this is more of a fade of Lynn and the Chargers than a play on the Falcons — laying -2.5 on the road with this team isn't ideal. But this line will likely go to and possibly through the key number of three, so I'm taking the Falcons now.
Packers -7.5 at Lions
Kickoff: 4:25 p.m. ET on Sunday | More Game Info
Matthew Freedman: I'm a pretty simple person: I like to bet on quarterbacks who win, and that's what Aaron Rodgers is. A discount double-check winner.
For his career, he's 117-82-5 against the spread (ATS) for a 15% Return on Investment (ROI). And he's been especially dominant against the NFC North. When facing divisional opponents, Rodgers is 45-26 ATS (24.1% ROI).


Although he was fired just a couple of weeks ago, former Lions head coach Matt Patricia's ghost will haunt the organization for some time. I doubt the Lions we see this week will differ much from the team we've seen since Patricia replaced Jim Caldwell in 2018.
In the post-Caldwell era, the NFC North is 9-6-1 ATS (17.3% ROI) against the Lions.
I would bet this to -9.5 (-110).

Saints -7 at Eagles
Kickoff: 4:25 p.m. ET on Sunday | More Game Info
Brandon Anderson: Well, it finally happened.
Carson Wentz has been benched. It's been a long time coming, really for most of the season — maybe even since the surprise draft selection. The moment you spend a second-round draft pick on a quarterback, you are inviting the fans and media to call for that quarterback as soon as the first thing goes wrong. We know that. That's just how this works.
Well, all that calling finally got home, and now Jalen Hurts will make his first start in the thick of a December playoff race and against maybe the NFL's toughest defense.
The Saints second in defensive DVOA and are closer to the No. 1-ranked Steelers by far than they are to the rest of the field. Throw in Pittsburgh's recent injuries and first loss, and New Orleans may be the best defense in football right now. The Saints rank second in both passing and rushing defensive DVOA.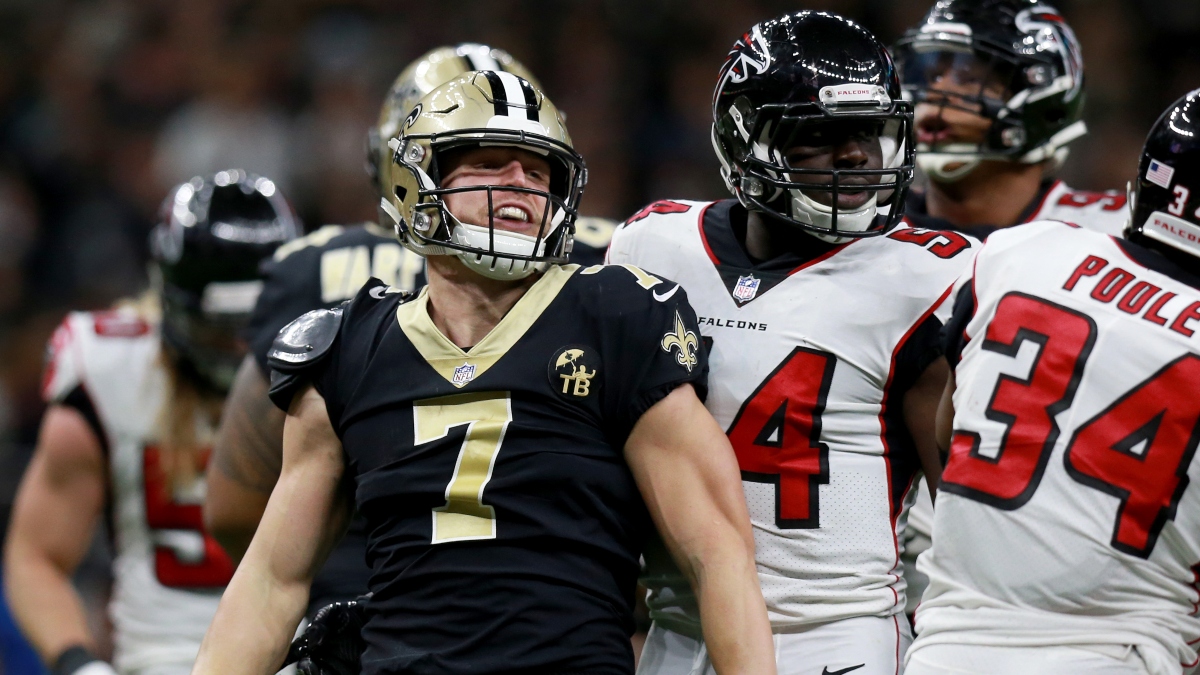 The Saints are now 8-0 without Drew Brees over the last two seasons, and they're that good because this is a complete team now and one led by great defense. With Brees out over the last three weeks, the defense has allowed just 28 points combined, and haven't allowed more than 16 since the first day of November.
Remember the 38-3 drubbing of the Bucs a month ago? That's the defense Doug Pederson is throwing Hurts to the wolves against.
Maybe Hurts is a better long-term option than Wentz, and maybe Hurts brings some interesting running dynamics. But Wentz is the better player right now and probably still didn't have much chance against the Saints — the Eagles have been plagued not just by bad quarterbacking, but also horrible line play, bad play calling and very little from the receivers. Hurts can't fix those things, and a dumbed down game plan against the NFL's best defense does not seem like a great way to make your first start.
It feels like Pederson backed himself into a corner here, but this is a rough spot to turn Hurts loose. I'm grabbing this one at -7 before it jumps a half point or further by game day.
Saints-Eagles Under 45.5
Kickoff: 4:25 p.m. ET on Sunday | More Game Info
Michael Arinze: I wouldn't be breaking any news by stating that the Saints defense is pretty good. In fact, I can't recall Sean Payton ever having a defense this good in New Orleans.
The Saints are second in defensive DVOA and have been lights out over the last five weeks. While Taysom Hill has done an admirable job filling in for Drew Brees, the Saints defense has made a concerted effort to carry the team in his absence: New Orleans hasn't allowed more than 16 points in the last five games and now the Saints will head to Philadelphia to take on an Eagles team that's making a switch at quarterback by replacing Carson Wentz with rookie Jalen Hurts.
While Hurts did provide the only offensive touchdown for the Eagles last week, he completed only 41.7% of his passes while throwing one interception and finishing the game with 34.3 mark in ESPN's Total QBR. Things likely won't get any easier against this stout New Orleans defense.
An early look at the weather reveals a forecast of 12-13 mph winds at Lincoln Financial Field:


Keep in mind that the Saints are 5-0 to the under in their last five games while the Eagles are on a 6-0 under run themselves. And now with double-digit winds expected for Sunday, we're in for another defensive slugfest.
Our Bet Labs database has tracked 31 games in Philadelphia with at least 10 mph winds, and the under has cashed 19 times for 6.87 units and a 22% ROI.

This total continues to fall, but with 45 being a key number, I'd look to play an alternate total at 45.5 with a little juice at -120. This is one total you'll want to grab as early as possible because it's likely to close at 44 or lower by kickoff.
How would you rate this article?