NFL Odds, Picks & Predictions For Raiders vs. Dolphins: Cases For Both Sides of This Spread
Credit:
Getty Images. Pictured: Tom Brady, DeAndre Hopkins, Tua Tagovailoa
Dolphins at Raiders
| | |
| --- | --- |
| Picks | Bet Now At |
| Raiders +3 | |
| Dolphins -3 | |
We're down to one NFL matchup on Week 16's Saturday slate — and our staff has cases for both sides of the Dolphins-Raiders spread. Find arguments for each of their picks below.
Predictions For Raiders vs. Dolphins: Cases For Both Sides of This Spread
Raiders +3
Stuckey: The Dolphins have been very kind to bettors as the most profitable team to bet on in 2020 with a 11-3 record against the spread (ATS). However, I'm still not fully sold.
The defense is very well-coached and solid on the back end, but there are holes up front. They've also benefited from an extreme amount of turnover luck — the regression monster looms for a team that paces the league with 26 takeaways to date.
I also still have questions about the offense, which is led by a rookie quarterback and a banged up group of receivers. Everyone has seemingly forgotten that this same team got embarrassed in Denver as a 4-point favorite a month ago.
You have to love the weekly perception shifts in the NFL.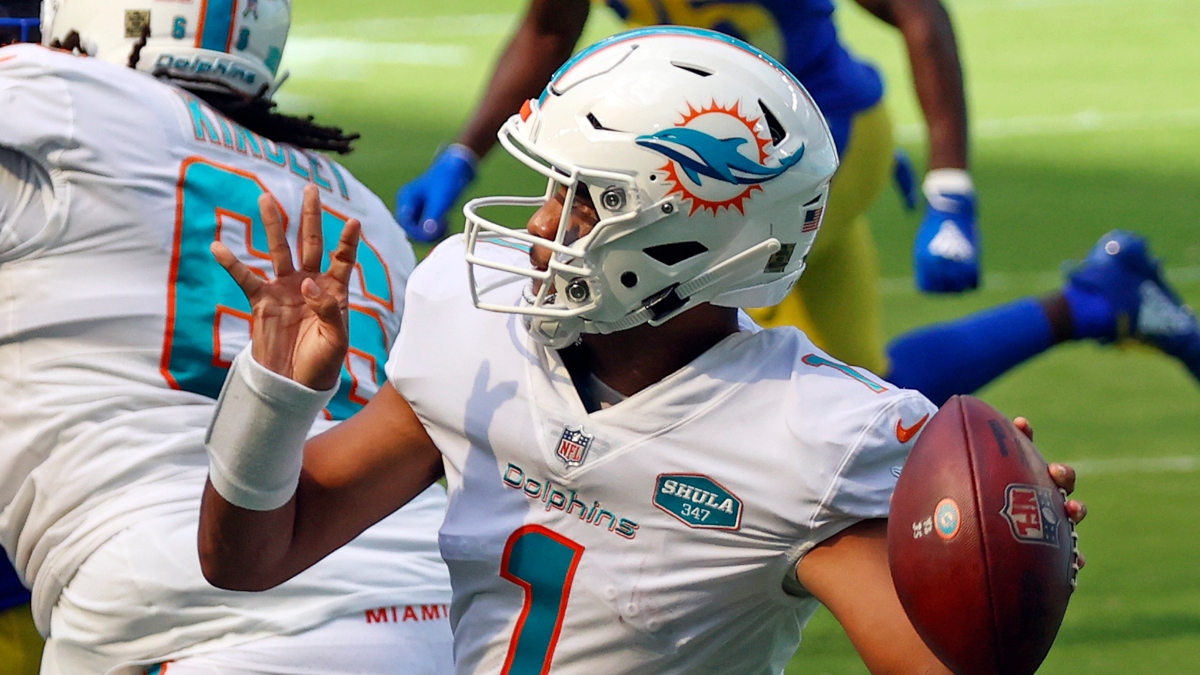 I make this game closer to a pick'em (track our projections for every NFL game here), so I'll gladly take the field goal with the home dog that has a few extra days of preparation here for an East Coast team coming out West.
The Raiders aren't mathematically eliminated from playoff contention yet, but they basically have no shot. All of the pressure is on the rookie quarterback and a Miami team that could miss out on the postseason with a loss.
I expect Derek Carr to give it a go under center, but there wouldn't be an enormous drop-off with Marcus Mariota, who got some reps in last week.
This is a classic buy-low/sell-high spot on the Raiders, while also being one of the best overall betting values of the season per our NFL PRO Report.
Dolphins -3
Matthew Freedman: It's not hard to bet on the Dolphins. For the year, they are a league-best 11-3 ATS for a 52.2% Return On Investment (ROI).
Since joining the team last season, head coach Brian Flores has driven the Dolphins to 20-10 ATS (29% ROI). And if you remove the first month of last year, during which the Dolphins were experimenting drastically with their personnel, Miami is 20-6 ATS (48.8% ROI).
I bet the Dolphins shortly after they opened as 1.5-point favorites, but I still like them at -3 (-110).

49ers at Cardinals
| | |
| --- | --- |
| Picks | Bet Now At |
| Cardinals -5 | |
| 49ers +5 | |
Cardinals -5

Raheem Palmer: The 49ers have been in a full-fledged Super Bowl hangover, ironically starting with their Week 1 loss to the Cardinals and ending with a string of injuries on both sides of the ball as they lost six of their last seven games by 11.1 points per game.
Mullens has recorded 12 touchdown passes but 12 interceptions and four lost fumbles while filling in for the injured Jimmy Garoppolo in 10 games this season. They now turn to Beathard against a Cardinals team that's averaging 27.9 points and 399.2 yards per game.
Kyler Murray dominated a healthy version of this San Francisco defense, completing 26-of-40 passes for 230 yards with one touchdown while rushing 13 times for 91 yards and another touchdown on the ground. Look for Arizona to win this game as the Cardinals hope to keep pace in the NFC playoff race.
49ers +5
Stuckey: Home-field advantage is worth less in division games, but even more so with San Francisco now playing its home games in Arizona. The Cardinals have won two straight, but did so against a completely hobbled Daniel Jones and a decimated Eagles secondary.
I still have questions about this team.
Arizona needs to win this game, while it doesn't mean anything to San Francisco — that's driving some of the line value here.
We also have some flawed recency bias after some fluky San Francisco results over the past month. Yes, the 49ers have lost four of their past five — including a blowout loss on national TV to the Bills, who seem to be blowing out everyone these days — but take a look how the Niners have out-gained their other opponents:
Loss at Saints: 281 vs. 237
Win at Rams: 345 vs. 308
Loss at Cowboys: 458 vs. 291
Loss vs. Football Team: 344 vs. 193
The Niners have been plagued by turnovers, defensive touchdowns and some just plain old bad bounces. They're still moving the ball and getting a bit healthier in the secondary (even with Richard Sherman out).
San Francisco is also expected to welcome back George Kittle, who should be a huge boost to the offense.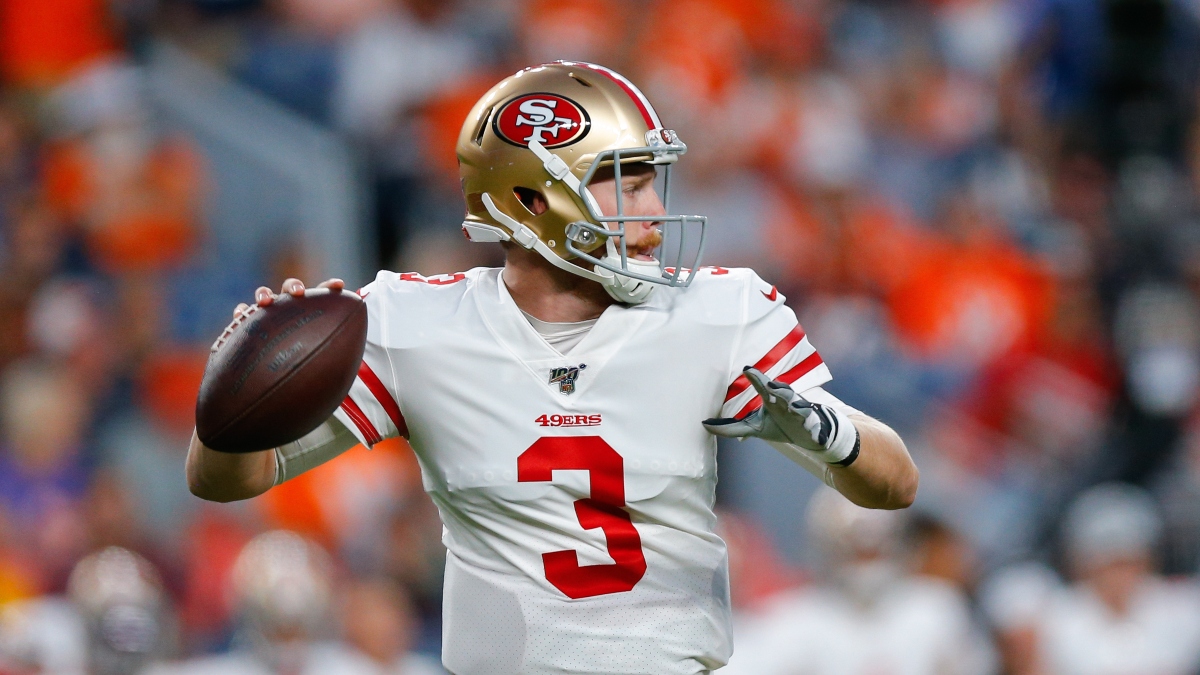 It's worth noting that C.J. Beathard will start at quarterback: He's gone 1-9 as a starter but isn't a material downgrade from Nick Mullens, who has killed them with turnovers lately.
All of the pressure is on Arizona while San Francisco would love nothing more than to avenge a loss earlier this season and spoil its division rival's playoff chances.
I see value on the "road" underdog here in a game that should go down to the wire.

49ers +5
Brandon Anderson: If you're wondering why you can't find this game on your television set, it's because it's streaming exclusively on Amazon Prime for some strange reason. And that's a shame because 49ers-Cardinals games are typically very close and exciting.
Arizona has won nine of its last 11 against San Francisco, but the matchups are often close. Five of the last eight meetings between these teams have finished within four points and they always tend to be close late.
In both cases, the defense is better than the offense.
Arizona's offense never took that expected step forward and can look very vanilla at times, and San Francisco's offense has been crushed by injuries. The 49ers are down to their third-string quarterback, though Beathard has looked decent at times, just like every other quarterback Kyle Shanahan touches. They're also short Deebo Samuel, Raheem Mostert, two starting offensive linemen and a partridge in a pear tree. But they do get their best offensive player back, with Kittle finally expected to make his return.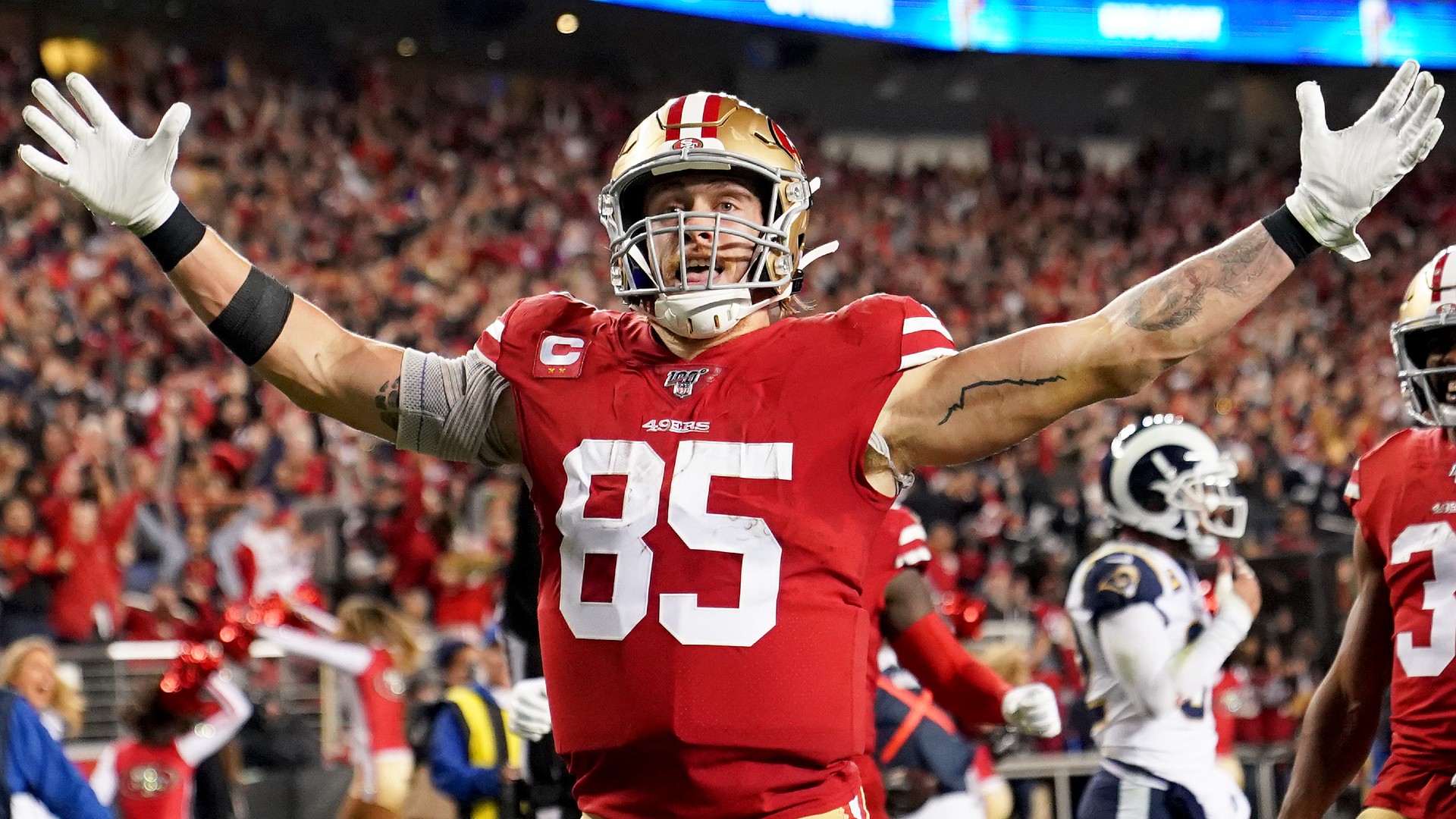 Both teams are below-average in offensive DVOA but top 10 on defense. That should make for a tight lower-scoring game, which makes this five-point spread a little bigger than usual. The Cardinals need this win to maintain control of the NFC's final wild-card spot, but it's never easy pushing for that first playoff berth.
The 49ers will feel no road game effect now that they've been playing in Arizona for a month anyway, and these teams are pretty even in most of the metrics and should play another close game. Take the 49ers points at +4 or better and good luck finding a stream to see if you get the cover.

Buccaneers at Lions
| | |
| --- | --- |
| Picks | Bet Now At |
| Buccaneers -9.5 | |
| Bucs Team Total Over 30.5 | |
Bucs -9.5
Raheem Palmer: In the mix for a wild card, the Bucs face a Lions team that's decimated by injuries.
Detroit had just one (!) healthy offensive lineman at practice on Wednesday: Rookie Jonah Jackson. That's bad news for this matchup against a Tampa Bay defensive line led by Jason Pierre-Paul, Shaq Barrett and Ndamukong Suh that's third in pressure rate (26.4%) and fourth in sacks (43) this season.
This certainly spells trouble for Matthew Stafford, who is still dealing with a torn ligament in his throwing hand.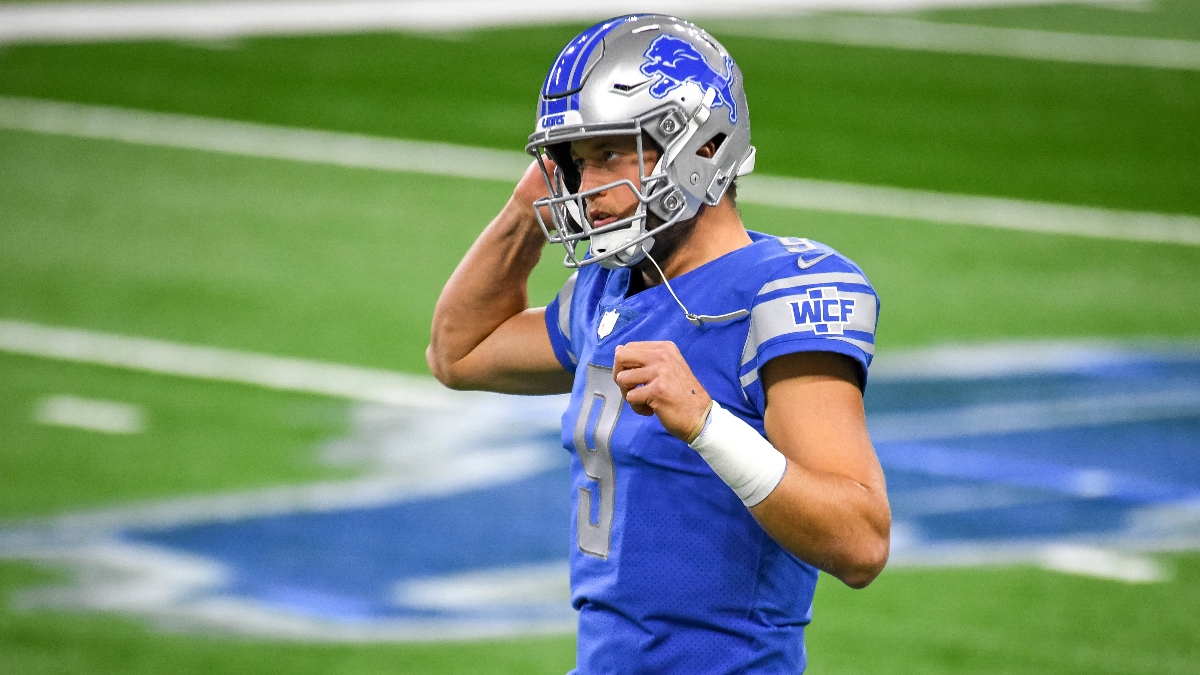 On the other side of the ball, this abysmal Lions defense is giving up a league-high 31.1 points per game, ranking dead last in defensive efficiency, defensive success rate (50.7%), and defensive expected points added per play.
Tom Brady and the Buccaneers offense have struggled to play consistent football, but they should have no problems scoring against this Lions defense and comfortably winning their 10th game to clinch their first playoff berth since 2007.
Bucs -9.5
Brandon Anderson: The Bucs have been one of the mostly wild and unpredictable teams of the season. One week, they're pile-driving the Packers or Raiders. The next week, the Bucs are getting shut out by the mighty Falcons — the Falcons!! — at halftime. But the Bucs are so talented that they came back to win that game anyway, and they continue to have an incredibly strong overall profile, despite their inconsistency.
Tampa Bay rank second in Football Outsiders' DVOA behind only New Orleans, and the Bucs have been fantastic outside of their two losses to the Saints. The Bucs also rank dead last in Football Outsiders' variance metric, highlighting just how Dr. Jekyll and Mr. Hyde this team can be.
They've blown out some bad opponents, though, winning six times by double digits. And the Lions are bad — very bad.
Detroit's defense ranks dead last in weighted DVOA, which takes recency into account. That means they rank even worse than the 1-13 Jets and Jaguars. The Lions are bottom five against the pass and the run, and have allowed at least 30 points in four straight and have injuries up and down the defensive side of the football — not to mention a few key spots on offense, like Kenny Golladay.
Is Dr. Jekyll or Mr. Hyde the good one?
Whichever one it is, that's the Bucs team we should get against the Lions. Detroit is awful and didn't get any better after firing Matt Patricia, and Tampa should roll through with ease and add a seventh double-digit win, even if the Bucs show up for only one half.
This is a high line, practically daring you to take the Lions, but don't fall for the trap. Grab the Bucs up to -9.5 and pray for the good version.

Bucs Over 30.5 Points 
BJ Cunningham: Most of the Lions' problems can be boiled down to the defensive side of the ball, which is what ultimately got Matt Patrica fired. Outside of Jacksonville, Detroit allows the most yards per play at 6.1, with most of the issues coming in the secondary.
The Lions have the worst secondary in the NFL, ranking 31st in defensive passing success and 32nd in explosive passing allowed. To make matters worse, 2020 first-round pick cornerback Jeff Okudah was placed on injured reserve two weeks ago. Additionally, Desmond Trufant is on IR and fellow starting corner Darryl Roberts is questionable for Saturday.
The bottom line is that Tom Brady should be able to absolutely torch this Detroit secondary. I cannot remember a situation this dire on the defensive side of the ball for an NFL team, especially with almost the entire defensive staff not on the sidelines due to COVID-19. Because of that, I'm looking toward Tampa Bay's team total.
I have the Bucs projected for 35.83 points, so there's some value on the over for their team total.
How would you rate this article?