NFL Odds, Picks, Predictions: Why Bucs and 49ers Are the Week 14 Bets To Make Now, Plus More Spreads
Credit:
Katelyn Mulcahy/Getty Images. Pictured: Tom Brady
How is it Week 14 already?
We're in the endgame now, and that makes it all the weirder that we've still got four teams on bye this week. Stranger still, by Expected Points Added (EPA) at RBSDM, four of the top eight teams in the NFL over the past six weeks are off.
The Patriots get a deserved rest after winning in the Buffalo blizzard and moving into the AFC's No. 1 seed. And who are the other three teams missing? Why, the Eagles, Dolphins, and Colts of course. Those four teams are 19-5 combined over the last six weeks, and now it's almost like the old postseason format where they each get a bye week before the home stretch.
And with some of the league's hottest teams sitting on the sidelines, it makes for a pretty weird Week 14 slate. All the bad teams are playing, the standings and wildcard race are condensed, and there are some weird lines with traps on both sides, favorites and underdogs alike.
We're flying high after going a perfect 4-0 on bets last week, including hitting a +1636 Chargers-Steelers-Seahawks moneyline parlay on The Action Network podcast, so let's keep the good mojo going in Week 14.
As always, we'll start with early week picks on every spread with "bet," "lean" or "wait" confidence ratings, but be sure to check back Saturday for final decisions once we have more information on injuries and line movement.
Note: Odds highlighted below are the best available for each pick as of writing. Shop for the best real-time lines with our NFL odds page.
---
NFL Odds, Picks, Predictions
---
Steelers at Vikings (-3.5)
Thursday Night Football
Mike Zimmer can probably thank the short week for still having a job. Most coaches don't make it until noon the next day after losing to an 0-10-1 team, after all.
Zimmer still might be a dead man walking, though, and it's impossible to know whether this Vikings team will come out fighting or if just fold up shop after the most embarrassing loss yet in a season chock full of them.
Sunday was the seventh Minnesota game this season that ended on the final play. That's seven of 12 games! Ten Vikings games were up for grabs in the final minute, and 11 ended as one-score affairs. Minnesota is 0-for-8 defensively against game-tying or winning drives at the end of a game. The Vikings have also allowed 72 points over the final two minutes of the first half, an incredible 6.0 points per game. It's been ugly.
The Steelers have played in eight one-score games of their own, and Mike Tomlin continues to thrive as an underdog. Tomlin is now 43-21-2 against the spread (ATS) as an underdog, covering 67% of the time, and that includes a 5-2 ATS mark this season. Pittsburgh has won four of those five covers outright, and Ben Roethlisberger has played his best ball of the season over the past month.
Additionally, it's been profitable to fade Kirk Cousins and Mike Zimmer in these toss-up spots, with opponents 13-6 ATS (68%) when the spread is within a field goal.
T.J. Watt and that outstanding pass rush could also be a big problem for this struggling Minnesota offensive line that might be missing Christian Darrisaw. The Vikings also could be without three of their top four playmakers with Adam Thielen and Irv Smith Jr. are out, while Dalvin Cook is listed as questionable as of Wednesday afternoon.
We don't know how Minnesota will respond emotionally after the loss in Detroit, but we do know how Pittsburgh shows up in these road dog spots. As long as this line is over a field goal, it's just too hard to trust the Vikings the way every game of theirs has come down to the wire.
THE PICK: Lean Steelers +3.5
---
Ravens at Browns (-2.5)

Really weird scheduling spot here: Cleveland will play its second straight game against Baltimore with a bye in between, sitting at home on their couches while the Ravens played a black-and-blue division rivalry in Pittsburgh.
In the NBA, we'd look at this as a potential schedule loss for Baltimore. But there are 82 NBA regular-season games; there are no throwaways in the grind of the NFL.
The money is pouring in on Cleveland with that scheduling advantage, but I just think this is the wrong matchup for the Browns. Even with a nightmare four-interception game from Lamar Jackson two weeks ago, Baltimore controlled the game on the ground and played with the identity the Ravens have developed, one the Browns continue to lack.
The Browns think they're a run-first team, but Baltimore is good against the run and vulnerable to the pass, and Baker Mayfield didn't magically get healthy with one week off. That offensive line isn't healthy either, and Cleveland's defense is poor against Baltimore's rushing attack and can't get off the field on third down or in the red zone.
Also of note, Baltimore has won 23 of its last 27 games in this so-called "rivalry," and Kevin Stefanski is 1-8 ATS in division games with the Browns since the start of last season.
I'm not a big believer in Baltimore, and Marlon Humphrey is just the latest major injury for these Ravens, but I'll fade them later in another matchup. Bad schedule spot or not, I just have to take Baltimore in this matchup as a dog.
THE PICK: Lean Ravens +2.5
Cowboys (-3.5) at Washington

Washington has won four games in a row and become that proverbial team no one wants to face. The Football Team controls its destiny now at 6-6 with all five remaining games in the division, including two against these Cowboys. Dallas is coming off a rough, up-and-down December, and suddenly it looks like the NFC East might be a real race.
Looks can be deceiving, though.
Washington survived in the final minute of two 17-15 wins the last two weeks, getting a little lucky both times. The Football Team beat a bad Carolina offense the week before, again in a one-score game. The win over Tampa was good, but does winning three coin-flip games over mediocre teams really tell us much?
At Football Outsiders, Weighted DVOA adjusts its team rankings to put more stock in recent performances. By Weighted DVOA, Washington's ranking actually drops from 21st for the season to 22nd.
Sports can be painfully binary, with only wins and losses mattering, but Washington hasn't magically become a good team overnight. Taylor Heinicke is playing really well, but the offense is littered with injuries especially on the line and the pass defense has been terrible all season, with both star pass rushers Chase Young and Montez Sweat out for the season.
Dallas has indeed struggled in recent weeks, with their Weighted DVOA at No. 11 vs. No. 7 for the full season, but for good reason!
If you look at the last six games where Dallas's metrics have plummeted, what do you see? Dak Prescott missed Week 8, then needed time to work his way back to health; stud left tackle Tyron Smith missed Weeks 9, 10 and 11; finally, CeeDee Lamb and Amari Cooper were effectively out Weeks 11 and 12.
It turns out when you take all the best parts out of a top-five offense, it struggles!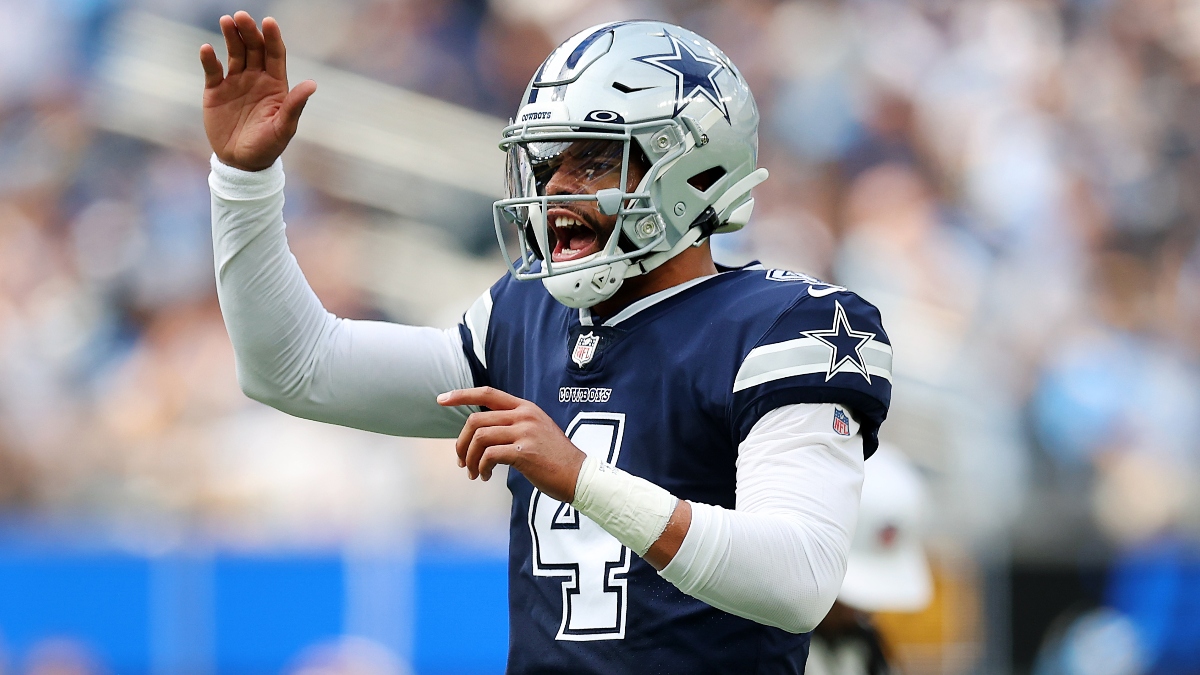 The parts are all healthy now, though, and I think we're getting a gift on this line that would've been over a touchdown a month ago. Prescott is 19-8 ATS in his career in division games, covering 70% of the time with a 2-0 record this year. Road division games are always tough, but Dallas is the much better team.
This may be a bet if it gets down to -3.
THE PICK: Lean Cowboys -3.5
Falcons at Panthers (-3)

Like it or not, this is a key game in the NFC playoff race. It's effectively an elimination game for two teams you've probably already eliminated in your mind. But at 5-7 each, the Falcons and Panthers are just a game out of the wild-card race for now.
The Falcons rank dead last in DVOA with the fourth-worst point differential in football. This team should not be in any playoff race, but Atlanta keeps hanging around in games when it's not playing  one of the league's top teams. The Falcons are 0-5 against current playoff teams with a -127 point differential but 5-2 against everyone else with a +9 differential.
The Panthers are firmly in the "everyone else" camp at this point.
The hope that Cam Newton brought in faded quickly, Christian McCaffrey is out for the season, and the bye week became a mess when Carolina fired offensive coordinator Joe Brady and apparently wants to run the ball 30 to 33 times a game. That's not how you win football in 2021, not against this Atlanta defense and not with a bad O-line and your star RB out for the year.
THE PICK: Lean Falcons +3
Raiders at Chiefs (-10)

It's been a tale of two seasons for the Chiefs.
Through six games, Kansas City was averaging 30.8 points per game while allowing 29.3, looking like the same old offense we've seen for years but playing historically bad defense that ranked at the bottom of the league. The bottom fell out in the seventh game, as the Chiefs scored only three points in an embarrassing loss to the Titans.
In these last six games, though, Kansas City has scored 22 or fewer in all but one of them. The Chiefs scoring average has dropped to 19.7, and the offense is down to 10th in Weighted DVOA (remember, those early games still count, just less).
But the defense has been legitimately good over the same stretch. The Chiefs have allowed only 13.8 points per game over the same six. They've won five games in a row, with 17 or fewer points allowed in every one of them.
The once-32nd-ranked defense is up to 14th in Weighted DVOA. By EPA, the Chiefs ranked third best in the entire NFL over these last six weeks.
Are the Chiefs even the Chiefs anymore? A once high-flying offense can't get its passing game going. Patrick Mahomes has the third-lowest average Air Yards (6.5) of any qualifying quarterback over the last six weeks. Instead, the Chiefs are running the ball and winning with defense. Suddenly, they have a profile that looks a lot more like the Browns or the Colts, or maybe recent Vikings teams, with a non-threatening offense that can grind out wins.
From that perspective, it's suddenly asking quite a lot for a double-digit cover in a division game against a team still in the playoff race. Mahomes is only 8-13-1 ATS (38%) as a favorite of seven or more, and the Chiefs had only one touchdown drive in last week's gritty home win over Denver. But would you expect the Browns or Vikings to win by double digits against a quality division opponent? I sure wouldn't.
There's one fly in the ointment. Remember how the Chiefs have scored 22 or less in all but one of their last six games? The "one" was a 41-14 drubbing of these Raiders in Vegas, and the Chiefs have won 10 of 12 against the Raiders, eight of which were by double digits. Gus Bradley stubbornly refused to adjust the Raiders defense, and it was the one game in this stretch where the Chiefs looked like the Chiefs.
Maybe Bradley really is that stubborn (read: stupid), but I have to believe the Raiders will try something new this time.
When the Chiefs are struggling to get to 20 points these days, I just can't trust them to win by 10.
THE PICK: Lean Raiders +10
Saints (-6) at Jets

This game features maybe the two most injured units in football going head-to-head.
The Jets defense never had much talent to start with but has lost most of it to injury. The Saints offense is in even worse shape. Michael Thomas never played a snap, Alvin Kamara hasn't played in a month, and a great offensive line might be missing three guys again.
Oh, and there's one other thing — the Saints are starting a tight end with an injured throwing hand at QB.
How is this Taysom Hill experiment still happening? How is this still a thing? Maybe it's because Trevor Siemian has been terrible, but at least Siemian can read a defense and hit receivers occasionally. Hill plays football like a 9-year-old using Michael Vick on Madden, just plowing into the line repeatedly and occasionally remembering to spray the ball 10 yards over some target downfield.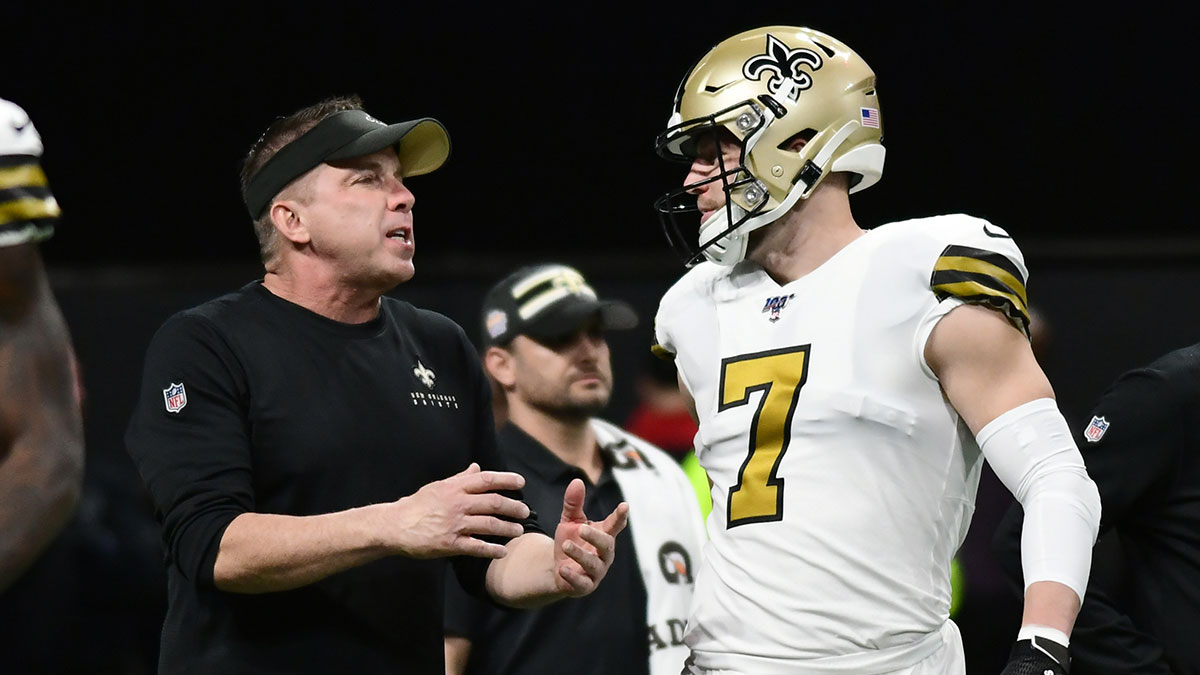 The Saints are playing really bad football right now. They barely even showed up the last two Thursdays and by EPA, they're worse than only the Jaguars and Texans at the bottom of the entire NFL over the past six weeks. The dominant offensive line isn't dominating, the offense has no spark and even the great defense has been mediocre at best and poor against the pass lately.
The Jets are bad. Like, really bad. But the Saints aren't much better right now, and there's just no way I'm laying six points on the road with this team.
THE PICK: Lean Jets +6
Jaguars at Titans (-9.5)

The Titans are yet another team that had a sterling record not long ago, only for their season to feel like it's starting to slip away. Tennessee was the No. 1 seed in the AFC at 8-2 a few weeks ago, but does anyone even remember the Titans these days?
Tennessee has had the metrics of an average or worse team all season, even as it was compiling wins. Half of the Titans' eight wins came by a field goal or less. They lost to both the Jets and Texans somehow, which should honestly be disqualifying. Tennessee ranks 22nd in DVOA, 22nd in Offensive DVOA and 23rd in Defensive DVOA. The Titans are bottom-11 in the NFL at everything.
Yet again, we have an overrated team with an inflated record catching a huge spread against a team that's even worse. But using Football Outsiders' Estimated Wins metric, the Jaguars should have 3.6 wins against just 5.3 for the Titans.
Jacksonville is one of the biggest underperformers of the season, while the Titans are by far the biggest outlier overperformer.
And yet again, it's possible none of that matters. The Titans have thrashed the Jags in recent years, winning eight of nine with five of those wins by 18 or more points. Tennessee is averaging 35 points per game in its past four against Jacksonville. But this is a matchup Derrick Henry usually dominates, and this is not the same team.
The Titans should not be close to double-digit favorites against anyone.
THE PICK: Lean Jaguars +9.5
Seahawks (-8) at Texans

Oh look, another decent team playing a terrible one and catching an overinflated line. Noticing a theme?
The Texans might actually be as bad as we all expected. They've scored under 10 points in half of their games, with six losses by 15 or more points, including losses by 26, 28, 31 and 40.
And Houston is even worse with Davis Mills, who has effectively played seven games (six plus two halves). The Texans have 68 points in those games — 22 of them came in extreme garbage time when they were down 38-0 to the Rams, and 22 came in an outlier against the Patriots that feels like ancient history. Throw out that garbage fourth quarter against Los Angeles and the Pats outlier, and Mills' offense has scored 4.2 points per game.
That is not a typo. It's 24 points total in 5.75 games, and it includes zero points in 134 minutes against the Bills, Rams, and Colts. It's ugly.
Guess what? We're taking Houston anyway.
Seattle is getting way too much respect after hanging on against the 49ers in a game it was mostly dominated but caught a ton of breaks. The Seahawks were 6.5-point favorites for this game on Sunday morning before beating San Francisco, and even that felt a field goal too high.
No matter how terrible Houston is, this line is an overreaction. Seattle has covered this line only twice all season, against the Jaguars and in the season opener against the COVID Colts.
The trends agree with there being value on Houston. Underdogs on homestands of three or more games are 34-22-2 ATS (61%) since 2003. It's also been profitable fading Pacific and Mountain time zone teams as favorites traveling east for an early kickoff, with underdogs going 71-51-1 ATS (58%) since 2003.
As for teams coming off a shutout loss like Houston? They're 61-45-5 ATS (58%) in that stretch, including 4-1 this season.
One of those covers was Houston itself, the last time it got shutout. And how did the Texans respond the week after? They opened up a 15-6 lead and came within a last-second field goal of overtime against the team that now sits atop the AFC in the Patriots.
Every game is different. Trust the trends, swallow hard, and take the points.
THE PICK: Lean Texans +8
---
Bills at Bucs -3

Finally, a great matchup between two definitely good teams — maybe our only such game on Sunday.
The Bucs and Bills have been NFC and AFC favorites for most of the season until this week. But Buffalo is no longer the favorite after a difficult home Monday night loss to the Patriots, and the Bills are suddenly in serious danger of missing the postseason altogether with this Bucs game on tap.
The Bills probably should've won that Pats game. The defense was stout outside of one long touchdown run, and the offense moved the ball well, considering the weather and the opponent. Buffalo went 1-for-4 in the red zone and had a few costly drops and missed throws, but it wasn't a disastrous result.
Still, Buffalo is now 0-4 against the only four good defenses it's faced this season, and I'm not sure its offense can match blow for blow with the Bucs. The Bills have a negative EPA per play offensively over the last six weeks, and Tampa's secondary is beatable while the pass rush could also force Josh Allen into his usual mistakes.
On the other side, this is where Buffalo will really miss cornerback Tre'Davious White. Unlike Mac Jones, Tom Brady will throw the ball more than three times, and he'll throw it to Chris Godwin and Mike Evans, and this is Buffalo's first test without its lockdown corner.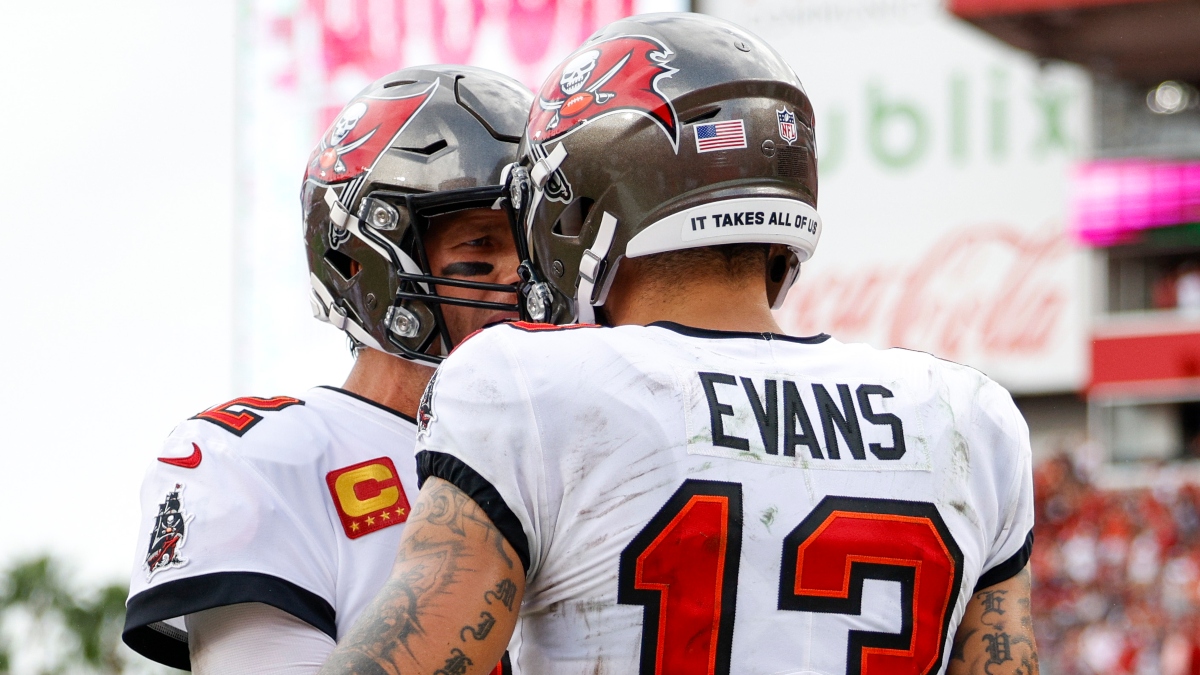 Tampa is also far better at home. The Bucs have four wins this season by 20 or more points, all of which have come at home.
For the Bills to win this, they need the defense to hang with the presumptive MVP (Brady) even without the White. They also need Allen to hang with Brady and put up points. I don't buy either of those things happening, let alone both. Brady is 35-14-6 ATS as a one-score favorite at home, covering 71% of the time, and Bruce Arians is 16-8-2 ATS (67%) in toss-up spreads like this.
I can't believe this line is still sitting at -3. I'm not sure the value will be there as the line rises by kickoff, so I'm betting the key number while we have it.
THE PICK: Bet Bucs -3
---
49ers at Bengals (-1.5)

This is my favorite play of the week by far.
I took the 49ers on the Lookahead segment of The Action Network Podcast last Friday, then doubled down again on the Monday Hot Read despite the Niners' Sunday loss.
San Francisco mostly dominated that game in Seattle. Jimmy Garoppolo averaged 10 yards per throw and 15 per completion, but the Seahawks caught a litany of breaks and got the division-rivalry win. It happens.
Cincinnati was much worse, blown out both early and late, only in the game briefly in the middle when LA tried to "Chargers" the game up like usual.
The 49ers are just the better team right now, and I don't think it's close. The Niners are the best offense in the NFL by EPA over the past six weeks, 50% higher than all but two teams. Garoppolo leads the NFL in EPA and completion percentage over expectation (CPOE) in that span, per RBSDM, while the Bengals pass defense ranks second to last in EPA during that same stretch. That seems problematic.
By overall Weighted DVOA, Cincinnati is the 20th best team in the NFL, while the Niners are fifth.
San Francisco has been a different team since getting left tackle Trent Williams and tight end George Kittle healthy and back in the lineup. Deebo Samuel and Elijah Mitchell are question marks, but this offense is about scheme and winning in the trenches more than the weapons themselves. Williams and Kittle are among the most valuable non-QBs in the entire league, and it shows.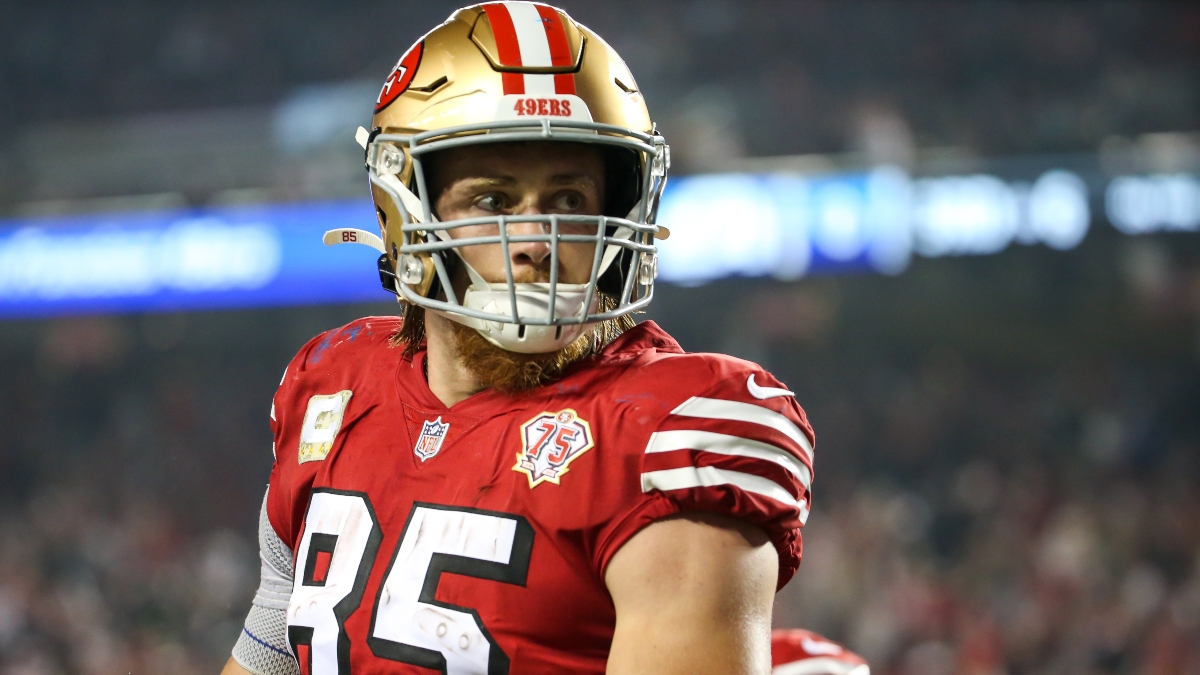 Meanwhile, Joe Burrow has that pinky issue on his throwing hand and Joe Mixon is banged up. The Bengals ranked 27th in EPA per run over the last six weeks but remain overcommitted to the run. By DVOA, the Bengals rank 24th passing and 20th running; the 49ers are fourth and sixth. These offenses aren't in the same universe. Williams and Kittle change everything.
Don't worry about that Seattle loss. Some teams are just the wrong matchup. Besides, we fade Kyle Shanahan as a favorite but back him as an underdog, a situation when he's 24-16 ATS (60%) and an impressive 15-4 ATS (79%) as a dog of four or fewer points. But that stat may not be relevant by kickoff, because I expect San Francisco to be favored by then.
The Niners should be favored now.
THE PICK: Bet 49ers +1.5
---
Lions at Broncos (-7.5)

Are the Lions … decent now?
Detroit has played in four straight games that finished within a field goal. That's pretty good! And the Lions are off the schneid now with a win, though an accidental second win here could drop them all the way to the No. 3 draft pick if they're not careful.
That shouldn't be a huge threat against a Broncos team that's been quietly solid. Denver ranks 18th in DVOA, top-20 on both offense and defense, top-15 in both passing and rushing attack. That's not that exciting but it should be enough to get the job done against a Lions team that still isn't any good, especially with lots of injuries on both sides of the roster.
Denver has six wins and has covered and seen its games go under in all six, with totals in their wins averaging a measly 33.0 points total. Unless you think the Lions win two in a row, the numbers this season say to take Denver to cover and go for the under if you expect a Broncos win.
THE PICK: Lean Broncos -7.5
Giants at Chargers (-10.5)

The Giants aren't good, and it looks like Jake Fromm (State Farm) will make his first start at quarterback, likely missing multiple offensive linemen and a top target or two. Saquon Barkley isn't healthy yet, and the Chargers run defense has been a little better lately anyway. This could be tough sledding for New York.
Still, this line is nuts.
There's just no way I'm laying 10.5 points with these Chargers. They have only two wins by more than six points all season, and even those two weren't comfortable. Austin Ekeler is questionable, Keenan Allen is on the COVID list and Joey Bosa is in the concussion protocol.
The Chargers are way better but play far too much with their food to take a line this high. Yet again, we have to close our eyes and take the points.
THE PICK: Lean Giants +10.5
---
Bears at Packers (-11.5)

Sunday Night Football
Remind me again why we didn't flex Bills-Bucs to Sunday night? Instead we get Aaron Rodgers and the team he owns in another game with a huge line.
Only this time, I'm taking it.
Pick a trend you like. Aaron Rodgers is 9-4-1 ATS coming off the bye (69%). He covers 66% of the time at home, 64% as a home favorite and 67% in primetime at home. Rodgers has covered 62% of the time as a division favorite. The Packers have beat the Bears 20 of the last 23 meetings, nine of those wins by double digits.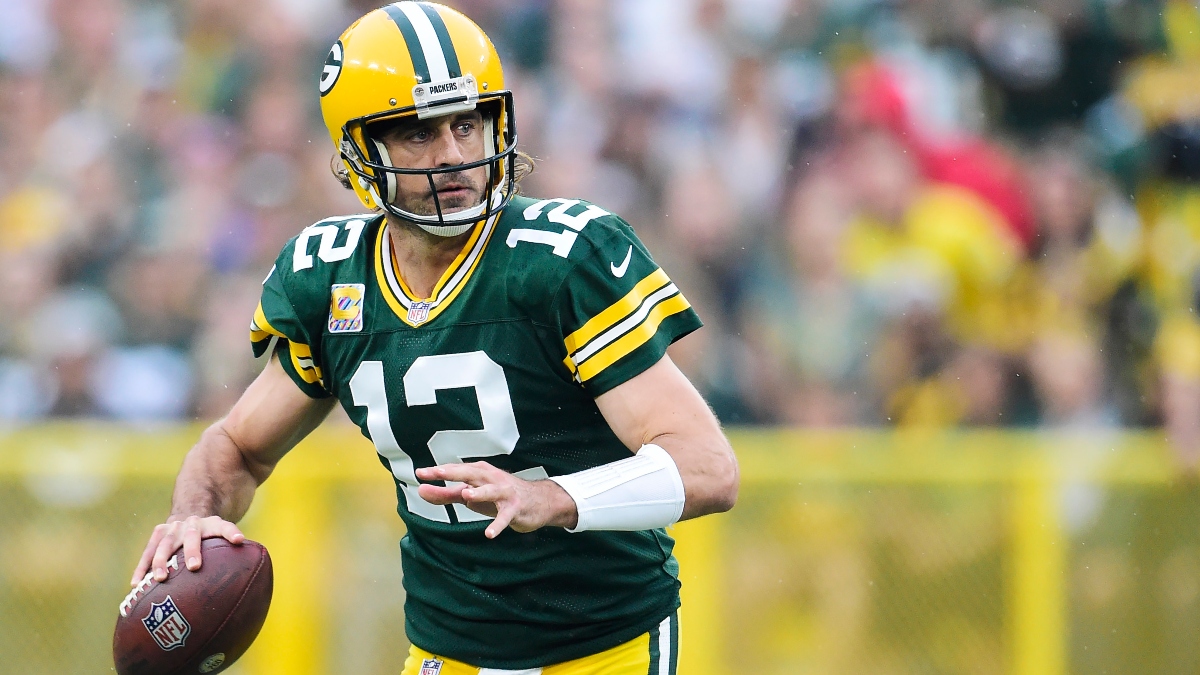 Rodgers was right — he does own the Bears. He's 17-6 ATS lifetime against Chicago, covering 74% of the time.
The Bears have key injuries on both sides of the ball, while Green Bay is finally getting healthy and coming off its bye week. The Packers are 9-3 and quietly humming along to a third straight 13-win season, and Chicago is not going to get in their way.
THE PICK: Lean Packers -11.5
---
Rams at Cardinals (-2)

Monday Night Football
This game reminds me a whole lot of our marquee Sunday game, a matchup between two really good teams where one of them is also clearly better than the other. The Rams are playing the part of the Bills in this case, while the Cards take the role of the Bucs. And I think the gulf may be even wider the way things look over the past six weeks.
During that stretch, the Rams offense ranks only 28th in EPA, and the team is only clearly ahead of four teams. Matthew Stafford has been abysmal. Using EPA + CPOE as a measure of overall quarterback goodness, the man who was once an MVP favorite has stumbled to 30th of 33 quarterbacks in that metric during this stretch, ahead of only Tyrod Taylor, Trevor Siemian, and Trevor Lawrence. Woof.
As for the Cardinals? They rank second overall in EPA during that same stretch — and lest you forget, they were missing Kyler Murray and DeAndre Hopkins for the entire month of November. So before you make excuses for the Rams, remember that the Rams lost their MVP candidate and maybe the league's best receiver and barely even missed a beat.
That's the mark of a great all-around team. The Cardinals rank first in passing EPA during that six-game stretch despite spending three of them without Kyler and Nuk, another with both hurt, and a rainy return game in Chicago. Arizona's defense has been great all season, and though the run D has been leaky lately, the Rams aren't built to beat them there, especially with Darrell Henderson banged up.
The one thing that gives me pause is that the Rams have dominated this division rivalry, winning eight in a row until Arizona's 37-20 win in LA two months ago. The Cards scored single digits in five of those losses, and the Rams are playing to stop the season from getting away.
But this sure feels like a very different Cardinals team, maybe even the best team in football, so I'm not sure the past four years mean much. While all the other good teams around the NFL stumble and fail, is it possible the Cardinals are the one juggernaut this season? It's starting to feel like it.
THE PICK: Lean Cardinals -2
How would you rate this article?