3 Unders To Bet For Steelers vs. Bengals On Monday Night Football
Credit:
Kyle Ross/Icon Sportswire via Getty Images. Pictured: Tee Higgins, A.J. Green
The full-game total. The Bengals team total. Steelers QB Ben Roethlisberger's passing prop.
Our NFL analysts highlight the three unders they're betting for Monday Night Football.
Find their arguments for each Steelers vs. Bengals pick below.
The Cincinnati Bengals host the Pittsburgh Steelers for a Monday Night Football matchup of divisional opponents in the midst of polar opposite seasons.

The 2-10-1 Bengals have long been eliminated from the playoffs whereas the 11-2 Steelers still have an outside shot at the AFC's No. 1 seed and its only postseason bye.
With that in mind, our staff has analyzed this AFC North matchup to find the best betting values on the board. Their picks are below.
NFL Picks & Predictions
Under 40.5
Brandon Anderson: Let's just say you probably haven't been waiting all weekend for this one.
The Steelers are 11-2 and can clinch the AFC North with a win on Monday night. Ben Roethlisberger has been basically invincible lifetime in Ohio, and the Steelers are still in the hunt for the AFC's 1-seed.
As for the Bengals, they're very bad, like usual, like always. They were frisky earlier in the season, but since Joe Burrow was sidelined for the season, it's gotten pretty ugly. They're 2-10-1 and still have an outside shot at the No. 1 pick in next year's draft because LOL Jets.
Pittsburgh is a massive favorite and should be, but Big Ben and Mike Tomlin's Steelers haven't typically fared well as big favorites. They tend to sleepwalk through games like this one and play down to their opponent, and the Bengals are a long ways down.
Don't expect a ton of prolific offense in this one. The Bengals have scored 10 or fewer points in four of their last five games, but the Steelers have seen their point total drop in four straight games and have been under 20 points in three straight.
Cincinnati will start Ryan Finley at quarterback. In three starts last year, Finley completed 47% of his passes with a 23.7 mark in ESPN's QBR, and the Steelers are still the top-rated defense, though they're clearly moving in the wrong direction.
It's not like the Steelers are going to lose this one. Big Ben is 24-7 lifetime against the Bengals, and Pittsburgh has won 11 straight against Cincinnati. But the Steelers have covered this line only four times over that win streak, and you do not want to be watching late Monday night hoping for a late Finley cover, I promise you.
If you want to double tease the game, that feels like a quality bet — that puts you to Cincinnati +20 and under 46.5, so unless the Steelers win like a 35-17 game or something, you're safe.
Personally, I'm keeping it easy and taking the under 40.5 points. Yeah that's a low total, but these offenses stink right now and Finley won't do much for the Bengals. The under covers us if the Bengals totally lay an egg or if Pittsburgh grinds out an ugly win, and that seems like the two most likely scenarios. I'll play it to down to 39.5 (shop real-time lines here).
We've got football Friday, Saturday, Sunday and Monday coming up, plus bowl games and the start of the NBA season. Take the under in this one — under 40.5 points and under 15.5 minutes watched. Go get your last-minute Christmas shopping done instead.

---
» Return to the table of contents «
---
Bengals Under 13.5 Points
Stuckey: There's not really much to say about the Bengals, who currently sit at 2-10-1.
It wasn't a completely lost season considering they got to see Burrow do some really good things, and that despite having one of the worst offensive lines in the league. However, with Burrow out for the season, there's not much to be excited about with this team.
The offense is frankly completely dead at the moment. In the three games since Burrow went down, the Bengals have averaged 10.33 points per game. And seven of their 31 points came on a kick return for a touchdown against the Giants. That means their offense has averaged 8 points per game over the past three.
The Bengals have failed to reach 200 total yards in two of their past three games. In those trio of contests, they've averaged a pathetic 3.96 yards per play.
Without flukes, I can't see them getting to 14 points.

---
» Return to the table of contents «
---
Ben Roethlisberger Under 277.5 Pass Yards (-112)
Sean Koerner: Big Ben has one of the more talented trio of WRs at his disposal in the league. However, he's been let down by drops all season long as evidenced by the Steelers' league-leading 41 drops. It's resulted in bad luck when it comes to his passing yards to-date, averaging just 253 yards per game.
Another reason Roethlisberger is averaging his fewest yards per game since 2012 is the Steelers' continued dominance on defense, ranking No. 1 overall in Football Outsiders' DVOA — and that's going to be magnified in a matchup they're favored to win by 14 points against a Finley-led Bengals team.
I don't anticipate that the Steelers need to throw much in order to win in Cincinnati. It could be the perfect spot for them to get their running game, which has struggled the past couple of weeks, back on track heading into the playoffs.
Due to the expected reduction of volume, it likely means Big Ben would have to connect on a few deep balls to clear this number. And while the Bengals defense is unimposing (ranked 29th in DVOA), they've been above-average at limiting opponents on deep throws of 20 or more yards by allowing a success rate of only 33% on deep passes (seventh-best in the NFL).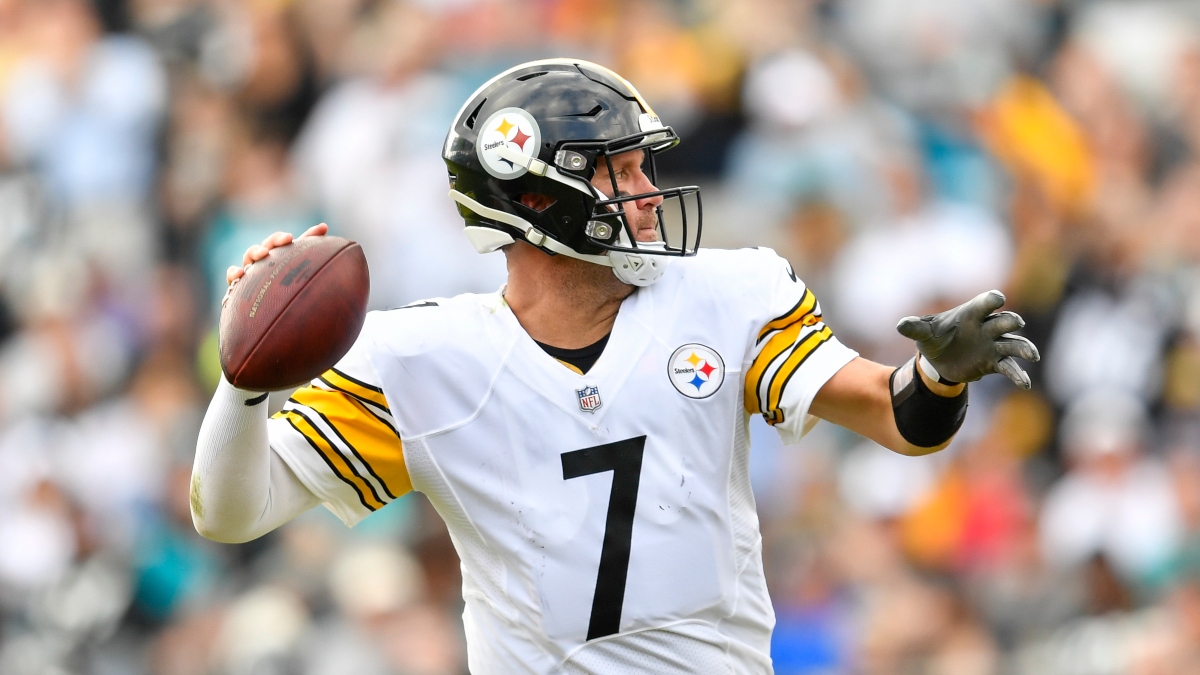 Big Ben has struggled on deep throws all season, despite attempting the eighth-most. His 25.5% success rate (per Sports Info Solutions) is the third-worst among 36 quarterbacks to attempt at least 15 passes of 20-plus yards. And we can't pin the blame on his receivers, either, considering only 47% of those passes have been on target (26th).
Big Ben has the fourth-lowest Average Completed Air Yards at 4.5, and this matchup will only make the Steelers passing attack more conservative. Finley is unlikely to generate enough points to force Big Ben into a pass-heavy game script. I'm hoping the Steelers defense gets to Finley early, because any sort of defensive touchdown would plummet Big Ben's in-game prop.
Much of the value on this prop is a bet on the Steelers defense vs. Finley.
My projections are in line with the market at around 26.5 completed passes for Big Ben, which would set his median projection at 262.5 yards. The market is overinflated here — I would bet the under down to 269.5, but here are his projected chances of going over or under various lines based on my 10,000 player prop simulations:
| Pass Yards | Over | Under |
| --- | --- | --- |
| 270.5 | 43.3% | 56.7% |
| 271.5 | 42.8% | 57.2% |
| 272.5 | 42.5% | 57.5% |
| 273.5 | 42.3% | 57.7% |
| 274.5 | 41.6% | 58.4% |
| 275.5 | 40.9% | 59.1% |
| 276.5 | 40.7% | 59.3% |
| 277.5 | 40.1% | 59.9% |
---
» Return to the table of contents «
---
How would you rate this article?